While most people instantly conjure up images of Edinburgh and the Highlands or tartan and tweed when they think of Scotland, the northern nation is actually home to a host of breath-takingly beautiful islands. In total, it has over 900 offshore islands to explore with the arresting archipelagos of the Shetland, Orkney and Inner and Outer Hebrides being its four main groupings.
Among the endless array of Scottish islands are some that are very mountainous in nature with others being flat and fertile. While some are isolated and inhospitable, others have been inhabited for centuries if not millennia with phenomenal prehistoric sites and crumbling castles and churches scattered about their scenic shores.
Yet other islands in Scotland still boast incredible coastlines with sheer cliffs and steep sea stacks to be found alongside beautiful beaches and secluded and sheltered coves. With so much going for them, it could take a lifetime to visit and explore all of Scotland's awe-inspiring islands.
Set just to the south of Skye is the attractive island of Eigg which is one of the scenic and secluded Small Isles. A very popular and picturesque place, it boasts everything from beautiful beaches and interesting historic sights to commanding views and wonderful wildlife watching opportunities.
Mostly made up of a massive moorland plateau, the idyllic isle rises up dramatically above the wild waters all around it with its fertile reaches having been farmed and fought over for centuries. At its southern end, you can find the prominent volcanic rock of An Sgurr which towers to 393 meters in height with Eigg's quartz beach. The 'singing sands' can be found at the opposite end of the island.
Many people also take the ferry to Eigg to go birdwatching or to see the remnants of the monastic community of Kildonnan with the mysterious Massacre Cave also being a popular draw.
Another of the Inner Hebrides' incredible islands is Staffa which is lined by lots of spectacular and steep sea cliffs. So named by the Vikings due to the resemblance of its basalt columns to the staves of their log houses, the uninhabited island can be visited by ferry from the nearby Isle of Mull.
Volcanic in origin, the isolated island is a treat to sail around thanks to its captivating cliffs with its standout sight being the fabulous Fingal's Cave. Set near the southern tip of the isle, the cavernous cave is made up of lots of breath-taking basalt columns which look very reminiscent of the renowned Giant's Causeway in Northern Ireland.
Besides this, Staffa has lots of other sensational sea caves for visitors to check out with some serene scenery and birdlife also being on show. Over the years, lots of royalty, writers and celebrities have visited the awe-inspiring island which is now a national nature reserve.
10. Lewis and Harris
[SEE MAP]
Impressively enough, Lewis and Harris is the third largest island in the British Isles with only Great Britain and Ireland being bigger. Although often referred to as separate entities, they make up two pretty parts of the same isle with the low-lying Lewis in the north contrasting delightfully with the rugged and more mountainous Harris in the south.
Located in the Outer Hebrides, it has been inhabited for millennia with lots of clans considering it their ancestral home. As such, a myriad of amazing historic sites are scattered about with centuries-old churches and castles to be found alongside iron age houses and stone circles. The most famous and photographed are the Callanish Stones as the remarkable ritual site and its circle of standing stones are so well-preserved.
In addition, its craggy coastline has lots of sparkling white sand beaches to lounge on with some great watersports to be had offshore. With a picturesque peat plateau to hike around, charming coastal towns to stop by and lovely lunar-like landscapes and lochs to explore, Lewis and Harris is certainly worth visiting if you have the chance.
Often nicknamed the 'Hawaii of the north' due to its sun-kissed sandy shores and staggering array of superb surf spots, Tiree is the most westerly island of the Inner Hebrides. The smallish, scenic and sunny Scottish isle is accessible either by ferry or by plane and is particularly popular among avid windsurfers.
Due to the huge amount of sunshine it receives, the low-lying island is very fertile with its name actually meaning 'land of corn' in Gaelic. Lining its shores are lots of wonderful white sand beaches with the wild waters of the Atlantic attracting kayakers and kiters, surfers and yachters alike.
Besides exploring all of its beautiful bays and coves and enjoying its excellent water sports, visitors can also check out all of the island's attractive architecture as well as listen to some Scottish folk at the Tiree Music Festival.
While it is rightly renowned for its wealth of world-class whisky distilleries, the idyllic isle of Islay has much, much more going for it. Known as the 'Queen of the Hebrides', it has lots of spellbinding scenery and seascapes for guests to enjoy as well as lots of wonderful water sports and wildlife.
The southernmost island of the Inner Hebrides, Islay lies just forty kilometers north of the Northern Irish coast. As it has been inhabited for millennia, lots of interesting historical and archaeological sites are dotted about its low-lying lands. Of these, its standout sights are undoubtedly the ornately carved eighth century Kildalton Cross and the Dun Nosebridge iron age fort.
While many people come for its history and scenery or to spot the bountiful birds that reside within its remote realms, Islay is of course home to nine highly regarded whisky distilleries. As such, no visit can ever be complete without sampling at least one of its strong and smoky flavored drinks.
7. Shetland Islands
[SEE MAP]
The northernmost part of the United Kingdom, the scenic and secluded Shetland Islands are set in the Northern Atlantic, in between Scotland, Norway and the Faroe Islands. Made up of a hundred or so islands, the spectacular subarctic archipelago is a treat to travel around with craggy coasts and colossal sea cliffs to be found alongside lots of wild and wind-swept wilderness and wildlife.
Due to their isolated and inhospitable nature, only sixteen of its isles are inhabited with Mainland being home to most of its population. As the archipelago was dominated by Scandinavia for much of its early history, its people and their history, culture and heritage showcase an interesting mix of Norse and Scottish influences.
While the islands are largely low-lying and treeless, their serene shores hide away lots of beautiful beaches as well as countless coves and cliffs. The Shetland Islands are also known for their wildlife with everything from otters and seals to puffins, dolphins and even orcas to be spotted in its waters.
Despite its small size, the incredible island of Iona certainly has a lot to it and has been an important sacred and spiritual center for centuries. Located in the Inner Hebrides, it lies just off of the Isle of Mull with lots of people visiting for its picturesque and peaceful nature and its ancient abbey.
Founded back in the year 563 AD, the awe-inspiring old abbey exhibits lots of attractive architecture and is widely considered to be the birthplace of Celtic Christianity in Scotland. On top of this, it also used to be a center of scholarship with the renowned and richly illustrated Book of Kells having been created within its cloisters.
While many people still come to Iona Abbey on spiritual retreats, others instead explore all of the island's lovely landscapes with lots of fantastic fauna and flora and wonderful wildflowers on show.
Situated just fifteen kilometers off the north coast of Scotland is the astounding archipelago of The Orkneys which is made up of around seventy or so islands. As well as being home to lots of arresting archaeological sites, it also boasts lots of captivating coastlines with rugged cliffs and sea stacks to be found alongside secluded bays and coves.
Most of the archipelago's population lives on Mainland which is dotted with picture-perfect seaside towns and villages. Here too you can find lots of marvelous megaliths, stone circles and ancient houses such as at Skara Brae which collectively are known as the 'Heart of Neolithic Orkney'.
While its rich history and heritage is fascinating to delve into, the Orkneys also have lots of sublime scenery and nature for you to enjoy. A very popular place to visit is its second-largest island of Hoy which is home to huge cliffs and steep valleys and 'the Old Man of Hoy' – a stupendous sea stack.
The westernmost islands of the Outer Hebrides, the incredible archipelago of St Kilda lies far off both North Ulst and Lewis and Harris. Surrounded by the wild waters of the North Atlantic Ocean, its small scattering of islands boast lots of spellbinding scenery as well as the highest sea cliffs in the whole of the United Kingdom.
As the isolated archipelago has been inhabited for millennia, a number of interesting archaeological sites are scattered about its wild and wind-swept reaches. Besides the more than a thousand unique cleitean stone structures that dot the islands, you can also find the ruins and remains of medieval villages and abandoned old blackhouses.
In addition to this, St Kilda has lots of wonderful wilderness and wildlife for visitors to explore with the archipelago being an important breeding ground for countless seabird species. Its standout sight, however, is undoubtedly its craggy coastline and the colossal cliffs that line its secluded shores.
As it is home to everything from lofty peaks and gorgeous glens to hilly Highlands, lovely lochs and charming towns and villages, the Isle of Arran is often referred to as 'Scotland in Miniature'. Set just off of the west coast of Scotland, it lies in the deep coastal waters of the Firth of Clyde and is easily visited from both Glasgow and Ayr.
Due to its scenic splendor and easy accessibility, Arran has long been a popular place to visit and has been inhabited since the early Neolithic period. Besides seeing phenomenal prehistoric sights such as the standing stones at Machrie Moor or the atmospheric Giants' Graves, visitors can stop by the ruins of Lochranza Castle and Brodick's well-preserved castle and heritage museum.
With so much great hiking to be had and so many stunning landscapes and coastal cliffs, caves and coves to explore, the Isle of Arran is definitely worth checking out if you have the chance.
Located just to the northeast of Islay in the Inner Hebrides is the bleak, barren yet beautiful Isle of Jura. Dominated and defined by three colossal and conical mountains which are known as the Paps of Jura, it is very sparsely populated with its rugged and remote reaches being a delight to explore.
While much of it is made up of blanket bog, some stupendous sheltered beaches can be found here and there with terrific trails taking you right up to the top of its prominent peaks. From their soaring summits, you can enjoy commanding views over their scenic surroundings with the island actually being named after the bountiful deer that vastly outnumber its inhabitants.
One of its standout sights is the remarkable whirlpool of Corryvrecken that can be viewed from its northernmost tip. Besides exploring all of its delightful landscapes, Jura also has a couple of great gin and whisky distilleries for you to stop by.
Undoubtedly the most renowned and recognized of Scotland's innumerable islands, the irresistible Isle of Skye boasts lots of simply spectacular scenery with majestic mountains and phenomenal views wherever you look. The largest and most northerly of the Inner Hebrides, it lies just off of the west coast of Scotland and is actually connected to the mainland by a bridge.
As it is often shrouded in mist, its dramatic landscapes look all the more mystical with fabulous photos to be had of its craggy peaks, rock formations and sea stacks. Among its most famous sights are the stunning series of rocky pinnacles that make up both the Quiraing and the Old Man of Storr with its fantastic flickering Fairy Pools also attracting lots of visitors.
In addition to all its breath-taking natural beauty, Skye has lots of captivating castles such as those of Armadale and Dunvegan for you to check out with hiking in the Cuillin mountain range always being a popular pastime.
Map of Scottish Islands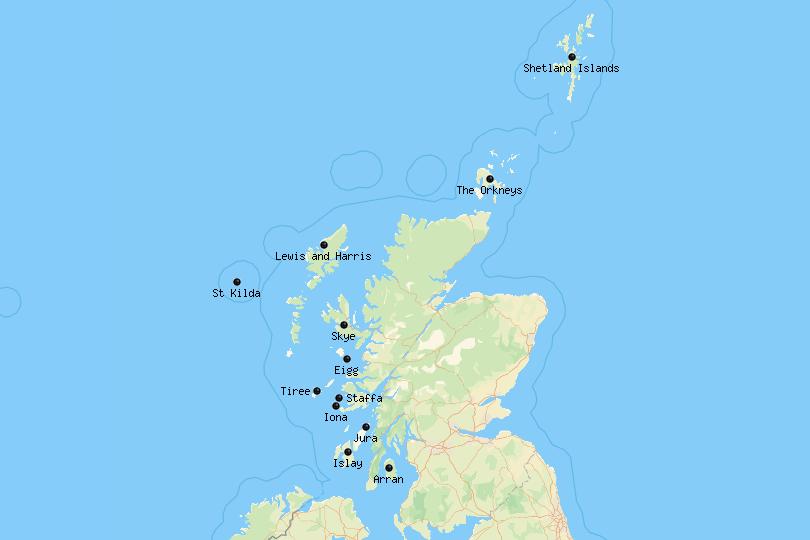 © OpenStreetMap © MapTiler © Touropia