One of the most beautiful cities in the United Kingdom, atmospheric Edinburgh lies in a scenic spot, overlooking the sea. While Scotland's capital city is steeped in history and boasts a rich cultural heritage, it also has lots of lovely nature spots and interesting tourist attractions to check out.
Nicknamed the 'Athens of the North', due to all the great thinkers, philosophers, and scientists it has produced, the city is also renowned for its contributions to art and literature, among other fields.
Besides delving into its fascinating past and basking in its exquisite architecture and streetscapes, other things to do in Edinburgh include some excellent shopping, dining and nightlife.
See also: Where to Stay in Edinburgh
With a lively ambience and fabulous festivals, such as The Fringe, to revel in; Edinburgh is certainly not to be missed out on when visiting the UK.
17. Scottish Parliament Building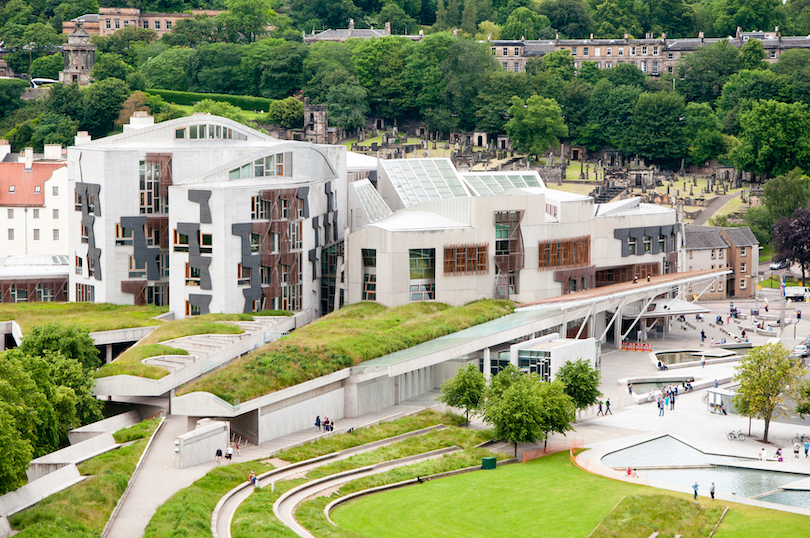 © Dreamstime
In contrast to all the city's grand Georgian buildings and Gothic churches, the Scottish Parliament is a strikingly modern building that features abstract architecture. Due to this distinctive design, its cost and location at the foot of Arthur's Seat, the building caused quite a lot of controversy when it was completed in 2004.
It is, however, undoubtedly a very interesting building with its shapes and angles meant to represent the union between the Scottish landscapes, its people, and culture. On tours visitors can learn about its layers of meanings and metaphors as they progress from the dimly lit Main Hall to the bright and spectacular Debating Chamber.
16. The Real Mary King's Close
© Dreamstime
An unforgettable thing to do when in Edinburgh is to venture below ground and explore the warren of tunnels and passageways that snake beneath the center of town. Located underneath the Royal Mile is The Real Mary King's Close, which offers a fascinating insight into life in the city in the seventeenth century.
Shut off and sealed to the public for centuries, the perfectly preserved street and buildings are now a popular tourist attraction, with costumed characters bringing it back to life. While wandering around a plague-stricken house and crumbling tenement building you can hear all about the myths, legends, and ghost stories that have long swirled around the Close.
15. Scottish National Portrait Gallery
© Dreamstime
Just a short stroll from the Royal Mile is the superb Scottish National Portrait Gallery, home to an astounding array of paintings, photographs and sculptures. Opened in 1889, its gorgeous red sandstone Neo-Gothic building and colossal collection can be found on Queen Street in the New Town.
In total there are over 3,000 paintings and sculptures to peruse with innumerable drawings, prints, and photos also on show. Primarily painted by Scottish artists, these portraits of famed figures, such as Mary, Queen of Scots and the national poet Robert Burns, help to highlight the country's rich history and culture.
14. Edinburgh Gin Distillery
© Dreamstime
Lying right in the heart of the West End is the Edinburgh Gin Distillery, which has been producing award-winning gins since 2010. While it may only have opened relatively recently, their fantastic facility offers an interesting look into the city's long history of importing, exporting, and producing gin.
Besides sampling some of their splendid spirits, visitors can see how gins are produced using their custom-made copper stills and discover the science behind distilling. In addition to learning about Edinburgh's historic gin heritage that dates to the 1700s, you can also stop off to buy souvenirs and strong liqueurs in their shop.
13. Royal Edinburgh Military Tattoo
© Dreamstime
Aside from The Fringe—the largest arts festival in the world—the other major annual event to see in the city is the Royal Edinburgh Military Tattoo, which is held each August. This is when a whole host of military marching bands perform a spectacular show on the Esplanade of Edinburgh Castle.
A very atmospheric affair, the tattoo sees hundreds of kilted pipers, marching bands, and dancers perform rousing renditions of traditional Scottish songs and military tunes, with acrobats and cheerleaders also featuring. Making the spellbinding show even more memorable is the illuminated Edinburgh Castle, which rises dramatically in the background and the fireworks that explode overhead.
12. The Scotch Whisky Experience
© Dreamstime
Scotland has long been famed for its whiskies with the first record of distillation in the country dating to 1494. At The Scotch Whisky Experience, you can not only sample some stiff drinks but also learn about the history of whisky distillation through interesting exhibits and tours.
Since opening in 1988, it has been a firm favorite with tourists and now boasts the world's largest collection of malt whiskies. In addition, the attraction also has a shop, whisky bar, and restaurant and lies right next to the Esplanade of Edinburgh Castle.
11. Scottish National Gallery
© Dreamstime
Located on The Mound in central Edinburgh is the Scottish National Gallery; one of the biggest and best museums in the country. Housed within its grand Neoclassical building are countless galleries to explore with fine artworks and masterpieces.
First opened in 1857, its extensive collection now encompasses everything, from Scottish art and Impressionist paintings to Renaissance works by Botticelli, Raphael, and Titian among others. While all the portraits, landscapes, and scenes certainly make for a stunning sight, the building itself is just as attractive. This is because Ionic porticoes and sturdy columns can be found alongside delightfully decorated rooms and light and airy halls.
10. St Giles Cathedral
© Dreamstime
Not far from the Scottish National Gallery is one of the most impressive yet imposing buildings in the city: the striking St Giles Cathedral. Mostly built during the fifteenth century, it exhibits sublime Gothic architecture with the crown steeple atop its tower one of Edinburgh's most famous and distinctive landmarks.
Inside you can see fantastic vaulted ceilings and elaborately carved transepts and pulpits, with tombs and memorials of influential Scottish figures dotted here and there. As the cathedral has been the site of nationally important events and services since medieval times, it makes for a very popular tourist attraction.
9. Royal Yacht Britannia
© Dreamstime
Just a short bus ride to the north of town you can find Edinburgh's port area which now harbors the Royal Yacht Britannia. Once the floating holiday home of Queen Elizabeth II and the royal family, it is now a popular attraction, offering a fascinating insight into the daily lives of the monarch and her retinue.
During her illustrious career, the Britannia remarkably conveyed the Queen, other royals, and state officials on nearly a thousand visits before finally being decommissioned in 1997 after 43 years of service. On tours of its apartments and decks, guests can see how the royal family and crew lived aboard the large and luxurious vessel.
8. Palace of Holyroodhouse
© Dreamstime
Located at the opposite end of the Royal Mile to Edinburgh Castle is the Palace of Holyroodhouse, which lies at the foot of Arthur's Seat. Since the sixteenth century, it has served as the royal family's principal residence in Scotland with tours taking place throughout the year when it is not being used for official state purposes.
While its gorgeous grounds, gardens, and state apartments all look a treat, the palace is most famed for being the home of Mary, Queen of Scots. On tours of its endless, art-decked halls, suites, and galleries you can stop by her historic apartment and hear all about her ill-fated life in the palace.
7. Camera Obscura and World of Illusions
© Dreamstime
The oldest tourist attraction in the city, the captivating Camera Obscura was opened to the public in 1835, just outside the entrance to Edinburgh Castle. Since then the curious and quirky nineteenth century device has delighted countless generations with the amazing images and views it offers up of Edinburgh.
Since those early days, over a hundred interactive exhibitions have been added with the wonderful World of Illusions taking you on an incredible journey of lights, colors, and optical illusions. Besides holograms, puzzles, and a mirror maze, you can also venture into a vortex tunnel with educational yet entertaining experiences to be had wherever you turn.
6. National Museum of Scotland
© Dreamstime
Just a short stroll from the Camera Obscura is the National Museum of Scotland which houses an extensive and eclectic collection of artifacts, artworks, and archaeological findings. First opened in 1866, its endless items are now spread over two delightfully different buildings, one modern and the other Victorian.
While some sections look at Scotland's people, landscapes, and history, others focus instead on the decorative arts of ancient Egypt and the Islamic world. In addition, there are all kinds of arresting exhibits on everything, from fashion and design to science and technology, with over 20,000 objects dotted about its diverse galleries.
5. Royal Botanic Garden
© Dreamstime
One of the most peaceful and picturesque places in the city is the Royal Botanic Garden which lies around fifteen minutes' walk to the north of New Town. Sprawling over a huge area, it has a myriad of pretty paths to wander along with countless colorful flowers, plants, and trees on show.
First founded in 1670 as a physic garden, it is remarkably one of the oldest gardens of its kind in the country. Since moving to its current location in 1823, it has expanded considerably. Lush lawns and exotic plant-filled glasshouses can now be found alongside the John Hope Gateway, which houses exhibitions on biodiversity.
4. Calton Hill
© Dreamstime
Rising dramatically on the eastern edge of the city center is lofty Calton Hill, which boasts some of the best views of Edinburgh. Dotted about its steep slopes are majestic monuments while important buildings, such as the Scottish Parliament and Holyrood Palace, lie near its foot.
Protected as a park since 1724, the hilltop has long been one of the city's most distinctive landmarks and viewpoints. Besides enjoying panoramas of the castle and Arthur's Seat, as well as Holyrood and New Town too, visitors can explore its paths and green spaces. One of its standout sights is the National Monument which was modeled upon the Parthenon in Athens.
3. Arthur's Seat
© Dreamstime
Also looming above the city is the enormous Arthur's Seat; a long-extinct volcano that is the largest of a series of rocky crags that include both Calton Hill and Castle Rock. A quintessential Edinburgh experience is hiking to the top of the mighty mount and basking in the beautiful views on offer.
Although some say Arthur's Seat is named after the legendary King Arthur, however, the actual origin of its name remains unknown. Besides delighting in fabulous views over Edinburgh and even the North Sea off in the distance, there are also some great hiking trails and green spaces to enjoy.
2. Royal Mile
© Dreamstime
One of the most popular places to visit in Edinburgh is the Royal Mile which stretches from Edinburgh Castle to Holyroodhouse Palace. The succession of scenic streets are so nicknamed as they reach almost exactly a mile in length and connect the two royal residences, with the fitting term first having been coined in 1901.
Running through the center of the Old Town, the Royal Mile is a delight to amble along with beautiful old buildings, interesting landmarks, and booming businesses all lining the route. While it is quite touristy, the busy thoroughfare is a must-visit for all its enticing attractions, architecture, and lively ambience.
1. Edinburgh Castle
© Dreamstime
Perched atop a rocky outcrop right in the center of town is the atmospheric Edinburgh Castle; one of the city's standout symbols and sights. While most of the current castle dates to the eleventh century, archaeologists believe its strategic site has been occupied since at least the second century.
As one of the most important strongholds in Scotland, the fortress was involved in countless battles and sieges over the years. Nowadays, however, it is one of Edinburgh's most popular attractions with millions of tourists visiting each year. Besides exploring its military buildings, Royal Palace and St. Margaret's Chapel, visitors can venture up onto its battlements and towers and enjoy breathtaking views over the city.
Map of Things to Do in Edinburgh