The capital of Scotland, Edinburgh is a profoundly historical city with an amazingly well preserved old center. As well as its landmark castle, the center of this city is filled with ambling historic streets; the church spires and rooves of old buildings making for a decidedly picturesque skyline.
The history goes back much further, with millennia-old Bronze Age findings uncovered around the city, most notably at the craggy 'Arthur's Seat just to the south of the city center.
But 'it's not all ancient history; the north side of the town is home to a marvel of 18th-century urban planning, an exquisite grid system of Georgian houses where visitors will be able to find a host of museums and art galleries that speak of 'Scotland's cultural heritage.
Map of Edinburgh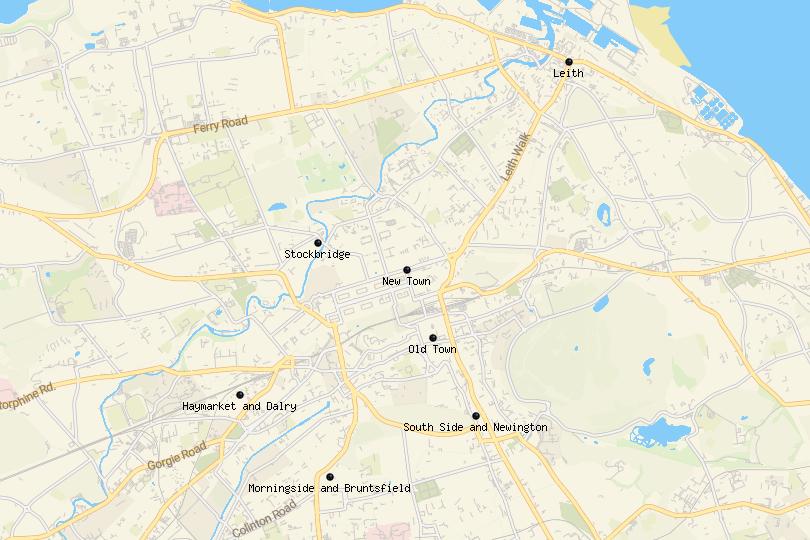 © OpenStreetMap © MapTiler © Touropia
Fast forward to the modern day, and that heritage is still going strong. Each year during August, the city plays host to the renowned Edinburgh Festival Fringe. This is the largest arts festival in the world and marks a time when the city streets are taken over by street performers and musicians, with many venues putting on plays, comedy sets, gigs, and art exhibitions.
Though compact enough to walk – or cycle – around, Edinburgh features an airport, numerous train stations, a tram network, and buses to get you around town.
When it comes to staying in this magical city, as well as affordable backpacking hostels and lodgings located above lively pubs, there are some grand, upscale hotels and beautiful guesthouses that make staying in Edinburgh as enjoyable as exploring it.
Old Town
As you may be able to tell from the name, the Old Town – or Auld Toun in Scots – is the oldest part of Edinburgh. This part of town retains many of its medieval streets and is home to one of the 'city's – if not the United 'Kingdom's – most iconic landmarks – Edinburgh Castle. Set on Castle Rock, which is a volcanic plug in an extinct volcano, the occupation of this land dates back thousands of years to the Late Bronze Age.
With the 12th century Holyrood Abbey established at the foot of the 'Rock,'' medieval Edinburgh spanned out and grew along what is now known as the Royal Mile – a cobbled street chock a block with historic buildings – also the location of the annual Edinburgh Festival.
The area is fittingly a labyrinth of lanes – known as 'closes" in the local lingo – and is where you will find all the heritage buildings and tourist hotspots.
With Edinburgh Station in the vicinity, as well as cafes, old pubs, and even a nightclub or two, the Old Town is still alive with the spirit of the city. Guesthouses, hotels, pubs, and even 5-star hotels make up the accommodation here.
New Town
Set to the north of the Old Town, across the railway tracks, is the New Town of Edinburgh. However, 'it's not as new as you think; 'it's just new in comparison to the cobbled medieval feeling of the Old Town.
Built in response to the overcrowding that was happening in the Old Town, this part of Edinburgh is all about its mid- to late-18th-century Georgian buildings, complete with pillars and sandstone facades, making for a picturesque spot to wander about.
Here, the Scottish National Gallery, the Gallery of Modern Art, and the National Portrait Gallery make up a triforce of cultural heritage in the area; in the latter, you can find portraits of such iconic Scots as Robert Burns, Sir Walter Scott, and two of Mary, Queen of Scots. Aside from art, there is high street shopping to be done along the principal commercial road of George Street. Plus, New Town is home to the 1920s Edinburgh Playhouse.
If New Town sounds like your sort of place, hotels in this area range from modern chains and classy boutique offerings in Georgian townhouses to more affordable hostels and relaxed guesthouses.
Stockbridge
The area of Stockbridge borders the northwest edge of New Town and has a distinctly quiet atmosphere, almost feeling like a village but still very close to the city center. It's so much like a village that there is even a farmer's market that takes places at Jubilee Gardens. The market is located along the banks of the Water of Leith – a 24-mile long river that weaves its way through town. Here, you will be able to get your hands on cheeses, salmon, and crafts – then tuck into some crepes.
For a touch of quirky and well-placed fun, the Stockbridge Duck Race, which began in 1988, is an annual charity event put on each July which sees 1,000 rubber ducks released into the Water of Leith.
But for more traditional fun, there are old pubs such as basement-based The Antiquarry, located down a tiny alleyway. If 'you're a fan of botanic gardens, you are in luck; head to Inverleith Gardens and take a stroll around the grounds, admiring all the trimmed greenery found here.
Staying in Stockbridge means being treated to lodgings in posh period buildings and friendly, stylishly decked out bed-and-breakfasts.
Leith
Leith is a port area to the north of the center of Edinburgh known for being a cool, waterfront enclave. 'It's not so far away though; this town is linked to the center by a walkway (Leith Walk) that runs the length of the Water of Leith. As you get closer to Leith, 'you'll be rewarded with a selection of waterside eateries and bars.
For some history of the area, you can go to Trinity House Maritime Museum, which is itself situated in a villa dating back to 1816. The Queen Victoria Statue is in the heart of Leith Walk and is a popular meeting spot.
There's also the Royal Yacht Britannia, which is docked in the port itself. This is the former yacht of the British royal family. Thankfully, you can walk around its corridors and decks on a tour – even have a spot of lunch, too.
If you want to be in and amongst this cool, laid-back area, you can stay close to the 'water's edge in old waterfront buildings-turned-hotels or opt for small and more affordable guesthouses.
Haymarket & Dalry
Haymarket, alongside neighboring Dalry, is situated just west of central Edinburgh itself – outside the old city walls – and is a lively area filled with pubs, cafes, and restaurants, like the particularly good Scottish eatery, First Coast.
Haymarket boasts its own train station and is well connected by bus and tram services, while neighboring Dalry is more of a residential area, with lots of small local streets. Tynecastle Park Stadium is the ground for the local Midlothian Football Club, which you can learn more about at the adjacent Heart of Midlothian Museum. Nearby Roseburn Public Park has cricket grounds and cycle paths. Dalry even boasts a cinema.
This is the sort of area where you can get to grips with a more local life than central Edinburgh. There may not be a lot in the way of historical sights, but merely wandering around Haymarket and Dalry will give you an authentic view of how locals live. With more upscale hotels to be found in Haymarket, particularly near the train station, Dalry has a handful of simple hotels set in charming houses.
Morningside & Bruntsfield
Ninian Reid / Flickr
Set to the south of central Edinburgh, these two areas represent a much more leafy side to the city and are primarily residential. In Bruntsfield, to the north of Morningside, you will find the park of Bruntsfield Links, as well as The Meadows, a more extensive, connecting park where boasting 'children's playgrounds and plenty of walking trails. Bruntsfield is also very near to the University of Edinburgh.
Morningside has its own greenery to explore, too. The Hermitage of Braid and Blackford Hill Local Nature Reserve is a hillside area where you can amble for great views of the city below. Located within this stretch of nature is the Royal Observatory, a Victorian edifice for stargazing.
Not exactly swarming with hotels, but still with a few guesthouses, apartments, and even one or two more luxury offerings, Morningside offers a relatively tranquil place to stay in Edinburgh. Morningside is more plentiful on the accommodation front, however, with bed-and-breakfasts set in Edwardian houses. Though there 'aren't any rail stations, 'it's easy to get to the city center from these areas either via pedal power or by bus.
South Side & Newington
The clue is in the name when it comes to South Side; it's just south of Edinburgh's Old Town and is where you will find the University of Edinburgh. Founded in 1582, this is actually one of the oldest universities in the English-speaking world.
Adjacent to South Side is Newington. This area features many local cultural sights where you can catch a gig or two, like the 'Queen's Hall – a music venue housed in a former chapel – and the Summerhall, set inside an old veterinary college.
Nearby Holyrood Park is a large natural area where you can hike up to Arthur's Seat, a group of hills that offer stunning views of the city in a rugged setting. Here, the Salisbury Crags gives those who dare the opportunity to rock climb. There's even some history, with the picturesque ruins of Saint Anthony's Chapel, where you can soak up some medieval ambiance.
Staying in this area of Edinburgh means basing yourself at one of the many guesthouses and hotels – from the low-key to the high-end – set along Clerk Street, which runs from the south to the Old Town itself.