The capital city of Panama is the aptly named Panama City, an energetic and cosmopolitan destination. Many travelers head to Panama City as a homebase for exploring the Panama Canal, and that is absolutely a great place to start. However, there are many other day trips from Panama City worth planning. From national parks to historic forts, there is absolutely something for everyone. As you put together your itinerary for a trip to Panama City, be sure to include a few of these day trips.
Map of day trips from Panama City
© OpenStreetMap © MapTiler © Touropia
7. Soberania National Park
[SEE MAP]
© Ignasi Such / Dreamstime
Soberania National Park is the ideal day trip for those who want to escape the urban jungle and head into a truly natural landscape. You'll definitely want to visit the Soberania National Park if you're interested in birdwatching or you're hoping to spot some wildlife. Within the park, you can spot everything from howler monkeys to bright green iguanas to blue-headed parrots. Also worth exploring is Las Cruces Trail, a hiking trail that was used by the Spanish in the 16th century as a way to transport gold.
Getting to Soberania National Park
6. San Lorenzo Fort
[SEE MAP]
© David Castillo Dominici / Dreamstime
In centuries past, the main port destination on the isthmus of Panama was the town of Chagres. Today, Chagres is an abandoned spot, but it is where you'll find San Lorenzo Fort. Known as Fuerte San Lorenzo in Spanish, this fort was built in the middle of the 18th century. While it is in ruins now, it is an important colonial relic of Panama's history. After touring the ruins of the fort, you can explore the area and spend time birdwatching or kayaking. You'll also be treated to magnificent views over the Chagres River and the lush green landscape below the fort.
Getting to San Lorenzo Fort
5. El Valle de Anton
[SEE MAP]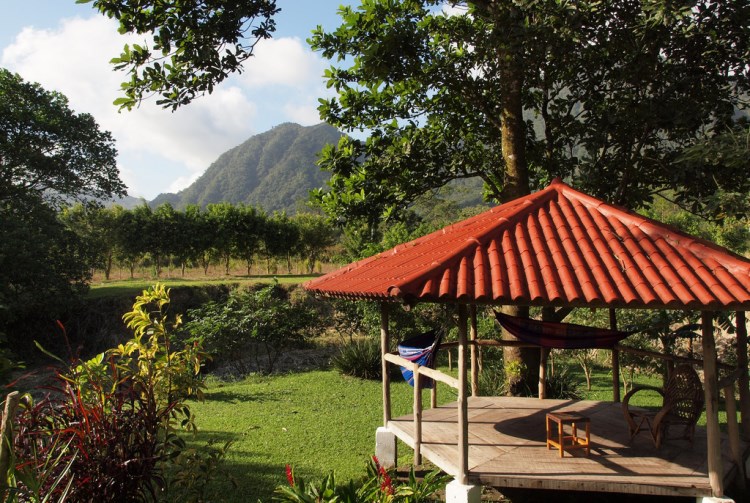 Rose / Flickr
Drive two hours southwest of Panama City, and you'll get to El Valle de Anton. This is in the highlands of Panama, and it is a charming village surrounded by a volcanic caldera. The town's black soil is famed, and it is said to be perfect for agricultural pursuits. There is an emphasis on new age and holistic therapies at El Valle de Anton, so many visitors come to recharge, practice yoga or meditate in the natural beauty. You'll also want to check out the beautiful waterfall called El Macho, or you can set off on a hike and look for etched hieroglyphic rocks along the way.
Getting to El Valle de Anton
4. Embera Indian Village
[SEE MAP]
Marc Cappelletti / Flickr
The Embera are a group of people indigenous to Panama as well as some regions in Colombia. There are currently more than 33,000 people living in Panama who identify as Embera, and some of them live in traditional, preserved Indian villages. A wonderful contrast to the international, modern infrastructure of Panama City is a day trip to one of the Embera India villages.
As you're welcomed into these traditional villages, you'll be able to fully embrace the culture. You might watch women weave baskets out of palm leaves, paint your body with the local natural dyes or ask questions about life in centuries past. Guided tours are the best way to experience an Embera Indian village, since they are often off the beaten track and not easily accessible to visitors.
Getting to the Embera Indian Village
3. Panama Canal Sightseeing Cruise
[SEE MAP]
F Delventhal / Flickr
If you're in Panama City, you absolutely have to see the Panama Canal. While there are several ways to see the canals and its locks, the best experience will be through a Panama Canal sightseeing cruise. Most of these trips last for a full day, and they will pass through some of the major locks like the Miraflores locks on the Pacific side and the Pedro Miguel locks on the Atlantic side. You'll also likely spend some time on Lago Gatún, a lake created by the creation of the canal itself. If you want to see the mountains, the scale of the canal and learn more about its history in the process, a sightseeing cruise is the ideal day trip from Panama City.
Taking a transit cruise
Adam Reeder / Flickr
Fewer than 16 km (10 miles) off the coast of Panama City is Isla Taboga, which was once inhabited by indigenous Indians who fished and lived in thatched roof homes. The island was also used by the English, the French, the Spanish and even bands of pirates. Today, the island is a mecca for those who want to escape city life and relax in nature. Popular pastimes for visitors include hiking, fishing and enjoying the beach. There are a handful of hotels, restaurants and shops to choose from, but the island is not overly developed and is rarely crowded.
Getting to Isla Taboga
1. Miraflores Locks
[SEE MAP]
thyngum / Flickr
If you visit the Panama Canal on a sightseeing cruise, then you might pass through the Miraflores locks by boat. If not, you can still see these incredible locks from land. The Miraflores locks are the closest to the city, and they are easily accessible with a short bus or taxi ride. Once you're there, you can watch ships large and small pass through the locks. Near the locks there is also a museum, a theater that shows films about the creation of the Panama Canal and a restaurant that serves a very popular international lunch buffet.
Getting to the Miraflores Locks