Lying between the Caribbean Sea and the Pacific Ocean on the Isthmus of Panama, the country of the same name is home to lots of lovely landscapes, with towering mountains and lush rainforests lying alongside gushing rivers, meandering valleys, and glittering coastlines.
While the provinces in Panama are mainly home to Mestizo people and black Afro-Panamanians, there are also several regions that protect and preserve the culture, language and customs of the substantial Amerindian populations which live within them.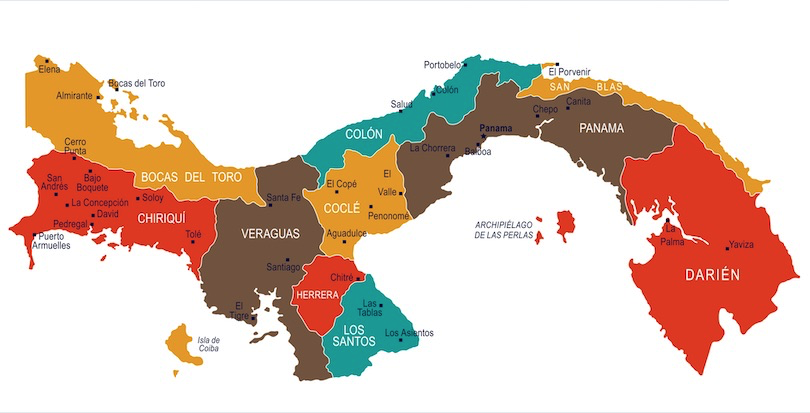 Bisecting the country, the famous Panama Canal is just one of many must-see sights. The alluring archipelagos of Bocas del Toro and Pearl Islands, as well as the incredible national parks of La Amistad, Coiba, and Volcan Baru all wait for you to discover them.
1. Bocas del Toro
© Dreamstime
Covering the northwestern corner of the country, Bocas del Toro, on the border with Costa Rica, is home to the two delightful national parks of Isla Bastimentos National Marine Park and La Amistad National Park; the former boasts the idyllic Bocas del Toro Archipelago, which lies in the Caribbean Sea.
Due to all the marvelous nature on show, the province is a lovely part of Panama to explore. Most of its charming towns and villages are scattered around its scenic, beach-filled coastline and islands, and the interior is home to dense jungle and all types of amazing wildlife.
There are loads of great outdoor activities for visitors to enjoy, with hiking and horseback riding on offer. The coral reef-lined islands of Isla Carenero and Isla Cristobal lend themselves perfectly to snorkeling, scuba diving, and sailing. Additionally, towns such as Bocas Town are home to a stunning array of beautiful beaches, with some great nightlife spots found here and there.
2. Chiriquí
© Dreamstime
Encompassing a wide array of breathtakingly beautiful landscapes, each more impressive than the last, Chiriqui in the Pacific West of Panama is a treat to visit. Its long, beach-filled coastline contrasts delightfully with the amazing rainforest-covered mountain scenery in its highlands, while lots of idyllic islands can be found offshore.
Two of its main attractions are the majestic Volcan Baru National Park – named after the nation's highest peak – and the gorgeous Gulf of Chiriqui National Marine Park. Awash with glorious nature, the latter's tropical islands boast beautiful beaches. Its crystal clear waters teem with marine life, making it one of the best places to go whale watching and snorkeling in the country.
While most people come for its ecosystems and natural wonders, the province also has some great towns and cities for you to visit. David – the capital of the province – and the charming mountain town of Boquete are particularly worthwhile stopping by, while the islands of Boca Brava, Islas Paridas, and Islas Seca have wonderful resorts, beaches, and scenery for you to enjoy.
3. Coclé
© Dreamstime
Located around the Gulf of Parita, Cocle in the south-central part of the country is home to some of the nation's most popular beaches. Santa Clara, Farallon, and Rio Hato see a lot of visitors, who stay in the charming, laidback villages that line the coast.
While its golden sands attract the most tourists, the mountain town of El Valle is becoming an increasingly popular destination, as it is nestled away inside a volcanic caldera. The nearby Cerro Gaital National Monument boasts just some of Panama's incredible wildlife and impressive biodiversity.
In addition to this, a number of pre-Columbian archaeological sites can be found dotted around the province, with those at El Cano Archaeological Park particularly stunning. The capital of the region, Penonome, is home to some interesting historical sights and a diverse population showcasing many different cultural influences.
4. Colón
© Dreamstime
While the city of Colón has long been associated with trade and commerce, as the Atlantic entrance to the Panama Canal lies along its Caribbean coastline, the province of the same name actually has a lot more to offer. Beautiful beaches, colorful coral reefs, and lush rainforest are all on show, with San Lorenzo Protected Forest just one of the many highlights.
Although the city itself is often considered to be a bit dangerous to visit, Colón is full of wonderful architecture, captivating historical sights, and impressive cultural landmarks; the monument and cathedral to Christopher Columbus are among its must-see sights. Colón is well worth visiting if you have the chance; seeing huge tankers and ships pass through the Panama Canal is an awe-inspiring experience.
The province also boasts a fascinating ethnic and cultural make up. Its towns and cities are a beautiful mix of Caribbean, Hispanic, and indigenous influences, with the forts and historic buildings at Portobelo a must-see alongside the city of Colón.
5. Darién
© Dreamstime
The easternmost province in Panama, the wild and remote Darien borders Colombia, with its southern coast lying alongside the Pacific Ocean. Coated in endless forests, swamps, and marshland, the famed Darien Gap in the east of the province is entirely undeveloped. It is here that you'll find the untouched and unspoiled Darien National Park.
Most of the magnificent nature in the province is quite inaccessible, with only some small villages scattered about here and there among its plains, river basins, and highlands, that include the wonderful peaks of Tacarcuna and Pina.
While it lies very much off the beaten path, nature lovers and outdoor aficionados will absolutely adore what Darien has to offer. The magnificent cloud forest, interesting topography, and vast array of fauna and flora really do make it a fascinating place to explore.
6. Herrera
© Dreamstime
Lying on the Gulf of Parita, Herrera is home to rolling hills and forests, with lots of charming fishing villages found nestled along its sparkling coastline.
What it may lack in terms of attractions, at least in comparison with other provinces in the country, Herrera more than makes up for with its enthralling local festivals and carnivals; those at Chitre, Parita, and Ocu are among the most popular.
Herrera boasts a rich cultural heritage, with the best pottery and most popular alcoholic drink in the country, Seco, produced in the province. Its small towns and villages offer visitors the opportunity to see the authentic and traditional side to Panama, while its sandy beaches are great for relaxing on and looking out over the gulf.
7. Los Santos
© Dreamstime
Tucked away at the end of the Azuero Peninsula that lies at the heart of the country, Los Santos is bordered on one side by the Gulf of Panama, and on the other by open ocean, with the Pacific stretching away before you.
As it is home to six national parks, there is loads of lovely nature and scenery to explore. Its tropical savanna contrasts gorgeously with its rugged mountains and glorious coastline, which is dotted with mangroves, dunes, and beaches; the majestic islands of Iguana and Canas lie just offshore.
Boasting a distinct cultural identity, towns such as Las Tablas – the capital of the province – are fascinating to explore. Las Tablas acts as a center for Panamanian art, music, culture, and cuisine; the best time of year to visit is during its famous carnival. Other popular places to stop by in Los Santos are the beaches of Achotines, Guarare, and Venado, with the valleys in Tonosi also well worth checking out.
8. Panamá
© Dreamstime
Home to capital Panama City, the province of Panama is many visitors' first port of call, and no visit can be considered complete without heading to Miraflores Locks to watch some of the massive ships and tankers pass through the Panama Canal.
While the capital, with its fascinating historical sights and cultural landmarks, is certainly worth visiting, it is worth venturing further afield; the province is home to some beautiful natural sights, with Soberania National Park boasting lots of fine trails and paths for you to hike along.
Panama also has the stunning Isla Taboga for you to visit, as well as the stunning Pearl Islands archipelago, which is full of idyllic beaches and pristine forests. The most famous location is Contadora Island, which appeared on the TV show Survivor. As well as being beautiful, the islands have lots of fantastic outdoor activities for you to enjoy, with swimming, sailing, and snorkeling all popular.
9. Panamá Oeste
Ingo Mehling / Wikipedia
Lying just to the west of the Panama Canal, Panama Oeste is a world of contrasts; it is home to some of the largest cities in the country, as well as some awesome wildlife and nature.
The cities of La Chorrera, Arraijan, and Vista Alegre each have their own attractions and sights for you to get stuck into. There are also lots of peaceful, laidback towns and villages lying along the Gulf of Panama that are well worth visiting for their excellent beaches and gorgeous sunsets.
Some of the most impressive places to check out are Arraijan Protected Forest and the majestic Altos de Campana National Park, which is the oldest nature reserve in the country. Home to rolling hills and valleys, the national park has a plethora of wildlife, and the views from the summit of its highest peaks are breathtaking.
10. Veraguas
© Dreamstime
The only province in the country to border both the Atlantic and Pacific oceans, Veraguas is one of the best places to head to in Panama if you're after spectacular natural sights. It is home to everything from mountains, rivers, and valleys to endless forests and golden beaches.
Both Cerro Hoya National Park and Sante Fe National Park are mesmerizing to explore with their wealth of trails and lush rainforest. However, one place really stands out from the rest – Coiba National Marine Park. Lying offshore in the Pacific Ocean, this majestic marine park really is a must-see when in Panama. Frequently described as 'the Galapagos Islands of Central America,' it has some of the most breathtaking scenery, marine life, and scuba diving on offer.
Veraguas also has some lovely beaches for you to lounge on, with those at Malena, Torio, and Playa Santa Catalina particularly delightful. The capital of the province, Santiago de Veraguas, has an amazing cathedral and central plaza which are well worth checking out.
Indigenous regions
Designed to protect and preserve both the habitats and ecoystems of the territories as well as the culture, customs and life styles of the people that live within them, the Indigenous regions are administrative areas in Panama that are home to sizeable indigenous populations.
The establishment of the Indigenous regions of Embera, Guna Yala and Ngabe-Bugle now protects both the human and political rights of the local people as well as enable thems them to freely practice their language, culture and traditions.
11. Emberá
© Dreamstime
Nestled away among pristine and untouched jungle in the east of the country, Embera consists of the two separate territories of Chepigana and Pinogana, which each surround a major river basin.
The Embera people boast a rich cultural heritage. Staying in one of their traditional villages or towns that hug the river banks is a fantastic experience which enables you to learn more about their customs and lifestyle.
In addition to this, treks into the rainforest or the mountains of Darien National Park and cruises along the river bring you in touch with the majestic natural wonders all around you.
12. Guna Yala
© Dreamstime
Hugging the northeast Caribbean coastline of the country, Guna Yala is blessed with some amazing scenery. Its long shoreline is lined with beautiful beaches and steamy rainforest, while an alluring archipelago of 365 islands lies offshore.
Hidden away along the coast are lots of laidback towns and villages for you to visit, with most locals working either in agriculture and fishing or tourism.
The indigenous region is great to visit if you're interested in learning more about the culture and customs of the Guna people. Combine your cultural experience with a beach holiday or a boat trip to the San Blas Islands to go snorkeling or fishing.
13. Ngäbe-Buglé
© Dreamstime
Covering a large swathe of territory in northwest Panama, Ngabe-Bugle is very mountainous, boasting lots of lovely tropical rainforest scenery. Cerro Santiago is just one of its most impressive peaks.
Due to the topography and geography of the terrain, it's a great place to enjoy outdoor activities such as hiking and rock climbing. Whitewater rafting along its mighty rivers is also possible, and the isolated beaches along the Caribbean coast make for a very peaceful alternative.
Home to both the Ngabe and Bugle peoples, the indigenous region is full of great towns and villages for you to check out. Everywhere you go, you'll come across bustling markets with people selling all types of fruit and vegetables as well as local artisanal products.