As the capital of Belgium, the city of Brussels is a major hub for the country as well as the entire European Union. It would be easy to spend your entire city trip exploring what Brussels has to offer. Bustling outdoor markets, a stunning royal palace and more than a dozen fantastic museums set the scene, and a variety of breweries and shops ensure nonstop enjoyment.
While visiting Brussels, don't forget to soak up the culture outside of the city. These day trips from Brussels throughout Belgium, as well as the neighboring countries, are a wonderful way to see Europe.
Map of day trips from Brussels
© OpenStreetMap © MapTiler © Touropia
Located west of Brussels, Tournai has a unique history, and it includes a brief period of time when it was under British rule. Today, many visitors head to Tournai to see the magnificent cathedral. Make your way to the belfry in order to view the entire city center below.
Much of the architecture surrounding the cathedral is from the 12th and 13th century, so even a brief self-guided tour can be a wonderful medieval experience. The Museum of Fine Arts is vastly underrated and contains works by the likes of Rubens, Monet and Van Gogh.
Getting to Tournai
As direct trains run to Tournai every hour, it is very simple to get there by public transport; you can take a train from any one of the city's main stations, which are Brussels Midi, Brussels Central, and Brussels North. All in all, it should take you an hour, and once you arrive, it's just a 15-minute walk to the center.
Driving takes almost the same amount of time. To get there, you want to head south out of Brussels on the E19 before taking the E429 west. Turn off at exit 34; from there, it's just a short distance to the center of Tournai. Due to its proximity to Lille in neighboring France, it is well worth visiting both cities in one day if you have the time.
8. Waterloo Battlefield
[SEE MAP]
Even if you're not a serious history buff, you've probably heard of the Battle of Waterloo. It was at this historic site that Napoleon lost his final battle against the Duke of Wellington. You can visit the exact site of this epic defeat from 1815 today. The spot is marked clearly with an artificial hill and known as the Lion's Mound.
Climb the steps to the top of the mound itself, admire the lion sculpture and take in the 360 degree views of the entire battlefield. Re-enactments are usually held on the weekend nearest the battle's anniversary (18 June).
Getting to Waterloo
Located just 30 km (20 miles) south of Brussels, the interesting historic site is very easy to get to by public transport, and trains depart every hour from the city center. Just hop on a train and alight at Braine-l'Alleud station 20 minutes later. From here, you can either walk half-an-hour to the battlefield or take a ten-minute bus ride on line W.
It is also straightforward to drive to Waterloo Battlefields. This means you can easily visit another couple of places by car, such as the African Museum in Tervuren and the beautiful bluebells in Halle forest (depending on the season). Alternatively, you could stop off and hike in the lovely Foret de Soignes. To get to the battlefields from Brussels, drive east out of the city and pick up the ring road heading south to Waterloo. Once you get there, you'll see signs pointing you to the visitor's center and the distinctive Lion's Mound.
If you want to learn all there is to know about the battlefields and how Napoleon came to be defeated, you may want to take a guided tour to Waterloo. With an expert guide on hand, you'll visit lots of interesting sights and memorials, as well as hideouts where each side prepared their battle strategies.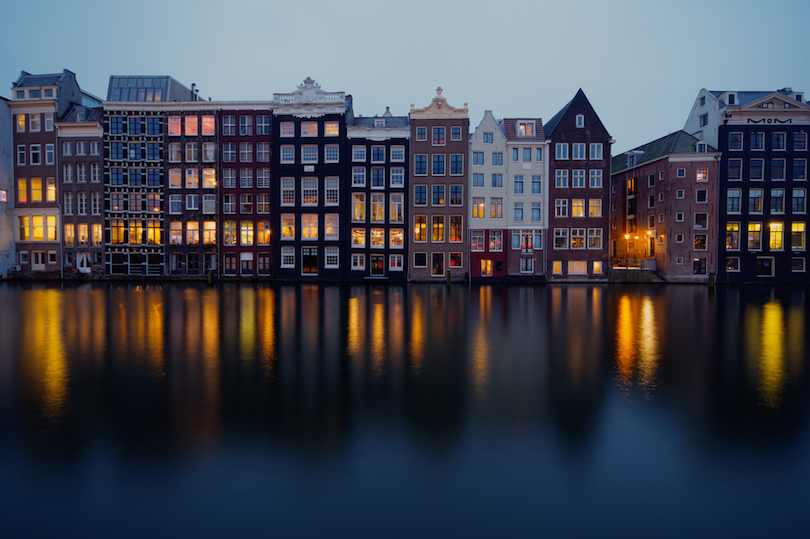 Lennart Tange / Flickr
The Dutch capital is a fascinating city with incredible scenic beauty. Nicknamed Venice of the North, Amsterdam boasts lots of canals that provide waterfront views from throughout the city. If you're just there for the day, spend it in the medieval city center.
This part of Amsterdam is home to the 17th century Royal Palace as well as the former home of painter Rembrandt van Rijn. Don't miss the slightly touristy but undeniably beautiful floating flower market that takes place every day on the waters of the Singel Canal.
Getting to Amsterdam
From Brussels Midi, direct Thalys trains and Eurostars run between the two cities and the journey usually takes around two to two and a half hours in total. Once you arrive at Amsterdam Central Station, you'll find most of the city's main sights are just a short walk away.
To make the most of your time in Amsterdam, it is not a bad idea to take a guided tour from Brussels, as this will take you around all the main sights without you having to worry about finding your way around. After a scenic drive through beautiful countryside, you'll visit a crafts center in the Netherlands to learn about Dutch cheeses, clogs, and pottery before exploring what the center of Amsterdam has to offer up.
jiuguangw / Flickr
Dinant is located on the banks of the River Meuse in the French speaking region of Wallonia, and its main attraction is the striking Citadel of Dinant. The citadel was constructed in the 19th century on the cliffs overlooking the river, and it provides sweeping views of the landscape below.
To reach the Citadel of Dinant, you need to climb several hundred steps carved into the cliffs or take a cable car. Once you're there, take the time to view the attached museum, which boasts medieval arms as well as interesting art from the region.
Getting to Dinant
Direct trains run between Dinant and Brussels every hour, and on the way, you'll pass through some lovely countryside. The journey takes about 90 mintues, and the train station is located right next to the center of Dinant. After seeing Dinant, you could take a train to nearby Namur before heading back to Brussels.
Driving to Dinant is just as easy as taking public transport. All you have to do is head south out of Brussels and hop on the A4 which will take you almost all the way there. After an hour, turn off onto the N97 and follow it the last short stretch until you reach the town center. It takes about an hour and 15 minutes to drive the 100 kilometers there, and you can visit Namur on the way back to Brussels.
Another option is to take a guided tour that not only takes you to see Dinant but also to visit Luxembourg City. This is a lovely way to see two very different places in one day. Accompanied by a knowledgeable guide, you'll explore the interesting sights on show in Luxembourg City, such as the Royal Palace of the Grand Duke and the European Court of Justice. Tours culminate in a visit to charming Dinant, where you will stop by the impressive 13th-century cathedral.
piotrek.kazmierczak / Flickr
A short 45-minute train ride or car journey north of Brussels takes you to Antwerp, a city known as the hub of trade and economy in Belgium. Antwerp is a place with a thriving fashion industry and a major diamond trade, but there are plenty of culture attractions as well.
If you're an art fan, make time to see the Rubenshuis, where Baroque painter Rubens once lived, as well as the Koninklijk Museum voor Schone Kunsten, or fine arts museum. If you're in the market for souvenirs, the Meir is one of the busiest shopping destinations in all of Belgium.
Getting to Antwerp
As it is just 45 minutes away by train, Antwerp is very easy to get to by public transport. Simply hop on a train in Brussels and alight at Antwerp Central Station – one of the most beautiful in Europe. Once there, it is just a short walk into the center of town.
To make the most of your time in Antwerp, you may want to consider taking a guided tour; this will take you around all the main sights such as its stunning cathedral and wonderful Market Square. With a knowledgeable guide to assist you, you'll come away with a greater understanding and appreciation for this fantastic city and its interesting medieval history.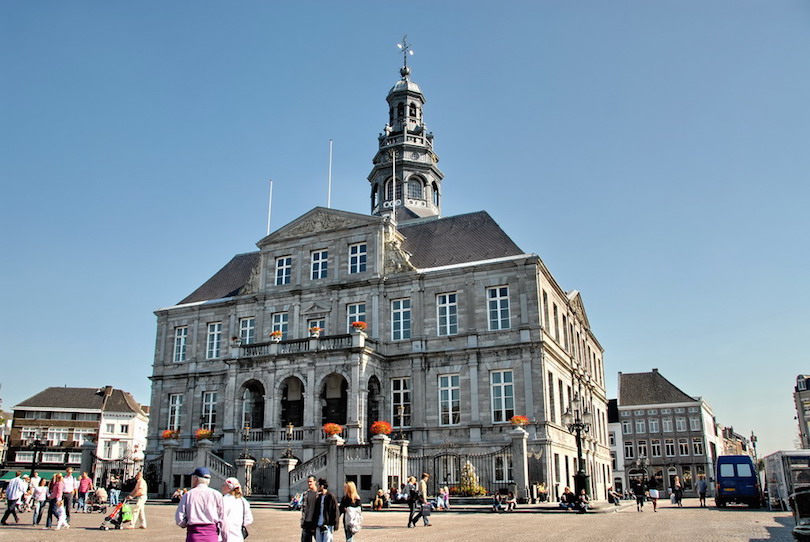 FaceMePLS / Flickr
Due east of Brussels is the Dutch province of Limburg, where you'll be able to explore the city of Maastricht. The city is a true melting pot, thanks to its location just a few miles from both Germany and Belgium. Strolling around Maastricht, be sure to check out the two major plazas: The Markt and the Vrijthof.
In addition to the historic architecture and the world-class museums, you might be intrigued by the Saint Pietersberg Caves. These caves were dug as shelters is centuries past, and during the Second World War famed artwork was stored underground in them for safekeeping.
Getting to Maastricht
Due to Belgium's small size and fantastic transport links, it is very easy to cross the border and visit Maastricht in the Netherlands. While the train journey does involve one change, it will still only take you about an hour and 40 minutes in total. Just hop on a train to Liege from Brussels; once there, take a half hour train to Maastricht. From the train station, it is then a short walk to the city, and you cross over the lovely river Meuse on the way.
Another option is to drive to Maastricht. This should take you an hour and a half depending on traffic. Just head east out of Brussels and take the E40 until the outskirts of Liege, where you then hop on the E25 heading north across the border to Maastricht. On the way back, it is well worth stopping off to see the impressive modern train station in Liege and the beautiful university town of Leuven.
Just two hours of driving southeast of Brussels will bring you across the border into Luxembourg. The capital, Luxembourg City, is divided into different districts. If you're interested in medieval architecture, most of it will be concentrated in the High City, or Ville Haute.
Be sure to check out the Bock, a series of natural fortifications constructed in the 10th century that still stand and were designed to protect the city from invasion. For something a little more modern, the contemporary Musée d'Art Moderne Grand-Duc Jean, known to locals at MUDAM, is packed with modern art.
Getting to Luxembourg City
While it does take three to three and a half hours to get to Luxembourg City by public transport from Brussels, this still leaves you enough time to explore the small yet beautiful city center, so is a viable option if you don't have a car. From any one of the three main stations in Brussels, take a train to Arlon, where you'll have to change trains. You sometimes only have five to ten minutes to change trains, so make sure to gather up your things in preparation before alighting. From here, it is only a 20-minute train journey to Luxembourg City, and the center is then a 15-minute walk away.
It is a lot quicker and easier to drive to Luxembourg City as it takes just two hours and 20 minutes. After heading south out of the center of Brussels, hop on the A4 and follow it after it turns into the E25. This will take you to the border with Luxembourg, where the road turns into the A6, which will take you to straight to Luxembourg City. On the way back to Brussels, you could stop by the small yet scenic Dinant or visit the impressive citadel in the city of Namur.
If you don't fancy driving or taking public transport there yourself, you could opt to take a guided tour to Luxembourg City. After taking a sightseeing trip to see interesting and varied sights such as the Notre-Dame Cathedral and the European Court of Justice, you'll have free time to explore the city at your leisure. Tours also include a stop at the picturesque town of Dinant on the way home.
Flikkesteph / Flickr
North of Brussels is Ghent, a city with a unique blend of history and modern sophistication. In the middle ages, Ghent was a major hub, and that influence is clear when walking through Ghent and admiring the architecture. Ghent is best known for the beautiful 15th century Ghent Altarpiece, or Adoration of the Mystic Lamb, painted by van Eyck.
Today, that marvelous piece of art is located in Sint-Baafskathedraal, or St. Bavo's Cathedral. Canal cruises are also incredibly popular in Ghent, and a short one can be a fantastic way to see more of the city on a single day trip from Brussels.
Getting to Ghent
Just 40 minutes away from Brussels by train, Ghent is very easy to get to, and trains depart very frequently during the day. At night, they leave less regularly, so you may find yourself with an hour wait when heading back to Brussels. From Gent-Sint-Pieters train station (Ghent's main station), you can either walk the half hour to the city center or take tram number 2, which takes about 20 minutes.
It takes roughly the same amount of time to get to Ghent from Brussels by car. Once you arrive, you'll find that there are lots of car parks in the city center. Take the E40 heading northwest out of Brussels; after 40 minutes, turn off onto the E17 and follow signs to the city center. Due to its proximity to Bruges, you could always drive 20 minutes further to visit 'the Venice of the North,' as it is known, or even head east and check out Antwerp, which is about a 45-minute drive away.
Lots of people who want to see as much of this beautiful part of Belgium as possible decide to take a guided tour which combines both a visit to Ghent and Bruges into one unforgettable day. With a knowledgeable guide on hand, you'll get to explore both of the medieval cities. Highlights include a walk around Bruges' 'Lake of Love' and Ghent's Castle of the Counts of Flanders.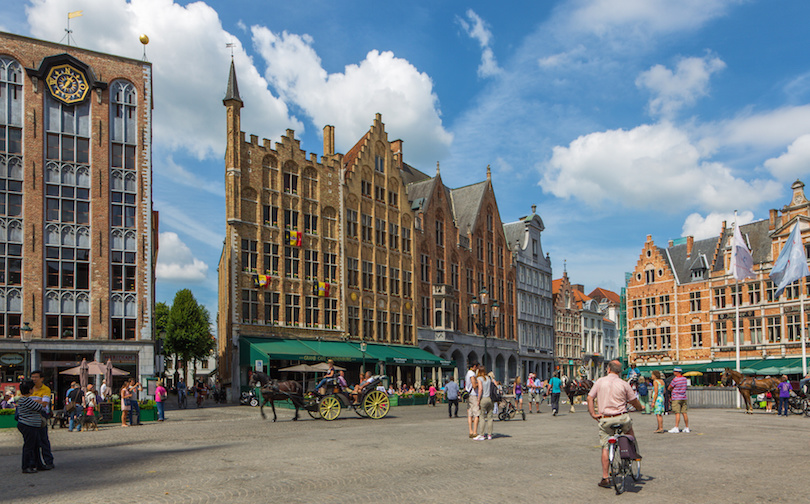 Located northwest of Brussels, Bruges is a picture-perfect town that looks like it could still be living in the past. Largely pedestrian, this is a city that is best explored on foot. Bruges is essentially surrounded by a circular canal, so it is easy to find your way around, and you'll always be close to some water views. The central plaza, known as the Grote Markt, is home to the famous belfry. You can climb to its top, and be rewarded with amazing views, if you're up for a climb of 366 steps.
Getting to Bruges
To get to Bruges from Brussels by public transport is very easy, as direct trains run regularly between the two cities and take about an hour. You can take a train from any one of the three main stations in Brussels: Brussels North, Brussels Midi or Brussels Central. Once you arrive in Bruges, it is then a 15-minute walk to the center of the city; look for the towering belfry and slowly make your way there through the picturesque streets. If you take an early train to Bruges, it is possible to stop by beautiful Ghent on the way back to Brussels as they lie on the same train line.
Driving to Bruges is also very simple; you simply need to hop on the E40 heading northwest, and this will take you all the way there. Turn off at exit 397 and follow the signs to the city center, parking the car before exploring scenic Bruges on foot. As it is only an hour to Bruges from Brussels, you can head further on to explore the Belgian coastal city of Ostend, which is only 20 minutes away – or stop by Ghent on the way back.
If you are pressed for time and want to see both Bruges and Ghent in just one day, you may be better off taking a guided tour. These are a very fun and efficient way to see as many amazing sights as possible. Over the course of the day, your expert guide will take you to visit both the Chapel of the Holy Blood and St Bavo's Cathedral; just two of the highlights which you can expect to see.