Located at the heart of important trade routes, Belgium and its cities have long attracted wealth and riches – along with the accompanying battles to control them. Its lovely centers are soaked in history, with impressive cathedrals, churches and castles dotting the land. The home of waffles, chocolate, beer and fries, Belgium's cities have numerous fine dining options and atmospheric bars which cater to any palate.
Whether it's the medieval heart of Bruges that attracts you, the multicultural streets of Brussels or the pounding nightlife in Antwerp, the best cities in Belgium surely won't disappoint.
In this post, we'll cover:
15. Nivelles
© Tacna / Dreamstime
Located in Wallonia, Nivelles has a picturesque old town which is dominated by the spectacular and unusual looking collegiate church of St. Gertrude. Rebuilt after being bombed in WWII, the city and surrounding region has been inhabited since 4000 BC and there are some charming old buildings scattered around the city.
The best times to head here are during the Nivelles carnival and the Saint-Gertrude procession.
14. Tournai
With one of the most impressive cathedrals in the country, as well as a lovely old Grand Place and myriad little bars and cafes, Tournai flies under the radar but is definitely worth visiting. While the spectacular cathedral dominates the city, numerous 12th Century churches and military buildings line its streets.
Tournai has remarkably been controlled by everyone from the Franks and Romans to the English, Austrians and Spanish! With Lille only thirty minutes away, Tournai is a great day trip option.
13. Kortrijk
© Sergey Dzyuba / Dreamstime
Founded by the Romans, this ancient city has many attractive old buildings and monuments for visitors to enjoy, despite being heavily bombed during the Second World War. Once a key city in the linen industry, Kortrijk is still a prosperous place and there are lots of great shopping options on offer.
With a lovely Begijnhof and a delightful belfry at the Grand Place to explore, Kortrijk is well worth a visit.
12. Charleroi
© Peter Jeffreys / Dreamstime
Once voted the ugliest city in Europe by readers of a Dutch newspaper, it is fair to say that Charleroi is a bit of an eyesore. Formerly the industrial heart of Belgium, its coal industry collapsed in the 70's and its decaying factories and dilapidated steelworks now attract urban explorers to its streets.
Despite the ugly side, the city is strangely picturesque. There is some great architecture to check out on the streets, as well as some great museums. With an international airport on its outskirts, most visitors stop by on a layover.
11. Hasselt
© Fcobosp / Dreamstime
Pedestrian friendly, the historic center of Hasselt is a pleasure to stroll around and has some fantastic antique buildings, restaurants and bars. Known for its gin, the museum dedicated to this craft is well worth a visit.
Each year, there is a fun and buzzing gin festival, attracting huge crowds to its streets – the fountain in the town center even pumps out gin! A great place to visit is the nearby Bokrijk – a huge open-air museum and park that has a plethora of old buildings highlighting Flander's ancient past.
10. Ostend
© Topdeq / Dreamstime
The most popular seaside resort city in Belgium, every weekend locals head to Ostend to enjoy its delightful promenade and expansive, sandy beaches. Heavily bombed during the Second World War, drab and unattractive tower blocks which were built in the aftermath now overlook the sands.
Despite this unfortunate feature, there are some refined cafes and restaurants along the seafront and a huge casino for visitors to try their luck – as well as bustling nightlife. With historic sites throughout the city, the rebuilt sea defenses are particularly impressive.
9. Namur
© Richair / Dreamstime
Located at the spot where the Meuse and Sambre Rivers join, Namur's strategic position means that it once housed one of the mightiest fortresses in Europe. Now, the large citadel is the main tourist attraction in the city and impressively dominates a hilltop, overlooking the mess of buildings below.
While Namur initially appears a bit run down, its picturesque old town is full of delightful old structures, and there is a lively atmosphere. The capital of Wallonia, from Namur you can easily explore the region surrounding the city.
8. Mons
The European Capital of Culture in 2015, Mons' delightful medieval center and picturesque Grand Place make it a fine option for a day trip. With some interesting and modern museums, as well as great bars and restaurants, the best time to visit is during the annual week-long festival that takes place in its streets.
With origins stretching back to the 14th Century, the Ducasse de Mons of Doudou festivities are a raucous affair, full of local traditions washed down with delicious Belgian beer.
7. Mechelen
Once the capital of the Netherlands, Mechelen's prestige has dwindled over the centuries, although the historic center still retains its grandeur and beauty. The central square is lovely, with the domineering St. Rumboldt's Cathedral towering over the beautiful facades and peaceful cafes below.
Canals cut through the city – while they lack the beauty of those in Bruge, they still add charm to the place, as do the fantastic old churches which are intermingled with slightly less flattering post-war buildings. Mechelen's lively streets have some good shopping and dining options on offer.
6. Liege
© V. Chystsiakova / Dreamstime
With its scenic setting on the river Meuse, Liege's industrial past means that its buildings are slightly decaying and grim in places, although the leafy hills surrounding the city give it some much needed color.
The largest city in Wallonia, Liege is rapidly modernizing, and some lovely architectural pieces can be found hidden around every corner. There are some fantastic waterside promenades to wander along, and the center has some great restaurants and lively nightlife for you to enjoy.
5. Leuven
Just half an hour away from Brussels by train, Leuven is a fantastic day trip option that is seldom visited by tourists. Home to a large student population and the oldest university in Flanders, its youthful population makes the streets thrum with life – although the city is very quiet at the weekend, as most of them go home.
Beautiful to wander around, its historic center is an absolute delight to explore, and the ancient Groot Begijnhof is full of lovely and quiet cobbled streets. At the heart of the city is the Oude Markt, ringed with bars and cafes.
4. Ghent
Often overlooked in favor of Bruges, Ghent is a somewhat hidden gem which inevitably delights visitors to its streets. A fantastic place to live, it is small enough to get around with ease but large enough that you won't get bored. Its medieval center is stunning, and a lovely belfry, cathedral and church dominate the ancient streets around them.
The canal side is picturesque, with charming facades making it a scenic part of the city. You'll find Ghent remarkably devoid of tourists, but its streets are full of life. With some great museums, special bars and an old castle to boot, Ghent will surprise and delight any visitor.
3. Antwerp
The second largest city in the country has a teeming port that has long welcomed traders to its shores. It was once one of the most important cities in Europe. Cool, hip and trendy, its upmarket fashion boutiques, diamond shops and art outlets attract an eclectic mix of people, and its pounding nightlife scene makes it a fun and entertaining place to spend some time.
Despite being heavily bombed in the Second World War, Antwerp's historic center is beautiful to amble around. Its imposing cathedral towers over winding, cobbled streets that house some lovely architectural pieces. With lots of cultural attractions on offer, as well as a plethora of bars, cafes and restaurants to check out, Antwerp has something for everyone. Before leaving, make sure to stop by the central train station – one of the most beautiful in the whole of Europe.
2. Brussels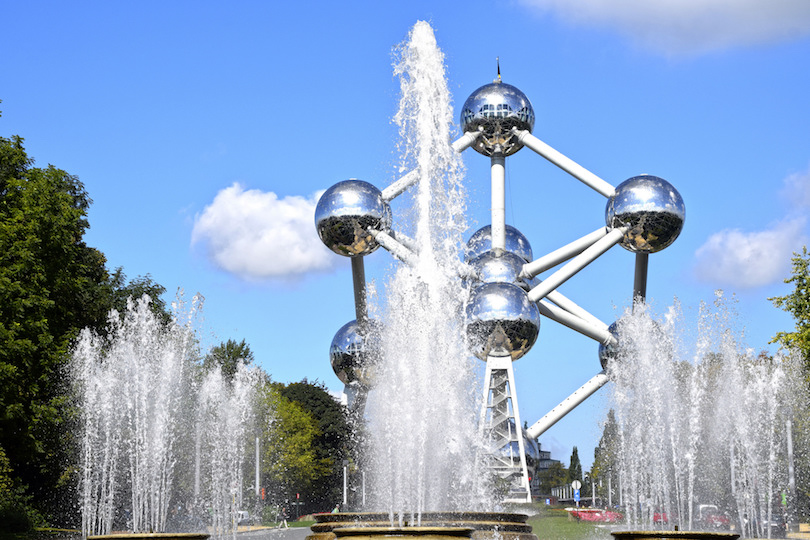 Often overlooked for neighboring Paris or Amsterdam, Brussels is a captivating city which is great to visit and even better to live in. The capital of the country houses the headquarters of the European Union.
It is a very multicultural place to explore, with Turkish neighborhoods giving way to Portuguese and Brazilian areas. Full of life, yet with a laidback vibe, the architecture on show is eclectic and dazzling; beautiful art nouveau buildings give way to elaborate mansions and monstrous concrete edifices that are brightened up with cartoons – an important part of Belgium's cultural heritage.
At the heart of the historic center is the stunning Grand Place, which is the undoubted highlight of Brussels. There are several great museums nearby worth checking out too. With an amazing array of unique and atmospheric bars and fine dining options, Brussels is an underrated European capital that is definitely worth a visit.
1. Bruges
Picture perfect, Bruges' medieval streets are dreamy to explore. Its delightful cobbled streets give way to cafe-lined squares and meandering canals, as ancient church spires tower over everything. One of the most scenic places in Europe, it is nicknamed 'the Venice of the North,' and is the most popular cities to visit in Belgium.
While it is undoubtedly lovely, it can get over-crowded with tourists, so it is best to try and visit midweek if possible. Wandering around this charming city, you'll find atmospheric bars and cafes hidden away amongst its alleys – perfect for sampling some of Belgium's fantastic beers.
Map of cities in Belgium
© OpenStreetMap © MapTiler © Touropia