Once one of the wealthiest and most powerful cities in the whole of Europe, Ghent still proudly showcases lots of fabulous medieval architecture. This is, in part, what makes it so delightful to explore. Located at the spot where the Leie and Scheldt rivers join, its gorgeous center is home to a towering belfry with an impressive centuries-old cathedral, church, and castle to be found alongside its picturesque canal.
Lying in between Brussels, Bruges, and Antwerp, this compact city is often overlooked in favor of its nearby neighbors, although this has changed somewhat in recent years as word spreads about its many charms.
Despite its small size, there are plenty of things to do in Ghent, and its sizeable student population lends it a very lively and youthful feel. With a wealth of interesting historic tourist attractions and fascinating museums for you to check out, Ghent is not to be missed out on when visiting Belgium.
In this post, we'll cover:
12. Vrijdagmarkt
One of the main squares in Ghent, Vrijdagmarkt is named after the lively Friday market that has taken place here ever since the 12th century. Lined by beautiful old guild houses, as well as a couple of wonderful art nouveau buildings, the square is lovely to wander around. At its heart, lies a fantastic statue of Jacob van Artevelde – an important Flemish statesman.
The weekly market is loads of fun to peruse, with all kinds of stalls selling everything from local handicrafts to fresh fruits and vegetables filling the square. Vrijdagmarkt is great to visit at any time of day, as lots of cafes, restaurants, and bars are found here.
Of these, the Dulle Griet is the most atmospheric of the lot. Besides its homely and unique looking interior, you'll also find 350 or so Belgian beers for you to try.
11. Museum Voor Schone Kunsten
Romaine / Wikipedia
Located just a short walk away from the train station, the Museum of Fine Arts – as it is known in English – boasts a brilliant collection of paintings and sculptures that showcase some of the finest examples of Flemish art.
Taking you from the early 14th century right up until the mid 20th century, its comprehensive collection displays works by such renowned masters as Hieronymus Bosch, Rubens, van Dyck, and Magritte.
While the main focus is on Belgian artists, some international names such as Boudin, Manet, and Tintoretto can be found interspersed amongst them, while temporary exhibitions are regularly held in the museum. Opened all the way back in 1810, MSK is one of the oldest museums in the whole of Belgium and is well worth checking out if you have the time.
10. Korenmarkt
Lying right in the city center, Korenmarkt is surrounded by some of the prettiest and most prestigious buildings in Ghent. You'll certainly find yourself passing by at least once or twice while in town. Besides being lined by some magnificent old townhouses that nowadays are home to restaurants, bars, and shops, its real show stoppers are undoubtedly the gorgeous old Post Office and the majestic Saint Nicholas Church.
In addition to this, the charming cobbled square is also just a stone's throw away from the picturesque banks of the Leie river and St Michael's Bridge, which offers one of the best views in Ghent. A very laidback yet lively place to spend time, the Korenmarkt acts as the main square in town and hums with life at any time of day.
9. Stadhuis (Town Hall)
Certainly one of the most unique buildings in the city, the lavishly decorated Town Hall actually exhibits two very distinctive yet equally delightful architectural styles. While one side boasts a beautiful Late Gothic facade, the other displays some lovely Renaissance features and is adorned with elegant columns and pilasters.
These two contrasting forms came about because the Stadhuis took so long to build, and tastes changed in the meantime. Only completed in 1600 after work began on it in 1519, the town hall's gorgeous interior is just as varied.
Visitors can book to go on an hour-long tour of its finely decorated halls and luxurious stately rooms. Set at one end of the Botermarkt, the Stadhuis lies right next to the Stadshal, not far from the belfry.
8. Patershol
Winding their way here and there, Patershol's ancient cobbled streets take you past lots of charming old medieval buildings, with cozy cafes, rustic restaurants, and boutique shops dotted about.
Tucked away between Gravensteen castle and the Leie river, this historic neighborhood is a joy to explore, as atmospheric alleys, unchanged for centuries, beckon you on.
Once home to tradespeople and clergymen, Patershol is now a very popular haunt amongst the city's university students and has lots of welcoming bars where you can spend an evening sampling Belgian beers.
7. STAM Ghent City Museum
Only opened in 2010, STAM is where you want to head if you're interested in learning all about the city of Ghent's fascinating history. Set in a couple of fantastic old buildings that used to be part of a nunnery, the museum's interior is strikingly modern; interactive exhibitions lie next to multimedia displays and an enormous aerial map of Ghent, which you can walk across.
In addition to perusing the many historical and archaeological artifacts, videos, photos, and projections introduce you to life in present-day Ghent – as well as what it may look like in the future. Very well presented and laid out, the award-winning STAM Ghent City Museum will certainly not disappoint.
6. Saint Nicholas Church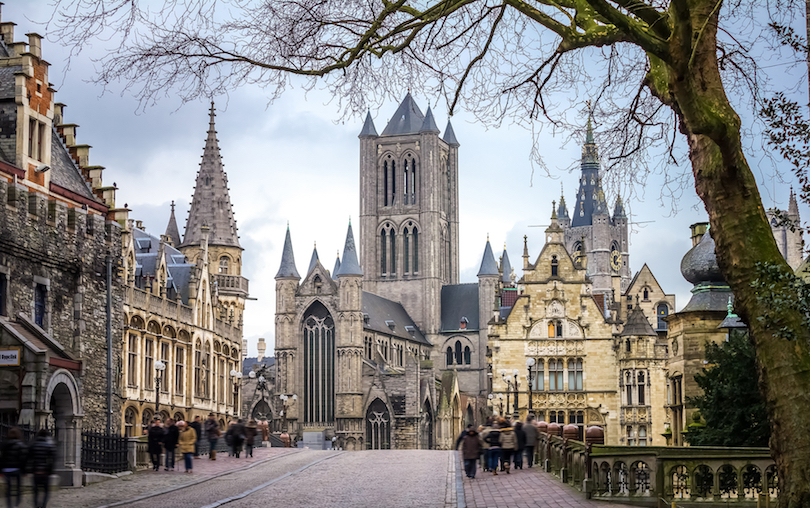 One of the most impressive and important landmarks in the whole of the city, Saint Nicholas Church has overlooked the center of Ghent ever since work first began on it in the early 13th century.
Paid for by the city's wealthy merchant class and luxurious guild houses, the church was constructed in the local Scheldt Gothic architectural style using bluey-grey stone from nearby Tournai.
While its cavernous interior is certainly worth checking out, Saint Nicholas is perhaps best viewed from outside. Its slender turrets flanking a magnificent nave and looming bell tower make for a spectacular sight.
5. St Michael's Bridge
Spanning the Leie river that runs through the center of town, St Michael's Bridge is surrounded by breathtakingly beautiful buildings and isn't too shabby to look upon. Lined by wrought iron balustrades with ornate lamp posts at either end, the cobbled bridge has been used by people to cross the river for centuries. From it, you can enjoy lovely views of the beautiful Graslei side of the river with all of its fantastic old buildings.
Saint Michael's Church also makes for a fine sight. The undoubted highlight, however, is the breathtaking view you can revel in of the three towers of Saint Nicholas Church, the Belfry, and St. Bavo's Cathedral standing in a line before you. With so many astounding vistas on show, St Michael's Bridge is one of the best places to snap photo after photo in the whole of the city.
4. Belfry and Cloth Hall
Towering to a height of 91 meters, Ghent's Belfry offers up an incredible view of the city below. As such, it should come as no surprise to learn that for centuries, it was used as a watchtower. Completed in 1380, the neo-Gothic campanile is topped by a dragon weathervane, which has since become the mascot of the city. You can see two previous versions of the famous symbol on your way to the top.
Besides the majestic views, visitors can also take a look around the delightful Cloth Hall that is attached to the Belfry.
Exhibiting some fantastic Brabant Gothic architecture, it is in the centuries-old hall that the cloth merchants traded and sold their wares all the way back in the 1400s and 1500s.
3. Graslei
Meaning 'Grass Quay' in English, Graslei is one of the most picturesque spots in the city; a row of splendid medieval buildings lie along the quayside. Once upon a time a bustling port, the charming quay is now a popular tourist attraction, with cafes, restaurants, and bars found along the banks of the Leie river.
Dating back to the fifth century, Graslei is steeped in history. From the quay, you can now take scenic boat rides up and down the river, learning all about its captivating past as you go.
While it is very idyllic to visit at any time of year, Graslei really comes alive during the ten-day-long Ghent Festivities when lots of music performances and light shows take place on its banks.
2. St. Bavo's Cathedral
An enduring symbol of Ghent's wealth and power in the Middle Ages, St. Bavo's Cathedral is an imposing building that is home to the third of the city's towering spires. Built in 1274 atop of two earlier churches, the cathedral features some wonderful Gothic architecture. It was here that the Holy Roman Emperor Charles V was baptized.
While its exterior certainly makes for an impressive sight, most people visit for the wealth of religious artworks that lie inside. While Rubens' Saint Bavo enters the Convent at Ghent and de Crayer's St Macarius of Gent are masterpieces in their own right, the real show stopper is The Adoration of the Mystic Lamb.
Painted by Hubert and Jan van Eyck in the 15th century, the Ghent Altarpiece, as it is also known, is renowned around the world and is one of the greatest artworks to come from Belgium. As such, it is definitely worth checking out. The story behind it is just as fascinating as the marvelous painting itself.
1. Gravensteen
One of the main landmarks in the city, the 12th-century Gravensteen looks appropriately castle-like. A solid keep and gatehouse are protected by ramparts, towers, and a moat. Built to house the Counts of Flanders, the castle was completed in 1180, and the design is based on other fortresses that Count Philip saw while off on the crusades.
While its once intimidating battlements and turrets now make for some fabulous photos, its interior is no less enticing. The keep, for instance, houses some interesting and informative exhibitions on Gravensteen's history and that of the counts and countesses, while suits of armor and torture devices lie here and there.
Set in yet another pretty spot, just a short distance from the center of Ghent, this magnificent old castle is just one of the city's most important historical monuments.
Best Time to Visit Ghent
Summer is by far the best time to explore Ghent as the sun is shining and temperatures average 20 to 22°C (68 to 74 °F). Although this is the busiest and most expensive period, there are the countless concerts and events of the city-wide Gentse Feesten to enjoy in July. You can also take boat trips along its canals or attend Rock Werchter and Tomorrowland; two of Belgium's biggest festivals.
The spring and autumn months are much more relaxed times to visit though the weather is a bit more unpredictable. The city's sizeable student population means there is still a vibrant feel about the place. In April and May the flowers are blossoming while both September and October, although greyer, have some amazing autumnal foliage.
Outside of these months, Ghent is quite subdued apart from around the Christmas holidays when its charming center is delightfully decorated. While sightseeing is less enjoyable in the cold, there are plenty of cozy places to stop by after exploring its magical Christmas market and roller skating about its rink.
Map of Things to do in Ghent, Belgium