Tucked away between the Blue Ridge Mountains and the Ohio River, West Virginia is an absolutely beautiful part of the States to explore, with a plethora of incredible landscapes on show.
Its many mountains, forests, and whitewater rivers lend themselves perfectly to all kinds of fantastic outdoor activities. As the state is mostly overlooked by tourists, you'll often have all the incredible scenery to yourself.
Map of Places to Visit in West Virginia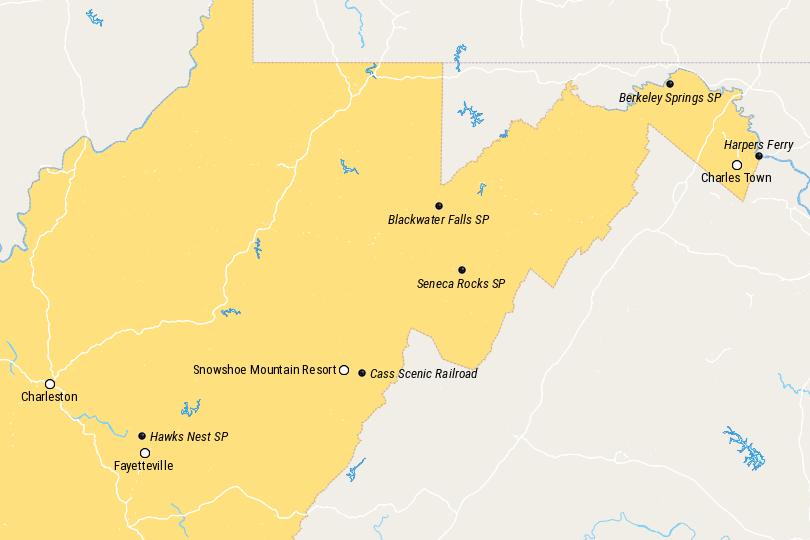 © OpenStreetMap © MapTiler © Touropia
Despite being quite sparsely populated and rural, there are some lovely mountain towns for you to visit, with lots of interesting Civil War historical sights and cultural landmarks on show. Very much a hidden gem, West Virginia's gorgeous countryside and natural wonders are waiting to be explored.
10. Cass Scenic Railroad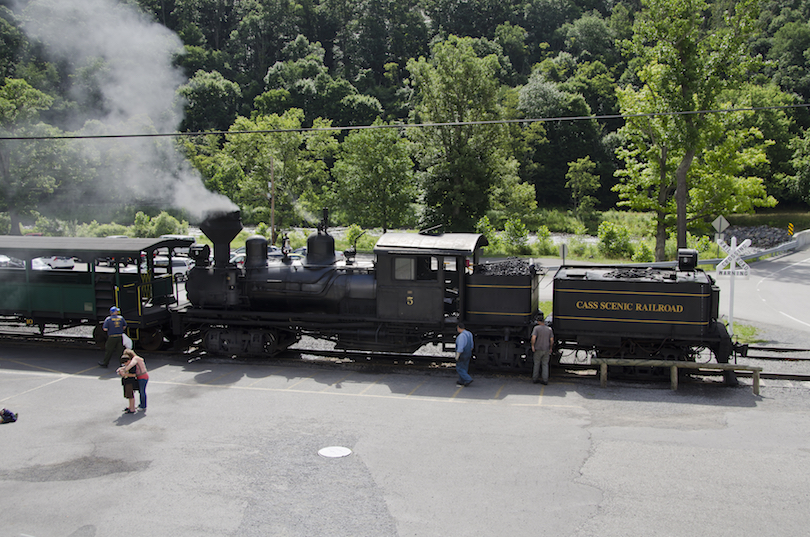 © Alan Kolnik / Dreamstime
As well as taking you through some lovely countryside, the Cass Scenic Railroad also takes you into the past, as you ride in a beautiful old carriage pulled by a steam-driven locomotive. Hearing the whistle blow and seeing steam billow out above the train is a magical experience, and train lovers will enjoy taking a ride on the heritage railroad.
Surrounding the tracks is a delightful state park of the same name. Around the historic lumber mill town of Cass, there are many beautiful hills and valleys for you to explore, with hiking, mountain biking, and boating all on offer.
One of the best moments of the train ride is when you approach the summit of Bald Knob – the third highest peak in the state – and see the world stretching away towards the horizon.
9. Seneca Rocks State Park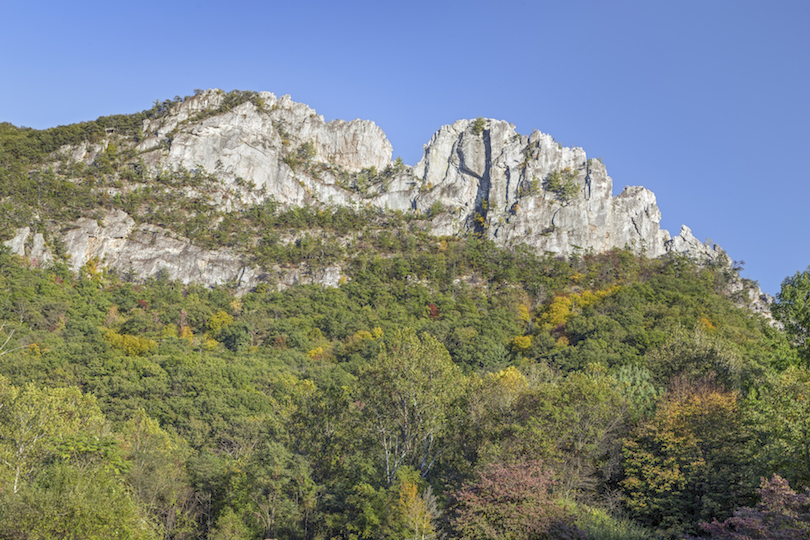 © Kenneth Keifer / Dreamstime
One of the most impressive and recognizable natural sights in the whole of West Virginia, the distinctive Seneca Rocks lie at the heart of a wonderful state park of the same name; they are definitely worth checking out if you want to go rock climbing or hiking in a pristine setting.
The jagged rock formations have a remarkable 375 different rock climbing routes for you to try out, and the panoramic views from the tops of both North Peak and South Peak make the climb well worth the effort.
With the gently ululating forest-coated hills below only punctuated by seas of green grass and fields, the scenery is a delight. Hiking along the state park's many paths and trails is a lovely way to spend a morning or afternoon.
8. Fayetteville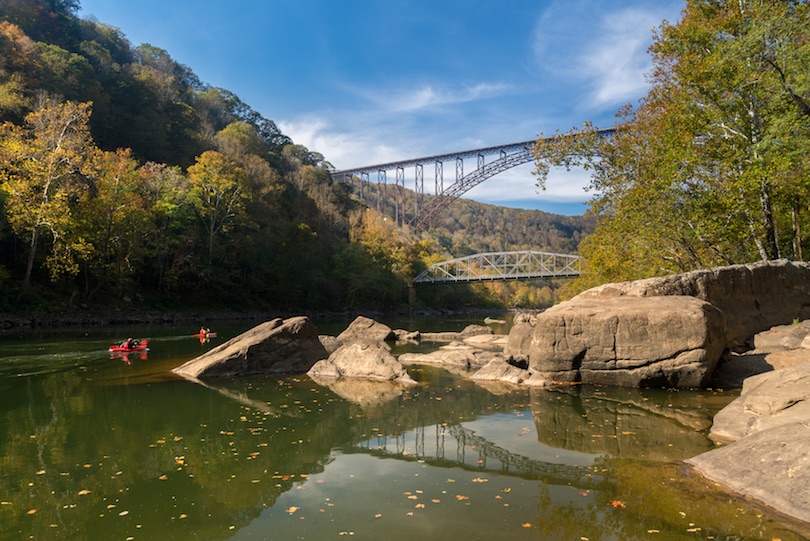 © Steveheap / Dreamstime
Despite its small stature, the tiny town of Fayetteville certainly packs a punch with all that it has for you to see and do. While its historic downtown area is full of great bars, restaurants, and galleries, the main reason that everyone visits is the astounding nature that lies at its doorstep.
With the millennia-old New River coursing nearby, Fayetteville attracts lots of thrillseekers, who come to partake in the exhilarating outdoor adventure activities it has to offer up; kayaking and whitewater rafting down the New River Gorge are popular pastimes.
In addition to this, visitors can go horseback riding or llama trekking through the nearby natural areas, or rock climbing or rappelling in the gorge and fishing along the river.
7. Hawks Nest State Park
© James Vallee / Dreamstime
Lying just to the north of Fayetteville, Hawks Nest State Park is another fantastic place to head if you love the great outdoors. There are lots of different activities for you to choose from, as well as beautiful landscapes to explore. While the most majestic view is undoubtedly that of New River Gorge Bridge and the reflective waters below it, there is loads of lovely scenery on show.
Visitors can go hiking or mountain biking along a plethora of different trails and paths that snake their way through the surrounding forests. As well as going on a heart-racing whitewater rafting trip down the New River, you can also take a scenic trip on the state park's aerial gondola. The view is particularly spectacular during fall when the foliage below turns a mesmerizing array of yellows, reds, and oranges.
6. Snowshoe Mountain Resort
© Alex Grichenko / Dreamstime
Located on Cheat Mountain, Snowshoe Mountain Resort is the largest ski resort in the area. Consequently, every winter, hordes of skiers and snowboarders from all around the US and further afield descend upon its many slopes, pistes, and trails. With cute, cozy cabins for you to stay in, the resort is a lovely place to vacation.
While most people visit Snowshoe Mountain Resort during the winter, summer also has its charms; the surrounding forests have lots of great hiking paths and mountain bike trails for you to explore.
In addition to this, there is a golf course on offer, as well as a spa and swimming pool complex. Guests can also enjoy watersports on the lake.
5. Berkeley Springs State Park
Andrew Bossi / Wikipedia
Home to a magnificent mineral spa that has been used for eons, Berkeley Springs State Park is a lovely place to head to if you want to unwind, relax, and bathe in its restorative waters. Long known for their medicinal powers, the warm waters bubble up from natural mineral springs.
The state park has been used as a health resort for over 250 years, with the first bathhouse built here all the way back in 1784. The historic Roman bathhouse is very picturesque with all the lovely trees, gardens, and pools around it. Visitors can go for a dip in one of the baths, enjoy a steamy sauna, or book an invigorating massage.
4. Charles Town
© Georgesheldon / Dreamstime
Not to be confused with the state capital Charleston, the historic Charles Town is a very popular place to visit and was named after George Washington's youngest brother. Founded in 1787, you can still see many of the family's former homes and farms scattered about here and there, and there is a very quaint, small-town feel about the place.
A great place to head to if you want to learn more about the region's rich history is the Jefferson County Museum, which has lots of interesting artifacts and photographs on display. Charles Town also makes for a laidback base if you want to head off to explore the wilds of the Shannondale Springs Wildlife Management Area.
There's also a water park located nearby if you want to splash about and have some fun, and a casino if you want to try your luck at blackjack, poker, and slot machines.
3. Charleston
© Francisco Blanco / Dreamstime
The largest city in the whole of West Virginia, Charleston lies at the point where the Elk and Kanawha Rivers meet. Its impressive State Capitol building is set in a very scenic spot overlooking their tranquil waters. As it is the commercial, cultural, and administrative heart of the region, there's a lot going on, and numerous festivals and events take place here during the year.
While walking around town, you'll see lots of beautiful old buildings, which display a variety of different architectural styles. There are a couple of fantastic museums for you to check out, such as the Avampato Discovery Museum and the West Virginia State Museum.
In addition to its historical and cultural attractions, Charleston has some brilliant restaurants, bars, and cafes scattered around the city, with lots of parks and nature spots also on offer. These make for some fantastic hiking and mountain biking; the nearby Kanawha State Forest is particularly delightful to explore.
2. Blackwater Falls State Park
© Steveheap / Dreamstime
One of the most photogenic places in the whole of West Virginia, Blackwater Falls State Park certainly is majestic; the glorious waterfall that lies at its heart is undoubtedly the highlight of what is on show. Covering a vast swathe of territory in the Allegheny Mountains, the state park is centered around Canaan Valley and Blackwater River, with lots of lovely forests and woodlands found to either side.
Exploring the myriad of paths and trails that meander through the stunning scenery is a magical experience as you pass beautiful viewpoints and sparkling waterfalls. It is well worth camping overnight in the park if you have the opportunity.
Coursing over Blackwater Falls, the white jets of water stand out delightfully against the greens of the trees lining the riverbanks. Fall is a particularly pleasant time of year to visit, as the foliage creates an unforgettable scene.
1. Harpers Ferry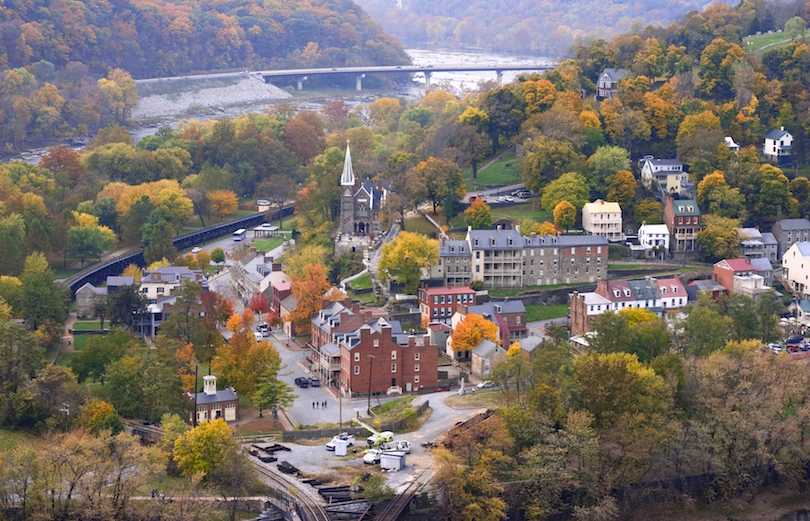 © Svetlana Larina / Dreamstime
The most popular tourist attraction in the whole of the state, Harpers Ferry is located at the point where the Potomac and Shenandoah Rivers meet, with enchanting, forest-coated mountains all around it.
Due to its strategic location, the small town was fiercely fought over during the American Civil War. As such, there are a number of interesting historical sights for you to check out, with plenty of old buildings and important landmarks on show.
While many visitors come to learn more about the role Harpers Ferry played in the Civil War and to see its many sights, just as many come to enjoy the magnificent wilderness in the area. Whether it's ziplining, whitewater rafting, or inner tubing, there are loads of fun activities for you to try out.
Hiking along the scenic Appalachian Trail is a must if you're looking to immerse yourself in nature. While Harpers Ferry is undoubtedly quite a touristy place, there is a lovely laidback vibe to the town, with lots for you to see and do.