The largest city in the north-central part of West Virginia, Morgantown lies along the Monongahela River amidst the Appalachian foothills. Mostly known for being home to West Virginia University and its sizable student population, it has lots of picture-perfect green spaces and fun outdoor activities for you to enjoy.
While coal mining and steel forging were key to its early history, it is now the lively college campus that dominates life in town. Alongside several superb museums and an attractive arboretum, WVU has a proud sporting heritage for you to delve into. Watching one of the Mountaineers teams play is therefore a must due to their passionate fans and the unforgettable atmosphere they create.
Other than all the exciting things to do in Morgantown that take place on campus, the city's main appeal is the resplendent nature that lies all around it. With countless trails and riverside walks to enjoy and pristine lakes and forests lying nearby, Morgantown is a treat to explore.
In this post, we'll cover:
12. Caperton Trail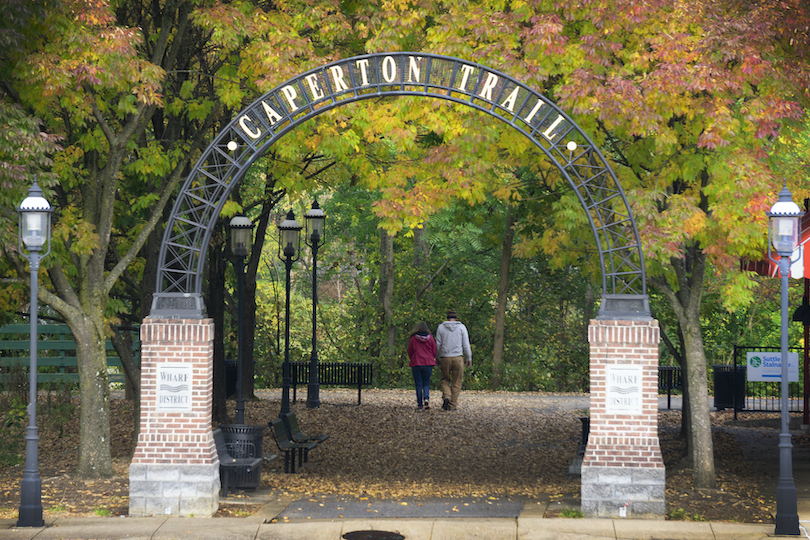 A delight to walk, run, or cycle along, the Caperton Trail winds its way through both the city centre and some of the surrounding countryside. Very popular with locals and tourists alike, the waterfront path passes through several downtown parks and connects numerous communities and nature spots.
Built atop a retired railroad track, the picturesque trail runs parallel to the Monongahela River with calm, quiet stretches lying next to industrial areas and the vibrant West Virginia University campus. Some lovely riverside restaurants and cafes are dotted along the route which also takes you through Hazel Ruby McQuain Park; an important hub of activity in the heart of downtown.
Along with the connecting Mon River and Deckers Creek trails, the multipurpose path has roughly fifty miles of gorgeous outdoor areas for you to explore.
11. Morgantown History Museum
Morgantown History Museum / Facebook
If you want to learn more about the city's fascinating past, then the Morgantown History Museum is an absolute must. Packed with artifacts and exhibits, it lies at the southern end of downtown, not far from many of Morgantown's other main tourist attractions.
Founded in 2011, its captivating collection now covers the history of the area from prehistoric times right up to the present day. While some exhibits focus on early pioneers and local Native American peoples, others look at the Civil War or comic actor Don Knotts who was born in Morgantown.
Due to its diverse range of displays and dioramas, the museum is very interesting to peruse with old mining tools and equipment on show alongside historic photos, textiles, and toys.
10. Don Knotts Statue
Just a couple of blocks north of the museum is a terrific statue of the legendary actor and comedian Don Knotts; the city's most famous son. Set on the High Street in front of the Metropolitan Theater, it is now a very popular spot to snap a photo or take a selfie with the beaming bronze statue.
Unveiled in 2016, it depicts Don Knotts holding the service cap he wore in his most renowned role as Deputy Barney Fife on The Andy Griffith Show. Born and raised in Morgantown, he practiced his ventriloquist and comedic acts at church and school before enlisting in the US army and eventually making his way to Hollywood.
As well as taking a photo with the larger-than-life character, you can also see a star on the sidewalk which features Knotts' name and image. This is in homage to the one he received on the Hollywood Walk of Fame in 2000.
9. Mountaineer Field
To get a real feel for life in the college town, make sure to watch the university football team play at Mountaineer Field. Each game day, the over 60,000 fervent fans who pack out the enormous arena on campus create an intoxicating atmosphere with huge tailgating parties taking place hours before.
While it is now named Milan Puskar Stadium, the hallowed sporting venue's pristine green playing surface is still known as Mountaineer Field. All the seats and suites in its U-shaped bowl offer great views of the pitch and its giant video scoreboard, while plenty of concession stands are dotted about.
When the Mountaineers win, the raucous crowd serenades the team with a rousing rendition of John Denver's hit song Take Me Home, Country Roads. If you're after even more music, the stadium puts on numerous concerts during the sunny summer months.
8. Cheat Lake Trail
Another fantastic place to head where you can immerse yourself in nature and enjoy some stunning views is along the Cheat Lake Trail. Lying just twenty minutes' drive northeast of town, it takes you along the lake's scenic shores with delightful fauna, flora, and viewpoints featuring throughout.
Stretching 4.5 miles in length, the mostly flat, paved path hugs the sparkling shoreline and is backed by both dense woodlands and large green open spaces. Developed in 2000, it follows what was once a former railroad corridor that trundled its way along the weaving reservoir's eastern banks.
Nowadays, outdoor lovers come to walk, jog, and cycle along the trail while taking in its fine nature and divine views. Cheat Lake Park towards its northern end also has a playground, picnic areas, and a fishing platform for people to make use of.
7. WVU Core Arboretum
Darren Ringer / Wikipedia
A very peaceful and pretty place, the WVU Core Arboretum has loads of shady trails for visitors to wander along. A massive part of the university campus, it contains countless kinds of plants, flowers and shrubs with many of its towering trees being over 200 years old.
Created in 1948, it protects the vast swathes of old-growth forest that sprawl across the hilly bluffs between the Monongahela River and the boulevard of the same name. Within its verdant confines, you can spot over 600 species of plants and trees with its lush, leafy undergrowth acting as a safe haven for local birdlife.
Besides ambling about down by the river and enjoying the blooming wildflowers in spring, you can catch shows and concerts at its outdoor amphitheater in summer.
6. WVU Coliseum
Alongside the arboretum is yet another of the college campus' main attractions: the WVU Coliseum. It is here in the colossal concrete arena that both the men's and women's basketball teams play their fast-paced and frenetic games.
First opened in 1970 on the Evansdale Campus, the circular sports stadium is instantly recognizable from its distinctive dome. It is its cavernous ceiling and the steep stands that plunge their way to the court below that create the arena's loud and lively atmosphere and makes games so fun to attend.
Aside from the WVU Mountaineers basketball teams, the Coliseum also hosts wrestling, volleyball, and gymnastics competitions alongside the occasional concert and college graduation ceremony. Its hulking great structure also has squash courts, a dance studio, and lecture rooms for students to use.
5. Art Museum Of WVU
Art Museum Of WVU
Just a short stroll away is the Art Museum Of WVU which boasts an exquisite collection of photos, paintings and sculptures. Its innumerable artworks transport you all the way from the United States and the Appalachians all the way to Africa and Asia.
Surrounded by immaculate grounds and gardens, its galleries and exhibition spaces occupy a large, modern building that opened back in 2015. Its 4,000 enthralling art pieces cover countless centuries, cultures, and art forms, with masterpieces by Andy Warhol and Pablo Picasso also displayed.
In addition to all the phenomenal prints and photos in its light and airy galleries, the museum hosts loads of temporary exhibitions over the course of the year. After seeing these or maybe catching one of its concerts and art shows, make sure to explore the gorgeous Nath Sculpture Garden outside.
4. Dorsey's Knob Park
Despite lying less than ten minutes' drive south of the city center, Dorsey's Knob Park feels a world away from the hustle and bustle of downtown. From atop of the prominent mount, you can bathe in simply sublime views of Morgantown, the Monongahela River, and distant Appalachian Mountains.
Towering 1,398 feet in total, Dorsey's Knob dominates the surrounding countryside with the scenic Sky Rock protruding from its summit. Beside clambering up the side of the big boulder and gazing out over West Virginia's rolling hills and farms, you can also hike about the park's many trails.
A playground and picnic areas are scattered about its sloping hillside next to a challenging eighteen hole disc golf course known for its demanding downhill and uphill shots.
3. Farmers Market
A colorful and chaotic affair, the Morgantown Farmers Market has scores of laden stands and stalls for locals and tourists alike to peruse. Offering a fantastic selection of tasty farm-to-table products, its summer season takes place every Saturday morning from May through November.
Held at the covered metal market place in downtown, its forty or so local farmers and vendors have now provided the community with fresh produce and outstanding artisanal products since 2002. On sale is everything from meats and cheeses to fruits and vegetables, jams, and jellies.
As you shop for freshly baked bread and pastries, you can enjoy the fun and friendly atmosphere or listen to live music and watch culinary demonstrations. The market's winter season runs to April and is instead every second Saturday morning.
2. West Virginia University
As much of life in town revolves around West Virginia University, it is almost impossible to not stop by its sprawling campus at some point. As well as being home to lots of attractive architecture and pretty green spaces, it has sights such as the arboretum, art museum, and Coliseum to check out.
Now covering a humongous area along the Monongahela River, the renowned research school is set just northwest of downtown. Founded in 1867, it encompasses over a dozen different colleges with both top-class sports facilities and excellent museums being dotted about the lovely leafy campus.
Besides strolling about and watching one of the Mountaineers teams play, you can also catch superb concerts at its annual FallFest. Over the years, everyone from Akon and 50 Cent to Kelly Clarkson and Ludacris have performed before the university's sizable student body.
1. West Virginia Botanic Garden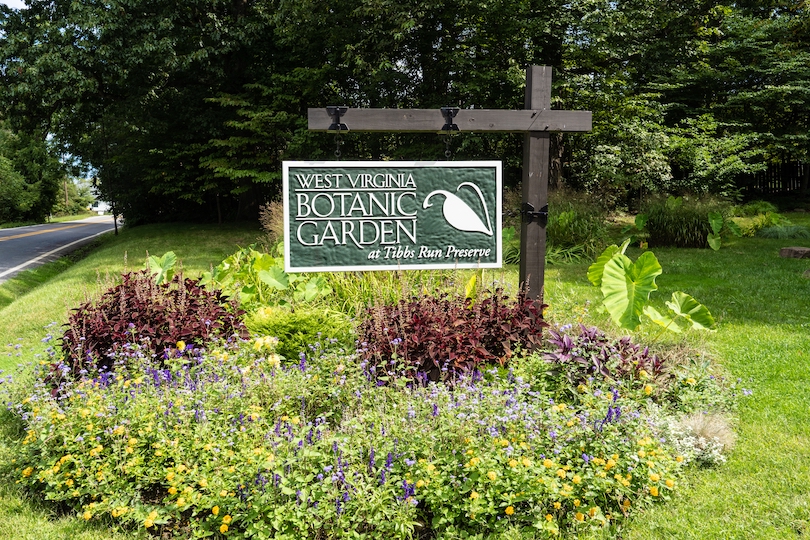 Other than all the campus' sights, sounds and sporting events, the area's undoubted highlight has to be the beautiful West Virginia Botanic Garden. Full of fabulous flowers and foliage, it has a wealth of tantalizing trails for you to enjoy amidst its shady woods and wetlands.
Located directly east of downtown, its wonderful gardens and wild spaces occupy what was once a reservoir. Small, shimmering streams and ponds still stud the basin which has scenic sections such as a magical butterfly garden and a shrub-filled secret garden to wander around.
On top of all its woodland trails and wetland boardwalks, there are some fine overlooks to find and informative nature workshops to try. Whether you want to meander about and meditate, photo fauna and flora, or take yoga classes amidst the trees, the ever-growing botanic garden is always a peaceful and picturesque place to visit.
Map of Things to do in Morgantown, WV