As the largest country in East Africa, Tanzania has a lot to offer visitors. It is best known for its expansive areas of wilderness and amazing wildlife, making it the ideal place to go on a safari.
Some spots like Mount Kilimanjaro and the Serengeti National Park are world famous. However, some of the lesser known destinations including conservation areas, lakes and mountains are certainly still worth a visit. Here's a look at he best places to visit in Tanzania:
The tallest peak in Tanzania – Mount Kilimanjaro – gets plenty of attention, but very few people even recognize the second tallest mountain in the country: Mount Meru. In the northern part of Tanzania, close to the Kenyan border, you'll find Mount Meru.
As part of Arusha National Park, it is an area teeming with wildlife. If climbing Mount Kilimanjaro is perhaps too challenging, then trekking up Mount Meru can be an alternative. It will still be a serious challenge, but it is an incredible experience. You'll hike along craters and be treated to breathtaking views from the top of the mountain.
9. Mikumi National Park
[SEE MAP]
Mikumi National Park is part of the so-called Southern Circuit, a collection of famed attractions in the southern part of Tanzania. Most of the park features flat grassland, which makes it easy to spot approaching animals in the distance. This is primarily a safari destination, and you'll need to be in an approved vehicle in order to explore the park.
One of the most interesting animals you'll spot at Mikumi National Park is the midget elephants, which have very thin and short tusks. This makes them less desirable to poachers, and there is some debate over whether their smaller tusks are an evolutionary advantage.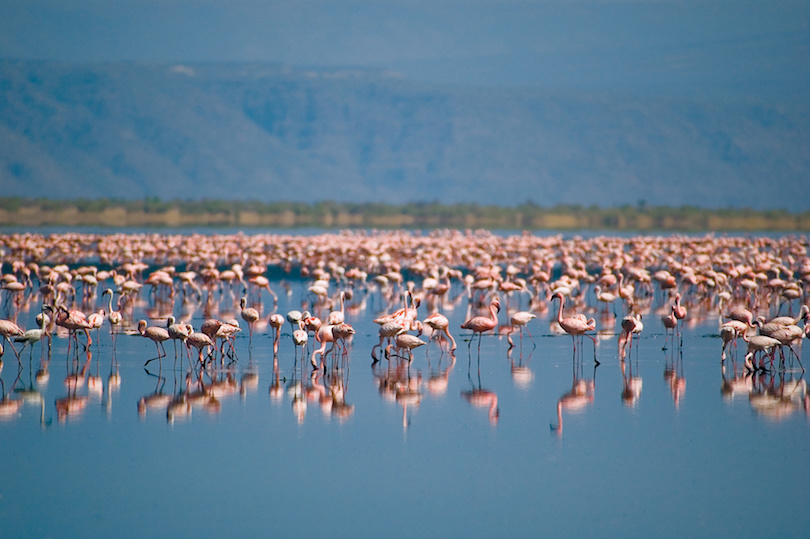 Lake Natron is one of the most incredible attractions in the world. Because of its high pH levels, chemical makeup and heavy evaporation, the waters of Lake Natron look dark red in color. Since it is made up of very saline water, and the water temperature is hot, there aren't a lot of animals in or around Lake Natron.
When birds accidentally crash or land in the lake, they can die and their corpses calcify rather than decompose. But one species actually makes life among all that death—lesser flamingos. Once every three or four years, when conditions are right, the lake is covered with the pink birds as they stop here to breed.
7. Arusha National Park
[SEE MAP]
Geir Kiste / Wikipedia
If you're planning a visit to Mount Meru, don't miss the park where it is located: Arusha National Park. Although the mountain is certainly a major attraction, there is lots more to see and explore in the park.
While many national parks in Tanzania are really only for safaris, Arusha is a prime spot for outdoor recreation. You can go hiking or climbing, and you can even set off on a canoe trip to explore the scenery with a new perspective. If you want to combine exercise and wildlife, Arusha National Park is one of the best places to go on a walking safari.
6. Lake Manyara National Park
[SEE MAP]
When many people picture the national parks of Tanzania, they think of vast savannas. However, the Lake Manyara National Park offers a very different picture altogether. As the name suggests, the lake itself is a highlight.
Lake Manyara makes up more than one third of the park, although it fluctuates in size during the dry season. Because it is a major source of water, the lake is a prime spot for watching animals. During the dry season, which stretches from June to September, countless animals flock to the lake for water. That means you'll be able to spot these magnificent creatures easily on a day safari.
5. Ruaha National Park
[SEE MAP]
whl.travel / Flickr
The largest national park in Tanzania, Ruaha is home to a staggering number of elephants and giraffes. In fact, Ruaha National Park is often called Giraffe Park. If you're most interested in these graceful animals, but you wouldn't mind spotting the rare lion as well, then a safari in Ruaha National Park can be a great choice.
Many visitors appreciate that Ruaha National Park, located right in the center of Tanzania, doesn't have big crowds. That means you can have a more authentic experience exploring Tanzania.
Off the coast of Tanzania is the island of Zanzibar, whose main city is known as Stone Town. In Stone Town, you'll experience a completely different side to Tanzania. Stone Town is a melting pot of Swahili, Arab and Persian cultures.
Many of the town's buildings were constructed during the 19th century, when Zanzibar was a major trading centre and at the height of its power. The trade created wealth which in turn led to the construction of palaces, mosques and many fine houses. On your visit, you can check out the 17th century fortress as well as the many architectural gems hidden along the maze of narrow streets that wind through Stone Town.
3. Mount Kilimanjaro
[SEE MAP]
© Dvrcan / Dreamstime
Near the border with Kenya, the inactive strato-volcano of Mount Kilimanjaro looms above the surroundings. As the highest free-standing mountain in the world, and the tallest peak in Tanzania, Mount Kilimanjaro is a popular place to visit in Tanzania for adrenaline junkies and world-class climbers.
Surrounding the peak is the Kilimanjaro National Park. This includes forest, highlands, plateaus and a few smaller peaks as well. There are seven sanctioned routes to the top of Mount Kilimanjaro, and they range in busyness and difficulty. Keep in mind that many visitors only climb part of the way up the mountain. Even a few hours of hiking can result in spectacular views over the park below.
2. Ngorongoro Conservation Area
[SEE MAP]
Another amazing spot to view wildlife in Tanzania is at the Ngorongoro Conservation Area. Its dominant feature is the geological marvel known as the Ngorongoro Crater – the world's largest intact volcanic caldera.
Within the crater, you'll find the highest density of lions in the entire world. The area is also known for having lots of black rhino. Leopards, hyena and cheetah are also commonly spotted within the conservation area. Once again, it is best to set off on a guided safari through the Ngorongoro Conservation Area.
1. Serengeti National Park
[SEE MAP]
© Isselee / Dreamstime
On the border with Kenya is the Serengeti National Park. On the Kenyan side, the park is known as the Masai Mara. This enormous East African conservation area is one of the world's most popular places to go on a safari. It is known for being home to mass animal migration, including over one million wildebeest that migrate through the park depending on the rainy season.
The park is also home to more than 2,500 lions, making it one of the best spots in the world to see them in person. Guided safaris and overnight stays in lodges and cabins are the ideal way to explore the park.