Despite often being overlooked, the Midwest state of Missouri is a fascinating place to visit that has a number of different sides to it. You can find everything from incredible wilderness, wide-open spaces and waterways to large and lively cities and quiet country towns.
While metropolises such as St. Louis and Kansas City boast lots of spectacular sights and thriving culinary and music scenes, others like Hamilton offer a taste of down-home country life.
Map of Places to Visit in Missouri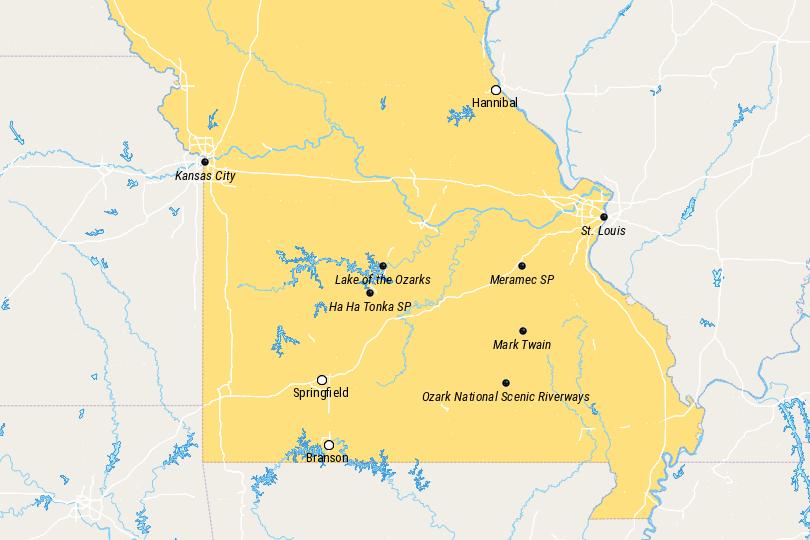 © OpenStreetMap © MapTiler © Touropia
Named after the roaring river that runs through it, the 'Show-Me State' is home to beautiful scenery and landscapes. While hiking and horseback riding can be enjoyed in the rolling Ozark Mountains, the lovely Lake of the Ozarks and Ozark National Scenic Riverways offer some excellent swimming and boating. With so much going for it, the best places to visit in Missouri are a perfect fit if you want to experience life on the Great Plains.
10. Springfield
© Mrcmos / Dreamstime
Known for being the 'Birthplace of Route 66', Springfield is located in the southwest of Missouri and is the third-largest city in the state. Dotted around town are numerous attractions related to the famous and historic road, with themed diners and motels found alongside an antique mall and vintage car museum.
The city also boasts some great interactive and educational tourist attractions. Its excellent Discovery Center and the well-preserved Wilson's Creek National Battlefield both attract plenty of visitors. Its standout attraction, however, is undoubtedly Fantastic Caverns – a vast cave system that guests can explore in a jeep-drawn tram.
On top of this, Springfield is also nicknamed the 'Queen City of the Ozarks' due to all the great forests, mountains, and natural beauty lying nearby. Many people who visit go hiking and cycling amid the splendid scenery and landscapes surrounding the city.
9. Mark Twain National Forest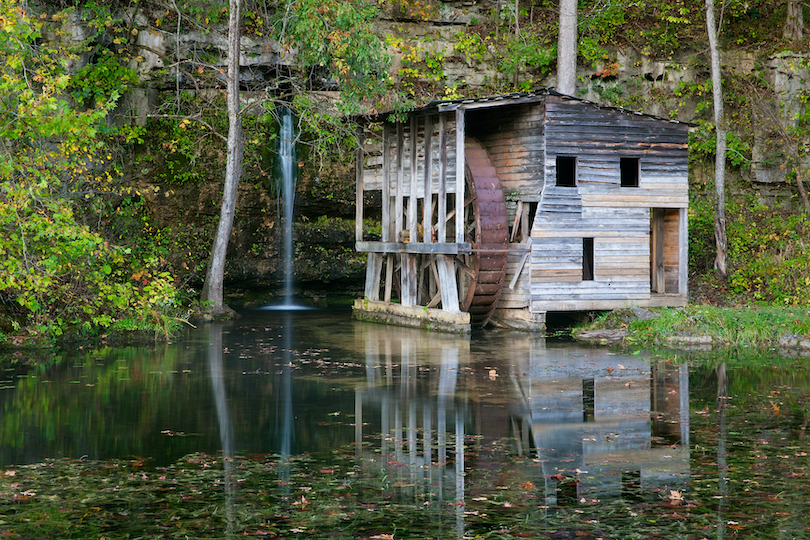 © Chris Aquino / Dreamstime
Encompassing everything from mountains and forests to springs, streams and lakes, Mark Twain National Forest is a wonderful place that will delight nature lovers and outdoor enthusiasts. Spread across a huge swathe of the southeast of the state, it consists of various wilderness areas and national scenic rivers.
It is named for the famous author and Missouri native Mark Twain. Joining the pockets of pristine forest and untouched nature is the lovely Ozark Trail, which winds through the idyllic landscapes for more than 350 kilometers. Due to the stunning scenery, hiking and cycling in the national forest are very popular; fishing, swimming and canoeing in its rivers and lakes are just as delightful.
Dotted about are numerous campsites and picnic areas. Eleven Point National Scenic River is one of the most scenic spots to visit as it cuts its way through the picturesque Ozark hills. Another of the many highlights is the Glade Top Trail National Scenic Byway, which boasts phenomenal views over the surrounding countryside.
8. Ha Ha Tonka State Park
© Wayne Mckown / Dreamstime
While it is most known for the hulking castle ruins lying at its heart, Ha Ha Tonka State Park in the center of Missouri has much much more to it. Set alongside the Niangua arm of the Lake of the Ozarks, the park was bought and developed in 1905 to be a private property by Robert McClure Snyder, Sr, a Kansas City businessman.
Sadly destroyed by a fire in the 40s, the remains of the stone mansion he built now make for fabulous viewing and are the defining feature of the park. Modelled after European castles of the 16th century, its beautiful brick arches and sturdy stone walls overlook the glimmering lake below, which is now used for swimming and boating.
Surrounding the castle are some amazing caves, sinkholes, and bluffs, while scenic hiking trails weave through the park's forests and karst landscapes.
7. Branson
© Chinook203 / Dreamstime
Set in the southwest of Missouri, Branson is a fun, festive place often billed as a 'family-friendly Las Vegas.' This is because it hosts a myriad of mesmerizing magic, music, and comedy shows, with more than a hundred entertainment theaters dotted about its neon-lit strip.
Alongside its flashily decorated performance venues are countless motels and restaurants, as well as sights such as the Titanic Museum, Ripley's Odditorium, and Hollywood Wax Museum. Amusement parks also abound in Branson, while go-karting, mini-golf, and ziplining make for some fun family-friendly activities.
While the bright lights and loud music are what attract most people, the city's setting amid the pristine and picturesque nature of the Ozarks means there is plenty of marvelous scenery nearby. At Table Rock Lake, for instance, locals and tourists can enjoy swimming, kayaking, and watersports or go hiking along the scenic lakeshore.
6. Meramec State Park
© Matthew Munsell / Dreamstime
Full of majestic bluffs, lush forests, and gloomy caves, Meramec State Park is a beautiful place to visit if you want to immerse yourself in nature. Located not far from St. Louis in the east of the state, it encompasses lovely landscapes and lies on the banks of the magnificent Meramec River.
While hiking along its trails or kayaking and fishing in its roaring waters is a treat, the park is most known for its captivating caves, which number more than 40. Of these, Fraser Cave is the most impressive due to the spectacular stalactites and stalagmites covering its sparkling interior.
Guests can learn all about its fantastic formations and the park's ecology and environment at its interesting and informative visitor center. Many people choose to camp or stay the night in one of Meramec State Park's lodges so they can wake up to the breathtaking scenery.
5. Ozark National Scenic Riverways
© Scott Sanders / Dreamstime
Remarkably the first national park to protect a river system, Ozark National Scenic Riverways was established all the way back in 1964. Set around the Current and Jacks Fork rivers, it includes everything from meadows and forests to springs, caves and cliffs.
Due to its wondrous wilderness and outstanding natural beauty, many people visit every year to enjoy the ample outdoor activities it offers up. While hiking and horseback riding along the idyllic Ozark Trail are popular pastimes, you can't beat floating lazily along one of the peaceful waterways in a kayak or canoe.
The scenic rivers and streams are great for fishing and swimming, and there are more than 300 caves for visitors to explore. The headquarters of the park are at Van Buren, where you'll find a visitor center and small museum dedicated to its history.
4. Hannibal
© Scott Nelson / Dreamstime
Lying in the northeast of the state, on the border with Illinois, Hannibal is a pleasant and picturesque city best known for being the boyhood home of Mark Twain. In fact, the settings of his two most famous and popular novels, The Adventures of Tom Sawyer and Adventures of Huckleberry Finn, were inspired by the lovely laidback town he grew up in.
As such, you'll come across numerous historical sites either depicted in his writings or related to the revered novelist himself while wandering around town. One of the best places to get a sense of the author and the inspiration behind his works is at the Mark Twain Boyhood Home & Museum, which is full of memorabilia and personal artifacts.
Besides this, visitors to Hannibal can enjoy strolling along the town's Mississippi River waterfront or take a trip to the magical Mark Twain Cave Complex, which featured in five of his works.
3. Lake of the Ozarks
© Jonmanjeot / Dreamstime
The Midwest's most popular lake resort destination, the Lake of the Ozarks is home to lots of divine scenery and a wealth of outdoor recreation opportunities. Nicknamed 'Puff the Magic Dragon' due to its serpentine shape, the vast human-made reservoir and its three tributaries were formed in 1931 by damming the Osage River.
Altogether, they boast more than 1,800 kilometers of scenic shoreline – more than the whole of California. Nestled away along its coves, creeks, and channels are countless waterfront accommodations and restaurants, with Osage Beach its largest city. While some parts of the lake are quiet and laidback, others are more loud and lively, with fantastic boating, fishing, and watersports wherever you go.
In addition, there are some great waterparks and golf courses, as well as excellent shops and state parks. Whether it's for a family holiday or weekend getaway with friends, the Lake of the Ozarks certainly has something for everyone.
2. Kansas City
© Fotoeye75 / Dreamstime
Although often overlooked by tourists, Kansas City has a lot going for it and is one of the largest and liveliest metropolitan areas in the Midwest. Straddling the Kansas-Missouri state line, it lies on the banks of the Missouri River, somewhat confusingly bordered by the smaller Kansas City, Kansas (KCK).
Besides boasting more boulevards than any other city on Earth except for Paris, it is also delightfully nicknamed the 'City of Fountains' – more than 200 of them are dotted about its scenic streets. Wandering around is a treat: world-class museums and performing arts theatres lie side-by-side with attractive and artsy neighborhoods.
While the city has also attracted great renown for its jazz and live music scene, it is equally noted for its Southern Cuisine and Kansas City-style barbecue. With more than a hundred barbecue joints scattered around town, no visit can ever be complete without sampling some of its sizzling strip steaks.
1. St. Louis
© Santa Maria / Dreamstime
Presided over by the iconic Gateway Arch, which dominates and defines the city's skyline, St. Louis is a lovely yet laidback place to visit. Located on the west bank of the Mississippi River, it lies on the border with Illinois and is named after Louis IX of France.
Long nicknamed the 'Gateway to the West', it now fittingly boasts the gorgeous Gateway Arch, the world's tallest human-made monument. Besides this show-stopping sight, the city is very pretty and pleasant to explore. Abundant green spaces can be found amid its delightfully different districts and neighborhoods.
While Downtown is home to lots of upmarket hotels, corporate headquarters, and sparkling sports stadia, Laclede's Landing and Lafayette Square both have magnificent old architecture on show. In addition, St. Louis has a number of fantastic museums for visitors to check out, as well as thriving culinary, nightlife, and live music scenes.