Lying along the west bank of the Mississippi River, lively St. Louis is one of Missouri and the Midwest's most rewarding cities to visit. As well as plenty of pretty parks and green spaces, it is home to lots of amazing historic attractions and museums.
Named for Louis IX of France, the Midwestern metropolis lies on the border with Illinois, and each of its unique neighborhoods boast their own flavor and identity. Thanks to its thriving arts and culture scene, great shopping and sports events, there are plenty of things to do in St. Louis. It also has interesting landmarks and architectural sights, such as the iconic Gateway Arch.
17. Old Courthouse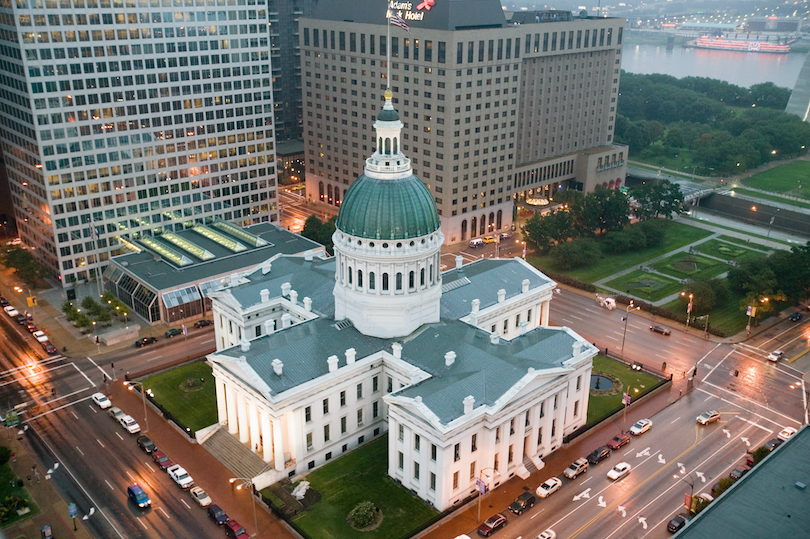 Set in the city center is one of St. Louis' most important and impressive historic landmarks: the attractive Old Courthouse. Built in 1839, it makes for quite the sight, particularly when viewed with Gateway Arch rising dramatically behind it.
While the courthouse does exhibit fine Greek Revival architecture, it is mostly known for two influential court cases that took place in its chambers. On tours, visitors learn how in 1846 enslaved Dred Scott twice sued for his and his wife's freedom. A few decades later, another significant civil suit was filed with suffragette Virginia Minor arguing women should be allowed to vote.
Aside from hearing about its past, guests can take in all the fine features of its elegant interior; the courthouse's three-storey cupola dome is the main highlight.
16. Forest Park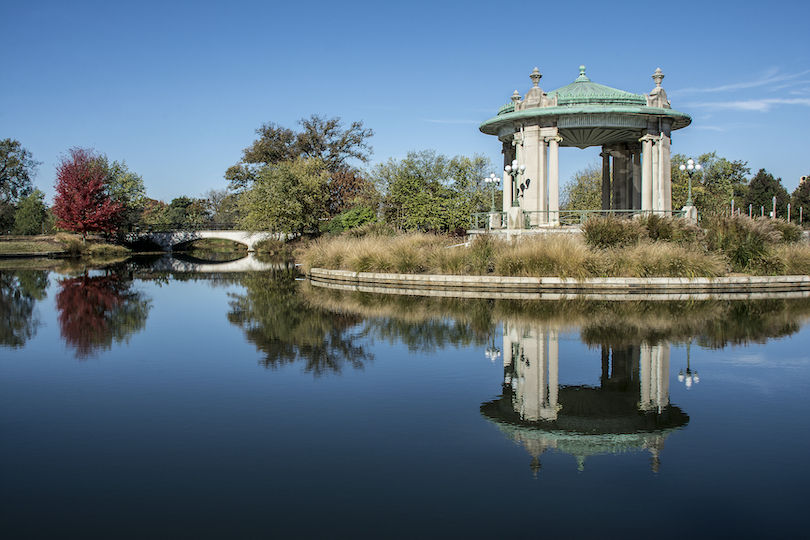 For lovely landscapes, scenery and nature, Forest Park is definitely the place to go. The site of the 1904 World's Fair, it is now one of the largest city parks in the States and is just a short drive from downtown.
It not only encompasses plenty of lakes and landscaped gardens but some museums, a theater and a zoo too. Besides checking out its umpteen attractions, locals and tourists can explore trails, go boating and make use of the many playing fields.
With prairies and wetlands to see alongside countless monuments and the incredible art deco Jewel Box greenhouse; Forest Park really does have it all.
15. Fabulous Fox Theatre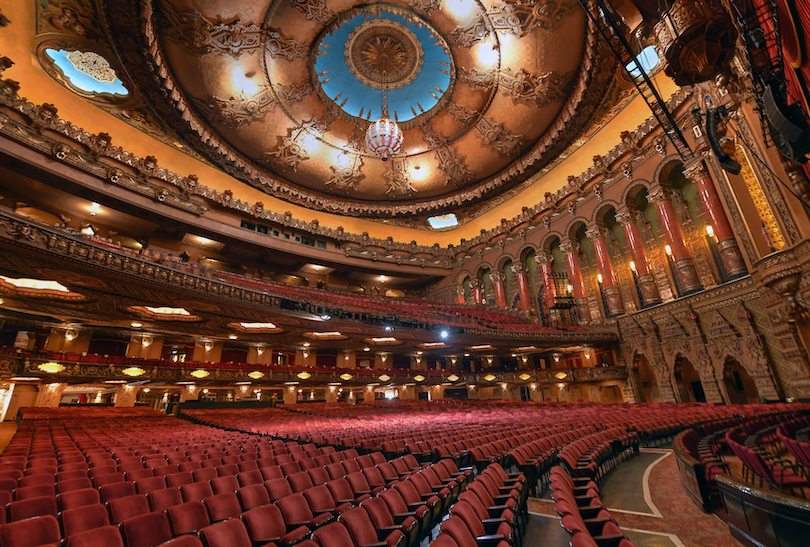 First opened in 1929 as a movie palace, the Fabulous Fox Theatre is one of the most exquisite venues in the country to enjoy a Broadway show. Its interior is decadently decorated with amazing Asian motifs, glittering ornamentation and gigantic pillars surrounding the huge stage.
Located in the Grand Center Arts District in Midtown, it is instantly recognizable by its extravagant, Alhambra-esque exterior. As soon as you enter its grand lobby, you know that you're in for a show as crimson and gold decorations make it look like a magnificent Buddhist monastery.
With superb views guaranteed from any seat in the amphitheater, the Fabulous Fox is a must-visit for a show, with concerts and comedy nights also regularly taking place.
14. National Museum of Transportation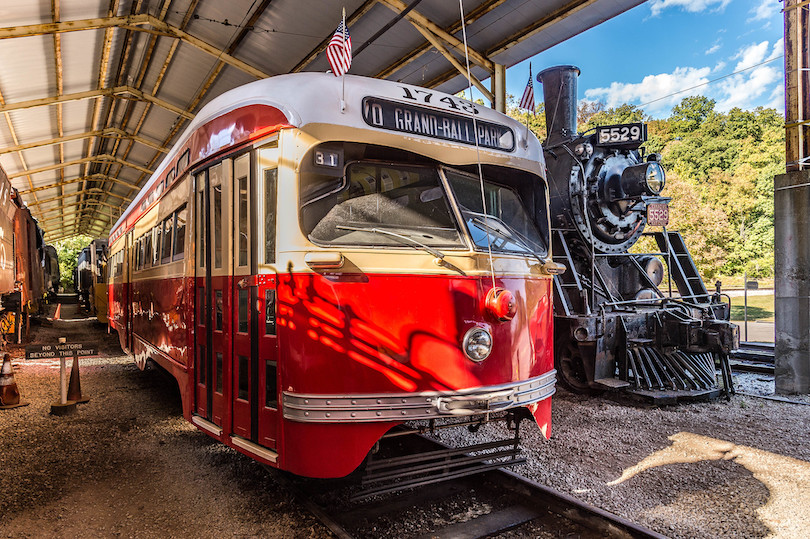 Jim Maurer / Flickr
Home to all kinds of trains, planes and automobiles, The National Museum of Transportation boasts one of the largest and most diverse collections of its kind. Located on the western outskirts of the city, it has a vast array of exhibits, engines and old pieces of equipment to peruse.
Founded in 1944, it has expanded enormously with hundreds of vehicles now dotting its grounds and galleries. While strolling about you'll see classic cars and vintage biplanes set alongside hulking great locomotives and tiny model train sets.
In addition, its many informative displays teach you about the history and heritage of transportation in the States. Many of its holdings serve as rare or lone surviving examples of their technology. Its Big Boy steam locomotive and West Barretts Tunnel are particularly impressive.
13. Missouri History Museum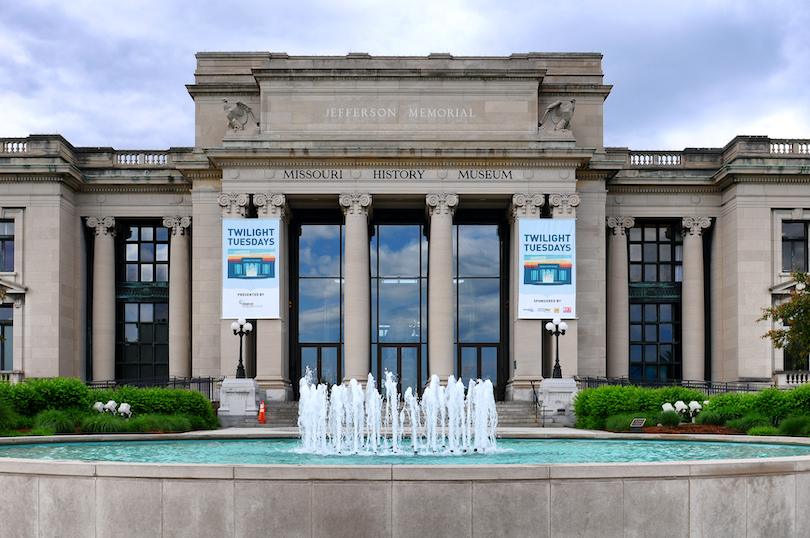 On the north side of Forest Park, you can find the Missouri History Museum, which shines a light on the state's history, culture and nature. Established in 1866, its collection occupies the enormous Jefferson Memorial Building with lush grounds and gardens lying all around it.
In total, its light and airy galleries contain roughly 175,000 artifacts with some sections focusing on how the state was settled and others on the 1904 World's Fair. Among its most important items are those relating to the Lewis and Clark Expedition and Charles Lindbergh's historic trans-Atlantic solo flight.
As well as seeing centuries-old objects from the Civil War and its stern statue of Thomas Jefferson, you can also attend temporary exhibitions at the museum.
12. Cathedral Basilica of Saint Louis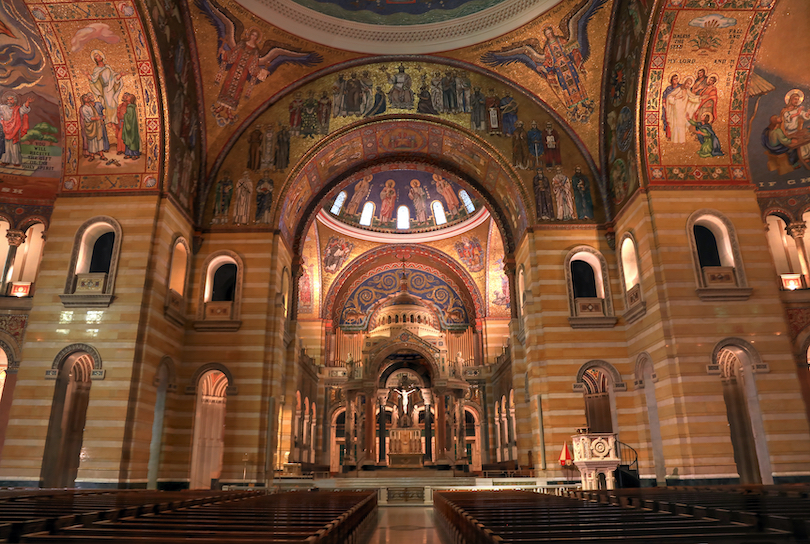 Just a couple of blocks east of the picturesque park is yet another of the most beautiful buildings in town: the breathtaking Cathedral Basilica of Saint Louis. While it exhibits extraordinary Neo-Byzantine architecture, the church is most known for the majestic mosaics that coat its interior.
Designated a basilica by Pope John Paul II in 1997, the colossal cathedral, with its chapels and crypt, is just over a hundred years old. While its phenomenal facade is flanked by two bell towers, its defining external feature is the enormous green dome that tops it.
Inside, however, is the real show-stopper. More than 41 million colorful tiles cover almost every available surface. One of the largest mosaics in the Western Hemisphere, it depicts religious figures and Biblical scenes. The 'Angel of Harmony' statue outside is another key attraction.
11. Laumeier Sculpture Park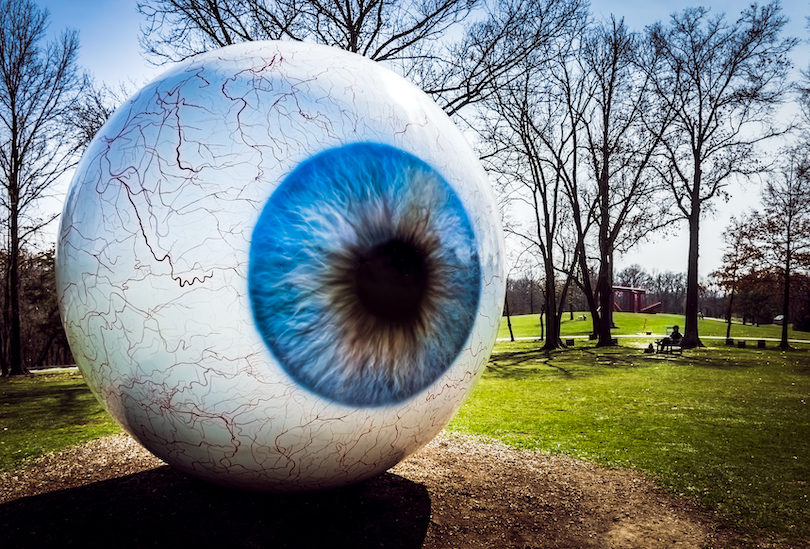 If you are interested in seeing yet more intriguing artworks, be sure to head to the Laumeier Sculpture Park. Set twenty minutes drive southwest of downtown, it has around seventy large-scale outdoor sculptures, with hiking trails and an indoor gallery also on offer.
Founded in 1975, its gorgeous green spaces and wide-open areas are now dominated by all kinds of eclectic art installations. As well as strange shapes and silhouettes, there is a giant eyeball, huge deer, plus other thought-provoking pieces and colorful creations.
Notable artists who contributed works include Beverly Pepper, Mary Miss and Vito Acconci. Even if you're not into art, it still is a pretty place to wander about and explore. The park also sometimes hosts concerts and community events.
10. The Magic House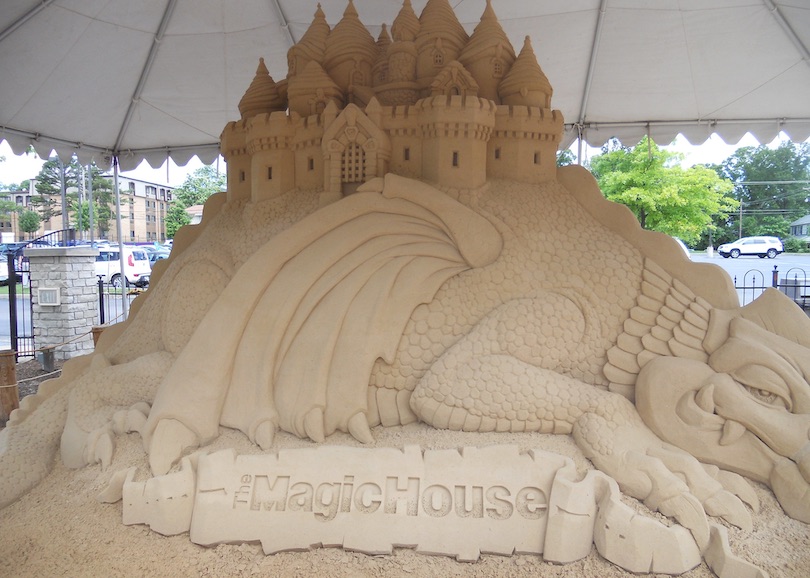 bk1bennett / Flickr
A firm favorite with families, The Magic House is a fun and engaging museum where children can experiment and learn through hands-on activities. A major cultural attraction in the region, it lies in the Kirkwood suburb of St. Louis in a massive Victorian-style mansion.
As educational as they are entertaining, its interactive exhibits cover everything from electricity and civic engagement to physical fitness and physics. There are plenty of tunnels, climbing frames and sandpits to explore alongside playgrounds and a sparkling waterfall patio. Children are sure to never get bored at the museum.
On top of inventing things in its STEAM Center, young ones can paint and make masterpieces in its art studio or design buildings at its Kids Construction Zone.
9. St. Louis Zoo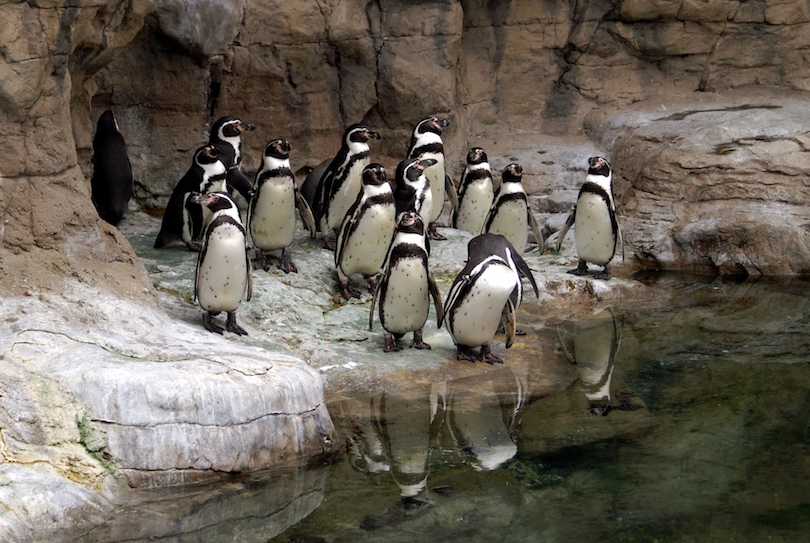 Another popular attraction to hit up is the superb St. Louis Zoo which is widely regarded as one of the best in the States. Also located in Forest Park, it impressively boasts over 14,000 animals, birds and reptiles of almost 500 different species.
First opened in 1910, the state-of-the-art zoo now has enormous indoor and outdoor enclosures that perfectly replicate the animals' natural habitats. While strolling about, you'll not only see elephants and giraffes but alligators, Komodo dragons, penguins and polar bears too.
Besides huge aviaries and a herpetarium, there are also amazing animatronic dinos and fascinating live feeding sessions. St. Louis Zoo is very highly rated for its conservation work. In terms of amenities, there are snack stands, souvenir shops and picnic spots.
8. Lone Elk Park
Alongside the world-class zoo, Lone Elk Park is one of the best places to head in town if you want to see awesome animals up close and personal. However, its sprawling confines offer a completely different experience. Visitors drive in the woods and prairies spotting bison, elk and deer.
Protected as a park since 1948, the gorgeous site lies half an hour's drive from downtown, right next to Interstate 44 and Castlewood State Park. As you cruise slowly along its road you can see herds of beasts roaming about, lounging on the grass and foraging amidst the trees.
As sightings are almost guaranteed and they often approach vehicles, guests come away with fabulous photos and unforgettable memories.
7. Busch Stadium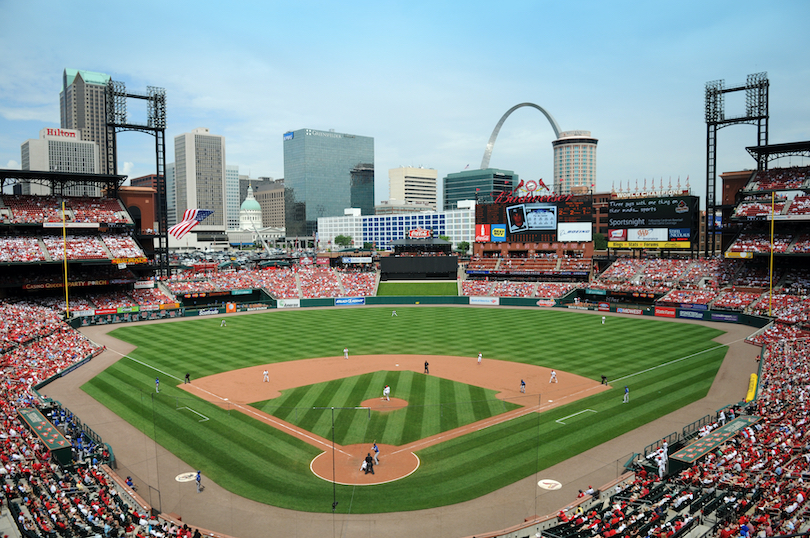 For a thrilling sporting spectacle, make sure to catch a Major League Baseball game at Busch Stadium. An incredible arena, the gigantic downtown venue is the home of the city's St. Louis Cardinals.
Routinely praised for its excellent sight lines, spacious seats and electrifying atmosphere, the red-brick ballpark was completed in 2006. Besides enjoying its action-packed games, fans can also bask in fine views of the city's sparkling skyline and Gateway Arch in the background.
In addition to seeing statues of famous former players outside, visitors can try out some of Ballpark Village's innumerable eateries and entertainment options. To top it all off, exciting soccer matches, hockey games and concerts are also sometimes held at the stadium.
6. Saint Louis Art Museum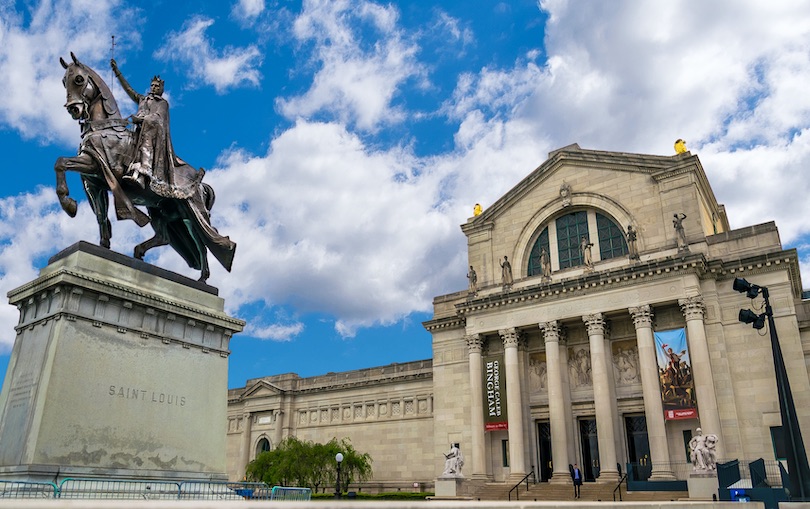 Home to a huge collection of paintings, photos and sculptures, the Saint Louis Art Museum is at the western end of Forest Park. One of St. Louis's major tourist attractions, its colossal collection spans five millennia with its artifacts and artworks hailing from six continents.
Perched atop a small hill overlooking a lake, it occupies an elegant Beaux-Arts building. About 34,000 or so works are spread across its three floors. While some galleries delve into Islamic and Asian art, others display interesting pieces from ancient Egypt, the Americas and Oceania.
As it hosts such a varied and extensive list of valuable artworks, masterpieces by everyone from El Greco and Gauguin to Monet and Rembrandt are on display.
5. Saint Louis Science Center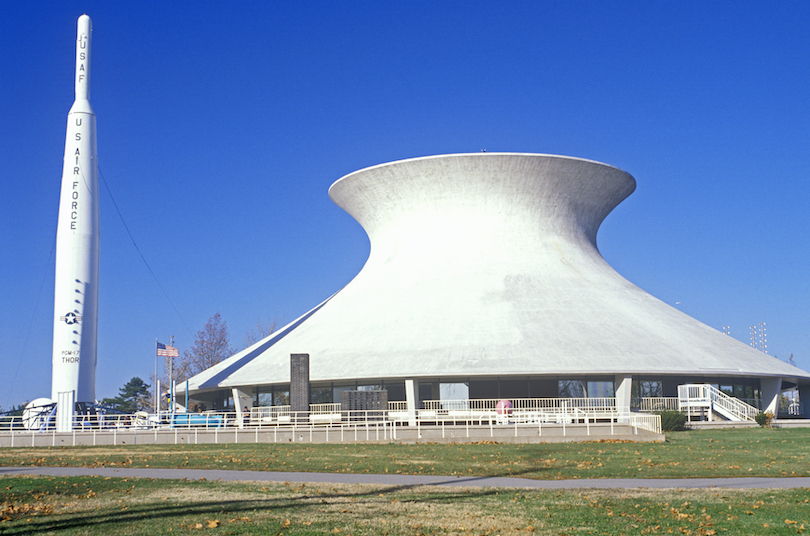 At the opposite end of Forest Park is yet another of its many enticing attractions: the brilliant Saint Louis Science Center. Set in the southeastern corner along Oakland Avenue, it remarkably contains over 750 enthralling exhibits with a planetarium, live shows and an IMAX theater.
One of the largest, most visited museums of its kind in the country, the center was established in 1963 and occupies a set of futuristic-looking buildings. Across numerous floors, you can find fun, hands-on exhibits and activities relating to subjects such as biology, chemistry and technology among countless others.
Particularly popular is its planetarium in the park with live science shows and temporary exhibitions that attract plenty of attention.
4. Grant's Farm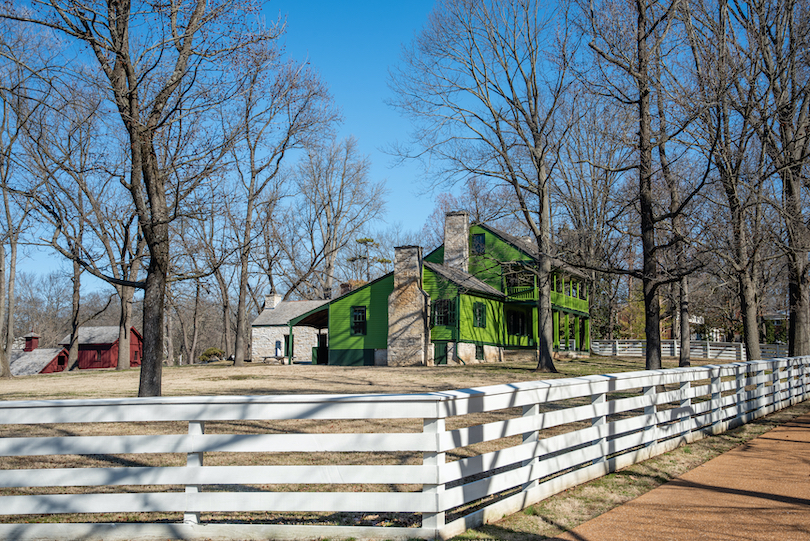 Twenty minutes drive from the city center, the peaceful and picturesque Grant's Farm feels a world away from the hustle and bustle of downtown. Once the private property of Civil War general and US president Ulysses S. Grant, it is now preserved as a wildlife park. Hundreds of animals roam freely about the historic estate.
On tram rides through the expansive grounds, visitors can see camels, elephants, buffalo and deer. There are also petting zoos and paddocks full of barnyard animals. As well as stroking and feeding some of the farm's cute critters, you can enjoy a picnic, watch a live bird show or explore some of its historic buildings.
A fun day out for all the family, Grant's Farm is particularly special to visit around Christmas when the houses, trees and gardens are magically lit up by thousands of twinkling fairy lights.
3. Missouri Botanical Garden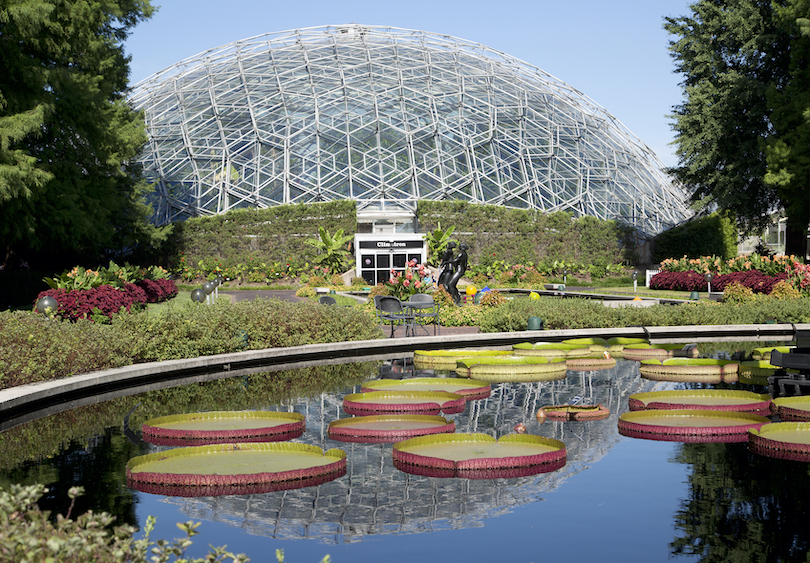 Yet another outdoor attraction you shouldn't miss is the magnificent Missouri Botanical Garden, ten minutes drive southwest of the center. It's full of fountains and flowerbeds with wonderful wild areas set next to lovingly landscaped gardens.
Often informally known as Shaw's Garden due to its philanthropist founder, the first of its colorful flowers, trees and shrubs were planted in 1859. Nowadays, more than 6.6 million specimens inhabit its herbarium with orangeries and butterfly houses also located amidst its pretty nature reserves.
While concerts and community events regularly take place, one of the garden's main highlights is its gorgeous geodesic dome greenhouse that houses a steamy rainforest and lots of statues.
2. City Museum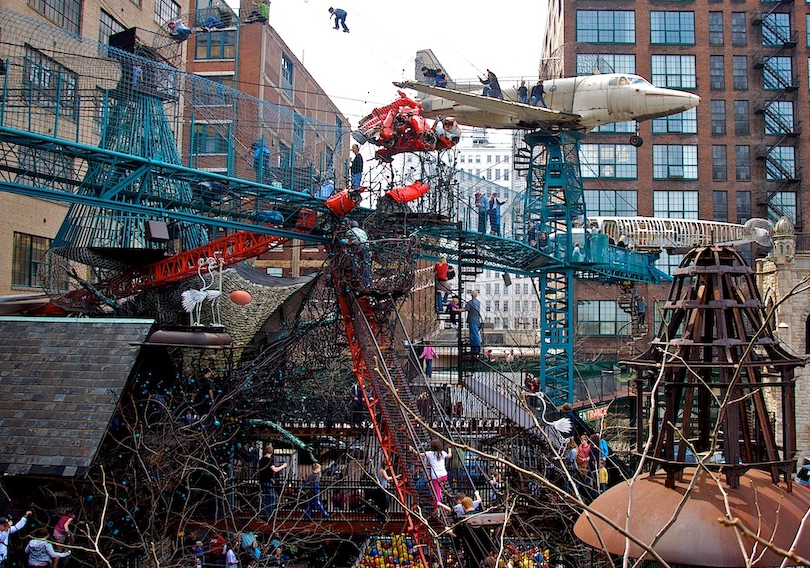 sawdust / Flickr
Certain to delight young and old alike, St. Louis' City Museum is packed with interesting and unusual things to see and do. Connecting its five floors are slides, tunnels and obstacle courses. The whole museum acts almost like a huge indoor and outdoor playground.
Established in Downtown West in 1997, it has expanded and evolved enormously to include all kinds of unique art installations. These include the 'World's Largest Underwear', a massive metal praying mantis and a distinctive yellow school bus hanging off the top of the building.
Besides exploring the numerous ball pits and climbing up construction cranes, there is a full cave system, circus school and skate park to try out.
1. Gateway Arch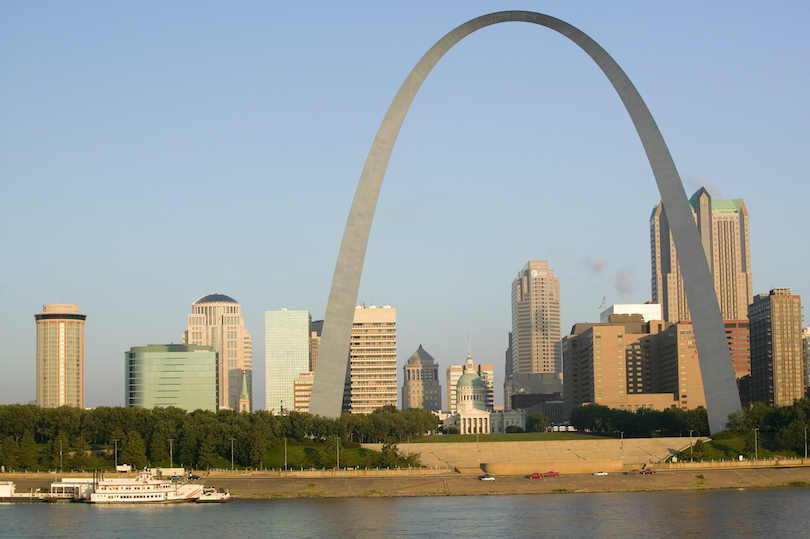 Undoubtedly the city's standout symbol and sight, the glittering Gateway Arch rises dramatically above its sparkling skyline. The tallest man-made monument in the Western Hemisphere, it towers 623 feet in height. Breathtaking views can be enjoyed from its lofty observation area.
Often referred to as the 'Gateway to the West', the enormous arch both commemorates and celebrates the United States' westward expansion. In the museum, guests can learn about how it was erected in 1963 with displays covering the various individuals and peoples who shaped the history of the region.
After having shot to the top in a tram and snapped photos from the summit, make sure to spend a bit of time strolling about the riverside park at the foot. Now protected as a national park, it offers epic photos and views of the iconic arch soaring into the sky above.
Map of Things to Do in St. Louis, Missouri