With its wealth of fabulous beaches, the Philippines is one of the best countries in the world to head to if you want dazzlingly white sands, gently swaying palm trees, and glimmering turquoise waters stretching into the distance before you.
Such is the array of incredible beaches that it almost feels as if everywhere you turn, you come across a new one. With over 7,000 islands making up the Philippines, you certainly have a multitude of beaches to choose from.
To help you find your slice of paradise, here are ten of the best beaches in the Philippines. Each has its own unique characteristics and feel, so take a look and see which one is perfect for you.
10. Gota Beach, Camarines Sur
[SEE MAP]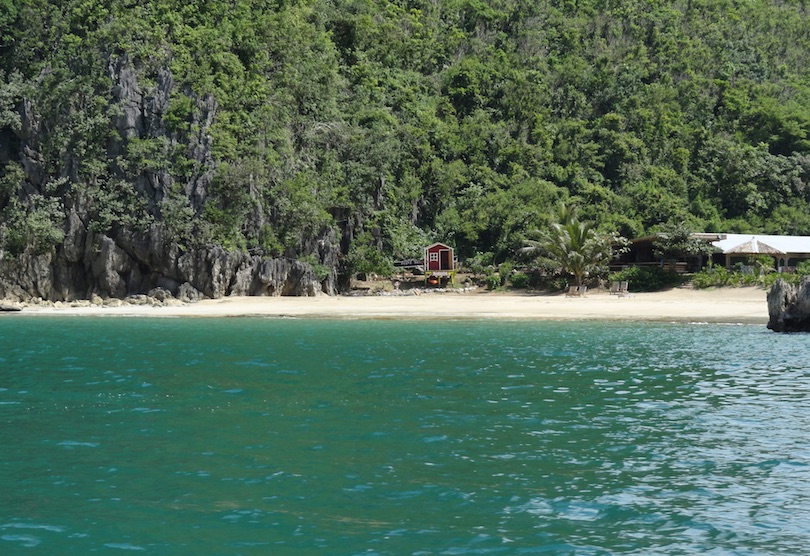 Fabio Achilli / Flickr
With dense green foliage cascading down the hills towards the sands, at times, it seems that tiny Gota Beach threatens to be engulfed. It is this wild feeling about it that makes it such an enticing place to visit. Indeed, it is precisely for this reason that the beach was selected as the setting for the 'Survivor' TV show.
It is hard to argue with the producer's choice, as the beach's location within Camaroan National Park makes you feel as if you are a million miles away from civilization. The province of Camarines Sur, however, is home to a considerable number of people so you can find lots of restaurants and resorts scattered about the peninsula.
The nature on show is stunning, and the jungle has some great hiking paths and trails for you to explore, while the surrounding waters have abundant marine life which makes for fantastic snorkeling.
9. Mahabang Buhangin Beach, Calagua Islands
[SEE MAP]
The Caluagua Islands are home to some lovely beaches; the best amongst them is Mahabang Buhangin Beach. In recent years, it has become an increasingly popular tourist destination as word spreads about its attractive features.
Its remote location is part of its appeal; you really have to work to get there as it is quite far from any population centers. While it may take some getting to, you will be rewarded with glorious views out over the sea, an almost deserted beach, and some of the most beautiful sand around.
It is the perfect places to kick back, relax and sunbathe to your heart's content.
8. Saud Beach, Luzon
[SEE MAP]
Lying on the northern coast of Luzon, one of the three main island groups of the Philippines, Pagudpud Beach is well worth checking out if you have the chance. It has often been called the 'Boracay of the North' because of its bright white sands, turquoise waters, and picturesque palm trees that crowd along the beachfront.
In addition to the stunning scenery, the province of Ilocos Norte, in which Pagudpud Beach lies, also has lots of great restaurants and resorts for visitors to check out, as well as some fantastic watersports.
Located on the northern coast, it is the perfect place to go kitesurfing; the strong winds which hit the island will have you zipping across the crystal clear waters in no time. All in all, it is no surprise that Pagudpud Beach is an increasingly popular tourist destination.
Another one of El Nido's majestic beaches, Hidden Beach is so named because it lies between two towering limestone formations that obscure it from sight; this goes a long way to explaining how it has retained its pristine appearance.
Its secluded location on Matinloc Island means that it is quite hard to get to; consequently, the beach is delightfully undeveloped and untouched. The beach is gorgeous to behold, with the rugged rocks forming an impressive backdrop.
As they form a ring around the white sands and turquoise water, you can enjoy Hidden Beach in peace, seemingly a million miles away from the outside world. The surrounding area is rich in marine life, so it also makes a great spot to go snorkeling.
6. Banul Beach, Coron
[SEE MAP]
With huge rock outcrops overlooking the beach, Banul Beach is as pretty as they come. The turquoise waters contrast stunningly with the white of the sands and the green foliage erupting forth from the cliff face.
Located on the northwestern peninsula that juts out from Coron Island, Banol's remote location means that it lacks many of the standard tourist amenities – visitors come here to get away from it all and enjoy the peace and quiet.
In addition to the beautiful landscape, there is some excellent snorkeling to be had nearby. The waters teem with marine life, and the island is regularly listed amongst the best dive sites in the world. It also has some fascinating shipwrecks for scuba divers to explore.
5. Bounty Beach, Cebu
[SEE MAP]
Lying along the southern coast of Malapascua Island and extending for quite some distance up its east coast, Bounty Beach is yet another one of the Philippines' awe-inspiring beaches. While many people come to enjoy the picturesque shoreline and the island's laidback way of life, Malapascua is known for its fantastic dive sites.
Just as many visitors come to explore its underwater delights. Its colorful coral gardens are teeming with life; you can see all types of sharks in the surrounding waters, as well as sea turtles, manta rays, and shoals of fish.
Consequently, it is one of the most popular places to go scuba diving in the Philippines. Bounty Beach itself also warrants a visit for its glorious white sands.
4. Nacpan-Calitang Beach, Palawan
[SEE MAP]
The twin beaches of Nacpan and Calitang run parallel to each other, with just a thin strip of land separating the two. There aren't many places like it in the world. Together, they form part of a peninsula that juts out from the west of El Nido.
While Nacpan curves up towards the north and stretches into the distance, Calitang is much shorter in comparison, and curves down to the south. It is a very peaceful, secluded spot, lying around forty-five minutes away from El Nido Town. As such, it is the perfect place if you're looking to get away from it all for a bit and relax on a beautiful beach or two.
Dense jungle hugs the coastline, and due to the beaches' remote location, you really do feel as if you're on a deserted island.
3. Alona Beach, Panglao
[SEE MAP]
Lying on the small island of Panglao that is attached to the larger Bohol by two bridges over the water, Alona Beach is one of the most idyllic beaches in the Philippines. The surrounding waters are home to loads of fantastic dive sites.
While there are many great resorts, beach bars and shops nearby, Panglao is much quieter than Boracay and is more family-oriented in outlook. There's a very laid back vibe to the island, and many scuba divers and snorkelers head to Alona Beach for the wealth of marine life that lies just off its shores.
Appearing as if out of a holiday catalog, the beach itself is as charming as they come; its pristine white sands lie next to inviting tropical waters and shady palm trees that offer respite from the blinding sun.
2. White Beach, Boracay
[SEE MAP]
One of the most popular tourist destinations in the whole of the Philippines, White Beach on Boracay will make you feel like you're in paradise. As the name hints, the sand is dazzlingly white. Coupled with the crystal clear waters and deep blue skies above, you'd be hard-pressed to find a more visually appealing beach.
Hidden away among the palm trees lining the beach are loads of fantastic restaurants and bars for visitors, as well as some great shopping and lively nightlife for when the sun dips into the sea.
White Beach regularly appears on lists of the best beaches in the world. In addition to the spectacular scenery, it has loads of watersports in the form of kayaking and parasailing – if you ever manage to tear yourself away from the sand.
1. Marimegmeg Beach, Palawan
[SEE MAP]
Routinely lauded for its stunning scenery and array of beautiful beaches, El Nido in Palawan province is a delight to visit, and Marimegmeg Beach is just one of the many fine beaches that it has to offer.
Lined by swaying palm trees, its white sands are bordered by glittering turquoise waters, and the incredible views out over Bacuit Bay only add to the perfect scene. Often referred to as Las Cabanas, due to the popular resort that lies along the beachfront, Marimegmeg is located just a short distance away from El Nido town, which makes it very convenient to get to.
As well as lounging on the beach and enjoying a drink at one of its laidback bars, visitors can take an exhilarating ride on the zip wire that connects the coast to Depeldet Island; the views from up high are breathtaking.