Although it is known as 'the rice granary of the Philippines', Central Luzon has much more to it than just endless plains of rice fields as magnificent mountains peaks are to be found alongside twinkling waterfalls, beautiful beaches and a wonderfully wild and rugged coastline.
Located just to the north of Manila, its diverse landscapes are home to a whole host of different peoples and cultures with each of the seven provinces that make up Central Luzon having its own unique look, feel and identity.
With lots of wonderful old colonial-era architecture to discover, delicious local cuisine to sample and fun-filled festivals to take part in; this delightful region of the Philippines is well worth exploring if you have the chance.
Map of Central Luzon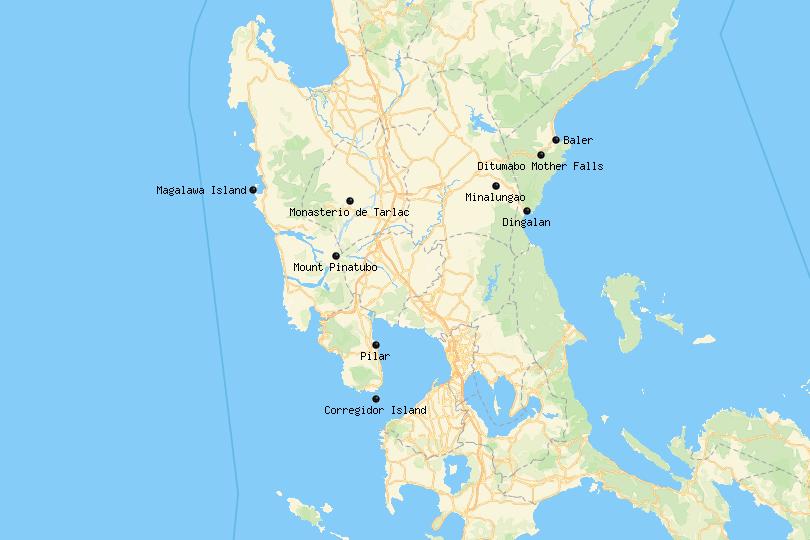 © OpenStreetMap © MapTiler © Touropia
9. Ditumabo Mother Falls
[SEE MAP]
Jevvei88 / Wikipedia
Majestic to behold, Ditumabo Falls gushes forth from up high. The dazzling white of its waters contrasts stunningly against the lush green of the rainforest that lies to either side of it. The impressive waterfall is also known as Mother Falls since it is the largest and grandest in the area.
While the waterfall only reaches about 15 meters in height, its scenic setting makes it a very picturesque place to spend some time, although it can get crowded during the weekends. After hiking for an hour through the jungle to reach the falls, nothing beats bathing in the clear pool that lies at its foot and basking in the fantastic scenery all around you.
8. Minalungao National Park
[SEE MAP]
Klienne Eco / Wikipedia
Established in 1967 to protect and preserve the scenic Penaranda River and its surroundings, Minalungao National Park is home to some of the most beautiful and pristine nature in Central Luzon.
As it is promoted as an ecotourism destination by the local government, it should come as no surprise to learn that the national park has a wealth of fantastic outdoor activities for you to enjoy, with hiking, rock climbing, and ziplining all on offer.
In addition to this, you can also go swimming or kayaking on the river – or even rafting and cliff diving if you feel brave enough. While its range of outdoor activities will certainly keep you entertained for days, the scenery on show is just as arresting; the emerald waters of the river are beautifully framed by glimmering limestone formations looming above it.
Lying just off the west coast of Central Luzon and surrounded by the glittering waters of the China Sea, Magalawa Island is a fantastic place to head to if you're looking for a quiet getaway.
With beautiful white sand beaches lining its shores and gently swaying palm trees wherever you look, Magalawa certainly paints a pretty picture. There's nothing better than lounging on the beach all day while taking in the stunning scenery.
As it is still quite undeveloped, the island habitat is very untouched. As such, it is ideal for nature lovers, while outdoor enthusiasts will also rejoice at the amazing rafting and snorkeling on offer. In addition to this, taking a scenic boat trip around the island and surrounding waters is simply a must. This is particularly magical at sunset when the waves shimmer and sparkle before your eyes.
6. Monasterio de Tarlac
[SEE MAP]
Located atop the appropriately named Mount Resurrection, this incredible monastery is a very popular destination with both locals and tourists alike. Its majestic Jesus Christ statue is the undoubted highlight of what's on show.
Towering to a height of 30 feet, Christ's outstretched arms welcome visitors to the Monasterio de Tarlac. From the peaceful gardens surrounding the church, you have some lovely views out over the picturesque Zambales Mountain Range.
While its scenic setting and splendid statue are what many people come for, the interior of the monastery houses a very important relic which is believed to be a remnant of the cross upon which Christ was crucified.
Although the fragment of the True Cross is not all that much to look at, lots of pilgrims come here and venerate the holy site. The monastery's peaceful mountaintop setting certainly makes it the perfect place for some quiet reflection.
Lying alongside a delightful bay of the same name, Dingalan is a breathtakingly beautiful part of Central Luzon to visit. The municipality is awash with stunning scenery and landscapes for you to explore. While its wild and rugged coastline is exhilarating to surf or swim along, its interior is equally enchanting. Among its towering mountains, you can find cavernous caves, gushing rivers, and sparkling waterfalls.
As such, it really is an outdoor lover's dream, and there are loads of lovely beaches to kick back and relax on if you simply want to bask in the magnificent scenery. While there isn't all that much for you to do in town, its delightful setting amongst the Sierra Madre Mountains and the abundance of nature nearby means that you'll never get bored.
4. Corregidor Island
[SEE MAP]
With lots of interesting historical sights to explore and a wealth of excellent woodland paths and coastal trails for you to hike or cycle along, Corregidor Island is well worth visiting when in Central Luzon.
Due to its strategic location at the entrance to Manila Bay, Corregidor has long been fortified. Many people now visit to see Fort Mills and the various anti-aircraft artillery batteries that were erected to protect the Philippines's capital during the Second World War.
While the crumbling fortifications, memorials, and WWII sights are what make Corregidor Island one of the most popular tourist destinations in the country, its spectacular scenery is also well worth checking out.
Although there is not all that much to see or do in the town of Pilar, there are some interesting historic sights to discover. The municipality itself lies not far away from Bataan National Park and Mount Mariveles, both of which boast some astounding natural wonders.
The main attraction in Pilar is the Mount Samat National Shrine, which was built to honor and remember the brave Filipino and American soldiers who fought in the Second World War. The enormous cross certainly does look impressive.
Besides that, the Flaming Sword shrine and Our Lady of the Pilar Parish Church are the main noteworthy sites to see in town, while the small fishing villages and ports along the coast are also well worth a visit; they are very picturesque with a laidback feel.
Simply awe-inspiring to look at, Mount Pinatubo is a must-visit when in Central Luzon. While the majestic mountains and volcanoes that dot the landscape are breathtakingly beautiful, it is the glimmering crater lake that lies at their heart that is the undoubted star of the show.
Hemmed in by towering peaks, the turquoise waters shimmer and gleam beneath the midday sun, and the color of the lake remarkably changes throughout the year, depending on the season.
Formed over millennia, the volcanic region makes for some beautiful hiking. Lots of mountaineers come to Mount Pinatubo to climb its various peaks. One of the most spectacular natural sights in the Philippines, Mount Pinatubo will set your heart racing.
Lined by beautiful palm trees and overlooked by majestic mountains off in the distance, the small town of Baler is a very laidback place to visit, and the scenery on show is drop-dead gorgeous.
Famed for its white sand beach and surfing spots that appeared in the iconic film Apocalypse Now, Baler truly is blessed when it comes to its scenic setting. If you're up for some exploring, the surrounding area has some wonderful beaches and waterfalls.
Despite being founded all the way back in 1609, there aren't any historical or cultural attractions of note in the town. Most people simply come to kick back and relax on the beach or take to the waves and surf all day in the sun; it's the perfect destination for sun-worshippers and beach lovers.