One of the main places Europeans head on holiday, the Mediterranean is full of idyllic islands. Thought to number around 10,000 in total, their warm, sunny weather, sandy beaches and sumptuous food see many millions visit each summer.
Bordered by countless countries from Europe, Asia and Africa, the immense sea and all its isles have played a massive role in the history of Western civilization. As untold peoples and cultures have inhabited the area over the millennia, its cities, towns and archaeological sights are each unique and exciting to explore.
While large islands like Cyprus, Mallorca and Sicily attract the most visitors, there are many more smaller ones to see. Often boasting jaw-dropping scenery or crystal-clear waters, they're the perfect place to relax and unwind in spellbinding settings. With fun watersports, fine dining and fantastic cities also on offer, these Mediterranean islands couldn't be more beautiful.
In this post, we'll cover:
23. Ischia, Italy
Lying just off of Naples in Italy is the volcanic island of Ischia. Although oft-overlooked in favor of the chicer Capri nearby, its scenery is arguably yet more dramatic still as tiny towns and ancient castles cluster along its rugged shores.
After just over an hour's ferry ride from the mainland, you can alight and explore the isle's incredible landscapes. While little towns like Sant'Angelo and Lacco Ameno are set in stunning spots, Ischia's main attraction is Castello Aragonese.
Perched atop a rocky islet, the fifteenth-century castle's huge walls and fortifications make for an absolutely spectacular sight. Ischia also has tons of pretty beaches and therapeutic hot springs to stop off at and some resplendent gardens too.
22. Menorca, Spain
One of Spain's Balearic Islands, Menorca is a marvelous place to visit and vacation. The quietest and arguably most authentic of all the archipelago, its unspoiled beaches and coast are its biggest draw.
The second-largest island after Mallorca, it is located northeast of its neighbor with Mahon and Ciutadella being its two main towns. Both have nice waterfronts, loads of restaurants and a scattering of historic sights to see.
Further inland, you'll find fascinating archaeological sites home to T-shaped 'Taulas' – mysterious stone monuments built millennia-ago. There is also the cavernous Lithica Quarry to visit which hosts atmospheric concerts in the summer and has a fun maze, delightful gardens and little animal sanctuary to explore. All along its craggy shoreline are scenic, secluded beaches to lounge on surrounded by crumbling cliffs and rocks.
Menorca has also retained its rich heritage and culture and has superb local food and festivals to enjoy. We were lucky enough to stumble across a fishermen's festival that featured unending fireworks and crowds dressed in devil costumes. The intoxicating ambience and fireworks exploding all around us are not something we'll forget soon!
21. Krk, Croatia
Set just south of Rijeka in the enormous Bay of Kvarner is the 'golden island' of Krk. Now connected to the mainland by a 1,400 meter-long bridge, it offers lots of brilliant hiking, biking and watersports. As you explore its magnificent hills and bays, you can bask in breathtaking views over the mountains, coast and sea.
Actually the largest island in all the Adriatic, it is also its most populous with countless European and Croatian holidaymakers heading here in summer. Quite rocky and hilly for the most part, its landscapes lend themselves perfectly to all kinds of fun outdoor activities.
Besides basking on its beaches and swimming in the sea, you can amble around the cute old towns of Omisalj, Krk and Baska. Must-see sites include the fifteenth-century Frankopan Castle and captivating Biserujka Cave. While the former boasts some fine views and architecture, the latter is home to stupendous stalactites and stalagmites.
20. Lesbos, Greece
Renowned for being Sappho's birthplace, the gorgeous Greek isle of Lesbos actually lies much closer to Turkey's indented coastline. Its natural beauty and very easygoing lifestyle make it a wonderful place to relax and unwind.
Often spelt Lesvos, it is located in the northeastern Aegean Sea, only separated from Asia Minor by the narrow Mytilini Strait. For millennia now, poets, writers and painters have been inspired by its romantic, rugged landscapes.
The 'Island of the Poets' certainly is picturesque as white rock headlands, green olive groves and forests give way to hidden bays and beaches. Numerous museums delve into its storied past which is also highlighted by its centuries-old churches and hulking great Mytilene Castle. You also must sample some ouzo as the strong Greek national liqueur is said to originate from the isle.
19. Elba, Italy
Instead of poets, the isolated Elba is instead mostly known for being where Napoleon was exiled in 1814. The main attraction of the Tuscan Archipelago, its enticing mix of culture, cuisine and nature mean it's a popular destination.
Italy's third-largest island after Sicily and Sardinia, the quaint, quiet Elba is part of the province of Livorno. Now a national park, its soaring mountains and sweeping valleys slope down to tropical-esque beaches and the twinkling Tyrrhenian Sea.
Aside from enjoying the scenery and seeing Napoleon's former homes, you can also try delicious local dishes and wines in its rustic villages.
18. Malta, Malta
If you're looking for a hugely interesting and attractive island country to explore, the island of Malta really is an excellent choice. Situated in between Sicily and the North African coast, it is packed with incredible castles and churches, temples and palaces.
Due to its strategic setting in the center of the Mediterranean, it has been fought over and ruled by countless peoples and cultures. On the archipelago's main island Malta, you can admire ancient Roman ruins, impressive Baroque cathedrals and even older temple complexes.
Outside its charming capital Valletta, largely constructed by the Hospitallers, there are little towns, lovely beaches and coastline to discover. Although known for its umpteen artistic and architectural treasures, we were just as enamored with all its remarkable rock formations, caves and cliffs.
17. Rhodes, Greece
Certainly rivaling it in terms of both its history and nature is the sun-kissed Rhodes in the South Aegean. Ideal for holidaymakers looking to both lounge on the beach and enjoy some culture, the Mediterranean gem makes up part of the Dodecanese. While the Colossus of Rhodes is no more, there is much to see and do on the isle.
The largest and most fertile of the Greek Islands, its mountainous reaches have been inhabited since Neolithic times. As such, there are scores of important archaeological sites to explore such as the Lindos Acropolis and Venetian Fortezza Castle.
A must-see, of course, is the medieval walled city of Rhodes. Getting lost amidst the capital's narrow streets and centuries-old palaces, mosques and churches really is an unforgettable experience.
With over 300 sunny days a year and so many superb beaches and resorts to enjoy, it should come as no surprise that the 'Pearl Island' is such a top tourist destination.
16. Djerba, Tunisia
In contrast to Rhodes, Tunisia's Djerba is a scorching hot, desolate isle that is no less beautiful for it. Its dramatic desert scenery, delightful architecture and unique cultural heritage make it a fun and fascinating place to vacation.
North Africa's largest island, it lies in the glittering Gulf of Gabes, just off the nation's southern coastline. Thanks to this location, Djerba now exhibits an enthralling mix of African, Arab, Berber and Jewish influences.
Known for its sandy beaches and stunning sunsets, the isle also has camel rides and watersports to try. Aside from enjoying its famous Arab hospitality and food, we loved exploring its colourful souks and whitewashed towns that standout dazzlingly against the desert.
15. Naxos, Greece
Yet another glorious Greek island that is not to be missed out on is Naxos. As it is set on the way to Santorini though, most visitors sadly (or thankfully!) skip it. This means you'll have almost all the isle's green valleys and whitewashed villages to yourself.
Once the center of the ancient Cycladic culture, it now acts as an important ferry hub with it taking roughly four hours to reach Piraeus. As you approach its capital Chora, its cluster of bright white houses beckon you on, making for some fantastic photos.
Other than ambling about its atmospheric old town and seeing nearby archaeological sites, you can hike around the interior's steep gorges and olive groves. In addition to relaxing and swimming at its beaches, there is some epic kitesurfing and windsurfing to be had.
14. Sardinia, Italy
Most known for its amazing mountainous countryside and romantic, rugged coastline; Sardinia really is a treat to visit. Add in its quaint villages, delicious cuisine and warm, sunny weather and it is no wonder so many people head here each summer.
Located just south of Corsica in the Tyrrhenian Sea, it is Italy's second-largest island after Sicily. Actually an autonomous region, Sardinia has its own rich history, culture, language and traditions for visitors to uncover.
While Cagliari, its largest city and capital, is the main center of life, there are cool old archaeological sights and nature spots to see, dotted about the island. Besides taking in its marvelous mountain vistas and incredibly craggy coast, you can swim, sail and snorkel in the sea.
13. Korcula, Croatia
Oft-overlooked in favor of the nearby Hvar or Split, Croatia's Korcula is a truly lovely, laidback island to explore. Perfect for a quiet getaway, its peaceful villages and pretty pebble beaches also lie near some wonderful wineries.
Part of the central Dalmatian archipelago, it is separated from the Pelješac peninsula by the narrow strait of the same name. Possibly the birthplace of Marco Polo, the isle has Korcula Old Town – one of the most enchanting in the Adriatic – to stroll around.
On top of climbing up St. Mark's tower and drinking in its divine views, you can kayak and see its karstic coastal ranges closer up. After a strenuous day's work sunbathing and swimming, make sure to sip some of the terrific wines produced here.
12. Crete, Greece
The largest and most populated of Greece's innumerable islands, Crete is also one of its loveliest and most visited. With gorgeous beaches galore, giant gorges and lots of historic towns to enjoy, this is one of the most popular islands in the Mediterranean.
Remarkably diverse, the enormous island is situated in between the Sea of Crete and Libyan Sea. While pristine beaches, bays and cliffs line its long coastline, mountains, valleys and fertile plains characterize Crete's interior. There are also plunging gorges and ancient ruins left behind by the Minoans to explore. You can learn all about their captivating civilization at both Knossos and the Heraklion Archaeological Museum.
Its two largest cities of Chania and Heraklion also have attractive old towns to wander around while others are home to Venetian forts and Ottoman buildings. Many people also come to lie on its beaches, try watersports and take boat trips around the isle.
11. Capri, Italy
Much more famous (and crowded!) than Ischia, Capri has remarkably been a popular holiday spot since way back in Roman times. It's easy to see why as all its lush green slopes, craggy cliffs and secluded coves hide away picture-perfect towns and resorts.
Surrounded by the sparkling Tyrrhenian Sea, its rugged reaches lie just a fifty minute ferry ride from Naples. Just the view as you approach is already out of this world and leaves you excited to explore more. Other than getting the funicular up to Capri Town, you can always hike about its scenic hills, visit age-old historic sights and take a boat trip around the bewitching Blue Grotto.
Long frequented by celebrities, artists and European nobles, the island's idyllic towns contain a wealth of chic shops and restaurants. While we loved Capri's look, feel and spellbinding scenery, some prices were eye-watering. It also gets extremely crowded in July and August. Despite this, you definitely have to visit the iconic isle if you can!
10. Ibiza, Spain
Boasting some of the best nightlife around, Ibiza has long been renowned for its huge clubs and hedonistic lifestyle. Outside of Pacha and Privilege's vast dancefloors, its sunny shores and handsome historic towns also entice tons of families.
After Mallorca and Menorca, it is the third-largest of the Balearic Islands with most its landmass being unspoiled and rural. Scattered along its sandy shores are small, sleepy villages and family-friendly resorts to stay at. Asides from splashing around in the sea and enjoying some watersports, you can also explore Ibiza City's walled fortress.
If instead of history and nature it is wild parties you're after, then Playa D'en Bossa or San Antonio are the main places to go. Until the early morning, their streets, bars and legendary clubs are packed with raucous revelers as top DJs pump out hit setlists.
9. Hvar, Croatia
Lying just off of the Dalmatian Coast is Hvar; one of Croatia's most popular and pretty vacation destinations. About an hour's ferry ride from Split, the island has everything from magnificent beaches and watersports to fine wines and nightlife to enjoy.
Surrounded by the crystal-clear waters of the Adriatic, the hilly, pine forest-coated isle is tucked between Brac, Vis and Korcula. Besides Hvar's blooming fields of fragrant lavender, its fertile vineyards produce some of the country and region's best wines.
Hvar Town is the main place people head for its atmospheric center and centuries-old architecture. Its main sites include the impressive Cathedral of St. Stephen and large fortress that overlooks its fancy yacht-filled harbor. At night, numerous cool bars and nightclubs make for a fun, lively ambience.
One of our favorite places in Croatia, Hvar's combination of history, nature, beaches and outdoor activities made it a big hit with us. If you have the time, you can also take boat trips around the postcard-worthy Paklinski islands at its western end.
8. Corsica, France
Immediately north of Italy's Sardinia is the sublime, sun-drenched Corsica. One of the least-visited of the large Mediterranean islands, its soaring landscapes and abundant, untouched nature offer up all kinds of exciting outdoor adventures.
Often described as a 'mountain in the sea', the rugged isle boasts its own rich history, culture and cuisine. Napoleon Bonaparte's birthplace, it was ruled by Pisa and Genoa before coming under French control in 1758. In its main cities Ajaccio and Bastia you can uncover its turbulent past while seeing their citadels, cathedrals and harbors.
Outside of its larger towns, there is fantastic hiking, climbing and multi-day treks to be enjoyed amidst its majestic mounts. Along Corsica's coast, you can kitesurf, windsurf and scuba dive while delicious local dishes and wines can be had wherever you go.
7. Corfu, Greece
Set just southwest of Albania in the sparkling Adriatic Sea, Corfu is as picturesque as they come. Its emerald waters, interesting historic sites and idyllic natural landscapes all entice hordes of tourists each summer.
The setting of many Greek myths, the enchanting Ionian island is home to many old monasteries, Venetian forts and the ruins of ancient temples. In Corfu Old Town, you can amble about its charming cobbled streets and experience its happening nightlife.
As all its resorts, restaurants and cafes mainly cater to tourists, Corfu is not the most authentic place to visit in Greece. It is one of the most stunning however as twinkling turquoise waters lap at its sandy beaches and striking cliffs.
6. Cyprus
The third-largest island in the Mediterranean, Cyprus' sun-kissed shores make for a great beach getaway. With bustling cities, serene countryside and astounding historic sights also on offer, it really does have something that will appeal to everyone.
A republic in its own right, the island country has a complex history to unravel that still shapes its identity and internal borders today. While its northern realm is Turkish, the south side is Greek Cypriot with its capital Nicosia divided between the two. You can easily cross the UN green line though and experience both cultures and cuisines.
Away from its contested capital, Cyprus has loads of wonderful beaches and resorts to lounge at lazily. In between sunbathing and swimming, there are epic millennia-old archaeological sites to see like those of Kato Paphos and Tombs of the Kings. Amidst the Troodos Mountains, you can also hike, ski, try wines and visit some phenomenal painted churches.
5. Gozo, Malta
Much quieter and calmer than Malta's main island, Gozo is known for its scenic hills, historic sights and seaside resorts. Ideal for those looking for an 'off-the-beaten-path' experience, its natural beauty and authentic feel promises guests a memorable stay.
In comparison with its neighbor, the archipelago's second-largest island seems very remote and rural. Hidden amongst its countryside and along the coast are gorgeous gorges, beaches and rock formations to discover. Its scattering of tiny, tranquil fishing villages also make for very pleasant places to relax and unwind.
Not to be missed here are the Ggantija Temples which are believed to be among the world's oldest free-standing structures. Dating to around about 3,600 BC, the massive megaliths are fascinating to photo and explore, representing a very important part of human history.
4. Sicily, Italy
Situated right at the southern tip of Italy, just across the narrow Strait of Messina, is the absolutely spectacular Sicily. Exhibiting an enthralling mix of artistic, cultural and architectural influences, its two main cities of Palermo and Catania are just a couple of its standout sights.
The largest and most populous island in the Mediterranean, it is roughly triangular in shape with Mount Etna's distinctive cone dominating the east coast. As it's the hottest region in Europe, relaxing beach holidays alongside its shimmering waters are hugely popular. Many also come to sample wines in its rustic, hilly countryside or stroll about its vibrant cities.
As everyone from the Phoenicians and Greeks to the Romans, Arabs and Normans ruled here, there are dozens of delightful old sites to amble about. Of these, the Valle dei Templi, Villa Romana del Casale and Necropolis of Pantalica count among Sicily's most impressive.
3. Zakynthos, Greece
Delightfully known as the 'Flower of the Levant' due to its lush vegetation, Zakynthos is located just off of the west coast of Greece, in the Ionian Sea. Besides its beautiful beaches, nature and marine life, it has countless tiny towns and resorts to check out.
Mentioned by Homer in the Iliad and Odyssey, its white sands, sparkling waters and soaring cliffs are a photographer's dream. While the epic views over Navagio Beach and its shipwreck perhaps steal the show, the Blue Caves at Cape Skinari are every bit as breathtaking.
Other than seeing Zakynthos Town's historic sites and trying out its lively restaurants and bars, top places to head include the nightclubs and resorts along Laganas. Much quieter is the isolated Gerakas Beach where you can actually snorkel with sea turtles.
2. Mallorca, Spain
Long one of Europe's most popular holiday destinations, Mallorca is the largest of the Balearic Islands. With golden beaches, glorious mountains and lots of good food, it's easy to see why.
Stretching more than 550 kilometers in length, its glittering coast is lined by hundreds of lovely beaches. Tucked away along its coves and bays are both quiet fishermen's villages and livelier tourist resorts to stay at. While its sunny shores, their restaurants and bars can get quite crowded in summer, its mountainous regions and interior are much calmer and quieter in comparison.
Aside from lounging on its sandy beaches, we really loved exploring its capital Palma and seeing its old architecture. The archipelago's largest city, it has a gigantic Gothic cathedral, cool circular castle and charming historic center to wander around.
1. Santorini, Greece
Featured on the front of travel magazines around the world, Santorini is famous for its bright white buildings, dramatic volcanic scenery and spellbinding sunsets. Located in the southern Aegean Sea, the chic, Greek holiday destination is a must-see for many.
Actually an archipelago, its five isles were formed around 1600 BCE following a huge volcanic explosion. Its main island, Thira, often referred to simply as Santorini, is the largest and most populous with almost all visitors staying here.
Clustered along its rugged caldera rim, both Fira and Oia are by far the most popular towns to hit up. Clambering about their steep cliffside paths amidst the whitewashed buildings and blue-domed churches really is an unforgettable experience. From their hillside tavernas, you can watch the sun slowly set spectacular over the Cyclades.
Map of Islands in the Mediterranean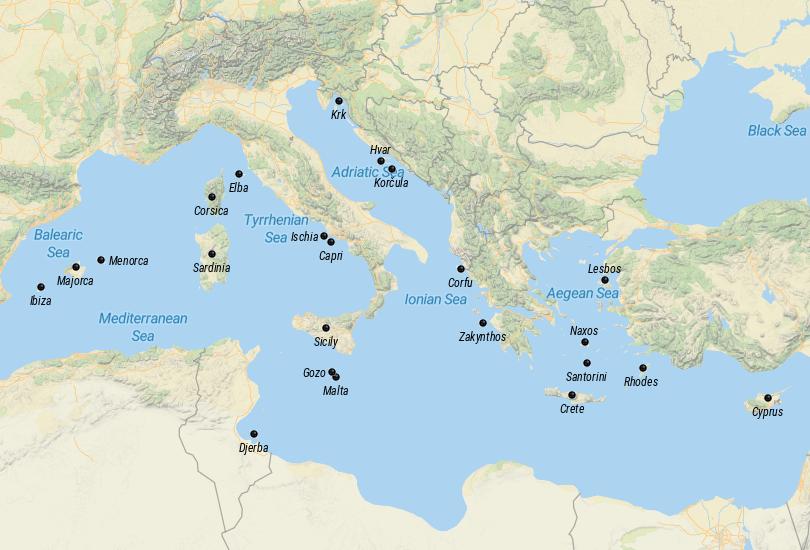 © OpenStreetMap © MapTiler © Touropia