If you're into outdoor recreation, you'll have a field day at Los Glaciares National Park in western Argentina. Argentina's largest national park was just made for hikers and climbers, especially those who combine photography. The scenery here is nothing short of spectacular.
Glaciers National Park boasts glacial lakes, majestic mountains and marvelous glaciers, which are among the few in the world that can be viewed in action. The repeated advancing and retreating cycle of these glaciers presents a never ending show of cracking ice and thunderous booms as giant blocks break away and crash into the lakes with enormous splashes. Numerous boardwalks and boat rides allow visitors to view these spectacular displays in addition to floating ice bergs of remarkable colors and shapes.
Los Glaciares National Park is located in an area called Austral Andes near the border with Chile. As its name implies, the park, which was established in 1937, centers around glaciers. There are 47 large glaciers, most of which got their start in an ice cap high in the Andes Mountains. This ice cap is the highest in the world outside of the Himalayas. In fact, about 50 percent of the park is covered in ice.
In addition to the 47 large glaciers, 13 of which flow into the Atlantic Ocean, there are more than 200 smaller glaciers. These, however, are not connected to the ice cap.
The glaciers here are different from those found elsewhere in the world. Most of the world's other glaciers start at more than 2,500 meters (8,200 feet) above sea level. Los Glaciares glaciers start at less than 1,500 meters (5,000 feet) above sea level and flow down to 200 meters (650 feet) above sea level.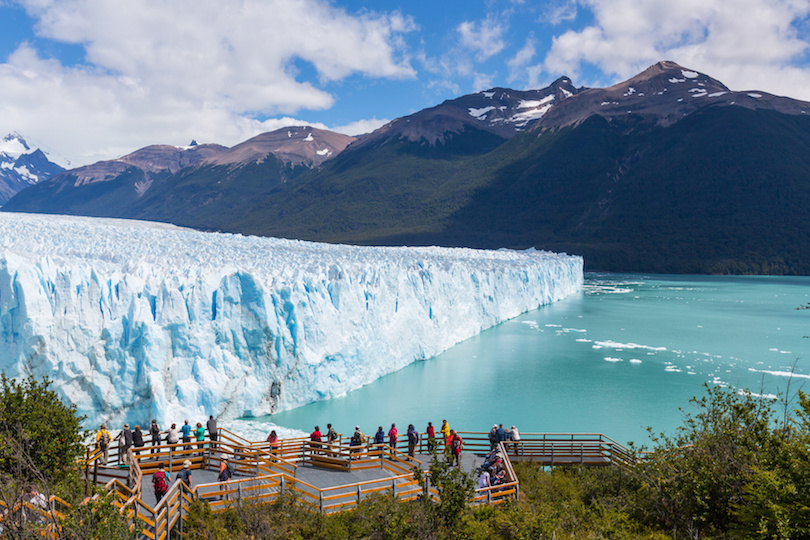 The most famous glacier is perhaps Perito Moreno, named after the 19th century explorer Francisco Moreno, who also was a key figure in Argentina's border dispute with Chile. This glacier, a major tourist attraction in the Argentine Patagonia, is unusual among glaciers because it expands while most glaciers retreat. The glacier extends into the southern portion of Lake Argentino, one of two major lakes in the park. The ice creates a dam; when enough water builds up behind the dam, the ice breaks in a spectacular show of force. The rupture occurs every four to five years, but sometimes it's only a couple of years between breaks.
flickr/Juan Geracaris
Perito Moreno Glacier is accessible by land, but other notable glaciers, Upsala and Spegazzini, are accessible only by boat on Lake Argentino, Argentina's largest lake. Excursion boats take visitors between the icebergs en route to Bahia Onelli, a bay on the lake that is surrounded by Patagonian forests.
Perito Moreno Glacier is located 48 miles from El Calafate, a key tourist center since it's one of the gateways to the park.
If you think the scenery at the southern end of the park is spectacular, just wait until you see the northern area of the park: craggy mountain peaks, lakes, forests and, of course, more glaciers. The terrain is just made for climbers and trekkers.
flickr/Dan Lundberg
The highest mountains here are Mount Fitz Roy, which towers above everything at 3,359 meters (11,171 feet), and Cerro Torre, 3,128 meters (10,177 feet). If Mount Fitz Roy looks familiar to you, it's the model for the mountain on the Patagonia clothing label. Francisco Moreno named it for Robert Fitz Roy, who captained the ship HMS Beagle as it traveled up the Santa Cruz River in Patagonia.
flickr/Miguel Vieira
Cerro Torre is awesomely craggy with ice rimes caused by winds at the top. While the scene is pretty, the extremely strong winds make it difficult for climbers to reach the summit. The winds are so strong that few world-class climbers make it to the top.
This section of the park is punctuated by Lake Viedema and Viedema Glacier. Though but a small village, El Chalten is the jumping off point for climbers and trekkers.
flickr/David
Glaciers National Park is accessed by the town of El Chalten to the north and El Calafate to the south. These towns offer restaurants, lodging, buses and tour operations to assist visitors with exploring the national park. Getting to Los Glaciares National Park can be challenging since, after a point, the roads into the park aren't paved. Be sure to bring a spare tire if you're driving in yourself.
flickr/Lisa Weichel
Once inside the park, if you're not into climbing, you can go camping, trout fishing (you'll need a permit) and walking but never walk alone because you're in puma country. And, always, there is the spectacular scenery to photograph; bring lots of film or memory cards.