Big, busy and bold, Buenos Aires is a cosmopolitan sensation. Loaded with Latin culture and infused with European splendor, the Argentine capital is a dynamic, exciting place to visit.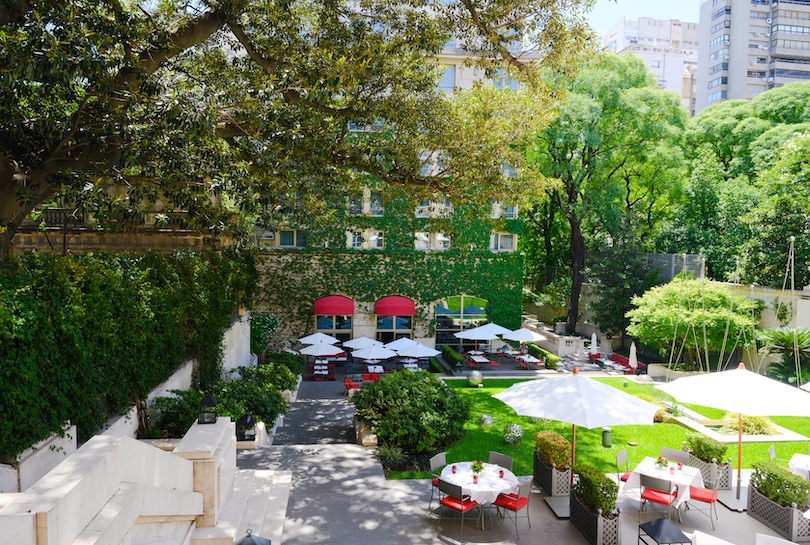 The lively city always seems to have something going on – down every street in every barrio, the vibrancy of local life can be felt. You can stay in cool hotels located along the cobbled streets in some barrios, among the layers of faded history that ooze out of its crumbling architecture and charm you with their delicate decay; or you can opt to stay close to grand palaces and extravagant stately homes that steal the limelight.
And then there's the modern side to the city with skyscrapers and new high-rise hotels. Plus you can travel around the city on the well-connected subway system, or hop on one of the numerous buses that link the barrios.
In this post, we'll cover:
Top Neighborhoods in Buenos Aires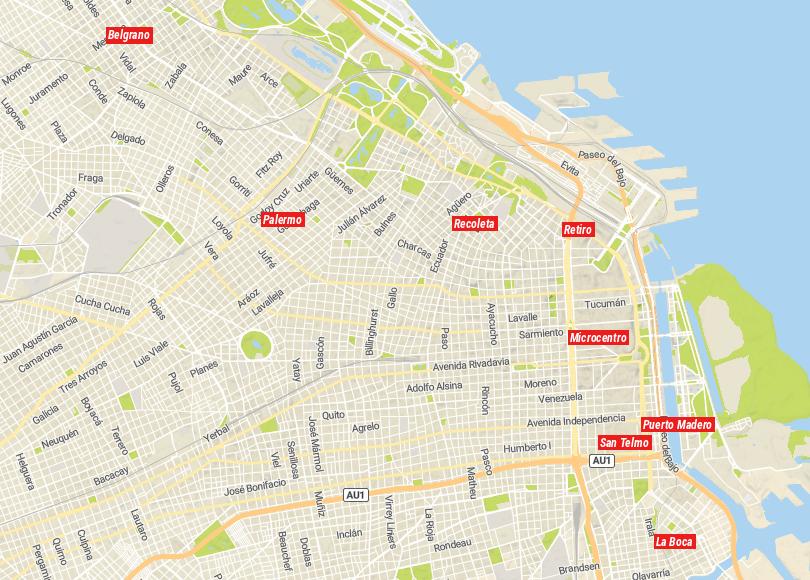 © OpenStreetMap © MapTiler © Touropia
But it isn't all about history and architecture – the lively creativity of the locals make it a fun place to visit. Birthplace of the tango, the Buenos Aires' food scene is also a cultural wonder; altogether mouthwatering, you'll never go hungry between the local steakhouses or the food trucks serving up Instagram-worthy delights.
Sexy and seducing, here's where to stay in this enticing city which still today always has something new and interesting on offer.
Recoleta
Phillip Capper / Flickr
Sophisticated and stylish, Recoleta is the most affluent area in Buenos Aires. Traditionally the district where the city's rich and influential live, there's more to this barrio that designer-clad inhabitants, that spend days shopping and lunching. Situated just to the north of the city centre, Recoleta is famous for its large and elegant stately homes – and one of the most visited cemeteries in the world.
Recoleta Cemetery is the final resting place for many of Argentina's wealthy and powerful; its thousands of mausoleums – built in a variety of intricate styles, including Gothic and Art Deco – are testaments to the city's moneyed inhabitants. If art is more your thing, you should take a visit to Museo Nacional de Bellas Artes with its impressive collection of art from Rembrandt to Monet.
Recoleta's affluence is reflected in its hotels and if you choose to stay in the area, you can expect the pure opulence of hotels such as the Hyatt, housed in a neoclassical mansion. Accommodation in the barrio may not come cheap, but staying in such historical buildings is an experience in itself. If you've only got a day or two in Buenos Aires, Recoleta's location close to the centre means getting around the city easily.
Where to Stay in Recoleta
Palermo
Sandwiched between Belgrano to the north and Recoleta to the south, Palermo is the largest of Buenos Aires' neighborhoods. As such this sprawling district is divided into different, but unofficial, subdistricts. There's the small Palermo Chico in the east, home to some embassies, luxury apartment blocks and condominiums; one of the most expensive places to live in Buenos Aires. Alto Palermo is the neighborhood downtown: the main transport and shopping hub.
However – for a different feel – head east. Here you'll find Palermo Hollywood, named for the TV and radio personalities who flocked here in the 1990s, filled also with cafes and vibrant nightlife. And next door is Palermo Soho, the bohemian area of Palermo where traditional houses have been repurposed into boutiques, bars and cafes.
In the north is the huge Palermo Woods, the largest green area of Buenos Aires, where you can wander the Japanese or Botanical Gardens, or chill in one of the many parks. Spanish colonial architecture still mingles with the modern in Viejo Palermo – or 'Old Palermo'.
Maybe due to its city-within-a-city feel, Palermo is one of the most popular places to stay in Buenos Aires. Most accommodation here can be found in Palermo Soho and Palermo Hollywood, with Soho being the place to base yourself if you're on a budget thanks to its cheaper offerings.
Where to Stay in Palermo
San Telmo
Steeped in history, San Telmo seduces visitors who wander along its cobbled pathways, past the faded facades of the once elaborate mansions that line the streets; these were converted into tenement housing for the European immigrants who flocked to the city. And as the 20th century arrived, so did artists with a bohemian mindset and values, from which famously tango music was born.
Today the free-spirited feeling still oozes from this time-worn area, its charm lies in the decay and in the energy of life in the barrio. Full of fantastic food, make sure to try traditional Argentinian barbecue, known as parrilla, and then spend the afternoon lazing in a sun-dappled plaza. No visit to San Telmo would be complete without checking out its famous antique market on a Sunday, as well its many interesting antique shops.
Staying in San Telmo is a popular choice for visitors since there's so much life and energy to soak up. Accommodation is much cheaper here compared to plush Palermo and Recoleta and there's a good selection of budget choices, as well as some higher-end options.
Where to Stay in San Telmo
Microcentro
Microcentro may not officially form one of Buenos Aires' 48 barrios, but this loose area is centred around the foundational heart of the city: Plaza de Mayo. It's a financial and business zone of administrative buildings and offices, a square with approximately 90% of its area spread across San Nicolas, and the rest a small quadrant in neighboring Monserrat.
But it's by no means all business. There's a lot of history in Microcentro, mainly in the form of some beautiful old buildings and still-running establishments. For example, you'll find the oldest bookshop in Buenos Aires here: Libreria de Avila, with origins in the late 18th century; there's also Casa de Liniers, one of the oldest houses still standing in the city. Elsewhere grand neoclassical buildings stand imposing on the wide streets.
Around Plaza de Mayo is where you'll find the Presidential Palace or Casa Rosada, from which Eva Peron (Evita!) famously addressed the nation, as well as the impressive National Cathedral. Spend time here slipping into and out of classic cafes and bars such as Café Tortoni which dates back to 1858, as well as more modern eateries.
Staying in Microcentro means a whole lot of choice when it comes to a hotel – it's chock-a-block with them! Budget-friendly 2 and 3-star offerings can be found mainly in the south, centred around Avenida de 9 Julio – the city's main north-south thoroughfare – with prices (and stars) rising in the more cultural northeast of the quarter.
Where to Stay in Microcentro
Belgrano
There's (apparently) a city law that states you're only allowed to walk 10 dogs at once in Buenos Aires; we've also read 8, but in upper-middle-class Belgrano, you'll often see dog-walkers with double that number. It's a lucrative business that also leaves a lot of business on the pavements, too. People in this leafy neighborhood just love their dogs.
This is just one of the idiosyncrasies of Belgrano. A wealthy area that's home to a lot foreign and international schools, the private Universidad de Belgrano and a whole lot of high-rise housing – with early 20th-century English-style houses sometimes still nestled between – you'll also hear Belgranodeutsch: an intermingling of German and Spanish, reflecting the cosmopolitan demographics of the area. Similarly, it's here that you'll find the Chinatown of Buenos Aires, packed with eateries and shops catering to Asian-Argentinians. It's a fascinating area that exemplifies the many immigrants to Buenos Aires.
Avenida Cabildo and the surrounding vicinity contains not only most of the hotels of the area (mostly mid-range) but also a range of shops, cafes, boutiques, cinemas – a little bit of everything that attracts many of the city's inhabitants on the weekend.
Where to Stay in Belgrano
Puerto Madero
If you're looking for somewhere to stay in Buenos Aires with a little more space to breathe, Puerto Madero might be the choice for you. Just a couple of blocks over from San Telmo and the buzz of the city centre, Puerto Madero is the newest of the city's barrios. The area, which was once the city's commercial port, has seen much development – here you'll find gleaming skyscrapers that house offices and hotels, regenerated brick warehouses and chic dining options.
Most of the barrio sits alongside the water's edge, where cobbled pathways make for a pleasant waterfront stroll; here you can walk over the now iconic 'Puente de la Mujer' – a bridge shaped like a couple dancing the tango. Although the area may be lacking in the traditional Buenos Aires charm, it feels clean and safe and, as night falls, the restaurants and clubs hot up and it becomes one of the best places in the city to eat and drink.
Staying in Puerto Madero means being close to big open green spaces – and a good choice of new hotels to choose from, from affordable comfort to a little more luxury. Plus you can easily hop on the subway or a bus to other areas of the city.
Where to Stay in Puerto Madero
La Boca
Though much of Buenos Aires has a European flavor, it's in La Boca – south of San Telmo – where it remains distinctly Old World: there are narrow, cobbled streets, colorful low houses, and elegant 19th-century architecture that wouldn't look out of place in a French or Italian city. It's got good foundations for that though since many of the city's early inhabitants were immigrants from Genoa.
This area, centered around a street known as Caminito, is popular with tourists, thanks to attractions like historic buildings, tango bars, little museums and Italian taverns. As such it can be packed with tourists.
However, the Caminito is just a few blocks in area and is the only tourist-visited portion of La Boca; the rest of the neighborhood is relatively poor compared to the rest of Buenos Aires. It's an area with its roots in socialism: here the first socialist politician in all the Americas, Alfredo Palacios, was elected in 1904.
La Boca is actually quite void of accommodation. One guesthouse a few blocks from the tourist area, combined with a few affordable 3-star hotels and guesthouses in the north, means you may be better off staying in San Telmo.
Where to Stay in La Boca
Retiro
Beatrice Murch / Wikipedia
Upscale shopping opportunities abound in this neighborhood, as do a selection of 5-star hotels: Sofitel, Four Seasons and Sheraton are all here – and all in grand 20th-century buildings. There's also the Marriott Plaza, the oldest of the 5-stars, housed in a majestic high-rise dating back to 1909.
As a contrast, bordering the Port of Buenos Aires, is the shantytown of Villa 31, where around 26,000 people – many illegal immigrants – reside.
The 5-star hotels are mainly near the station, close to the northwest border with Recoleta, with much of the accommodation landscape being dominated by 4-star hotels; many, however, are surprisingly affordable.
Historic buildings dot this area, being filled as it is with government agencies and embassies, as well as elaborate, architecturally significant 19th-century palaces and mansions. Elsewhere, modern skyscrapers cluster around the Avenida de 9 Julio. But with several parks, monuments and great transportation links in the form of Retiro Station (the main railway station in the city), it's a handy – and pretty – place to base yourself.
Where to Stay in Retiro