The northernmost metropolitan area on the continent, Edmonton can be found straddling the banks of the beautiful North Saskatchewan River in the centre of Alberta. The sprawling capital city of the province has something for everyone to enjoy. It boasts not only the largest mega mall and urban parkland system in North America but Canada's largest living history museum too.
While spectacular scenery, nature and wildlife is never far away, the city also has a thriving arts and culture scene to explore with some great tourist attractions and museums to visit alongside a packed schedule of festivals and cultural events. In addition to these things to do in Edmonton, the city also acts as an important educational and governmental hub for the region and is known as the 'Gateway to the North'. This is because many people stop by the city on the way to either Alberta's oil sands projects or the glacier-dotted Jasper National Park.
12. Alberta Aviation Museum
Located just a short drive to the north of downtown is the excellent Alberta Aviation Museum which is home to a huge collection of civilian and military aircraft. Set on the site of the former Edmonton City Centre Airport, it is housed in the humongous Hangar 14 with interesting artifacts and exhibits wherever you look.
Founded in 1993, the museum offers up a fascinating look into the evolution of flight in Edmonton and Alberta with bush planes and bombers on show alongside jet fighters and supersonic interceptor aircraft. In total, it has more than forty planes to peruse with informative displays and guided tours teaching you everything there is to know about its many models and the historic 'double-double' World War II-era hangar in which they are housed.
11. Royal Alberta Museum
One of the biggest and best museums in Canada, the Royal Alberta Museum occupies a state-of-the-art modern building right in the center of the city. Here you'll not only find gorgeous galleries and impressive installations but over two million objects and specimens that shed a light on the history, nature and culture of the province.
First opened in 1967, it was bestowed royal patronage in 2005 following Queen Elizabeth's visit in Alberta's centennial year. While some sections focus on the sciences, others look at human history with everything from aboriginal artifacts and archaeological findings to art and even live animals being on display. With hands-on exhibits to try out and the world's largest collection of insects to check out, the massive museum really is one of Edmonton's must-see attractions.
10. Art Gallery of Alberta
Set just a stone's throw away from the museum is another of the city's main attractions – the exquisite Art Gallery of Alberta. Opened all the way back in 1924, it has over 6,000 astonishing artworks for you to enjoy with its main emphasis being on art produced either in Alberta or western Canada.
One of the most important collections of visual art in the country, the museum displays a plethora of fantastic photos, prints and paintings with historical works lying next to modern and contemporary pieces. Just as arresting as the art itself is the beautiful building in which it housed. This is because it boasts a very distinctive design with swirling shapes to be spied, alongside hard angles and edges that represent various geographical features of Edmonton.
9. High Level Bridge Streetcar
A wonderful way to see the city is to hop on the historic High Level Bridge Streetcar which winds its way between Jasper Plaza and Old Strathcona. Stretching three kilometers in length, the vintage streetcar service crosses over the North Saskatchewan River and offers up some fabulous views of the city and river valley.
While streetcars were introduced to Edmonton in 1908, this seasonal service only began offering rides on its heritage trams in 1980. Since then, it has become a very popular attraction thanks to its direct route to downtown, the breathtaking views from the High Level Bridge and the old-time look and feel of its streetcars. As such, it is well worth going for a ride over the river if you are in town between May and October.
8. TELUS World of Science
As interesting and educational as it is entertaining, TELUS World of Science can be found just ten minutes' drive to the northwest of the city center. Located in a corner of Coronation Park, the state-of-the-art science center has countless interactive exhibits to explore with a splendid science stage, IMAX theater and planetarium also on offer.
Since being founded in 1984, the museum has delighted generations of locals and tourists alike with its array of hands-on activities and expansive galleries. While some areas focus on the sciences and space, others look at the earth, Alberta and environment. The center's aim is to instill an interest in science and technology and encourage visitors to experiment and explore the world all around them.
7. Whyte Avenue
Janusz Sliwinski / Flickr
One of the trendiest neighborhoods in town, Whyte Avenue lies at the heart of Old Strathcona in south-central Edmonton. Besides boasting a thriving arts and cultural scene, the long strip is lined by handsome historic buildings and has lots of unique boutiques and local restaurants for you to try.
As the street caters to all tastes and interests, it is a very popular place to head and attracts a diverse crowd from all walks of life. This only adds to its lively atmosphere while its art galleries and music shops all contribute to its creative vibe. On top of having some great nightlife, Whyte Avenue also hosts a number of cultural events and festivals over the course of the year as well as the weekly Old Strathcona Farmers' Market.
6. North Saskatchewan River Valley
When in Edmonton, no visit can ever be complete without exploring the North Saskatchewan River Valley – the largest and longest expanse of urban parkland in North America. Effectively cutting the city in half, its plethora of interconnected parks, paths and playing fields line both banks of the river and have a wealth of stupendous scenery and outdoor activities for people to enjoy.
In total, its gorgeous green spaces come in at a staggering twenty-two times the size of New York's Central Park. While some of its parks are full of amenities and are home to such sights as the Valley Zoo and Muttart Conservatory, others protect untouched wilderness and wildlife. Due to their scenic splendor, the parks are a very popular place to go hiking and cycling.
5. Muttart Conservatory
Just across the river from Downtown Edmonton you'll find one of the city's most famous landmarks – the magnificent Muttart Conservatory. The collection of four pyramid-shaped glass buildings is actually home to a beautiful botanical garden with each greenhouse representing a particular biome from around the world.
Rising up out of the river valley, the distinctive pyramids lie amidst a pretty park and public garden and were designed by Peter Hemingway. Opened in 1976, the conservatory now houses hundreds of species of plants with wildflowers from Alberta to be found alongside tropical and temperate shrubs and trees from as far away as Asia and Australia. A picturesque and peaceful place to amble about, it also has an excellent on-site restaurant and gift shop to stop by.
4. Elk Island National Park
As it is home to so many incredible animals and so much stunning scenery, Elk Island National Park is sure to delight both nature lovers and outdoor enthusiasts alike. Lying just half an hour's drive to the east of Edmonton, it encompasses everything from woods to wetlands and acts as an important wildlife haven.
Since being founded in 1913, the national park has played a prominent role in the protection of the Plains bison. As well as huge herds of the hoofed animals, Elk Island is also known for being home to both the largest and smallest land mammals in North America – the wood bison and pygmy shrew. In addition, it has some tantalising trails to explore with camping, kayaking and playing golf being particularly popular pastimes.
3. Alberta Legislature Building
Perched atop of a promontory overlooking the North Saskatchewan River Valley is the important and impressive Alberta Legislature Building. The seat of the province's government, it boasts some beautiful Beaux-Arts architecture and lies amidst lots of lovely leafy grounds which are dotted with both memorials and statues.
Affectionately known as 'the Ledge' to locals, the large landmark was completed in 1913 with its iconic dome presiding over a pretty portico propped up by massive columns. As well as learning all about its history and architecture at its visitors' center, you can also take tours around its marble and mahogany-clad interior. The imposing yet undoubtedly attractive building can be found just a short stroll to the south of the city center.
2. Fort Edmonton Park
Another of the city's main attractions to lie alongside the North Saskatchewan River is the fantastic Fort Edmonton Park which is located just fifteen minutes' drive to the southwest of the center. The largest living history museum in the country, its well-preserved buildings and costumed re-enactors offer up a fascinating look at various eras of Edmonton's history.
As well as a reconstructed riverside fort and trading post belonging to the Hudson's Bay Company, there are also streets from different epochs to stroll along lined by historic buildings. Dotted about are informative displays on everything from the fur trade era to the early pioneers and Edmonton's development as a provincial capital. To get around the sprawling site, visitors can take lovely rides in horse-drawn carriages or heritage streetcars.
1. West Edmonton Mall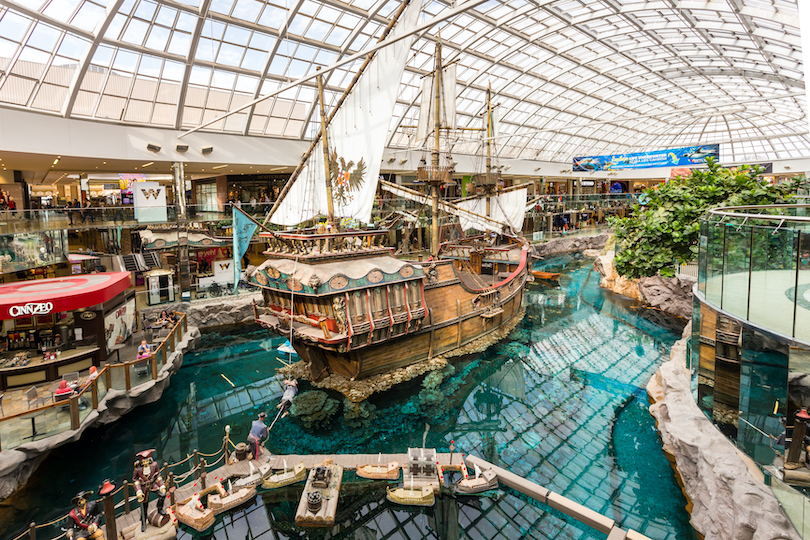 As it is the largest shopping mall in North America, West Edmonton Mall really is not to be missed out on. Besides being home to a staggering array of shops and services, its colossal confines have lots of exciting attractions for you to check out with innumerable restaurants and cafes also on offer.
In total, over 800 stores can be found in the enormous shopping center with fun themed streets such as Europa Boulevard and Chinatown to explore. The mall also boasts Galaxyland – a humongous indoor amusement park – and the wild and wet World Waterpark. To top it all off, there is also everything from mini-golf courses and a petting zoo to numerous movie theaters and an ice-skating rink to try out.
Map of Things to do in Edmonton