Located to the southeast of China, the island nation of Taiwan is one of the most densely populated countries in the world and its bustling and vibrant cities are full of beautiful old temples, fantastic museums and lively night markets which offer up a stunning array of delicious cuisines. Away from its busy streets, many visitors enjoy exploring Taiwan's incredible nature such as the beautiful Sun Moon Lake and spectacular Kinmen Island.
A bastion of democracy and human rights, Taiwan has long been at loggerheads with China which still lays claim to the country and the Taiwanese are friendly and welcoming people who proudly uphold their independence.
With such a vast array of diverse things to do, visitors to Taiwan will have their time cut out trying to fit everything into a memorable trip. Explore this Asian island with our list of the best places to visit in Taiwan.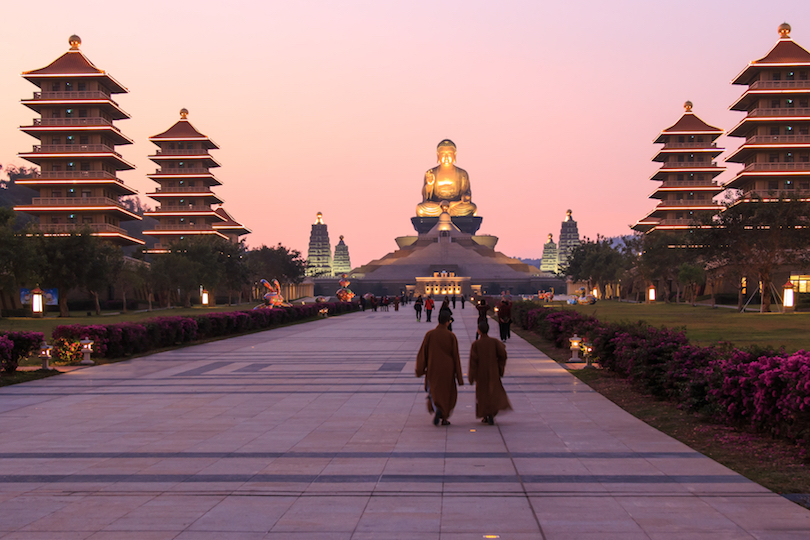 A bustling city, full of life and energy, Kaohsiung has something for everyone to enjoy and consequently it is a favorite tourist destination with foreigners and locals alike. Acting as both the maritime and industrial hub of the country, it is the third most populous city and commerce and trade have ensured that there is a wide mix of peoples, cultures and communities, which is reflected in the delicious cuisine on offer.
With great weather all year round and beautiful scenery surrounding it, it is a fantastic place to do outdoor activities, and both hiking and cycling will take visitors to many of the best viewpoints. In addition to all of this, Kaohsiung is home to lots of historic sites, and more and more museums are sprouting up each and every year.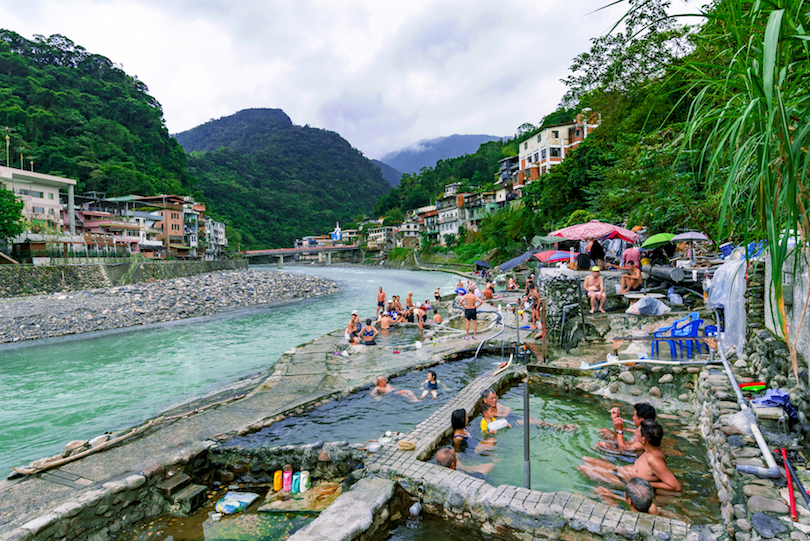 Located in the south of New Taipei City, Wulai is home to the Atayal people and is famous throughout Taiwan for its hot springs. As such it is now a tourist town and many people come here to wallow in the warm waters, learn more about the rich indigenous culture and explore the surrounding nature.
With loads of outdoor activities on offer, you can go hiking in the forests, go fishing in the river and also camp amongst the wild while enjoying the delightful scenery. Visitors can also buy some of the indigenous arts and crafts on sale and try some of the local food.
The undoubted highlight of any visit to Wulai is wallowing in the hot springs which are so abundant and the town's mountainous setting only makes sitting back and taking in the view all the more magical.
This group of islands is located in between Taiwan and China and is famous for being the site of a battle between the Nationalists and Communists in 1949, although it is now more commonly known as a popular tourist destination.
With loads of lovely scenery to be found on the islands, it is sometimes called 'the park in the sea' as there are so many bright flowers, forests and nature reserves for visitors to enjoy, with Kinmen National Park being the most popular on offer.
Historic buildings abound in Kinmen. There is lots of delightful old architecture for tourists to gaze upon, and a number of wonderful beaches can be found scattered about here and there. Famed for its local products and its delicious cuisine, the Kinmen Islands are certainly worth a visit when in Taiwan.
7. Kenting National Park
[SEE MAP]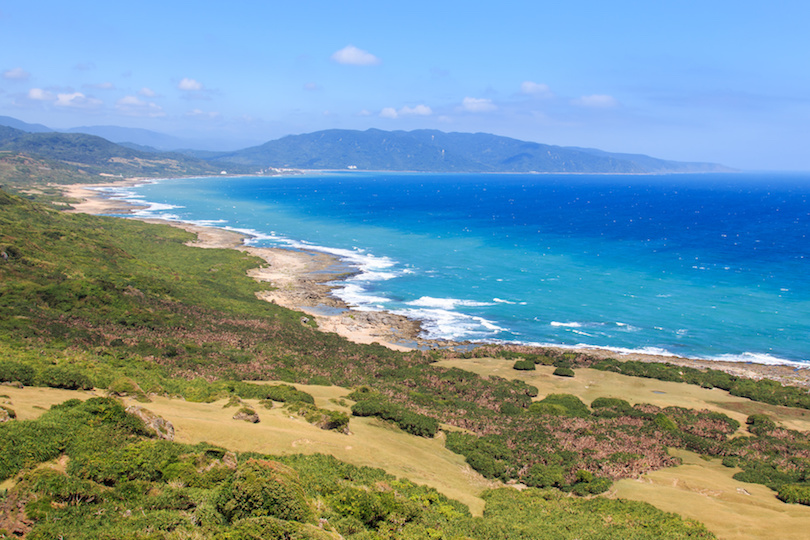 Considered by many to be the oldest national park in the country, Kenting is located in the south of Taiwan on the Hengchun Peninsula, and is a very popular tourist destination. With loads of lovely scenery on offer, visitors mostly come to enjoy the wonderful beaches and the tropical climate that makes it so appealing.
Bathed in beautiful sunshine, Kenting is marvelous to explore and there is loads of fauna and flora on show. One of the must-see attractions is the huge Eluanbi Lighthouse, which towers over its surroundings. A fabulous national park to visit, Kenting also hosts the famous Spring Scream festival which attracts thousands of music lovers every year.
6. Alishan National Scenic Area
[SEE MAP]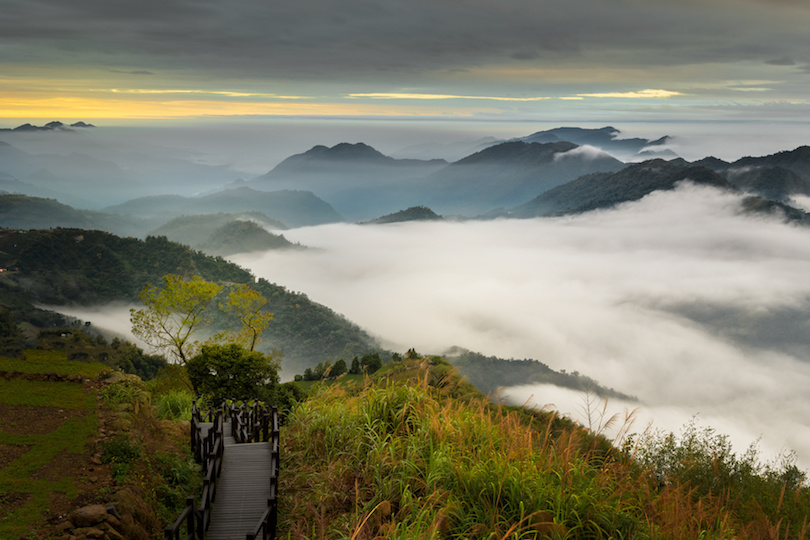 A wild and wonderful place, the Alishan National Scenic Area is very mountainous and actually contains twenty-five mountains that tower to a height of two thousand meters or more. Exploring the hills, valleys, waterfalls and forests is a magical affair, and the scenery is stupendous to behold.
There are numerous trails and paths that will take you to some of the best viewpoints. A great way to see a lot of the reserve in one go is to take the Alishan Forest Railway, which snakes its way through forests and along mountainsides before stopping off at Fenqihu, a picturesque village with the ruins of a Shinto temple.
Home to the Tsou people who are renowned for their tea making, Alishan is an absolutely gorgeous place to visit and your visit will live long in your memory.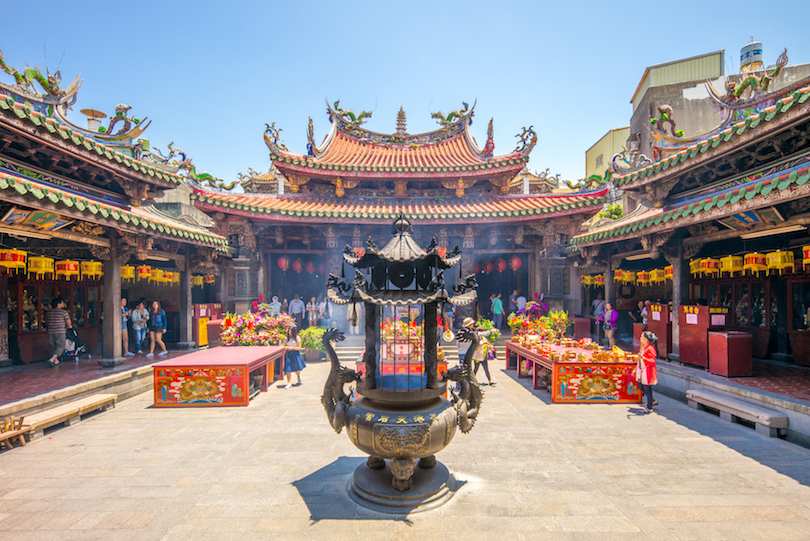 The second oldest town on the island is a mesmerising place to visit, and it is particularly renowned for its delicious local cuisine and stunning architecture.
Located in the northwest of the country, it was once an important seaport and trading center, although its standing has long since declined. Thankfully that has meant that its historic buildings remain intact and there are remarkably over two hundred temples for tourists to visit, with Longshan and Matzu being among the most popular.
There is a wide range of architectural styles on show. Among the dishes that visitors to the city just have to try are the ox tongue cakes and oyster pancakes, which are specialties in the region.
Formerly the capital of imperial Taiwan, this ancient city is well worth a visit and there are loads of interesting sights and cultural landmarks for visitors to enjoy. One of the most popular parts of the city to visit is the Anping District, which is the historic heart of Tainan.
This area has lots of beautiful old temples scattered about, as well as Fort Zeelandia which was built by the Dutch East India Company in the 17th century. There are a number of great museums, such as the Chimei and Koxinga Museums, and there is loads of fantastic shopping to be had. Stop off at the night markets for some of the local cuisine.
With lots of lovely nature surrounding Tainan, you can easily take a day trip to the Nanhua or Hutoupi Reservoirs, or even head off to Taijian National Park.
3. Taroko National Park
[SEE MAP]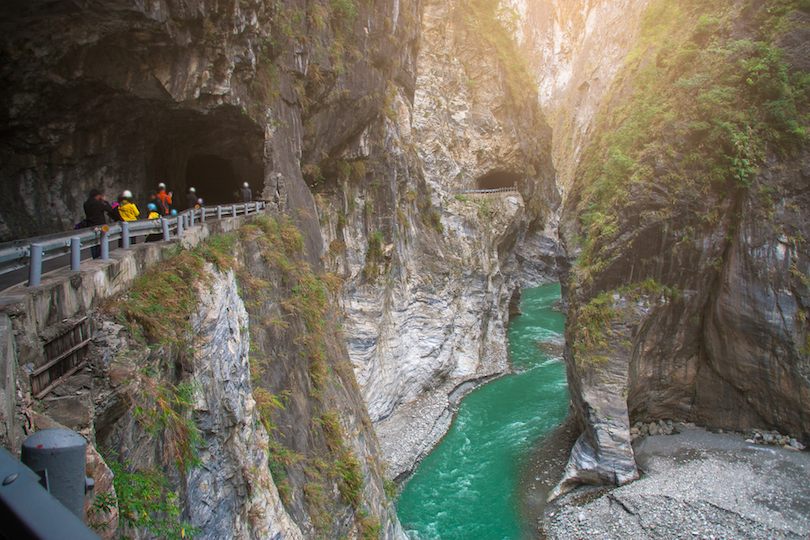 Full of beautiful nature and incredible landscapes, this national park takes its name from that of the impressive gorge that runs through it, and as such it is well worth checking out when in Taiwan. Carved out over centuries and millennia by the winding Liwu River, it is Taroko Gorge that is the undoubted highlight of the area, along with the steep valleys, mountains and more features throughout the park.
With a number of great outdoor activities that visitors can enjoy, you can be river rafting one minute, hiking through the canyons the next and be bathing in the Baiyang Waterfalls later that same day.
The scenery on show is absolutely gorgeous wherever you go, and some of the best views are from the delightful Eternal Spring Shrine and the Swallow Grotto. A great time to visit is during the Taroko Music Festival, when you can explore and experience the culture and traditions of the people and communities that live in the area.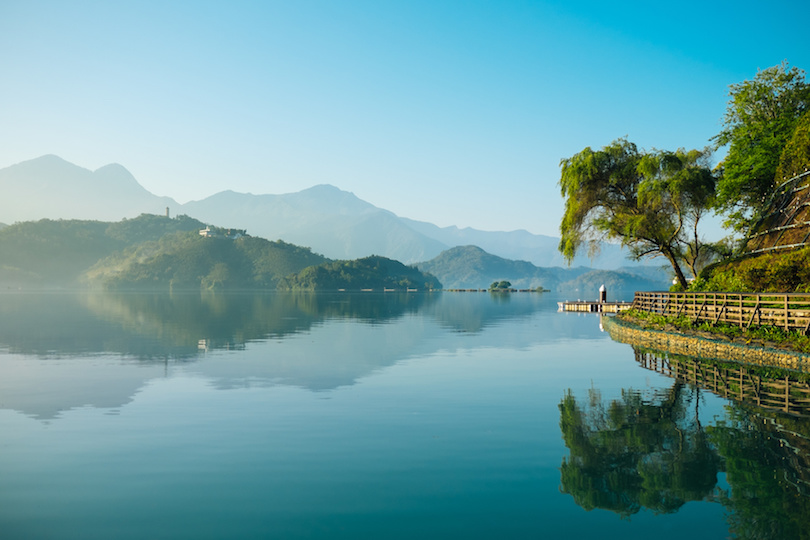 The delightfully named Sun Moon Lake is the largest body of water in the country and is a popular tourist destination amongst locals and foreigners alike. As such there are loads of hotels and resorts located along the lake's shores and there are numerous restaurants, shops and bars that cater to the visitor's every need.
With lots of outdoor activities on offer, you can go sailing on the lake, go for a delightful hike or bike ride in the hills surrounding it or relax on a boat trip across its tranquil waters and enjoy the breathtaking scenery. In addition to the stunning nature, there are some great temples for visitors to visit and there is also a cable car ride that offers up unforgettable views of the lake below.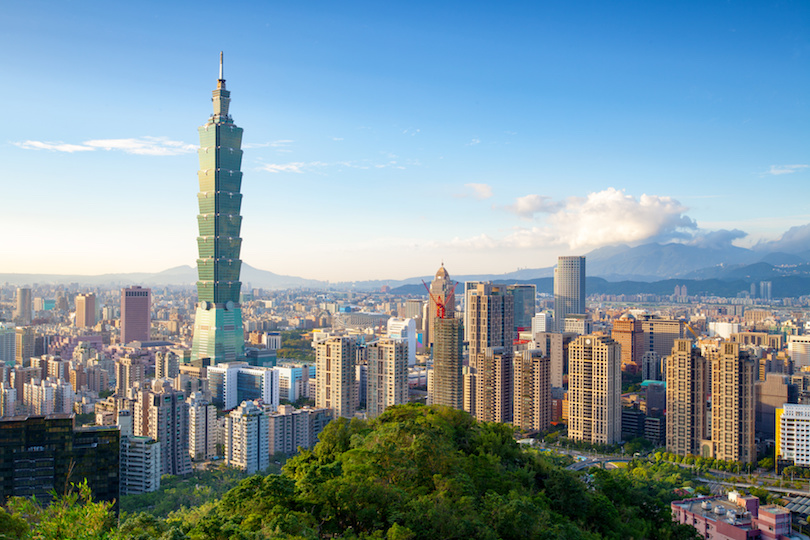 The capital of Taiwan is a marvelous place to visit, with a plethora of things for visitors to see and do. It is not only the political and economic hub of the island, but also the cultural one, as there is a lively arts and culture scene.
With an intoxicating mix of old and new to be found in the delicious food and stunning architecture, it is a captivating city to visit. Old temples are located amidst the skyscrapers, and the towering Taipei 101 actually used to be the tallest building in the world.
Fantastic restaurants, shops and bars abound in this bustling city, and there are loads of attractions on offer such as the Taipei Zoo, the Botanical Garden and the wonderful temple of Hsing Tian Kong.
For an authentic look at the local culture, head to the fun and friendly Raohe Street Night Market for some great food and entertainment, while numerous museums such as the National Palace Museum are on hand to help you delve further into the rich cultural heritage of Taiwan. After your time in Taipei, you'll come away tired but happy at all of the amazing things that you've seen and done.
Map of Taiwan
© OpenStreetMap © MapTiler © Touropia