London conjures up images of royalty and power. It is the capital of England and the United Kingdom and is one of the most popular destinations in the world, attracting approximately 30 million tourists a year. This historic city, which sits on the River Thames, has been the site of many major events including the 2012 Summer Olympics. While there is certainly much to do in the capital, there are also many interesting sites nearby that can be visited during a few short day trips from London:
Map of day trips from London
© OpenStreetMap © MapTiler © Touropia
Sugarmonster / Flickr
Located in Kent in the southeast corner of England, Leeds Castle was constructed during the reign of Henry I and served as residence for royalty for much of its more than 900-year-long history. Six queens called Leeds home, earning the castle the nickname "The Ladies Castle."
The moat that surrounds the castle is actually a lake fed by the River Len, and punting on the water is a favorite activity. The castle grounds boast an elaborate yew maze as well as a turf maze designed for young children.
Getting to Leeds Castle
By public transport, it is quite easy to visit Leeds Castle; all you need to do is take an hour-long train from Victoria Station to Hollingbourne, which is just past Maidstone. From here, you can either take a short taxi ride, catch the number 13 bus, or walk for half-an-hour to the castle. As it is the main attraction in the area, you'll certainly see lots of signposts indicating the way.
Driving there yourself is also very easy to do, and the journey takes just over an hour. Simply head southeast out of London on the A2 and stay on it all the way to exit 8, where you turn off onto the M20. From here, you should see signs pointing you to Leeds Castle. After having seen its magnificent grounds and delightful ramparts, it is well worth driving on to see Canterbury or stopping off at the pretty town of Rochester on your way back to London.
Many people opt to take a guided tour to Leeds Castle. As well as seeing its fairytale moat and lavish rooms, you'll also get to visit the gleaming white cliffs of Dover and the impressive Canterbury Cathedral. With an expert guide on hand to tell you all there is to know about the places you visit, you'll gain a deeper appreciation and understanding of the area's long and fascinating past.
Located in south central England, the Cotswold area is known for its pretty golden-colored limestone villages and beautiful gardens. The Cotswolds area is so picturesque that it has been officially designated as an "Area of Outstanding Natural Beauty."
Not surprisingly the scenic Cotswolds area is popular with nature lovers and is an excellent place to go horse riding and cycling. The area is also home to wonderful farmers markets and many charming old buildings.
Getting to the Cotswold
While most people visit the beautiful little villages and stunning scenery of the Cotswolds by car or by taking a guided tour, it is possible to go there using public transport; you'll just need to plan a little bit in advance and settle upon which places you really want to visit. To get to Moreton-in-Marsh, for instance, only takes an hour and a half from London. All you need to do is take a direct train from Paddington Station. From here, you can easily take bus 801 or 802 to visit the equally delightful Bourton-on-the-Water; this should get you there in just 20 minutes. It is then just a short journey to see nearby places such as Bibury and Cirencester.
By car, it is much easier to visit the Cotswolds, as you can drive between all the lovely little villages at your leisure. It takes about two hours to drive to Moreton-in-Marsh from London, and on the way, you'll also pass through some beautiful countryside. Simply head northwest out of the city on the M40 until you turn off at exit 9. Continue all the way to Moreton-in-Marsh on the A44. After having explored the village to your heart's content, just drive on to any of the other nearby places that take your fancy. Although driving is a great way to see lots of the Cotswolds in one day, the roads are very narrow and windy, so they can get a bit congested in summer or when a tractor is blocking the way.
Another option for visiting the Cotswolds is to join a guided tour that not only takes you around this beautiful part of the UK, but also to nearby Stratford-upon-Avon, Oxford, and Warwick Castle. Ideal for people who are pressed for time, this tour is a fabulous way to see an astounding array of different sights in just one day. At the end of the day, you'll come away with a camera full of photos of the spires of Oxford University, the ramparts and towers of Warwick Castle, and the dreamy cottages in the Cotswolds.
Silly Little Man / Flickr
This city, on the Sussex coast, has been a popular beach resort since the mid-19th century. Much of its popularity is due to the proximity to London, making it popular with day trippers. The beachfront is lined with graceful old Victorian homes that today provide tourist accommodations.
Visitors will want to walk out on the famous Palace Pier or admire the traditional English gardens. The city has a vibrant nightlife, and is home to many entertainers and athletes.
Getting to Brighton
Lying almost directly to the south of London, Brighton is very easy to get to by train, and these run very frequently. The journey takes about an hour, whether you depart from London Bridge Station or Victoria Station. Once you arrive, the lovely seaside is only a short walk away.
While it may take almost double the amount of time to drive down to Brighton from London, this does mean you can go for a scenic drive along the coast if you feel like it. Another bonus is that it is almost impossible to go wrong with the directions; you simply need to stay on the A23 heading south – this will take you all the way to Brighton.
7. Salisbury Cathedral
[SEE MAP]
yellow book / Flickr
Salisbury Cathedral, which was built in the early English Gothic style, is an impressive and handsome building that attracts more than 500,000 visitors a year. It took approximately 38 years to build the main body of this attractive church, which was completed in 1258.
Salisbury Cathedral boasts the tallest spire in Britain and also features the largest cathedral close. A copy of the Magna Carta can be viewed in the Salisbury Cathedral's Chapter House. There are only four copies of this important document left today, and the one in the Salisbury Cathedral is the best preserved.
Getting to Salisbury Cathedral
From Waterloo Station in London, it only takes an hour and a half to get to Salisbury, and trains depart very frequently. Once you alight at the station, it is around a 15-minute walk through the town to the impressive Salisbury Cathedral.
By car, it takes about two hours to drive to Salisbury Cathedral from London, and the directions are quite easy to follow. Just head west out of the city on the M4, then take the M25 south until you get to the M3. Stay on this until just past Basingstoke, where you then turn off onto the A303. This will take you to Andover, and from here, you should see signs for Salisbury. As both Stonehenge and Bath don't lie far away, it is well worth visiting both if you have enough time.
Many people sign up for a guided tour that takes them around Salisbury Cathedral, Stonehenge, and Bath, as that is the easiest way to see all three in one day. With a professional guide accompanying you, you'll learn all about the fascinating history of each place as you visit the main attractions. In addition, there is loads of lovely architecture and pristine countryside for you to enjoy.
At Warwick Castle, which was originally built in 1068, travelers can get a glimpse of what life was like in medieval times. The castle features beautiful gardens and entertaining shows, including a birds of prey show and a popular dungeon attraction.
Warwick Castle also boasts an impressive suit of armor collection. Travelers who want to overnight on the castle grounds can actually rent a medieval tent, which includes admission to Warwick Castle and breakfast.
Getting to Warwick Castle
Lying to the northwest of London on the way to Birmingham, Warwick Castle takes just an hour and a half to get to by public transport. Trains depart regularly to Warwick from Marylebone Station, and from here, it is just a ten-minute walk to the amazing castle.
Driving to Warwick Castle takes a bit longer at around an hour and 50 minutes, but this allows you to visit the nearby Stratford-upon-Avon or even Oxford on the way back. To get to Warwick, simply head west out of the city center on the A40 and stay on once it turns into the M40; this will take you directly to the town. Once there, you'll see signs pointing you to the castle.
If you don't have too much time on your hands, you may want to take a guided tour that combines Warwick Castle, Oxford, the Cotswolds, and Stratford-upon-Avon into one memorable day trip. By taking a tour, you'll get to learn a lot about each of these unique places without having to worry about getting to or from them by yourself. Highlights include Shakespeare's Tudor-era home, the famous Christ Church College, and Warwick Castle's beautiful gardens.
PhillipC / Flickr
Oxford, which is located about 100 km (60 miles) from London, is best known as being home to the famous university of the same name. In addition to the university, Oxford is also home to numerous museums, including the Ashmolean Museum of Art and Archaeology as well as the Pitts Rivers Museum.
Travelers to Oxford who want to enjoy a view of the city should visit the University Church of St. Mary the Virgin. For a small fee, visitors can climb to the top of the church's tower, which offers what many consider to be one of the best views of Oxford.
Getting to Oxford
The quickest way to get to Oxford by public transport is to hop on a train at Paddington Station; you will find yourself in the charming university town just under an hour later. As Oxford is not too large, you should be able to visit all its main sights on foot from the train station.
Another option is to embark on a guided tour that takes you around the charming town to see the magnificent university buildings and learn all about the famous scholars who have studied here over the centuries. In addition to this, the tour also includes a scenic drive through the lovely Cotswolds, a visit to Shakespeare's former home in Stratford-upon-Avon, and a walk around Warwick Castle. All in all, it makes for a great day out, and there is something for everyone in the family to enjoy.
4. Stratford-upon-Avon
[SEE MAP]
ell brown / Flickr
This charming town, which is located in rural Warwickshire is the birthplace of one of the most famous authors in history, William Shakespeare. Stratford-upon-Avon is rightfully proud of its connection to the Bard and, today, visitors can watch plays put on by the Royal Shakespeare Company in the town's Royal Shakespeare Theatre. Shakespeare's Birthplace, a half-timbered house that is now a museum, is another popular attraction in this town.
Getting to Stratford-upon-Avon
From the center of London, it should take you just over two hours to get to the home of Shakespeare by public transport. From Marylebone Station, three direct trains run to Stratford-upon-Avon each day. As such, it is a good idea to check train times in advance, as they don't run all that frequently. Once you arrive at the station, it is just a short walk to the center of the picturesque town.
Another option is to drive there yourself; this is very easy to do as the directions are almost impossible to get wrong. Head northwest out of London on the M40 and turn off at exit 15 around two hours later, after which you just need to follow signs to Stratford-upon-Avon. On the way back to London, it is well worth taking a short detour to Oxford to see the magnificent university town.
Many people who wish to visit Stratford-upon-Avon do so as part of a guided tour that also takes them to Oxford, the Cotswolds, and Warwick Castle. All four locations are delightful to visit, and over the day, you'll learn a lot about the many different sides to the UK – as well as its history, culture, and nature.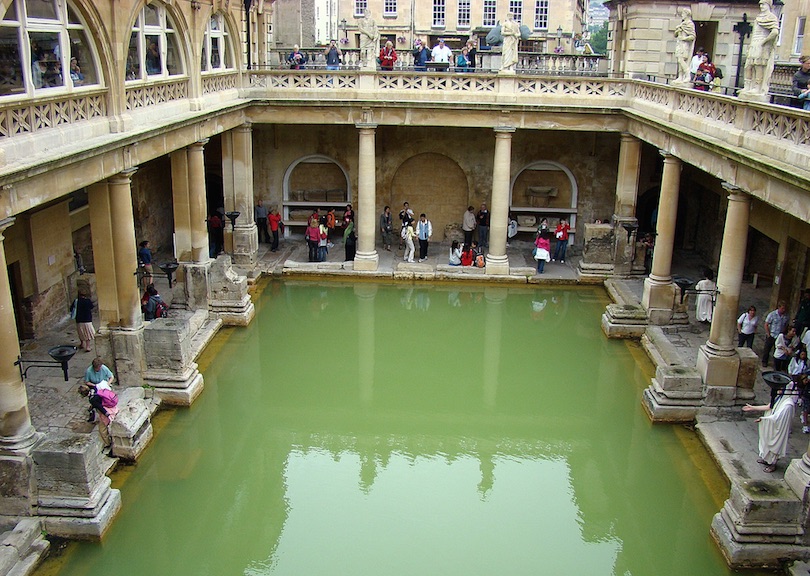 Gauis Caecilius / Flickr
The city of Bath is located a short one-and-a-half-hour train ride from London, making it a very popular day trip. This is a very beautiful, historic city, built of attractive cream-colored limestone, and famous for its natural hot springs.
The city's Roman Baths is considered to be one of the best preserved Roman spas in Europe. First built around 70 AD, the Roman Baths are the city's most popular tourist attraction.
Getting to the Roman Baths
To get to the glorious Roman Baths from the center of London takes no time at all, and the directions couldn't be more straightforward. Just hop on a train from Paddington Station, and you'll find yourself in Bath just an hour and a half later. From the train station, it is just a short walk to the Roman Baths and the rest of the fantastic sights that Bath has on offer.
If you're pressed for time, you may want to try out a guided tour that takes you to the Roman Baths, the amazing Neolithic site at Stonehenge, and the spectacular Windsor Castle. With so many interesting historical sights on show, it is a great day out, and you're sure to learn a lot about the history of each place from your knowledgeable guide.
This castle, which is located in Berkshire just outside London, is the official residence of the Queen of England and is still used by the royal family as a weekend home. In addition, many state banquets and other official events are still held at Windsor Castle. Travelers to Windsor, which is the largest and oldest occupied castle in the world, will find plenty to see.
If the weather permits, they can enjoy watching the famous Changing of the Guards, or they can take part in one of St. George's Chapel's daily worship services. Because this castle is still a working palace, travelers should check to make sure that it is open before visiting, as its operating hours can change.
Getting to Windsor Castle
By public transport, it only takes about 45 minutes to get to Windsor Castle from London. From Paddington Station, board a train to Slough, where you then need to take another train to Windsor and Eton Central. From there, it is a short walk to the impressive castle. Trains run very regularly throughout the day, and as Legoland isn't far away, you could visit both in one day.
For visitors interested in seeing as much of this wonderful part of the UK as possible in just one day, a guided tour to Windsor Castle, Stonehenge, and Bath is a must. Each location offers up something new and different for you to enjoy. Whether it is the spectacular Neolithic monument at Stonehenge, the stately halls, chapels and rooms of Windsor Castle, or the beautiful Roman baths and Georgian architecture of Bath, this tour certainly packs a punch; you're sure to come away impressed at all the amazing sights you've seen.
1. Stonehenge & Avebury
[SEE MAP]
Tokuyama / Flickr
One of the most popular day trips from London, Stonehenge is a prehistoric monument found in Wiltshire, about a 2 hours drive from the capital. From 2500 BC, Neolithic and Bronze Age man started to bring gigantic stones from Wales and the Marlborough Downs.
It was not until 1600 BC that Stonehenge came to be completed. A trip to Stonehenge is best combined with a trip to prehistoric Avebury to the north, which has an even bigger stone circle, with fewer restrictions, and far fewer tourists.
Getting to Stonehenge & Avebury
While it is just about possible to visit both Stonehenge and Avebury in one day by public transport, it is quite time consuming and involves quite a few changes, so driving there yourself is certainly the easier option. To get to Stonehenge, you first need to take a 90-minute train ride from Waterloo Station in London to Salisbury. Alight here, and you should see signs for the Stonehenge Tour Bus, which will take you to the visitor's center of the famous site. All in all, the journey should take about two to two and a half hours, depending on the transport change. To get to Avebury from Stonehenge, you need to take the same tour bus back to Salisbury, then board a train to Swindon. At Swindon, there is an hourly bus that departs for Avebury. This whole journey will take you at least three hours, so visitors attempting to see both places in one day are advised to start early and plan their trip in advance.
As you can imagine, it is much easier to visit both by car. To get to Stonehenge takes just under two hours, and the directions are pretty simple to follow. Just head west out of London on the M4, then turn south onto the M25, which will take you to the M3. After following the motorway for a while, you want to then turn off onto the A303, which you stay on until you see signs for Stonehenge. Driving to Avebury from Stonehenge takes about 40 minutes and will take you through some lovely countryside. Just head northwest on the A360 and stay on it when it changes into the A361 – this will take you directly to Avebury.
If you don't fancy taking public transport or driving yourself, you are better off taking a guided tour. With an expert guide accompanying you, you'll learn a lot about the Neolithic monuments in both Stonehenge and Avebury, and return home with lots of great photos from a fantastic day out.