An expensive city to visit, one of the best things about London is that so many of its world-famous museums are free to the public. Home to some simply stunning art collections, visitors to the capital can enjoy some beautiful paintings, portraits and art pieces by prominent artists from around the world and throughout the ages.
With so many amazing museums scattered about the city, one could spend a lifetime exploring all that London has to offer. Whether you are into planes and waxwork figures or Asian art and dinosaurs, the perfect museum for you is just waiting to be discovered.
12. Imperial War Museum
[SEE MAP]
© Stoyan Haytov / Dreamstime
Located in what was once a hospital, the Imperial War Museum in London offers a fascinating look at war and its impact. Starting off with the First World War, the museum takes you on an amazing journey through the ages before delving into the Second World War and more contemporary conflicts.
The exhibits on show are very interesting and informative and the four-hundred items on display all highlight the sorrow that war brings. With lots of films, photos, videos and audio recordings included in the displays, visitors will come away with a greater insight into the tragedy of wars, as well as the impact they have on society.
Mainly focusing on Britain and the wars that have affected the nation, the Imperial War Museum is one of the primary museums that visitors to London head to, thanks to its amazing collection and well-presented exhibits.
11. National Portrait Gallery
[SEE MAP]
© Slawek Kozakiewicz / Dreamstime
Home to over 11,000 portraits, this delightful art gallery focusses on famous British people through the ages and is located not too far from Trafalgar Square. A remarkable place to wander around, portraits, photos, sculptures and drawings of some of the country's most influential and well-known figures gaze upon you as you make your way through the galleries.
While its most famous portrait is undoubtedly the painting of William Shakespeare, more contemporary pieces do not look out of place alongside artworks that date back hundreds of years. As well as the permanent exhibitions and historical portraits on display, the gallery also puts on many contemporary exhibitions that are fascinating to view.
10. Royal Air Force Museum London
[SEE MAP]
© Dagbits / Dreamstime
Located in Hendon, the Royal Air Force Museum has over one hundred and sixty aircraft on display and is a must-see for aviation lovers. Documenting the history of aviation and aircraft in the United Kingdom, the museum has one of the biggest and best collections of military aircraft in the world.
While the bulk of the displays understandably focus on the huge planes that so impressively dominate the hangars, interactive displays and simulators make it a fun and entertaining place to stop by. Visitors can also learn more about the RAF and its past, present, and future, in three of the new galleries on offer.
© Claudiodivizia / Dreamstime
Founded by sugar merchant Sir Henry Tate – who also founded the other Tate galleries – the Tate Britain is a wonderful museum to visit, with lots of fantastic British artwork on show.
With a huge catalog of work from contemporary times all the way back to the 1500's, the Tate Britain's masterpieces include works by William Blake, Francis Bacon, and J.M.W. Turner, among others. Housed on the banks of the Thames, wandering around the exhibitions and galleries is a lovely way to spend the day.
The collection is just out of central London, so why not take a boat trip along the river to make the journey that much more pleasant?
8. Courtauld Gallery
[SEE MAP]
© Minacarson / Dreamstime
Home to a simply delightful art collection, the Courtauld Gallery is one of the most popular museums in London and one of the best places in the world to view Impressionist and post-Impressionist paintings.
With a huge range of masterpieces on show, works by Monet, Degas and Van Gogh, among others, are some of the most popular pieces on display. Spectacular to behold, the collection also includes paintings by Botticelli, Bruegel, and Rubens. Visitors will never tire of all the amazing artworks that stretch from Renaissance times right up until the 20th Century.
While the Courtauld Gallery is certainly worth a visit in its own right, the stunning Somerset House in which it is housed is also worth a look; the grand building has some lovely architectural features.
7. Wallace Collection
[SEE MAP]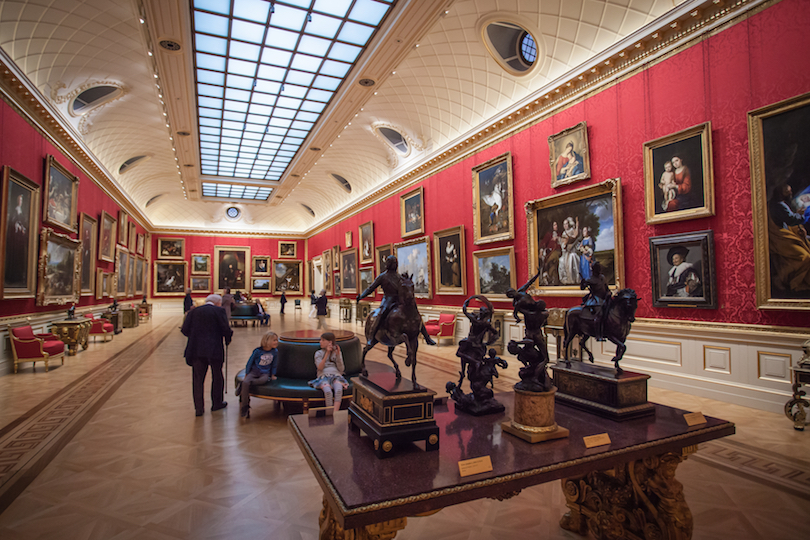 © Malcolm Hadley / Dreamstime
Set in a beautiful mansion where the wealthy Seymour family once lived, the Wallace Collection is lovely to walk around and the artworks on display are simply divine. The ensemble of lavish rooms, rich paintings, and stately statues are breathtaking, and you really do feel like you have stepped back in time.
Also including fantastic pieces of china, furniture, armor, and ivory, the Wallace Collection is wonderfully presented and conveniently located in the center of London. With paintings by Rubens, Rembrandt, and Van Dyck on display, it is the perfect place to stop by if you feel like escaping the crowds in Oxford Street.
© Aguina / Dreamstime
One of London's most popular tourist attractions, Madame Tussauds opened over two hundred years ago and people still can't get enough of the lifelike waxworks on display. Located at Baker Street, its extensive range of figures include athletes and politicians, celebrities and royalty, as well as lots of instantly recognizable movie stars.
With George Clooney, Beyonce and Audrey Hepburn lining the red carpet, you can happily snap photos with your idols before heading on to gaze at the historical figures on display. A fun and entertaining place to visit, Madame Tussauds offers your best chance of getting a photo with the Queen in London.
5. Churchill War Rooms
[SEE MAP]
© Stoyan Haytov / Dreamstime
Located beneath the streets of Westminster, the Churchill War Rooms are where the Prime Minister of wartime Britain planned, plotted and devised strategies and tactics to help the Allies defeat Nazi Germany.
The underground complex is fascinating to explore and the exhibitions are interactive and informative to wander around. The Churchill Museum offers an interesting look into the life of Winston Churchill himself.
Part bunker, part command center, the rooms on display look exactly as they did all those years ago; it is particularly interesting to see all the old maps they used to use to plot out their next attack.
4. Victoria and Albert Museum
[SEE MAP]
© Spiroview / Dreamstime
A lovely museum to visit, the V&A is located alongside a number of other museums in South Kensington and is home to a huge art and design collection. Set in a beautiful red-brick palace, delightful sculptures and statues are featured, and there are galleries dedicated to different parts of the world as well as varied themes.
With Islamic and Asian art on show and exhibits on fashion, furniture, theater and more, this wonderful museum is the perfect place to stop by and spend a pleasant afternoon.
3. Natural History Museum
[SEE MAP]
© Viorel Dudau / Dreamstime
Set in a beautiful building in South Kensington, the Natural History Museum is fascinating to visit and is perfect for children and adults alike. Home to an incredible eighty million specimens, the museum covers a huge range of topics.
You'll find skeletons and fossils lying alongside plant samples, minerals, and interactive displays. Two of the main attractions are the awesome Dinosaurs Gallery and the gigantic blue whale skeleton that never fails to amaze people.
With a state of the art research facility attached to it, the museum is also at the forefront of important scientific discoveries.
2. National Gallery
[SEE MAP]
© Kmiragaya / Dreamstime
One of the most famous and indeed most prestigious art galleries in the world, the National Gallery rightfully commands a domineering position overlooking Trafalgar Square. Home to a huge collection of paintings, it is a marvelous place to visit. An almost endless array of stupendous artworks greet you from every conceivable wall space.
Focusing on works from the mid-13th Century up until the 1900's, its over two thousand paintings feature such renowned names as Leonardo Da Vinci, Constable, Turner, Picasso and more. With Van Gogh, Botticelli and Michelangelo also on show, it's fair to say that the National Gallery is definitely worth a visit.
KhayaL / Flickr
One of the biggest, busiest and most popular museums in the United Kingdom, the British Museum is astounding to visit and is home to one of the largest collections in the world. With huge galleries that house artifacts from around the globe, one could spend months in the museum and still not see everything.
There are over eight million items on show; visitors will pass sarcophaguses and statues, ancient texts, art and armor, as well as jewelry, coins and more on their voyage of discovery around the museum. Highlights include the stunning Elgin Marbles and the breathtaking Rosetta Stone, dating back to 196BC. Housed in a beautiful building, the British Museum truly is a must-see when in London.