England is known the world over for looking like a Christmas card or something from The Hobbit. And it's not a false image: you just have to look past the large towns and cities of the country to discover it. These are England's small towns and villages.
You'll find them neatly tucked away, on rugged cliffs, in rolling green hills, near forests, on moorland, with beaches, by rivers, and despite the weather you'll find warmth – even if there's no one around there is something about the quintessential English town that is friendly and homely.
Seeing a picturesque row of cottages is like getting a cosy hug from the countryside. Steeped in sometimes ancient history, and packed with sometimes ancient pubs, here is a rundown of the most charming small towns in England.
15. Southwold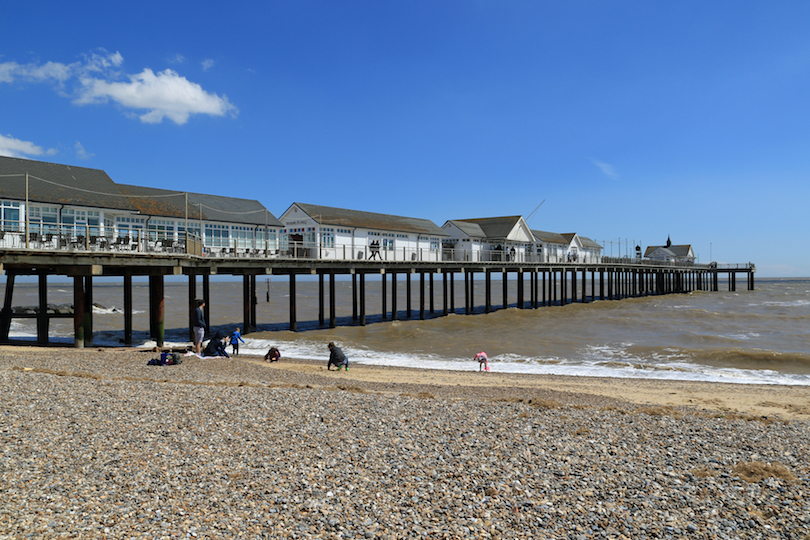 © Richardson / Dreamstime
Situated within Suffolk Coast and Heaths Area of Outstanding Natural Beauty, Southwold is a lovely English seaside town comprising village greens, pebble-clad cottages and sandy beaches. Its 190-meter (620-foot) pier (built 1900) is a fantastic example of what the heyday of English seaside entertainment looked like; unlike others, thanks to the introduction of retro-style coin machine games, the English seaside holiday of yesteryear is alive and well on Southwold Pier.
Like most English towns it's not without history: 6 18-pound cannons line the cliff, used during a battle against the Dutch in 1672. And George Orwell lived here during his thirties, when he wrote Burmese Days.
14. Bakewell
© Arenaphotouk / Dreamstime
Stone buildings straight out of a storybook populate this northern town with a name that's known by most in association with its most famous product: Bakewell pudding, a pastry casing with a bottom layer of jam and a frangipane filling.
Aside from food, and like many in England, the town is very old, dating from Anglo-Saxon times – the Grade I listed Bakewell Parish Church was founded in 920 AD. Located in the heart of the Derbyshire Dales, the surrounding area is filled with well-trod hiking trails.
13. Berwick-upon-Tweed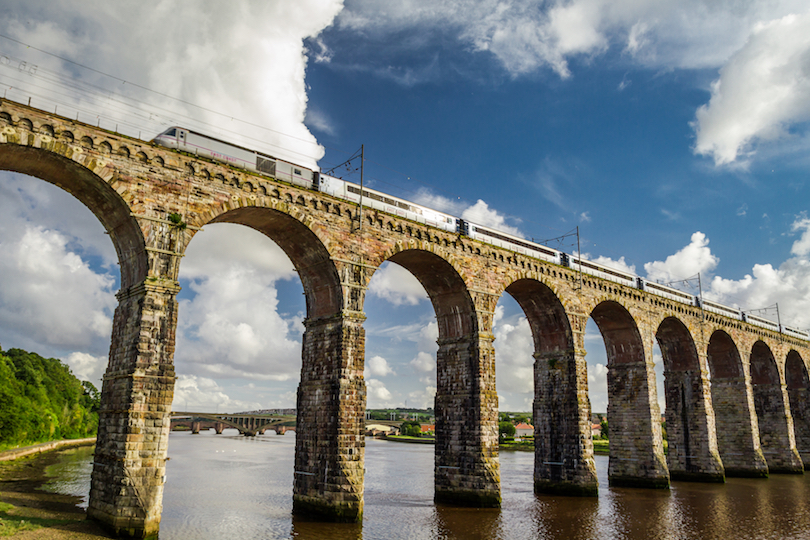 © Shaiith / Dreamstime
The most fought-over town in European history: it changed hands 14 times from England to Scotland between 1174 and 1482. Eventually England prevailed – though interestingly the local dialect shares similarities with Scots, and its football team is the only English side to play in the Scottish League.
Nowadays Berwick-upon-Tweed is much-visited for its highly visible history: medieval town walls, Elizabethan ramparts, 13th century castle ruins, its 17th century 'Old Bridge', town hall, Britain's earliest army barracks, England's northernmost hotel, among others. Now that's a lot of history.
12. Whitby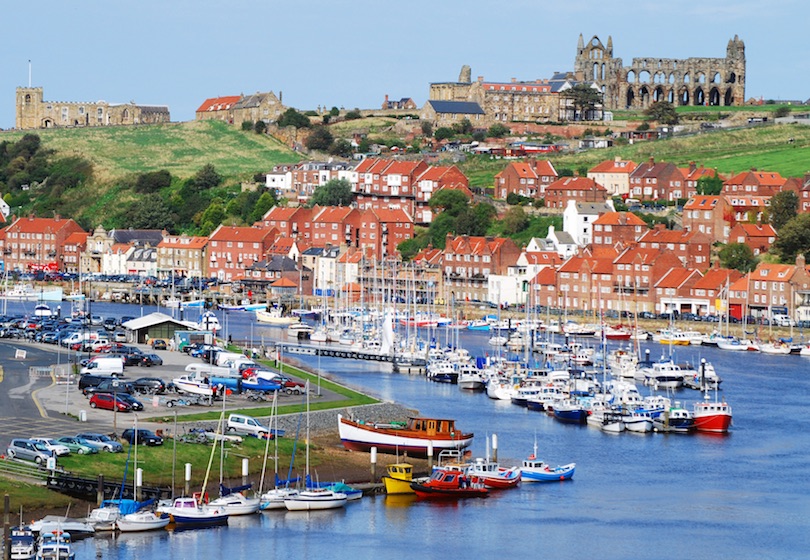 © Ronfromyork / Dreamstime
The earliest recorded permanent settlement dates back to 656 when a monastery was founded by King Oswy of Northumbria. The iconic ruins of the 14th century Whitby Abbey now stand in its place. It majorly inspired Bram Stoker's Dracula, partly set here, drawing tourists and goths alike – the Whitby Goth Festival is held in the town twice-yearly.
And as you look out to sea from these gothic stones of East Cliff you can think about fellow travellers like Captain James Cook and arctic explorer William Scoresby, who once called this historic fishing port home.
11. Rye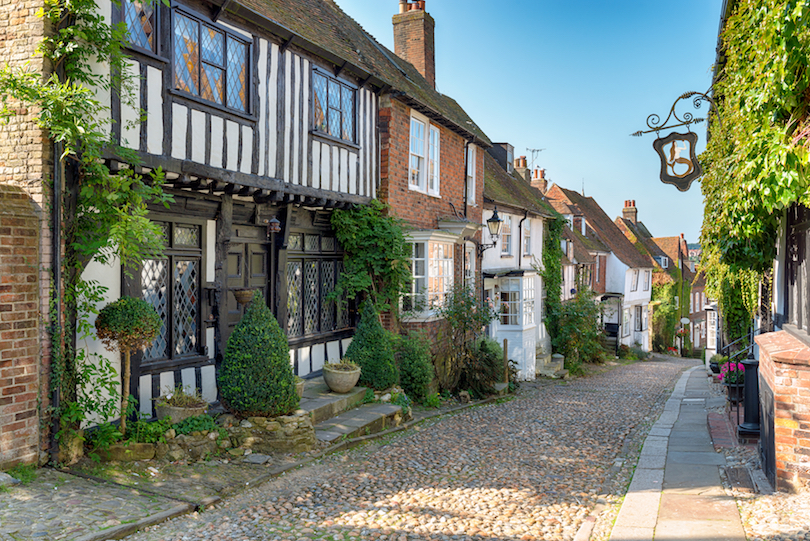 © Helen Hotson / Dreamstime
Ancient Rye is all cobbled streets and tumbledown rows of houses by the sea. Originally part of the Cinque Ports Confederation, five strategic towns important for trade and military purposes in medieval times, today Rye is practically a living museum.
Rye Castle, popularly known as Ypres Tower, was built in 1249 by Henry III to protect against frequent raids by the French; even older, the Norman-era St. Mary's Church looks over the town. Rye is also just a few minutes away from one of England's most famous beaches, Camber Sands, a two-mile-long playground for kitesurfers and beachlovers.
10. Tintagel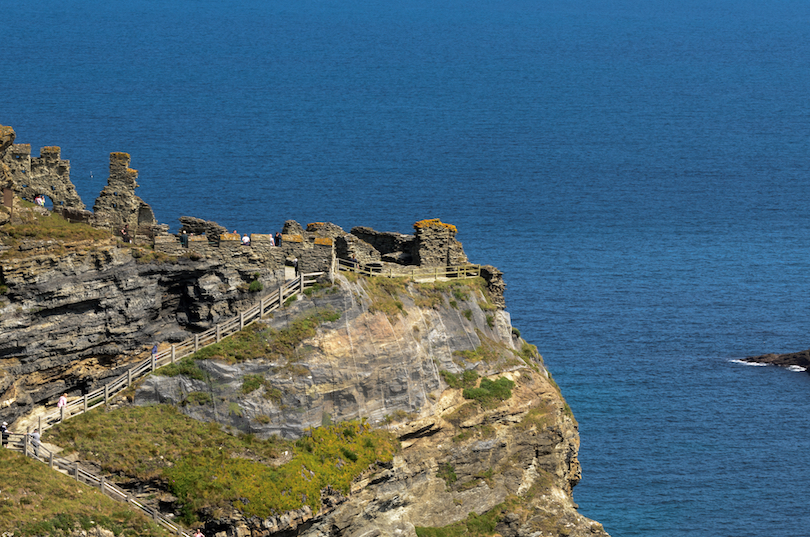 © Darren Howe / Dreamstime
This Cornish town is world renowned for being the (alleged) location of King Arthur's stronghold: Tintagel Castle. The castle ruins are a destination in themselves, set just outside town on a craggy collection of typically Cornish cliffs; wandering around this cinematic landscape with the legend – or history? – of King Arthur in mind is simply dreamy.
Back up the hill in town is a famous fudge shop, the Old Post Office – an exquisite 14th century building, and more Cornish pasties, fish & chips shops and pubs than you would think necessary in such a tiny town.
9. Lynton and Lynmouth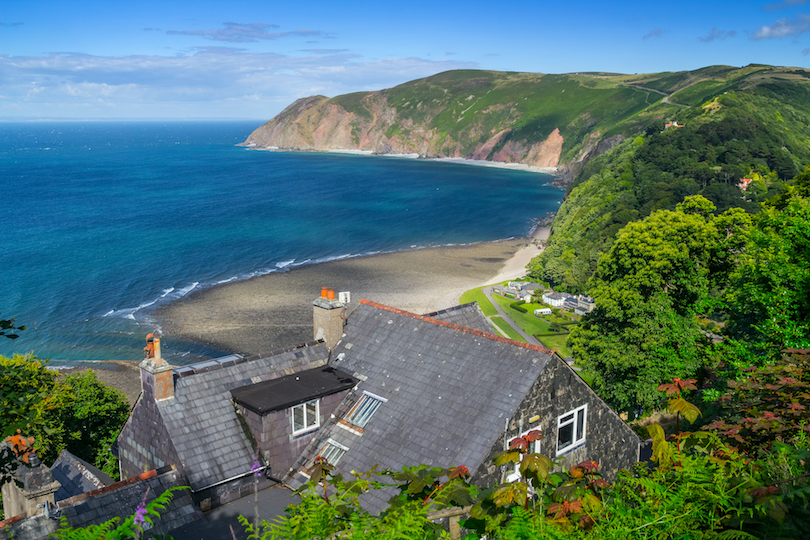 © Alexey Lobanov / Dreamstime
It's two-for-one here with Lynton looking down on the harbour village of Lynmouth. Set in dramatic Exmoor, nearby is the Valley of the Rocks, a twisting landscape of ancient geology, and Glen Lyn Gorge, a magical slice of nature which is like walking through a fantasy novel. The two are linked by Lynmouth Cliff Railway, a water-powered funicular opened in 1890, which is a fun way to get your fill of the rugged North Devon coastline below.
8. Shaftesbury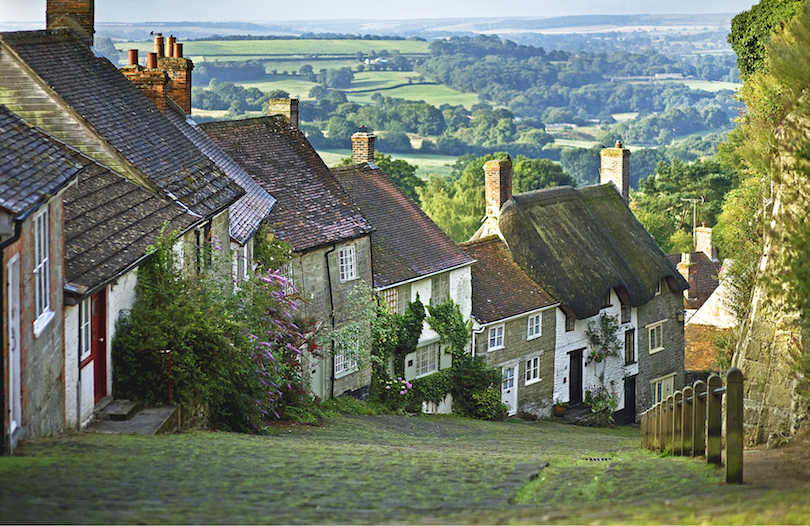 © Jerema / Dreamstime
This Dorset town is a definite charmer. One of its streets, Gold Hill, was featured in the iconic "Boy on Bike" TV advert directed by Ridley Scott for Hovis (a brand of bread in the UK) and you can see why: the steep, cobbled street is lined with rustic cottages on a backdrop of lush English countryside.
It has been dubbed "one of the most romantic sights in England." Adjacent to this picturesque street are the ruins of Shaftesbury Abbey, built in 888 AD by King Alfred.
7. Upper and Lower Slaughter
The name has nothing to do with killing! Slohtre is Old English for "muddy place" – though nothing is further from the truth today. These tiny twin towns are the epitome of pastoral, chocolate-box Cotswolds beauty. A walk along the River Eye that links the two is a stroll through idyllic riverside scenes, and goes past a 14th century building aptly named The Old Mill.
6. St Ives
Narrow lanes, fresh seafood, pubs galore, Cornish pasties and cream tea all add up to make this town on the north Cornwall coast a must-visit destination. When you're not wandering around with an ice cream or sitting on one of the town's two beaches, you might want to check out the Tate St Ives, a comprehensive art gallery.
Art plays a huge part in St Ives, and everyone from casual visitor to art buff will take an interest in the selection of art on sale in the town's varied art galleries, ranging from the whole interiors of old churches to rooms in centuries-old, wood-beam houses.
5. Castle Combe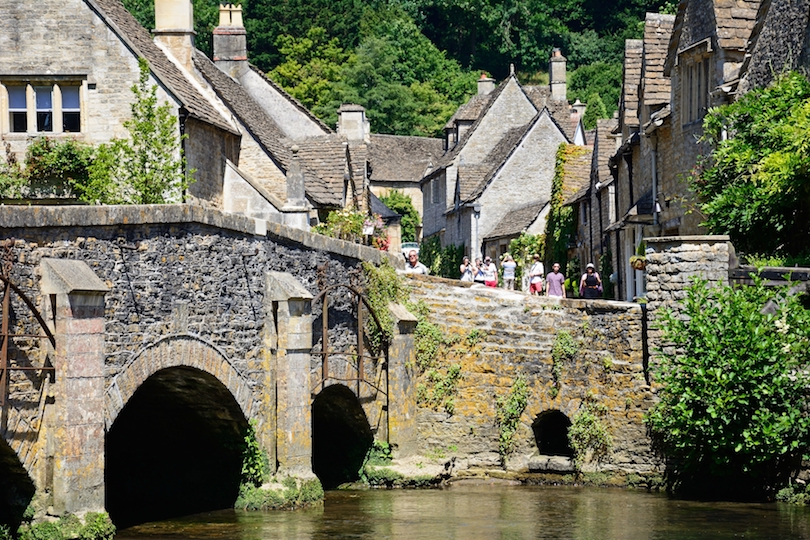 © Arenaphotouk / Dreamstime
The Cotswolds Area of Outstanding Natural Beauty has a lot to answer for when it comes to beautiful English towns to match. Castle Combe is one of them. Claiming to be "the prettiest English town," the rest of the world has listened: various movies and TV series have been filmed here, including Steven Spielberg's War Horse and Downton Abbey.
Historical as ever, the imposing 15th century St Andrew's Church reflects the former prosperity of the Cotswolds' textile industry. There's even some historical five-star accommodation: the 14th century Manor House Hotel.
4. Lavenham
Medieval buildings lean higgledy-piggledy in Lavenham like something from another time. In the 15th and 16th centuries the town was famous for its wool, and one of the richest settlements in Britain because of it, but fell into decline with cheaper exports from Europe.
Now it's like walking through a fairytale: hundreds of half-timbered buildings spell out the past, with a contemporary infusion of eateries and places to stay. You can even sip tea in the Tudor tea-room at the Lavenham Guildhall, one of the finest examples of Lavenham's heyday.
3. Beer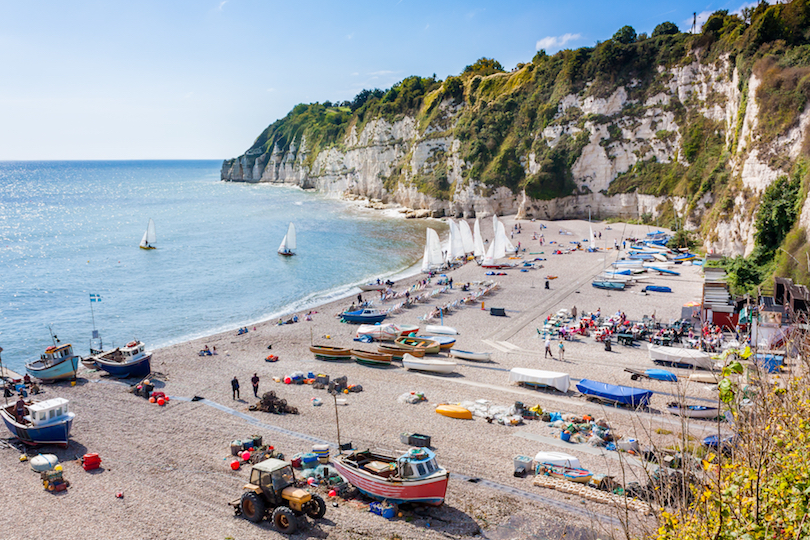 © Ian Woolcock / Dreamstime
Yes, in Devon there is a town called Beer – unfortunately it's named after Old English word bearu, meaning grove. Nevertheless there's a disproportionate amount of pubs in this seaside town, all serving excellent local ales as well as the local speciality of crab. Steeped in tales of smuggling, the meandering hike down Hooken Cliffs to the west of town is great for imagining yourself as a smuggler of old.
Just out of town are the 2,000-year-old Beer Quarry Caves, famous for its 'beer stone' – fine-textured limestone that was used in Westminster Abbey, among other places. Sitting on Beer's pebble beach looking out to sea with an ice cream after a pub lunch is a fine example of English summer holidays.
2. Hawkshead
© Acceleratorhams / Dreamstime
Carefully preserved Hawkshead was once home to William Wordsworth, who described it in his poem The Prelude. Beatrix Potter also lived here. Her former residence now open to the public – a great opportunity to feel snug inside a real English cottage.
Hawkshead is a tourist mecca not only for its whitewashed cottages, old pubs and cobbled streets, but also for its location: the Lake District. A beautiful English town famous for its lakes, fells and forests, hiking in English countryside is supremely idyllic here.
1. Bibury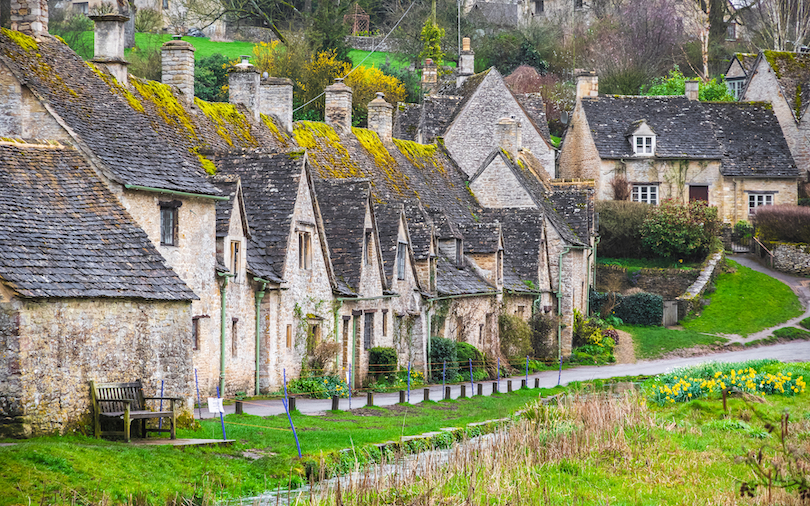 Quintessential English towns means bucolic scenes of tiny cottages in rolling green hills. That is the essence of Bibury. Arlington Row, a particularly picturesque section of protected houses in the town, features on the inside cover of all UK passports.
Strolling around Bibury and falling in love with the place is the main past-time here, a center for countryside walks and tearooms. Located in the Cotswolds, a region renowned for quaint towns and lovely countryside, it doesn't get more charming than this quiet slice of pastoral England.
Map of Small Towns in England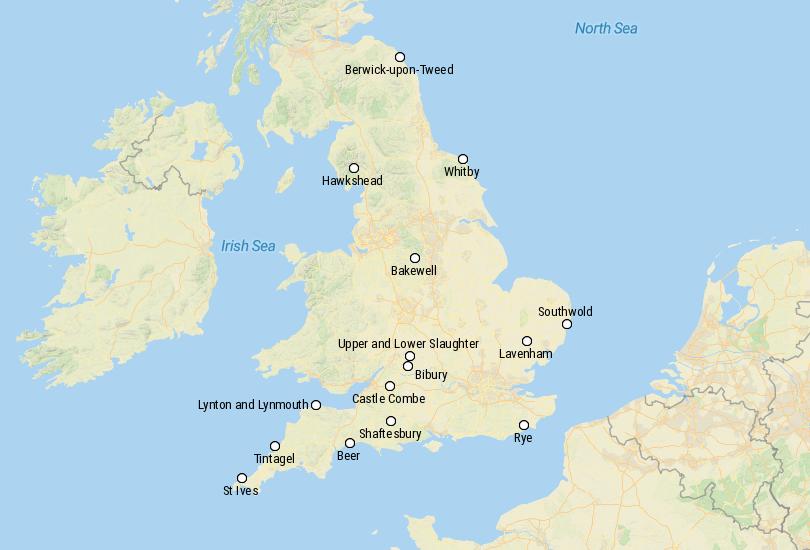 © OpenStreetMap © MapTiler © Touropia