Packed full of historical sights, stunning natural landscapes and an average summer temperature of 30 degrees, Malta has a lot going for it. A great destination for beach lovers, Malta also has a lot to offer with its layers of history and depth of culture.
Located just off of the southern tip of Sicily and the coast of North Africa, this tiny archipelago bursts with brilliant Mediterranean culture and brims with a seducing mix of Maltese customs combined with Sicilian and Middle Eastern influences. From ancient temple ruins to secret bays and breathtaking cliffs, Malta's rocky landscape is overflowing with ancient monuments, including the Megalithic Temples of Malta which are thought to be the world's oldest freestanding structures.
Map of the best places to stay in Malta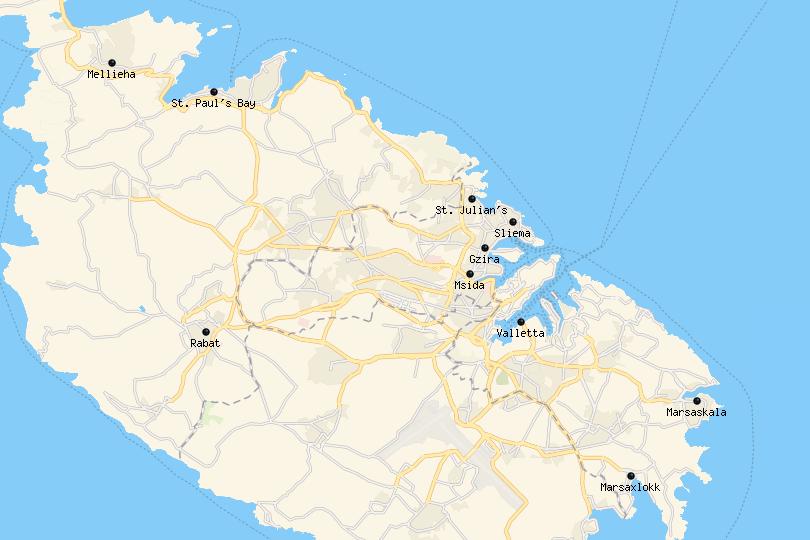 © OpenStreetMap © MapTiler © Touropia
Each of Malta's towns and villages has something special to offer visitors. There's a range of accommodation to suit various travelers' budgets, and with a famously fantastic bus network, it's easy to travel between towns.
Good food, beautiful seascapes and a wealth of history are all waiting for you on the remarkable island. Here's our list of the best places to stay in Malta, so you can have the most enjoyable holiday possible.
© Mario Ascione / Dreamstime
Small yet elegant, historic Valletta is the capital of Malta. Built on a rocky peninsula, Valletta's grand forts, cathedral and bastions have given it the name 'The Fortress City'. The city's narrow lanes have long attracted visitors with their old world charm, but nowadays with a spate of new restaurants and boutique hotels opening up, there is a vibrancy around the old city.
In the daytime, Valletta is packed with busy locals rushing to work or to meet friends, but as night falls, a calm romance settles across the city and it almost feels as though the old days of the 17th century have returned. With plenty of plush hotels to choose from, historic sights all in walking distance from each other and direct flights from numerous international airports, there has never been a better time to explore the tiny capital.
Where to Stay in Valletta
luxury
Grand Hotel Excelsior – Grand by name, grand by nature; the Grand Hotel Excelsior boasts sleek, spacious rooms all set for a luxurious stay. You could even upgrade for a balcony or terrace complete with a view overlooking Fort Manoel and Marsamxett Harbour. Boasting three restaurants and three bars, as well as an elegant tea lounge, this hotel is also surrounded by its own slice of history, with 16th century fortifications surrounding the area. If you're a fan of pools, the one here is gigantic.
Hotel Phoenicia Malta – Truly boasting a real sense of timeless opulence, this 5-star hotel is situated in a historic, neoclassical building. The rooms at Hotel Phoenicia Malta are decorated with a sense of classic chic and boast city views – some of them even come with balconies and lavish four poster beds. There's an onsite restaurant, plus a cocktail lounge, a cafe, and a tea room. There's even an outdoor pool set amidst formal gardens. Overlooking the Grand Harbour, you'll find the National Museum of Archaeology just a six minute walk from this hotel.
midrange
La Falconeria – A mix of opulent Rococo features and modern amenities, La Falconeria features simple, laid back rooms with tiled floors and courtyard views. For sea views, upgrade and get your very own terrace or balcony to recline on. While there's a bar, restaurant, indoor pool and gym on offer at this 4-star offering, the location is good for exploring what the area has in store. The stunning 16th century Saint John's Co-Cathedral is only five minutes away on foot, as is the interesting National Museum of Archaeology.
budget
Osborne Hotel – When it comes to the building itself, you don't get much more classic than a hotel set inside a former palace. The rooms here are classically decorated, with whitewashed walls and a bright aspect. Complete with a bar, a rooftop pool, and even an international restaurant, you'll be pleased to know that breakfast at the Osborne Hotel is complimentary, which is good for fuelling a day of sightseeing, thanks to the nearby bus stop. Or you could just walk to Saint John's Co-Cathedral, a mere stone's throw from here.
© Elenaphotos / Dreamstime
Cool, fun and carefree, St. Julian's is the place to stay in Malta if you want to party. Join in with the city's young, urban socialites as they drink in the city's glittering bars, shop in the stylish boutiques and dance the night away. But don't worry, it isn't all cocktails and designer clothes; take a walk along St. Julian's backstreets and you'll be surprised by the serene quietude. Here's where you'll find more local bars and beautiful balconies.
No longer the reticent fishing village of the past, St. Julian's now brims with modernity. Walk along the chilled-out seaside boardwalk and discover for yourself the swanky 5-star hotels that hug the numerous bays and inlets. Just along the waterside promenade is the party town of Paceville, which is also easily reachable with the town's frequent buses.
Where to Stay in St. Julian
luxury
The Westin Dragonara Resort – Complete with multiple restaurants boasting sea views, and serving up a range of cuisine from Maltese to Italian, The Westin Dragonara Resort is a seafront hotel where you can really live it up. Alongside an upmarket piano bar for evening drinks, this place has its own private beaches – two of them – as well as a wellness center and outdoor pools. If you're feeling lucky, you might want to try out the Dragonara Casino, which is within easy walking distance, of course.
midrange
be.HOTEL – Boasting contemporary rooms, the amenities at be.HOTEL include a spa, a gym, a rooftop pool boasting its own bar, and an Italian restaurant; it's fair to say you may not ever need to leave. But this 4-star hotel is also set in a complex littered with entertainment and shopping opportunities, so it would be a shame not to explore it. Also nearby, just a two minute walk away, is the sun, sea and sand of St. George's Bay Beach.
budget
Hotel Valentina – If modern and boutique style is what you are looking for, then Hotel Valentina has you covered. Filled with stylish design touches throughout, and with rooms that marry minimalist with bold colour pops, this is one for style conscious guests. Whilst there's everything from a library and rooftop pool to a cocktail bar and restaurant at this hotel, you might not get a chance to use them; Portomaso Marina and the nearby beach are just a few minutes' walk away.
© Mladen Adnad / Dreamstime
Sliema was totally transformed by the British in the 19th century, when this once humble fishing village became an exclusive resort for Malta's elite. The attractive townhouses with their array of colorful windows and doors still line Sliema's backstreets, but the grandiose stately homes which used to stand along the seafront have now been replaced with big apartment blocks.
Regardless of the change in architecture, the city is a booming hub for Malta's commercial activity. The city itself has a lot to offer, and the charm and distinct character of Sliema means it is where many visitors choose to stay. With its plentiful restaurants, bars, nightclubs and shopping opportunities, as well as a huge choice of hotels, it's not hard to see why.
Where to Stay in Sliema
luxury
AX The Palace – Cool is definitely the word when it comes to AX The Palace. The rooms at this decidedly upscale hotel are hip and definitively design-led, and even come with incense or scented candles for guests' use. There are individually decorated suites on offer, some with musical instruments, others with telescopes. In terms of amenities, there's a bar, cafe, spa, an international restaurant and Asian restaurant – plus a pool with its own bar. Location wise, this hotel is a mere five minute walk from the sparkling coast of the Mediterranean.
midrange
Palazzo Violetta – Set in a beautifully renovated historic building, the rooms at Palazzo Violetta boast elements of classic features, like original walls, for a charming stay. They're also stylishly and grandly decorated, boasting leather sofas and polished wooden furniture. Steps away from bus stops and mere minutes from the waterfront by foot, this hotel is well located. When it comes to breakfast time, guests can opt for either a complimentary full English breakfast or a continental buffet.
budget
Sliema Marina Hotel – Practically opposite Sliema Ferry Terminal and with bus stops in walking distance, exploring what Malta has to offer is easy at this conveniently located hotel. What's even better about this hotel is that it comes with a complimentary breakfast as well as parking, plus an Italian restaurant and a hot tub to unwind in after a day of discovery. The rooms are unfussy and feature air-conditioning. They are decked out with simple and contemporary style; some even have their own balconies.
© Warczakoski / Dreamstime
The ideal place to stay in Malta for travelers who want sandy beaches and calm blue seas, Mellieha is a popular place for Maltese holidaymakers as well as foreign visitors. Its beach, Għadira, is one of the largest on the island and, with its gradual shoreline and shallow waters, makes for the ideal spot for families with small children to enjoy splashing about.
The town itself has plenty of seafront hotels to choose from, as well as restaurants that serve up delicious local cuisine. Around the area, you can explore the local nature reserve and be in awe of the impressive Selmun Palace, built by the Knights of Malta. If you want to explore further afield, hire a car and enjoy the beaches along this part of the coast.
Where to Stay in Mellieha
luxury
Radisson Blu Resort – You won't be wanting for luxury at this Maltese branch of Radisson Blu. Needless to say, the rooms at this 5-star offering are chic and well appointed. From its three restaurants, terrace bar and ice cream parlor to its spa, four pools, and multiple tennis courts, there's nothing you can't do here. You can even go diving thanks to the onsite diving center! Location-wise, this hotel actually overlooks Golden Bay Beach, which is practically a hop, skip and a jump away.
midrange
Solana Hotel & Spa – The clue is in the name of this 4-star offering: guests will be able to have a supremely de-stressing time here thanks to the relaxation area, spa, hot tub and garden. And if you need to keep up with your workouts, there's a fitness center too. The rooms here are modern and simple; some feature their own balconies. And when you're hungry? There are two restaurants, a cafe and a bar for guests to enjoy. Getting around is easy thanks to the bus stop right across the street.
© Da Silva / Dreamstime
This little village along Malta's north coast is a quiet place with a mainly residential local population. The fishing village takes its name from the Biblical story that St. Paul's ship was supposedly wrecked just off the coast as he traveled from Caesarea to Rome. St. Paul's Bay dates back to around 2000 BC and still offers a picturesque slice of solace compared to the rowdier areas on the opposite side of the island.
For those looking to soak up some of the local culture, this is a good place to stay on Malta. There's a selection of affordable 3 and 4-star hotels available, alongside smaller family-owned apartments that offer self-catering facilities. You can find some great places to eat out around the Old Town, where there's plenty on offer by way of bars and cafes.
Where to Stay in St. Paul's Bay
midrange
AX Seashells Resort – This all inclusive offering has basically everything you could need while you're away. The list of amenities is almost endless: there are no less than five restaurants to choose from, one of which is a pizzeria. You'll find one children's pool with a waterslide, two outdoor pools, a bar to enjoy a drink or two in, plus a fitness center and steam room. If all that isn't enough, you can embark on some water sports offered by the hotel, or rent a bike and pedal around the local area.
Il Palazzin Hotel – Il Palazzin Hotel features rooms that are decidedly unfussy, but still spacious and always kept clean. The breakfast at this hotel is complimentary, served each morning in the onsite restaurant. You can then swim it off at either the indoor or outdoor pools, or relax in the hot tub and sauna. For a slice of the sea, it's only a six minute walk to reach the coastline, but there's also a bus stop close by for exploring further afield.
budget
Sunflower Hotel – The rooms at Sunflower Hotel are clean, contemporary and spacious, boasting rustic wood doors and beds as well as cooling tiled floors. This large, laid back hotel features a rooftop pool with its own bar, a chilled out restaurant, and yet another bar that has its own fireplace for extra cosiness. Getting out and about is easy from this 3-star affair, thanks to the bus stop nearby, which is just a five minute walk away. The Bugibba promenade is also within easy walking distance.
© Michael Smith / Dreamstime
Once a Sicilian fishing village set around a thin but picturesque bay, Marasakskla has a wonderful charm that has, in recent years, attracted an influx of Maltese residents and tourists. Quaint fishing boats bob in Marsaskala's natural harbor where a selection of waterside restaurants and bars entertain customers keen to enjoy the view. Although the town has seen an increase in popularity, it still retains a strong Maltese atmosphere with its laid-back side streets and busy waterfront.
Offering the ideal mix of the hustle of the busier tourist towns, but with all of the charm of an authentic village, you shouldn't be overwhelmed by crowds or tourist shops here. There's a good choice of accommodation, including hotels and guest houses, around Marasakala that should suit most travelers who aren't looking for the height of luxury.
The town itself doesn't have a beach, so if you want to swim or see some interesting sights, you're going to have to hop on the local bus or hire a car and travel at your own pace.
Where to Stay in Marsaskala
Cerviola Hotel – Situated near a bus stop and situated within all the conveniences of a resort village, Cerviola Hotel is a good, family-friendly option. The rooms may be basic, but they're clean, modern, and some of them boast seating areas or balconies. There's even a buffet breakfast served up each morning, a rooftop pool with panoramic views, and a lounge bar to enjoy a few laid back drinks in the evening.
© Bergemann / Dreamstime
Sandwiched between Msida and Sliema, Gzira translates as 'island' in Maltese. The town may be close to the capital and the island's university but has a much more local feel compared to its popular neighbors. Once thought of as a working-class town with a seedy side, Il Gzira has undergone development in the past few years and new stylish apartments have replaced the crumbling old buildings.
Il Gzira is now a laid back place with a mix of university students, ethnic communities and local families living there. Enjoy a walk along the pleasant waterfront promenade that connects Manoel Island which lies within the bay. It might be a good idea to stay here if you're traveling on a tight budget – and if you want to head to Sliema, just take a quick ride on the bus.
Where to Stay in Gzira
115 The Strand Hotel and Suites – The rooms at this 3-star hotel are simple affairs but feature balconies and can even be upgraded for more space. The suites on offer feature kitchenettes, which is good for the budget-conscious traveler, too. Even better for those thinking of their wallet is the complimentary buffet breakfast. Getting around and exploring is made easy thanks to the convenient location of 115 The Strand Hotel and Suites, which is just under a 10 minute walk to the Sliema Ferry Terminal.
© Btlife / Dreamstime
Located just to the west of Valetta, the port town of Msida is an old fishing town centered around a busy Marina. Msida's winding roads and lanes hark back to times past, and the Msida Parish Church, with its Baroque-style architecture and dating back over a hundred years, is truly a beautiful sight.
Aside from the history and architecture of Msida, the town is also home to a large student population; this is because the University of Malta is located on a hill just to the north of town, Tal-Qroqq. As such Msida enjoys a lively atmosphere, with many students living, working and playing in the town.
The student connection also makes Msida a great place to consider if you're looking for a budget stay; accommodation in town consists mainly of affordable hotels and guesthouses.
Where to Stay in Msida
5-Senses – With spacious apartments on offer, 5-Senses is a good option for a group of friends or a family traveling to Malta. The rooms here may be unfussy, but they are simple in their style and decorated with a sense of minimalist flair. Conveniences like a kitchen and washing machine make it great for anybody thinking staying about a week or longer – and for keeping the costs down, too. In terms of location, these apartments are within easy walking distance of Msida Marina.
© Andrey Shevchenko / Dreamstime
Rabat has a rustic and rural feeling and neighbors the fortified old capital of Mdina. The village has a soft character and, even if you choose not to stay there, it is truly a must-see when visiting Malta. Rabat's old streets are ideal for taking strolls, soaking up the calm atmosphere and enjoying the historic architecture.
Rabat's chic boutique hotels are set inside historic buildings, often in captivating locations. There are some great hidden gems of restaurants around the village that will open visitors up to a world of traditional Maltese food. Because of its central location, it's also a great base for travelers who want to spend their time in Malta exploring the island.
Where to Stay in Rabat
Point de Vue – With cosy rooms featuring a mix of anything from fireplaces and exposed stone walls to chandeliers and iron frame beds, Point de Vue is set in a great location for exploring the history of the area. It's set just 100 meters away from the centuries-old fortifications of Rabat, including the beautiful Mdina Gate, and just under 10 minutes on foot from St. Paul's Catacombs. Getting around is also easy thanks to a nearby bus stop. Back at the hotel, when you're done exploring, chill out in the lounge or enjoy a meal in the restaurant – complete with views of the surrounding countryside.
Frank Vincentz / Wikipedia
Located on a peninsula in the southeast, the town of Marsaxlokk is the quintessential fishing village of Malta. Small enough to walk around easily, it's known as a perfect place to see the traditional and very colorful Maltese fishing boats – known as luzzu – at work. It's very authentic here: most inhabitants are still fishermen for a living.
The picturesque feel of the harbour, plus a reputation for some of the best seafood restaurants on the island, has led to a tourist influx in recent years. Who can blame them? This village also boasts secluded swimming coves, plus a laid-back nightlife. There are several hotels to choose from in Marsaxlokk, including a few bargain guesthouses.
Where to Stay in Marsaxlokk
Port View Guesthouse – For those looking for more of a homely feel, this family run hotel is a great option. There's a complimentary breakfast, which is perfect to fill you up ready for a day of exploring. And when you're done for the day, you can simply recline on the terrace overlooking the sea. Wondering where you can eat dinner? Look no further than the seafront promenade, which is a mere minute's walk away from Port View Guesthouse; here you'll find all the eateries you could want.