If you have an interest in seeing castles, your first thought might be to book a trip to England or Germany. But consider visiting the Czech Republic instead. This tiny country is actually the most castle-dense in the world, boasting more than 2,000 of these structures. A good starting point for castle viewing in the Czech Republic is Prague. Some of the country's best and most interesting castles can be found in the lovely countryside surrounding this beautiful capital city.
See also: Where to Stay in Prague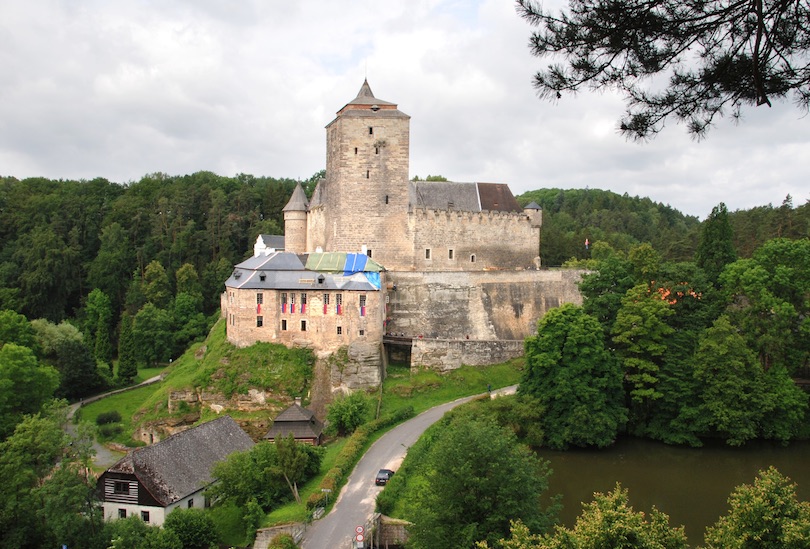 Unlike other castles near Prague, Kost is not located high up on a hill. Instead, it was built deep in the middle of a thick forest to protect it from potential enemies. The castle's name means bone, and it is believed to be a reference to its stone walls that were said to be as hard as bone. Kost Castle, which was built sometime after 1370, is considered to be the best preserved Gothic Castle in the Czech Republic. And, today, you can tour the grounds and see many interesting features, including Kost Castle's torture chamber. The castle also hosts a number of cultural events, such as medieval tournaments, throughout the year.
Jan Sovka / Wikipedia
Sitting high on a steep hill, overlooking the Kokorin Valley, this castle was originally built around 1320 by the order of Hynek Berka of Dube. For many years, this medieval fortress was home to a number of noble families, but by the 16th century, it had fallen into disrepair. In fact, Emperor Ferdinand III put Kokorin Castle on the so-called "cursed" or "damned" list after the Thirty Years War. These were castles that would no longer be maintained. As a result, Kokorin's condition deteriorated even further. Fortunately, in 1894, Vaclav Spacek decided to renovate what was left of Kokorin Castle.
Today you can enjoy guided tours of this castle, which includes a walk along the castle's battlements terrace. For an extra fee, you can also climb up the castle's tower to enjoy views of the beautiful nature reserve in which this castle is located.
4. Cesky Sternberk Castle
[SEE MAP]
This imposing castle, which sits on a high bank overlooking the Sazava River and the village of the same name, is considered by many to be one of the best preserved medieval castles in the Czech Republic. Over the years, Cesky Sternberk Castle — which was first built in 1241 — has changed ownership several times. But, today, this castle is once again in the hands of the people who owned it when it was first founded — House Sternberg. If you decide to visit Cesky Sternberk, make sure to look for a collection of rare and unusual copper engravings that depict the history of the Thirty Years' War.
Because Zvikov Castle sits high atop a promontory overlooking the confluence of the Otava and Vltava Rivers, it boasts absolutely magnificent views. It also once housed the Crown Jewels. Sadly, this castle, which was founded during the first half of the 13th century, fell on hard times. And by the 1840s, it was almost in ruins. Fortunately, it was saved by the Schwarzenberg family, who during the 1880s, invested the time and money necessary to restore the castle back to its former glory. In addition to "regular" tours, Zvikov Castle also offers ghost tours of this supposedly haunted structure.
2. Krivoklat Castle
[SEE MAP]
As you approach magnificent Krivoklat Castle, don't be surprised to feel as if you've just entered a fairy tale. This Gothic castle is, in fact, so enchanting that it has been used as a set for several movies. Krivoklat Castle, which is located in the heavily wooded Protected Landscape Area of Krivoklatsko, was built in the late 13th century and was once the royal hunting lodge of Charles IV.
Today, it is one of the Czech Republic's oldest and most important castles. It is also the second most visited castle in the country. Among the interesting sites you'll see if you decide to tour Krivoklat Castle is a dungeon, as well as instruments of torture, and a library that contains more than 52,000 volumes. This castle is also home to an excellent collection of Gothic paintings and sculptures. Krivoklat Castle is open from April to October, except for Mondays.
1. Karlstejn Castle
[SEE MAP]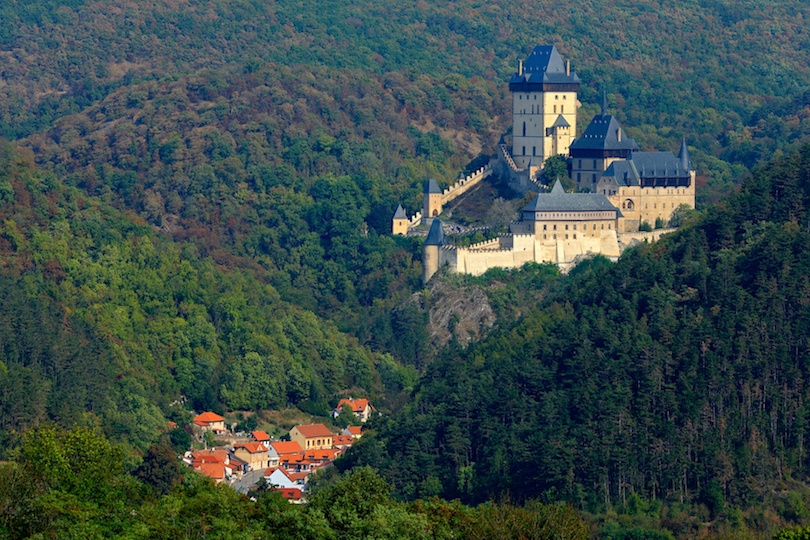 One look at Karlstejn, which was founded in 1348, and you'll quickly understand why it is the most visited castle in the Czech Republic. Built by the Czech King and Roman emperor Charles IV on a hill overlooking the Berounka River, this huge Gothic castle is simply magnificent. It was also constructed to be the royal treasury, and it was where the crown jewels of the Holy Roman Empire were kept. Other treasures, including the Bohemian/Czech crown jewels and holy relics were also stored here.
Located 29 km (18 miles) southwest of Prague, this beautiful castle, which has been restored to its original medieval state, contains several must-see areas, including the Holy Rood Chapel, which is famous for its gem-adorned walls.