The capital city of Georgia, Atlanta is a vibrant place to explore that seamlessly mixes the old with the new. Famously burnt down during the Civil War, the lively metropolis has since rebounded to become one of the most important economic and cultural centres in the Southern United States.
Now boasting not one, not two, but three separate skylines, it houses the global headquarters of major companies such as Coca-Cola and CNN. While there are plenty of modern tourist attractions in Atlanta, it also has a rich history to explore having been both the birthplace of Martin Luther King Jr. and the cradle of the civil rights movement.
Combine all this with the charm and elegance of the Old South and it is no surprise that Atlanta, is one of the most visited cities in all of the United States.
In this post, we'll cover:
25. Center for Puppetry Arts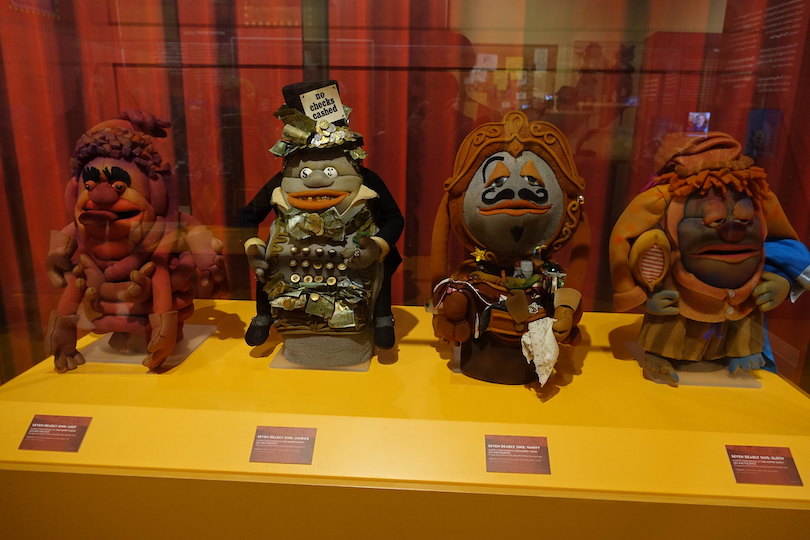 If you're looking for a unique and unusual yet engrossing place to visit when in town then look no further than the Center for Puppetry Arts. Aside from seeing hundreds of fantastic puppets from all around the world, you can also watch a live performance or make your own little character at one of their workshops.
Founded in 1979, the highly rated museum and its interesting exhibitions can be found in Midtown – the city's happening arts district. As well as documenting the history, techniques and traditions of puppetry in Europa, Asia, Africa and the Americas, the center boasts an entire collection dedicated to Jim Henson and his iconic creation The Muppets.
24. Krog Street Market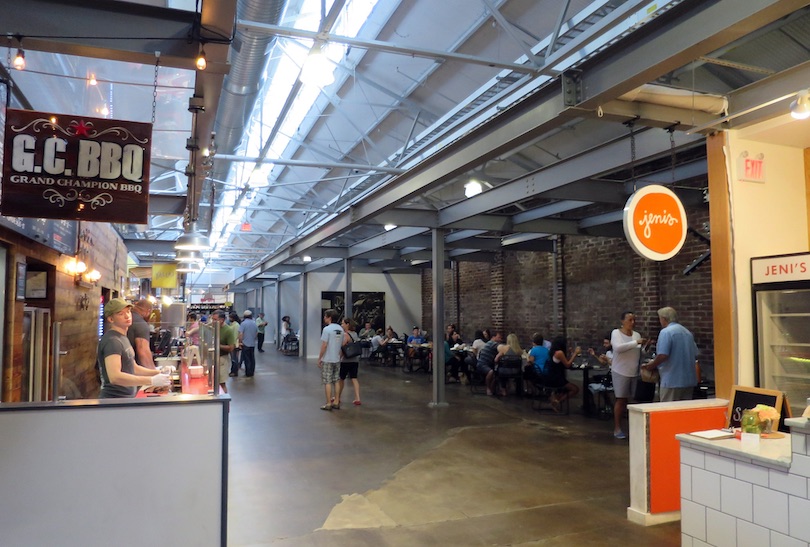 One of the best food halls in the world, the lively yet laid back Krog Street Market is packed with all kinds of enticing restaurants, specialty shops and fresh produce stalls. Located in a historic 1920s warehouse, its bustling businesses, bakers and butchers lie at the heart of Inman Park, just a short drive east of the center.
Since opening in 2014, the west coast-style market has been a firm favorite with locals and tourists alike due to its fabulous food and fresh fruit and vegetables. Besides sampling tasty treats and buying souvenirs or artisanal food products, visitors can stop for a sit-down meal with everything from Indian and Italian to American, Latin American and Vietnamese options on offer.
23. SkyView Atlanta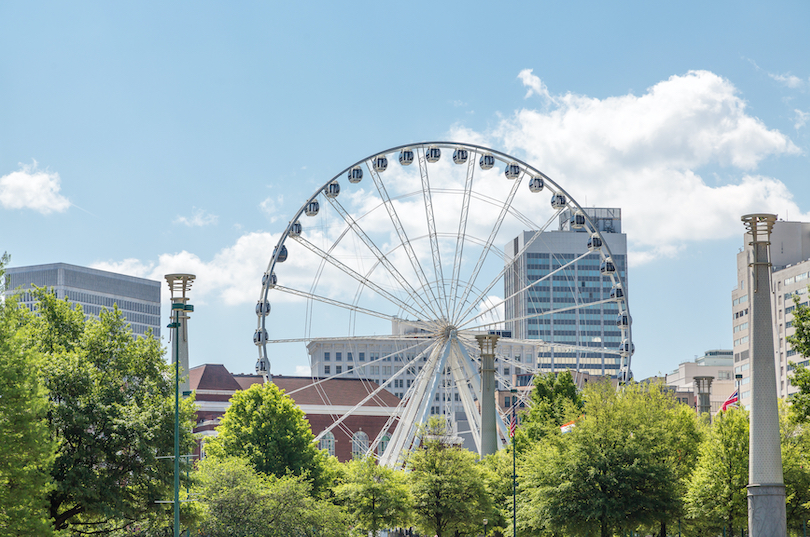 For one of the best panoramas of downtown's skyscraper-studded skyline, make sure to head to the SkyView Atlanta at the southern end of Centennial Olympic Park. Towering almost twenty storeys above the surrounding city, the gigantic Ferris wheel has been popular with tourists ever since it first opened in 2013.
While sitting or standing in its sleek, air-conditioned gondolas, guests can view many of the city's most important buildings and landmarks. One of the best times to enjoy a ride on the SkyView is after dark as Atlanta is lit up magically and you can watch the famous Fountain of Rings show down below.
22. Delta Flight Museum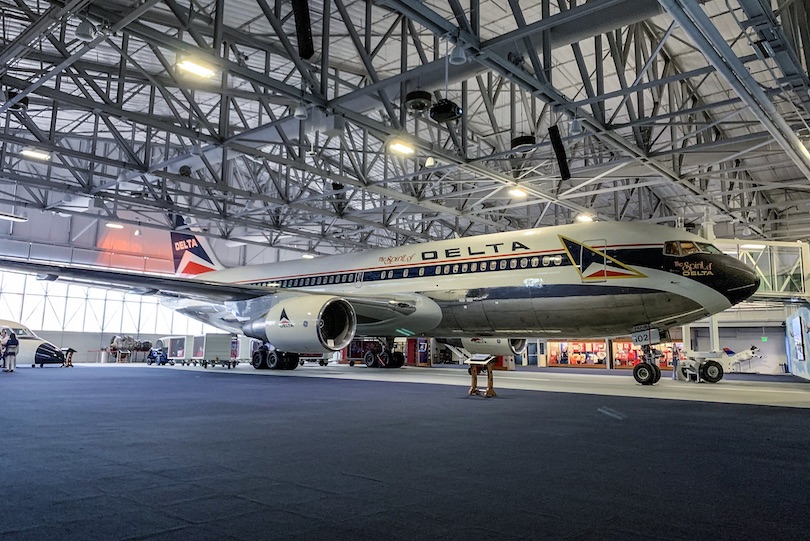 Han Zheng / Flickr
Another great place to go if you have a head for heights is the excellent Delta Flight Museum which looks at the history and evolution of the aviation industry. Housed in two humongous hangars are a vast array of artifacts, airline equipment and aircraft while yet more gleaming planes and jets can be found outside.
Lying next to the Hartsfield-Jackson Atlanta International Airport, the corporate museum was set up in 1995 and primarily focuses on Delta's history, expansion and the future of flight. While perusing its engaging exhibits, you'll learn about different makes and models of planes and even enter inside a Boeing 747. On top of all this, you can also have a go on their fun flight simulator.
21. Atlanta BeltLine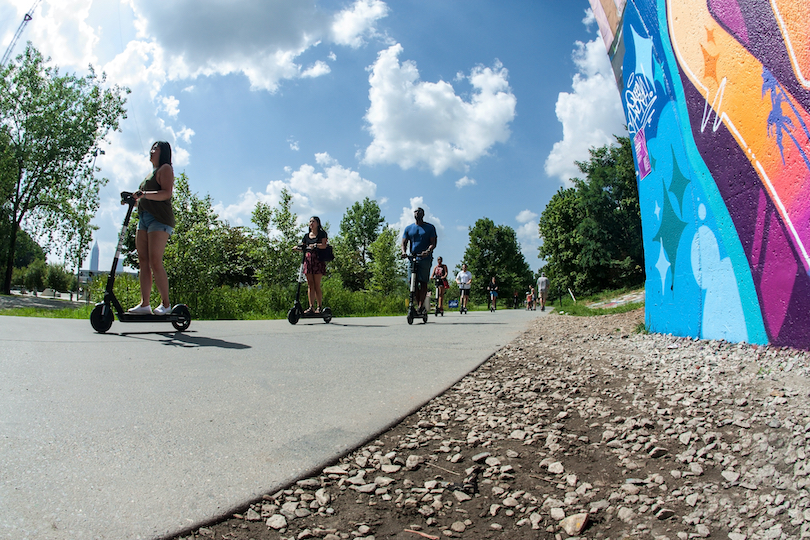 One of the most popular and picturesque ways to see as much of the city as possible is to walk, run or cycle along the Atlanta BeltLine which encircles the center of The Big A. As well as connecting numerous neighborhoods and parks together, the multi-use trail takes you past interesting outdoor art installations with sports facilities, restaurants and microbreweries also lining the route.
Stretching 22 miles in length, the spectacular outdoor space follows in the tracks of what once was a railway corridor. While many more miles of trails are still to be added before the project's intended completion date in 2030, locals and tourists already flock to the beltline for its lovely scenery and nature, its innumerable establishments and countless community events.
20. Jimmy Carter Library & Museum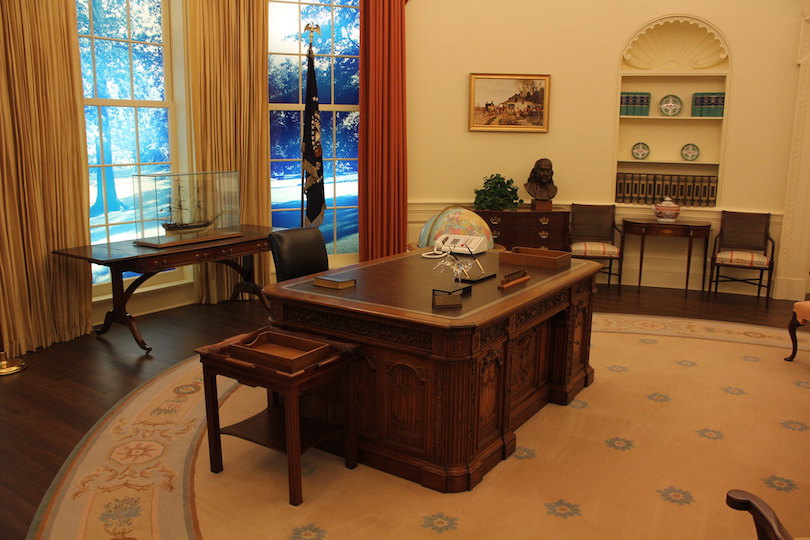 Nicolas Henderson / Flickr
A fascinating place to visit, the Jimmy Carter Presidential Library & Museum lies just five minutes' drive to the northeast of downtown, right next to the Carter Center. Inside guests can learn all about his life and legacy and see amazing memorabilia, photos and film clips from throughout his career and one term as president (1977 – 1981).
First opened to the public in 1986, the museum covers everything from his upbringing and success as a peanut farmer to life on the campaign trail and how he opposed racial segregation. After having explored all its interactive exhibits you can also see his Nobel Peace Prize, wander around an exact replica of the Oval Office and amble about its grand library and gorgeous gardens.
19. Turner Field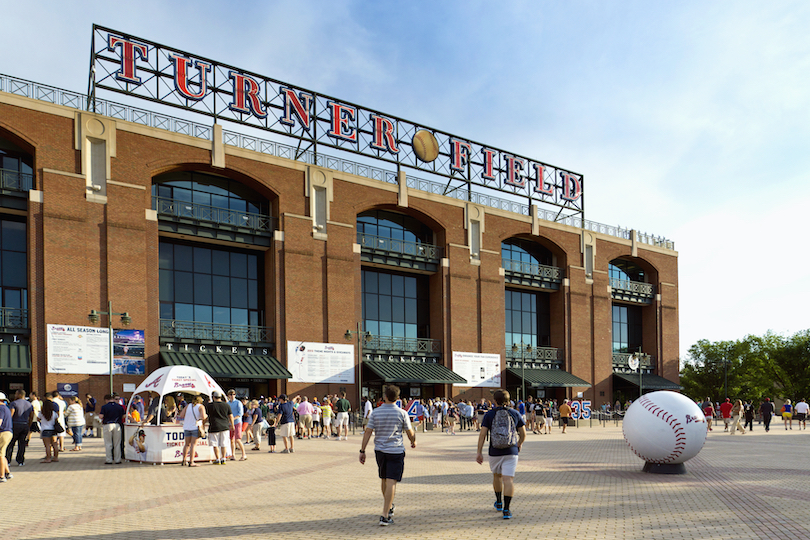 If you are after a thrilling sporting spectacle, then Turner Field is definitely the place to go. Formerly the home of the Atlanta Braves of Major League Baseball, the reconverted and renovated arena now instead hosts Georgia State University's college football games.
Originally opened in 1996, the massive stadium served as the centerpiece of the Summer Olympics held in Atlanta that year. Now called the Center Parc Stadium, it lies just south of the center, on the college campus. Besides watching the Panthers play and taking part in the team's tailgates, you can also attend concerts and community events at what is still often known to locals as Turner Field.
18. Ponce City Market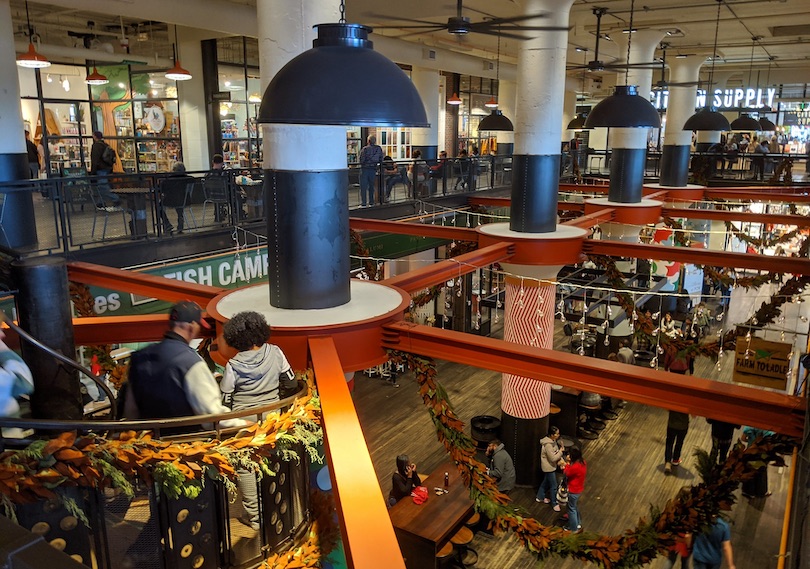 Jeremy Thompson / Flickr
Another very happening spot to hit up is the ever-popular Ponce City Market which encompasses everything from shops and restaurants to offices, flats and a rooftop amusement park. Once a Sears catalogue facility, the ginormous mixed-use building lies alongside part of the BeltLine in the Old Fourth Ward neighborhood.
Built in 1926, the red brick building was renovated and reopened in 2014 with its cavernous Central Food Hall and all its stands and stalls lying right at the heart of things. Aside from stopping off for a bite to eat or drink, you can also enjoy its rooftop beer garden, play a round of mini-golf or try some of its kitschy carnival games.
17. Fernbank Museum of Natural History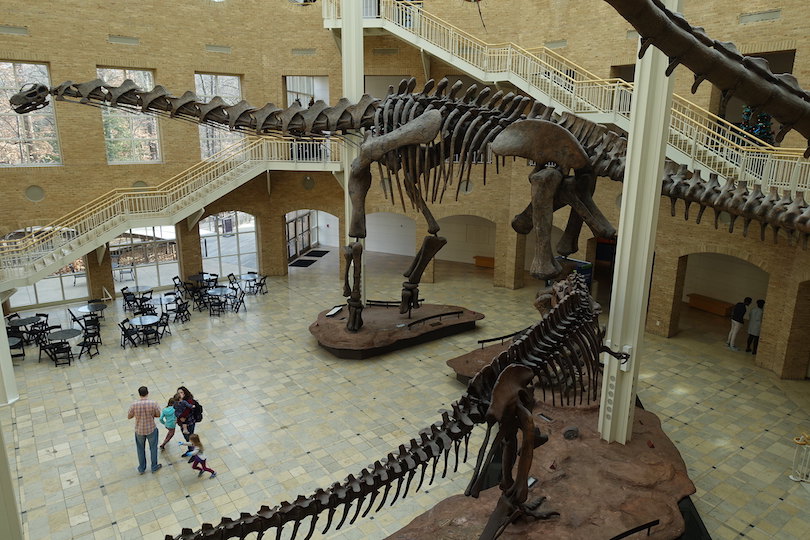 Jeremy Thompson / Flickr
Home to hundreds of interactive exhibits and exciting hands-on activities, the magnificent Fernbank Museum of Natural History can be found just fifteen minutes' drive to the northeast of the center. In addition to all its fascinating dinosaur fossils and IMAX theater, there is also an expansive outdoor area with canopy walks, nature playgrounds and native wildlife to explore.
Dedicated to unraveling the mysteries of the prehistoric and present-day natural worlds, the award-winning museum was established in 1992 and has only grown since then. While ambling about its galleries you can see life-size replicas of whales and a huge 123 foot-long Argentinosaurus – the largest dinosaur ever classified. There are also sections where you can experiment with forces and new technology while the fun and immersive NatureQuest is sure to appeal to young ones.
16. Oakland Cemetery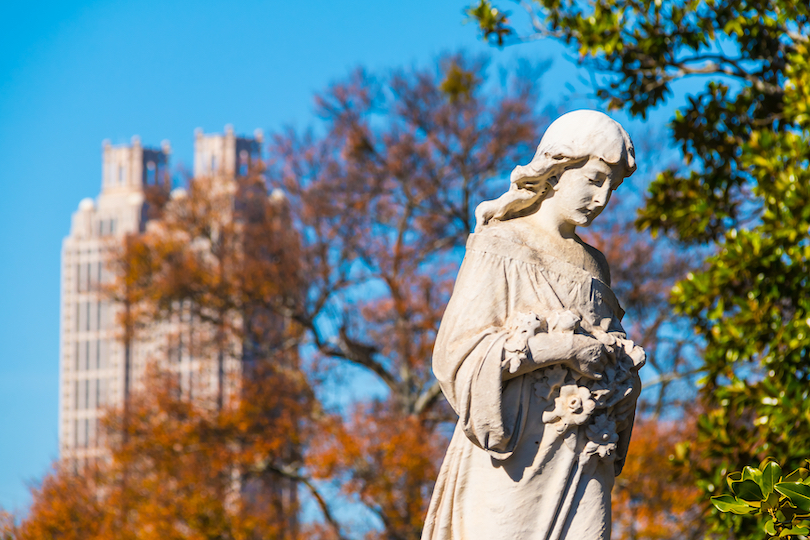 A very peaceful place to stroll around, the atmospheric Oakland Cemetery lies just a stone's throw from downtown. Thought to be the final resting place of some 70,000 souls, it contains rows and rows of impressive old graves, mausoleums and sculptures with ancient oaks and magnolias also dotted about.
Founded in 1850, its lovely layout and lush green gardens exemplify the Victorian-style cemeteries of that time with certain sections being dedicated to Confederate soldiers and both Jewish and black citizens. Many of its marvelous monuments, mausoleums and statues highlight the prominent role the city played in both the Civil War and civil rights movement.
15. College Football Hall of Fame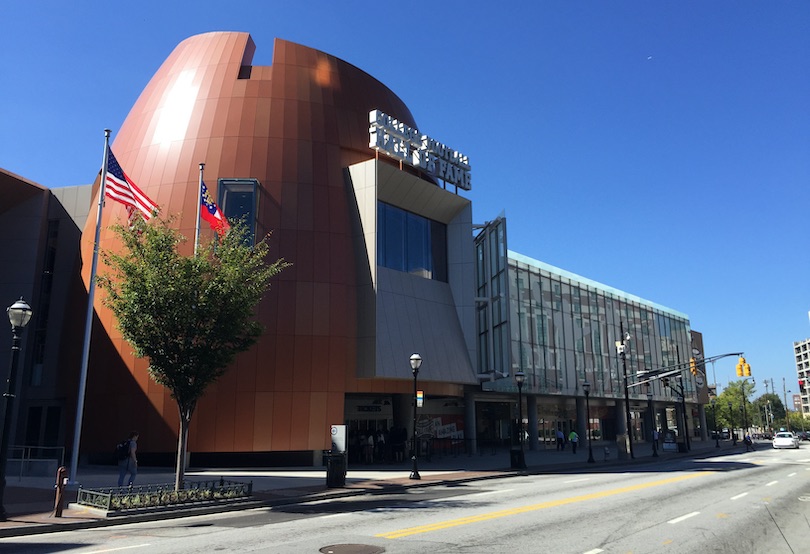 Right next to Centennial Olympic Park is another of Atlanta's top tourist attractions that is certainly well worth checking out if you have the chance: the College Football Hall of Fame. Inside the large football-shaped building are innumerable artifacts and exhibits that immortalize some of the greatest players and coaches to have ever played the game.
A firm favorite with football fans, the engaging and entertaining museum was opened in 2014 with earlier editions having previously existed in Kings Mill and South Bend. Aside from learning about the inductees and seeing their records, helmets and uniforms, you can practice your QB skills on the facility's indoor pitch or try out one of its augmented reality stations.
14. Zoo Atlanta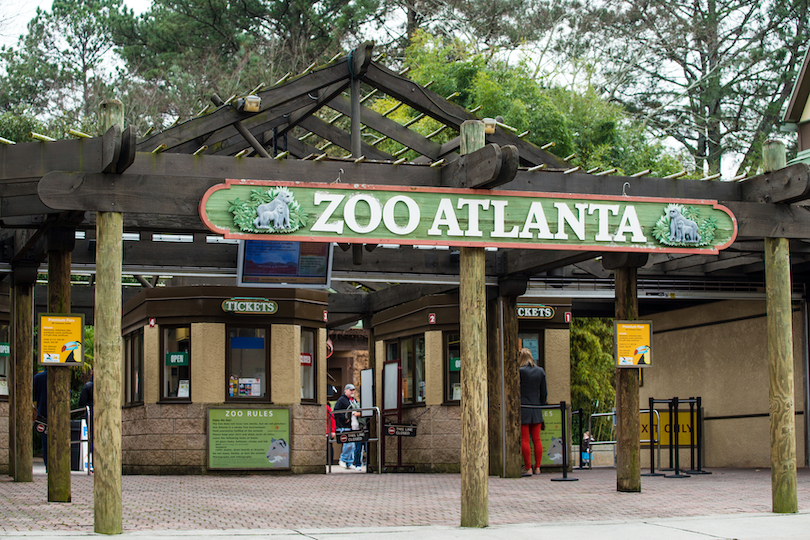 Boasting all kinds of amazing animals both large and small, Zoo Atlanta sprawls across the southern third of Grant Park. Once ranked among the worst zoos in the States, it is now widely lauded for its excellent exhibits and spacious enclosures with unforgettable animal encounters also being on offer.
Since being established in 1889, the zoo has expanded considerably with it now housing over 1,500 animals, birds and reptiles of more than 200 different species. Among its most popular residents are its giant pandas and gorillas with the zoo's incredible elephants, rhinos and tigers also attracting lots of attention. In addition to all of this, guests can explore the wonderful World of Reptiles and attend live talks, demonstrations and feeding sessions.
13. Mercedes Benz Stadium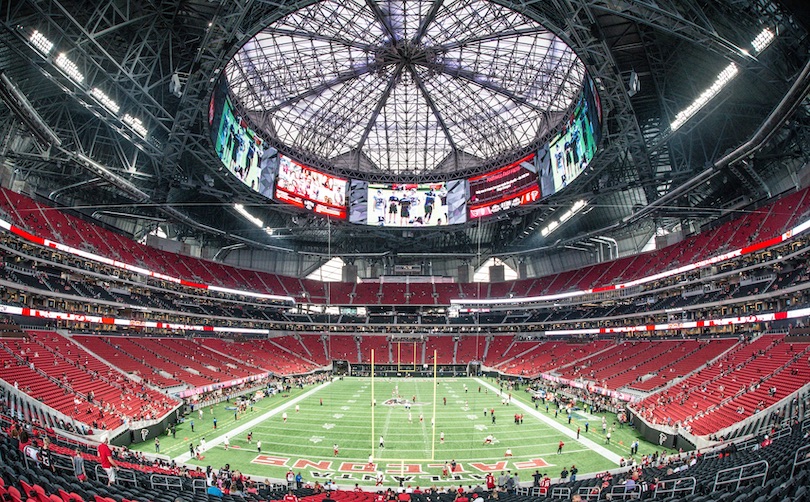 Another fantastic place to head if you want to enjoy a concert, show or sports event is the massive, multi-purpose Mercedes Benz Stadium. Home of the Atlanta Falcons of the NFL and Atlanta United FC of MLS, the sparkling new stadium is located just a short walk or drive west of downtown.
Only built in 2017, the enormous, state-of-the-art arena serves as a more than adequate replacement for the demolished Georgia Dome. When its retractable 'pinwheel' roof is closed, the stadium has an electrifying atmosphere as the two teams' fanatic fan bases roar them onto victory. Besides watching a thrilling football game or soccer match, visitors can also catch any of the concerts, conferences or other sporting competitions that are regularly held at the stadium.
12. Atlanta History Center
If you're interested in learning all about the city and state's rich history, culture and heritage then the exceptional Atlanta History Center really is a must-visit. At its humongous campus at Buckhead you can find an extensive array of historic houses, farms and gardens and a brilliant museum; all packed with age-old artifacts and engrossing exhibits.
While exploring sites, such as the antebellum Smith Farm and elegant Swan House, you'll delve into everything from settlers and the Civil War to plantation life and local Native American culture. Just as enthralling as all its exhibits and edifices are the center's ornamental gardens which are home to a huge collection of colorful plants, flowers, trees and shrubs.
11. Center for Civil and Human Rights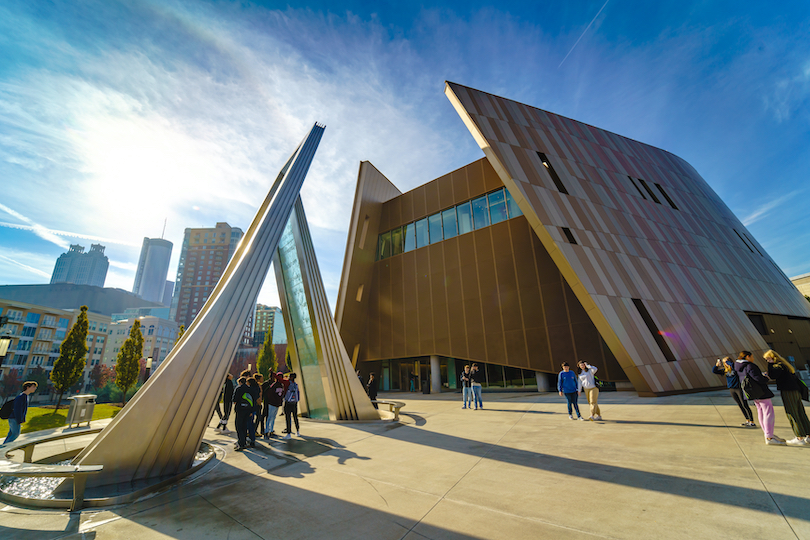 As Atlanta is renowned for being the 'cradle of the civil rights movement' no trip to town can ever be complete without checking out the Center for Civil and Human Rights. Situated just to the north of Centennial Olympic Park, it offers an in-depth look at the history and achievements of the movement while also shining a light on other ongoing human rights struggles around the world.
Founded in 2014, the well-designed museum is full of fascinating photos, exhibits and film clips with personal stories and speeches also highlighting the considerable struggles and successes of the civil rights movement. In addition to seeing some of Martin Luther King's personal possessions and learning about Jim Crow laws, you also hear about other inspiring fights for rights around the globe.
10. High Museum of Art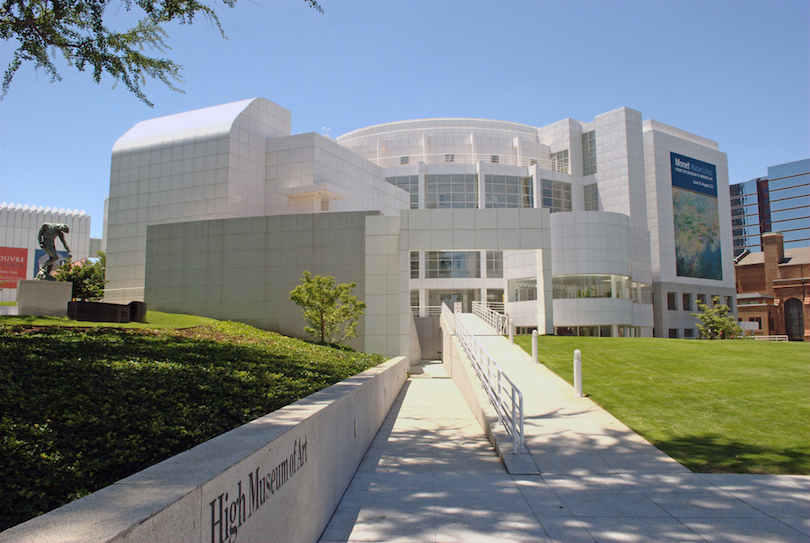 sapoague / Flickr
Located in the city's arts district in Midtown, the High Museum of Art is one of the leading art museums in the South and one of the most visited tourist attractions in Atlanta. The Museum was founded in 1905 as the Atlanta Art Association. In 1926, the High family, for whom the museum is named, donated their family home on Peachtree Street to house the collection.
In 1983, a new building designed by Richard Meier opened to house the High Museum of Art. Visitors can see a variety of works from 19th and 20th century American, European, African and African-American artists, as well as decorative arts, photography, and modern and contemporary art.
9. Piedmont Park
InspiredVision / Flickr
This park in the Northeastern Atlanta near Midtown began life as an out-of-the-city gentleman's farm owned by a doctor named Benjamin Walker. It went through a series of owners, ultimately ending up the property of the Piedmont Exposition Company. The park has had several architects of importance working on different parts, most notably Olmstead of Central Park fame, who created many pathways still in use today.
It also includes a large basketball complex, and was home of Atlanta's first team in the early twentieth century. A large fishing lake, playscape, and large lawn that is host to many concerts are just a few of the other offerings here.
8. Martin Luther King Jr. Historic Site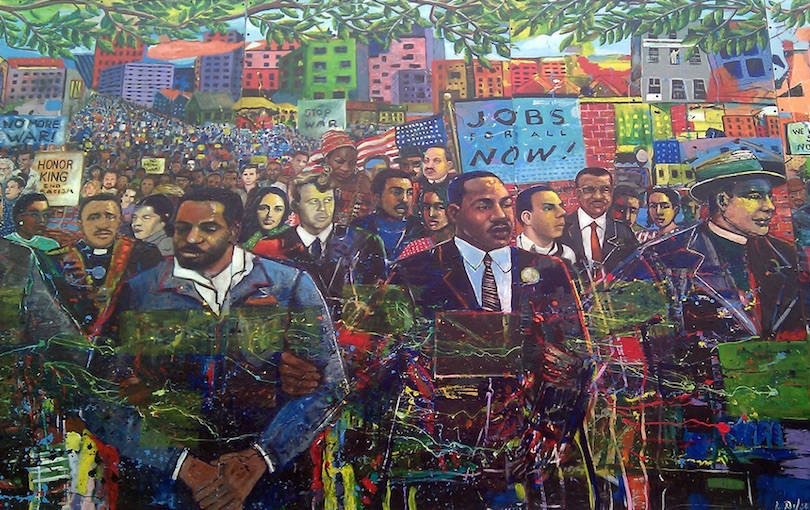 TheRealEdwin / Flickr
This historic site includes several buildings, including the boyhood home of this civil rights leader, as well as the church where his father, and later King himself first came to preach. The firehouse that was once a main community center in the sixties, a civil rights walk of fame, and the "I Have a Dream" international world peace rose garden are also a part of this historic park.
Opposite the visitor center, a large mural depicts scenes in Dr. Martin Luther King's life. The site hosts several large events, particularly during Martin Luther King day and Black History Month.
7. Centennial Olympic Park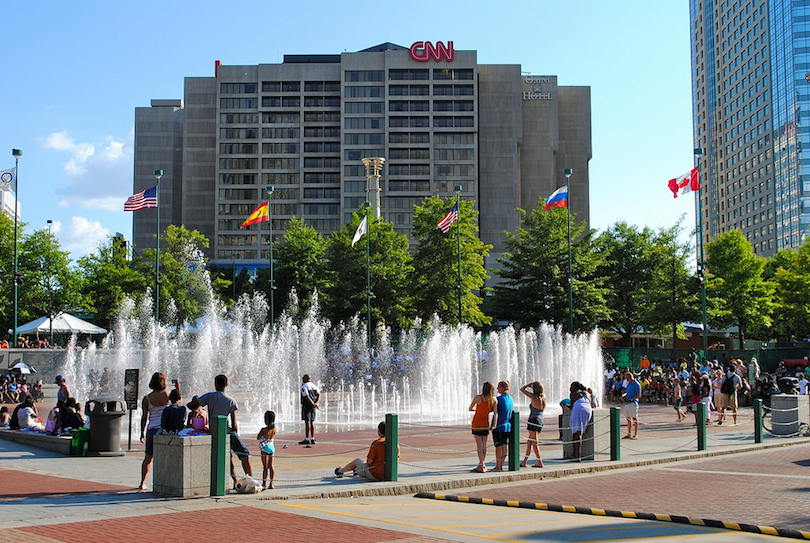 Bob B. Brown / Flickr
Created for the 1996 Summer Olympics that was hosted in this city, Olympic Park continues to be a tourist draw every year. Located downtown between the Aquarium and the CNN center, the park has several fun features. An interactive fountain of Olympic rings is synchronized with lights, water jets and music.
This is surrounded by a collection of the flags of all of the host nations of the previous Olympics. A large, air-conditioned Ferris wheel and large lawn that hosts a summer outdoor concert series are just some of the other features of this historic location of athletic excellence.
6. Atlanta Botanical Garden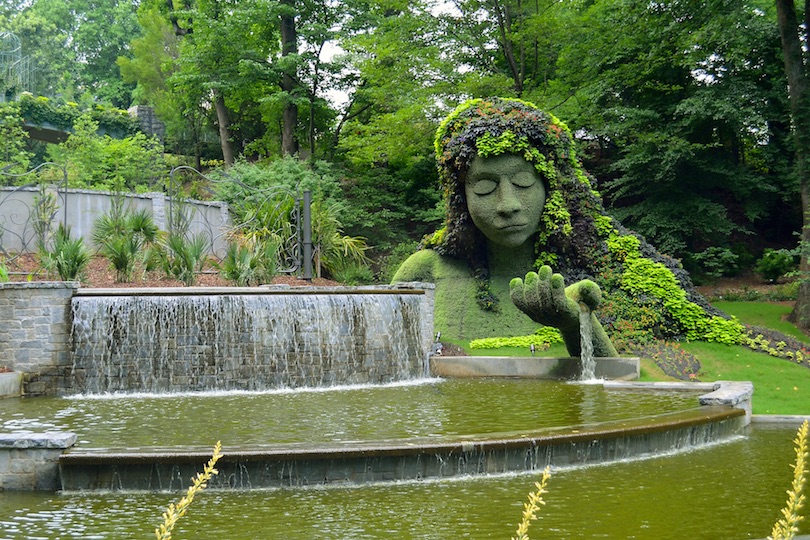 sonstroem / Flickr
This garden sits adjacent to Piedmont Park, and has a number of different sections, each highlighting a different region, plant, or animal type. These include a Japanese garden, a rose garden, woodland areas and a children's garden.
One of the main highlights of the botanical garden is the indoor Fuqua Conservatory which hosts a range of tropical, desert and subtropical plants and animals. The nation's largest orchid collection, tropical birds, turtles and poison dart frogs. For those who are not afraid of heights, the woodland park has a large canopy walk that allows guests to explore the treetops.
The botanical garden often hosts art exhibits and other charity events. The most notable of these was a display of the glass work of Dale Chihuly in 2004, and brought half a million guests to the gardens.
5. Stone Mountain Park
This park in Metro Atlanta boasts a huge monolith called Stone Mountain. The bas-relief on the mountain's north face is the biggest in the world. It features a sculpture called the Confederate Memorial Carving of Confederate President Jefferson Davis, General Robert E. Lee and General Thomas J. "Stonewall" Jackson.The top rises 825 feet (251 meters) above the surrounding area and provides a beautiful view of Atlanta.
The nearby museum Confederate Hall has information about the mountain's geology. There is also the Antebellum Plantation and Farmyard, which is an open air museum complete with farm animals that visitors can pet and 19 historic buildings meant to depict a pre-Civil War plantation.
4. Fox Theatre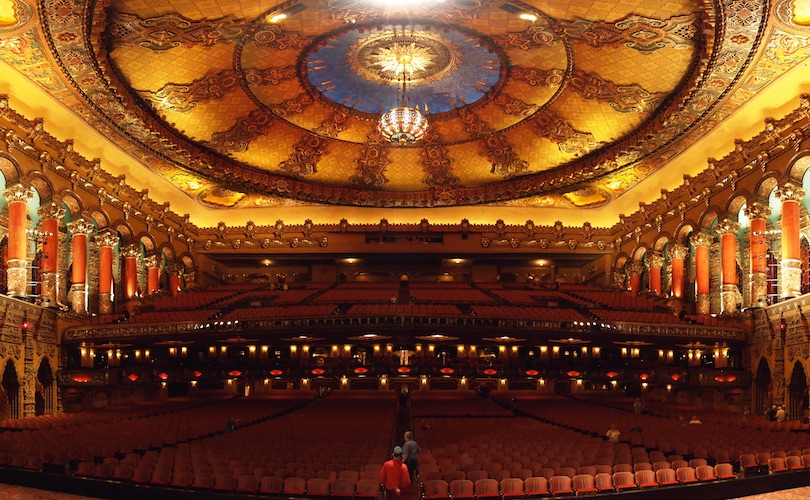 DDohler / Flickr
Originally planned as a Moorish architecture Shrine temple, the Fox Theatre ultimately developed as a lavish movie theater. It later became a performing arts theater, and continues to host the Atlanta Ballet, traveling Broadway events, and some music concerts. The theatre is a draw even for those who aren't going to see a show, as the combined Egyptian and Islamic architecture creates a spectacle that is worth taking a tour.
The theater inside is fashioned like an Arabian courtyard, complete with a twinkling crystal starry sky. There is also a large ballroom designed after the temple of Ramses II, and the mezzanine for the women's' restroom has King Tut's throne and little sphinxes on the makeup tables.
3. CNN Center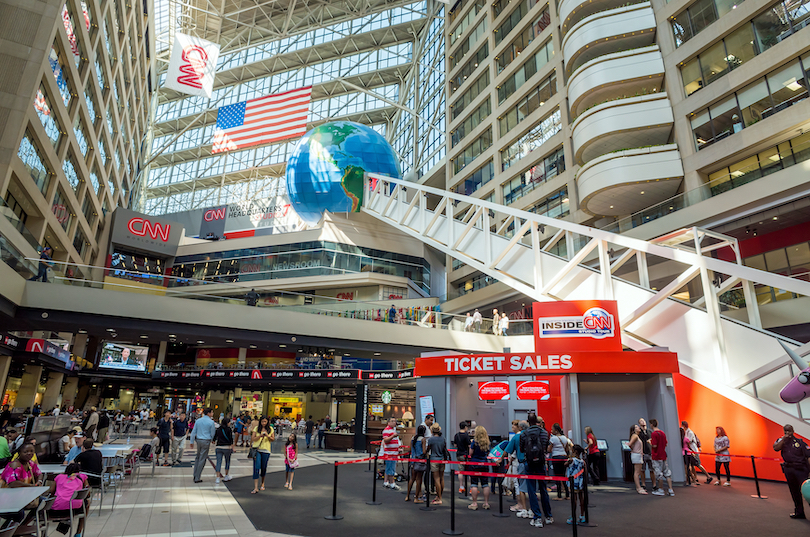 The world's best-known news franchise deserves a headquarter just as spectacular, and in this case, the CNN center definitely delivers. The center connects to a large food court atrium, which is shared by Centennial Olympic Park, Phillips Arena, the Georgia Dome, and the Georgia Conference Center.
There are studio tours available, which include demonstrations of the technology used and visits to viewing galleries overlooking the newsrooms and newsreaders of CNN. There is a large, attached hotel where guests can stay, especially those hoping to get a sneak peek at their favorite newscaster or special guest to the studios.
2. World of Coca-Cola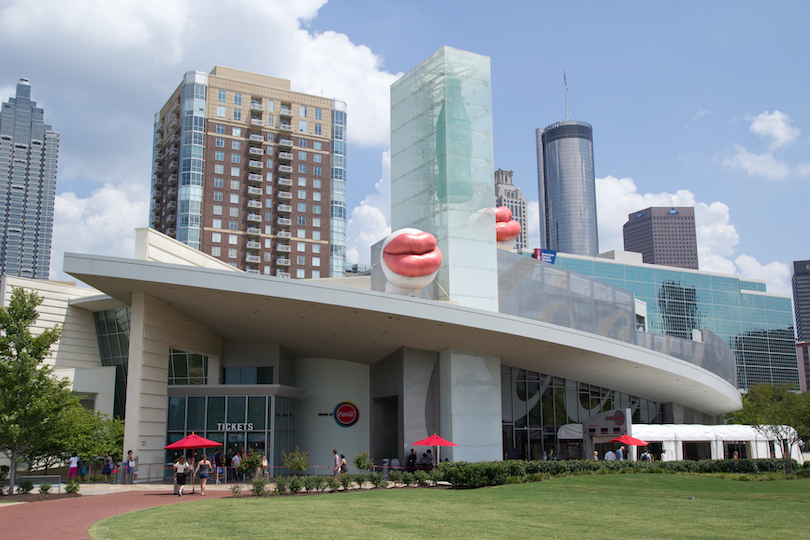 For anyone who has ever wondered what Coca-Cola tastes like in every nation of the world, this is the place to go. One of the top attractions in Atlanta, a new museum was revamped and relocated in 2007 to house a larger collection of company paraphernalia. Sixty years of jingles, ads dating back to the 1800's, and a 4-D movie experience are just a few of the things to experience here.
One of the biggest draws here is the updated tasting room that not only allows guests to discover the preferred formula versions from different parts of the world, as well as rare local drinks via their customized freestyle machine.
1. Georgia Aquarium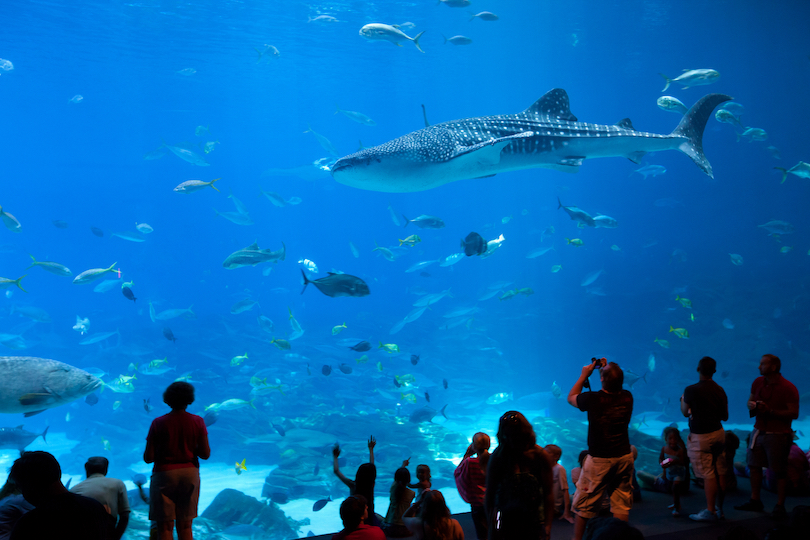 Georgia Aquarium has the honor of being the largest in the Western Hemisphere, and before it was beaten by the aquarium in Singapore, it was the largest in the world. A number of especially notable species can be found here, including beluga whales and manta rays. This aquarium is the only location outside of Asia where a whale shark, the world's largest fish, can be found.
It is divided into five ecoregions, including tropical reefs, open ocean, arctic waters, freshwater rivers and large marine mammals. As part of a conservation project, the aquarium has been working on a captive beluga whale breeding program, though a successful calving has not yet been achieved.
Map of Tourist Attractions in Atlanta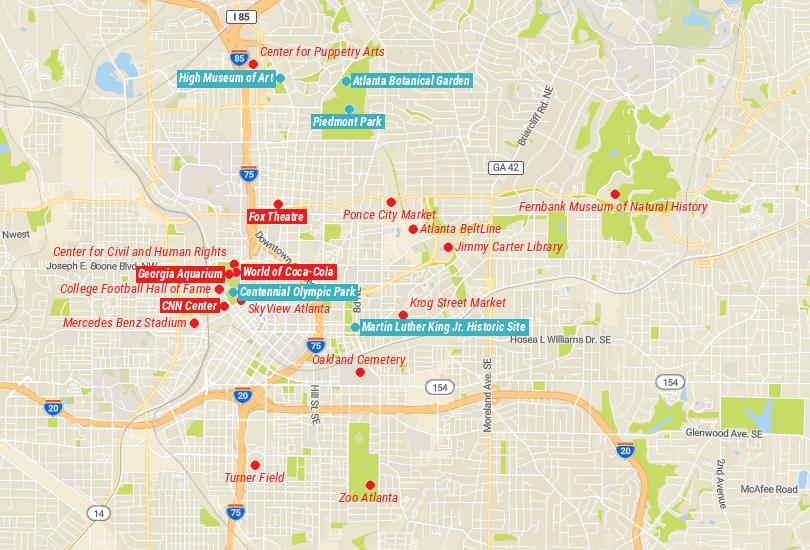 © OpenStreetMap © MapTiler © Touropia