While it is best known for hosting The Masters golf tournament each spring, Augusta in Georgia has much more going for it. Set just across the Savannah River from South Carolina, it has loads of elegant tree-lined avenues and antebellum mansions with Southern charm on show wherever you go.
Founded in 1736, the state's third-largest city has a rich heritage to delve into with plenty of interesting historic tourist attractions and cultural landmarks dotted about town. Many of these date to the Civil War period and times of slavery or relate to the Augusta Canal, which was key to the strategic settlement's industrial development.
Other than checking out these things to do in Augusta, you can enjoy some great concerts and shows in the city where the Godfather of Soul, James Brown, grew up in. Sometimes described as the best-kept secret along the Savannah River, Georgia's Garden City is certainly well worth visiting if you have the chance.
12. Imperial Theatre
One of the best places to catch a concert, show or movie screening in Augusta, the opulent Imperial Theatre is right in the center of town. At the intimate and atmospheric venue, spectators can enjoy all kinds of entertaining performances by local groups and touring acts.
Instantly recognizable from the illuminated sign above its entrance, the historic old theater was built in 1918 by impresario Jake Wells. Inside, the refined Victorian Renaissance-style venue is just as striking as balconies and a mezzanine overlook its hallowed stage that also features an original Wurlitzer Organ from 1925.
Besides brilliant ballets and dance shows, it puts on concerts, comedy nights and musicals with movie screenings of classic films also taking place from time to time.
11. Boyhood Home of President Woodrow Wilson
Annalisa Frazier / Wikipedia
Just a couple of blocks away is another hugely interesting historic place to visit: the Boyhood Home of President Woodrow Wilson. Here you can see authentic artifacts and engaging exhibits on his life and legacy with guided tours also taking you all around the pretty property.
Located at the northern corner of Telfair and 7th Streets, the charming two-story structure was built back in 1859 for the Wilson family. Once past its five-bay front facade and little portico, you'll find about a dozen rooms to amble around, all decorated with period pieces and the personal belongings of the former President and his family.
Its informative exhibits shine an invaluable light on the life and times of Woodrow Wilson and the profound impact that growing up during the Civil War had on his presidency.
10. Meadow Garden
Bubba73 / Wikipedia
Another handsome historic house to explore nearby is that of Meadow Garden alongside the Augusta Canal. Once home to George Walton, one of the youngest signatories of the Declaration of Independence, it is now preserved as a National Historic Landmark.
One of the oldest surviving structures in the city, the simple Sand Hill cottage dates to 1791 with numerous extensions and renovations having taken place over the years. Now home to six bays and a fetching front porch, its cosy rooms are full of period furniture and era-appropriate artifacts.
As you tour about, costumed guides provide more information on this important time in America's past and on George Walton, who later became governor of Georgia and a US senator.
9. Augusta Mall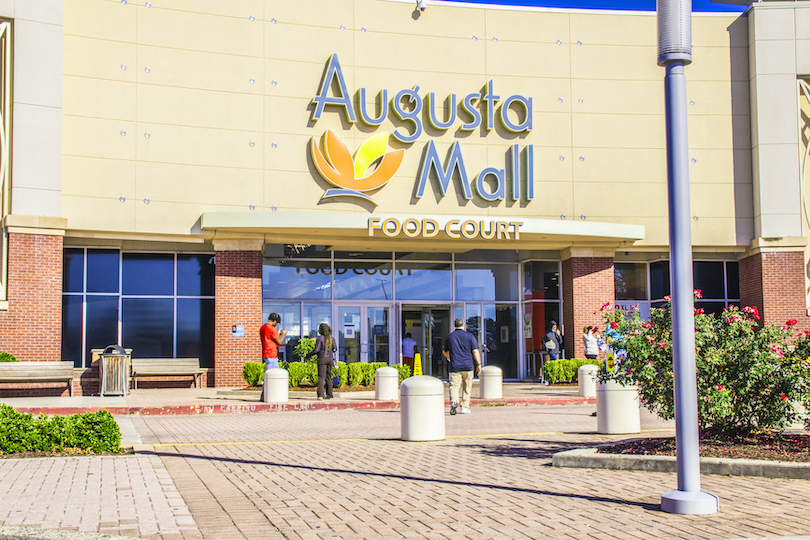 If you want to shop until you drop, then the enormous Augusta Mall is definitely the place to go. One of the largest shopping centers in the state, its stylish complex lies just fifteen minutes drive to the west of downtown.
Since first opening to the public in 1978, it has undergone numerous expansions with more than 150 stores and restaurants now sprawling across its two floors. These sell everything from jewellery and beauty products to accessories, clothing and fitness wear. JCPenney and Macy's anchor the massive mall alongside Dick's, Dillard's and Barnes & Noble.
After browsing its endless boutiques, you can sit and grab a bite to eat or drink at the food court with other excellent cafes and restaurants also dotted here and there.
8. Sacred Heart Cultural Center
One of the most beautiful buildings in Augusta, the Sacred Heart Cultural Center can be found right in the center of the city. Formerly a Catholic church, it now instead hosts concerts and cultural events, art shows and festivals with something interesting and new always going on at the venue.
Built in 1897 by Jesuit priests, the stupendous Victorian-style building served as a place of worship for seventy years before becoming a cultural center after a decade of vacancy and vandalism. Now a National Historic Landmark, its twin spires, graceful arches and stained glass windows all make it a very memorable place to enjoy some art and culture.
Aside from snapping photos of its fantastic facade and taking in all the fine features of its interior, you can watch choral concerts, plays and other performances. One of the main highlights of the year is the Garden City Festival with other seasonal events and celebrations also taking place.
7. Morris Museum of Art
Morris Museum of Art
Alongside the Augusta Riverwalk is yet another of its most important cultural institutes: the Morris Museum of Art. Dedicated to the artists and art of the American South, it has plenty of paintings and photos, prints and sculptures for you to peruse.
Now home to about 5,000 artworks, its ten themed galleries occupy a modern building overlooking the Savannah River and South Carolina on its opposite bank. Set up by publisher William S. Morris III in 1985, its extensive collection covers the late-eighteenth century right up until the present day.
Besides abstract art pieces and images of the Civil War, its galleries cover everything from Southern landscapes and stories to contemporary glasswork, impressionism and portraits. In addition to all its arresting artworks, the museum regularly puts on classes, talks and workshops for the community.
6. Phinizy Swamp Nature Park
Despite lying next to Augusta Regional Airport, Phinizy Swamp Nature Park is a very peaceful and picturesque place to explore. Home to lots of wonderful woods and wetlands, it has countless scenic trails, boardwalks and observation points for outdoor lovers to enjoy.
Covering a huge area south of the city, its murky swamps, meadows and Spanish moss-clad trees lie alongside Butler Creek and border Mayor's Pond. A haven for local wildlife, its verdant confines are home to blue herons and bobcats, alligators and otters with birdwatching being particularly popular.
On top of wandering along Beaver Dam trail and watching out for any of its wild species, you can learn all about them and the rich plant life in its visitor center.
5. Savannah Rapids Park
Another very pleasant spot with stunning views to stroll around is Savannah Rapids Park. Lying towards the northern outskirts of town, it has numerous historic sights and viewpoints for visitors to discover with all kinds of outdoor activities being on offer.
Set at the entrance to the Augusta Canal next to Reed Creek waterfall, its gorgeous green spaces are the perfect place to relax, unwind and immerse yourself in nature. For over 150 years, people have come here to walk, run, jog and cycle with kayaking along the Savannah River also being popular.
Overlooking the canal is the charming 1880 Lockkeeper's Cottage which houses a tiny museum on Columbia Country and a shady pavilion where you can host fun private events. There are also some historic canal buildings to see and a playground and barbecue pit to make use of.
4. Augusta Canal Discovery Center
Sregor54 / Wikipedia
An absolutely fascinating place to visit, the Augusta Canal Discovery Center documents the history and development of the American South's only industrial canal. Located in a fine old former textile mill, its interactive exhibits and artifacts look at trade and transport along the route over the years.
Key to the city's development and industrial boom, the Augusta Canal was completed in 1845 and it is still remarkably in use today. As well as power and water, the thirteen-mile-long waterway provided an important transportation route around a non-navigable part of the Savannah River.
Over the decades, many mills sprung up alongside the canal with the enormous Enterprise Mill now housing the discovery center. Here you can see original machinery and equipment, watch short clips on its history and even take a boat trip along a scenic and serene section of the canal.
3. Masters
If there is one thing that Augusta is synonymous with though, it is the Masters which takes place in the first full week of April each year. America's most prestigious golf tournament sees thousands of eager fans flock to watch the biggest names in the game navigate their way around the immaculate and challenging course.
Known simply as 'The National' to many golfers around the world, the exclusive Augusta National Golf Club has hosted the Masters each year since 1934. Since then, countless famous celebrities and politicians have played out on its two courses with Jack Nicklaus and Tiger Woods having won the most green jackets between them to date.
While watching the pros up close and personal is an amazing experience, it is normally very hard to get hold of tickets to the event. You can however more easily attend practice rounds or play yourself at other local courses with an exciting buzz always being about town when the Masters is on.
2. Augusta Museum of History
LittleT889 / Wikipedia
For those interested in learning more about the city's rich history, culture and heritage, the Augusta Museum of History is an absolute must. Situated just a few short steps from the Riverwalk, it covers everything from the canal and Civil War to the Masters and Godfather of Soul James Brown.
Founded in 1937, its huge collection contains innumerable artifacts and historical photos that shine a light on more than 12,000 years of Augusta and the surrounding area's past. While some parts look at the antebellum era and the enduring legacy of Aquilla J. Dyess, others focus on the transportation corridor, local legends and WBBQ – the city's most popular radio station.
With the history of healthcare, banking and industry also covered by its dioramas and displays, the magnificent museum certainly makes for an educational and entertaining stop.
1. Riverwalk
A wonderful spot to go for a walk or run, the pretty park, playground and paths of the Riverwalk lie alongside the Savannah River. Very popular with locals and tourists alike, it has lots of shady spots where you can sit and enjoy fantastic views over the river.
As Augusta suffered years of devastating floods in the late 1800s and early 1900s, a large levee was built to protect downtown's residents, buildings and businesses. To make the center more attractive and boost local growth, work began on the Riverwalk in 1986 with brick paths, park benches and a playground springing up next to the Jesse Norman Amphitheater.
This now hosts countless concerts, cultural events and community festivals over the year with a fine farmers market taking place each Saturday morning.
Map of Things to do in Augusta, GA