The largest city in the Finger Lakes region of New York, Ithaca is a lovely, lively place to visit that has a lot going for it. Set in a stunning spot at the southern tip of Cayuga Lake, it is famed both for being home to the Ivy League Cornell University and Ithaca College and for the over 150 waterfalls and countless gorges that dot its scenic surroundings.
While its sizeable student population lends the city a very youthful feel, Ithaca is also steeped in history with attractive old buildings, interesting historic sites and amazing museums dotted here and there. Other things to do in Ithaca include delving into its thriving arts and culture scenes or exploring some of the most diverse dining and drinking in upstate New York.
With plenty of outdoor activities and a wealth of stupendous state parks and waterfalls to discover nearby, the vibrant college town of Ithaca and its tourist attractions are certainly well worth checking out if you have the chance.
In this post, we'll cover:
12. Cornell Lab of Ornithology
Nestled away on the north-eastern edge of town you can find the fascinating and famous Cornell Lab of Ornithology. Renowned around the world for its important research, the state-of-the-art center has interesting and educational exhibits, artworks and outdoor activities for visitors to enjoy.
Since being founded in 1915, the lab has expanded enormously and now has hundreds of scientists and students working at the facility. Each year, they produce essential and influential research on all kinds of birds, their behaviors and populations as well as on the Earth's biological diversity.
Aside from learning about the lab's work through exhibits and artworks, you can also stroll around the wetlands and forests of the Sapsucker Woods Sanctuary where over 200 species of bird have been sighted.
11. Taughannock Falls State Park
Home to lots of stupendous landscapes, scenery and nature, Taughannock Falls State Park lies just fifteen minutes' drive northwest of downtown. Besides boasting the highest single-drop waterfall in the States east of the Rocky Mountains, it also has countless fun outdoor activities and idyllic nature spots for guests to enjoy.
Partly set along the scenic shores of Cayuga Lake, the popular park is named after the fabulous falls that lie at its heart. Towering to sixty-six meters in height, it certainly makes for a spellbinding sight with two smaller waterfalls also to be found along the Taughannock Creek which meanders its way through a beautiful gorge.
Besides hiking and biking about the park and snapping photos of the phenomenal falls, visitors can enjoy fishing, swimming and boating at the lake with some great camping and picnicking also being on offer.
10. Cascadilla Gorge Trail
Winding its way between Downtown Ithaca and the Cornell University campus is another picture-perfect place for you to explore: the gorgeous Cascadilla Gorge. Due to its scenic splendor, it attracts both locals and tourists alike, with a terrific trail taking you alongside its charming creek.
Despite being located right in the center of the city, the pretty and peaceful gorge feels a world away from the hustle and bustle of downtown. In total, its trail stretches just over two kilometers in length with the rambling route passing by six twinkling waterfalls along the way.
Relatively easy to hike, it takes you through lush woodland, over small stone bridges and alongside the rushing creek with fantastic scenery and views to be enjoyed wherever you go.
9. Johnson Museum of Art
Lying just five minutes' drive northeast of the center you can find the outstanding Johnson Museum of Art which hosts a huge collection of amazing artworks. Designed by renowned architect I.M. Pei, its brutalist building with its distinctive design and concrete facade can be found alongside the Arts Quad of the main Cornell University campus.
Established in 1953, the museum now contains more than 35,000 art pieces with African and Asian artifacts and artworks on show next to paintings, photos and prints. In addition to American artists such as Georgia O'Keefe and Andy Warhol, masterpieces by Goya, Degas and Matisse also feature.
Besides enjoying all its incredible artworks, you can also venture up to its fifth floor which boasts some of the best views over both Ithaca and Cayuga Lake. With a delightful sculpture garden also on offer and regular temporary exhibitions and events taking place, the Johnson Museum of Art is definitely well worth visiting.
8. Ithaca Falls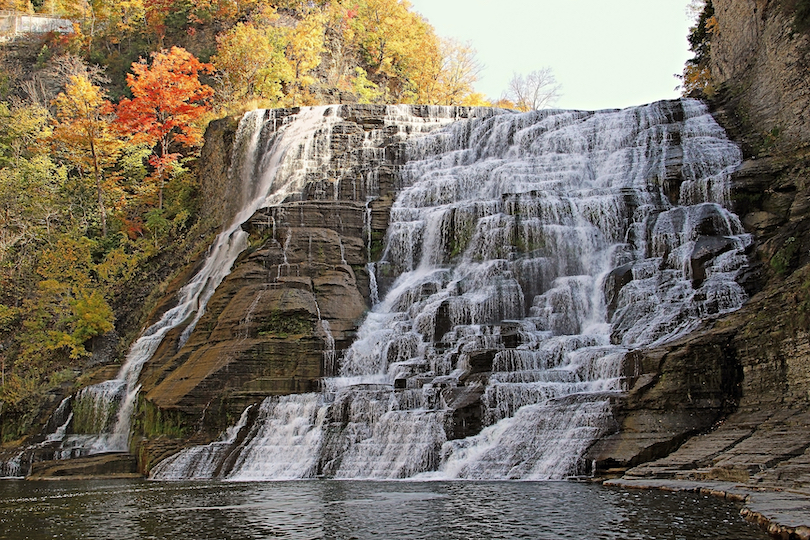 While the city and its surroundings are home to over 150 waterfalls, one of the most spectacular of them all has to be Ithaca Falls. Now protected as part of a park, its jet-white waters and craggy rock face can be found along Fall Creek, not far from the Cornell University campus.
One of the city's main symbols and sights, it towers to over 100 feet in height and impressively spans more than 175 feet in width. Formed over the course of millennia, the massive falls is the last in a series of waterfalls that are dotted along the hanging valley that cuts its way through town.
Once used to power local industries, its waters are now instead a top tourist attraction with strolling around the park and snapping photos of the falls both being popular pastimes.
7. Ithaca Farmers Market
If instead of the great outdoors it is fresh food and produce that you are after, then you'll certainly want to check out the excellent Ithaca Farmers' Market. A very fun and friendly place to explore, its countless stands and stalls are located at Steamboat Landing, along the shores of Cayuga Lake.
Since first opening in 1973, it has been a firm favorite with locals and tourists alike with over 150 vendors now selling their fruit, vegetables and freshly baked goods at the enormous outdoor market. Dotted about are coffee stands and food stalls with both local wines and hand-made arts and crafts also on sale.
While several smaller markets are held around town each week, the largest and liveliest are at the lakeside pavilion on Saturdays and Sundays during the sunny summer months.
6. Downtown Ithaca
The main place to shop, dine and go out in the city, Downtown Ithaca is a happening and historic district which lies right in the heart of town. Centered on the Commons, it has a wealth of great things for you to see and do with fun activities, events and entertainment all on offer.
Sprawling over several blocks, the pedestrian-only area is a treat to explore with countless unique shops and local restaurants located besides lively bars, theaters and an awesome art-house cinema. As you amble about, you'll come across attractive historic buildings, colorful and creative murals and the interesting and educational installations of the Carl Sagan Planet Walk.
Adding to the area's already vibrant feel are its numerous street performers with lots of concerts, cultural events and festivals also take place in the centre of town each year.
5. Cornell Botanic Gardens
A very popular and picturesque place to visit, the charming Cornell Botanic Gardens lie right next to the university's main campus. Home to hundreds of species of plants, flowers, trees and shrubs, its pretty paths take you past everything from waterfalls and woods to bogs, meadows and gorges.
Since being founded in 1935, the gorgeous gardens have grown and grown with there now being dozens of delightfully different areas for visitors to explore. While it is wonderfully wild in places, other parts are immaculately laid out with an amazing arboretum and decorative arts flower garden to be found alongside a heritage vegetable garden and winter garden among others.
In total, its trails stretch over 8 miles in length and wind their way past ponds, creeks and secluded nature spots. Aside from exploring all its scenic sections, you can also visit four other idyllic gardens which the Cornell Botanic Gardens maintain on the university's central campus.
4. Cayuga Lake
The longest and second-largest of the Finger Lakes, the lovely Cayuga Lake and its serene shores lend themselves perfectly to all kinds of fun outdoor activities. As Ithaca is set at the southern tip of the lake, its spellbinding scenery and divine views are easily accessible from the center of the city.
Carved out of the Earth by glaciers during the last ice age, it stretches 38 kilometers in length and reaches 5.6 kilometers at its widest point. Lining its shores are numerous state parks and protected nature areas with epic hiking, mountain biking and camping to be had amidst their verdant confines.
In addition to kayaking and sailing about the lake's reflective waters, visitors can enjoy fishing and swimming with over a dozen wineries and a handful of distilleries also to be found nearby should you want to try some of the area's delicious local produce.
3. Cornell University
One of the most prestigious institutions of higher education in not just the country but the world, Cornell University and its campuses sprawl across a large part of the city. Set on a hill overlooking the center of Ithaca, the Ivy League school has gorgeous grounds for you to explore with impressive historic buildings, quads and landmarks wherever you look.
Founded in 1865, the university's massive main campus has an unusual yet appealing layout with ornate Collegiate Gothic, Victorian and Neoclassical-style buildings all dotted about. In between its attractive colleges and halls, you can find pretty quads to amble around with auditoriums, museums and monuments scattered here and there.
Aside from taking in its lively yet laidback atmosphere and all its incredible history, guests can also explore its beautiful botanical gardens with the stunning Sage Chapel and majestic McGraw Tower counting among its standout sights.
2. Buttermilk Falls State Park
Offering up all kinds of excellent outdoor activities, the scenic Buttermilk Falls State Park can be found just ten minutes' drive southwest of the city center. Home to ten waterfalls in total, it has lots of terrific trails for visitors to hike along with a playground, playing fields and a campsite also set amidst its lush woods and valleys.
Protected as part of a park since 1924, it is named after the fabulous frothy falls that lie at its heart and cascade down into Buttermilk Creek. While the magnificent waterfall is undoubtedly the park's main attraction, its hiking trails also take you through verdant woods and a gorge with other rapids and falls to be spied along the creek.
Besides hiking around and camping overnight, visitors can also lounge on its beach, fish or swim in the creek or explore the park's wonderful wetlands and meadows.
1. Robert Treman State Park
Set just a few minutes' drive further on from Buttermilk Falls is yet another idyllic spot for you to explore: Robert Treman State Park. Besides boasting some of the most spectacular scenery in the state, it offers up countless outdoor activities with stupendous nature, views and waterfalls wherever you go.
The largest state park in the area, it was created in 1920 and is named after Robert Treman who first bought the parcel of land, planted trees on the property and preserved its wild and rugged nature for future generations. Nowadays, it is a very popular place to visit thanks to its superb swimming hole, scenic hikes and cozy campsites.
The highlight, however, is hiking along the park's lovely gorge trail which passes twelve shimmering waterfalls with the Devil's Kitchen and multi-tiered Lucifer Falls being the most striking of the lot.
Map of Things to do in Ithaca, NY