One of New Jersey and the States' most popular destinations, Atlantic City boasts a beautiful beach, bustling boardwalk and countless glitzy casinos. While it is often called the 'Las Vegas of the East', the legendary resort town has much more than just blackjack, craps and roulette to enjoy.
The entertainment capital of the Eastern Seaboard, the sunny seaside city lies on a large barrier isle alongside the Atlantic. While many come for its grand casinos, table games and slot machines, others prefer to hit up the broad beach and iconic boardwalk. Here you can not only find many of the things to do in Atlantic City but also upmarket resorts and plenty of restaurants.
With loads of spectacular shows and sporting events taking place, a vibrant nightlife scene to check out and games galore to try out, 'A.C' is not to be missed for all it has to offer.
22. Playground Pier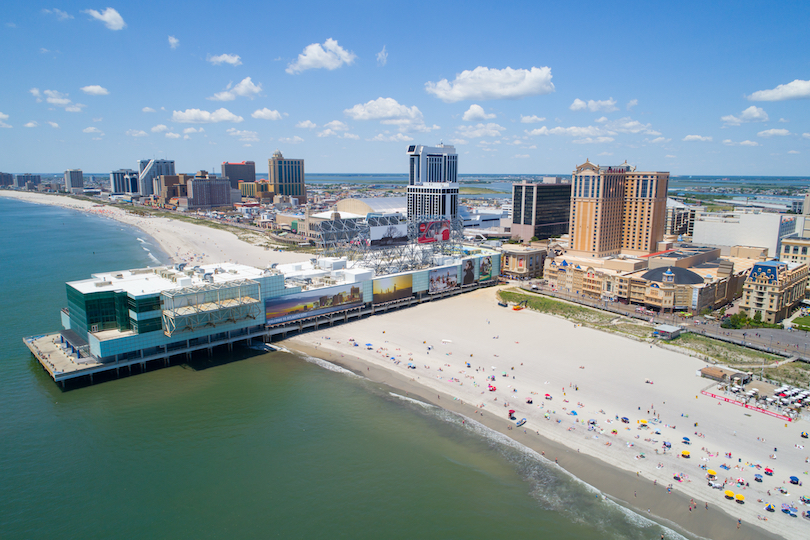 Jutting out into the Atlantic is the ever-popular Playground Pier; an enormous shopping, dining and nightlife complex. Located along the boardwalk, the gigantic mall contains umpteen upscale shops and restaurants, spread across four floors.
The successor of the famed Million Dollar Pier that operated on the same site from 1906 to 1981, it only opened to the public in 2015. Since then, droves of locals and tourists have descended on the mall each day to shop, dine and enjoy its heaving bars.
Dozens of stores sell everything from trendy fashion items and technology to elegant accessories and glittering jewellery. What's more, from its top floor you can bask in brilliant views of the beach, boardwalk and city blocks stretching away into the distance.
21. Hard Rock Casino
Towards the north end of the boardwalk is another excellent place to head if you're after some top-notch dining and entertainment. At the Hard Rock Casino and its adjoining hotel, guests can play all kinds of fun table games and slot machines with plenty of restaurants, cafes and bars on offer.
Overlooking the busy boardwalk and endless ocean, the massive casino opened in 2018, replacing the former Trump Taj Mahal that had gone bankrupt. Its vast floors now have more than 2,000 of the latest slot machines to play on and over a hundred different tables to try your luck at.
Its fifteen or so restaurants range from upmarket steakhouses and sushi bars to casual joints and, of course, the Hard Rock Cafe. With a spa, pool and thrilling live shows and Steel Pier lying nearby, it certainly makes for a great place to play or stay.
20. New Jersey Korean War Memorial
While most visitors to Atlantic City come for its casinos, beaches and boardwalk, several interesting historic sites are also scattered about. One of the most striking of these is the New Jersey Korean War Memorial that lies at Park Place, along the boardwalk.
Unveiled in 2000, it honors the sacrifices and service of approximately 191,000 veterans from New Jersey who fought in Korea. Often referred to as the 'Forgotten War', it lasted from June 1950 to July 1953 and resulted in America and its allies helping to secure democracy in South Korea.
A poignant spot to stop by, it features bronze sculpted figures and two walls of remembrance with the names of the fallen. Particularly moving are the statues of two soldiers struggling to aid their injured comrade and another holding the dog tags of those who lost their lives.
19. Ocean Resort Casino
Just a stone's throw from the Hard Rock Casino is another lively locale where you can gamble and game late into the night. At the sparkling five-star Ocean Resort Casino, you can not only enjoy its giant gaming spaces but its landscaped rooftop, nightclubs and live entertainment venues too.
Also opened back in 2018, it is impressively the tallest building in town with the glimmering glass structure soaring 710 feet above the city. Spread across its sixty floors are over a dozen outstanding restaurants and swanky lounges and a three-storey nightclub with countless events and shows taking place regularly. Multiple swimming pools and a spa can also be found while its sky garden boasts outdoor pools, cabanas and divine views over the ocean.
Not to be outdone, its cavernous casino contains over 2,500 slot machines and 120 table games with live sports betting also available.
18. Trip to Ocean City
Just fifteen minutes down the coast, Ocean City is well worth a trip. Located in the heart of the Jersey Shore, it is known as 'America's Greatest Family Resort' thanks to its fun attractions, amusement parks and entertainment options.
For close to a century, the scenic seaside community, its beautiful beaches and waters have appealed to tourists in search of some sun, sea and sand. Over the years, everything from movie theaters and mini-golf courses to arcades and amusement parks have sprung up along its bustling boardwalk.
Only adding to the ambiance are the excellent street performers and innumerable shows, parades and festivals that are held each year. With superb seafood restaurants, souvenir shops and, of course, vast swathes of sand on offer, Ocean City definitely makes for a great day out.
17. Tropicana Casino & The Quarter
In the center of Atlantic City, you can find the terrific Tropicana Casino and its charming Old Havana-themed shopping center, known as The Quarter. While the former has loads of great games and tables to try out, the latter is packed with high-end shops, restaurants and glitzy nightclubs.
Although a hotel has stood in the same spot since 1919, the current casino and its thousands of chic guest rooms opened only in 1981. As its endless floors are dotted with over 3,000 slot machines and 130 table games, it is one of the most popular places to play along the boardwalk. Adding to all the excitement are its daily poker tournaments and spectacular live entertainment shows.
The Quarter attracts just as many visitors as its tropical-looking streets are lined by a dazzling array of shops and restaurants. Set alongside its pounding nightclubs are a relaxing spa and the city's only movie theater.
16. Storybook Land
Storybook Land / Wikipedia
If you're after family-friendly entertainment, then the enchanting Storybook Land is one of the best places to go. At its sprawling complex on the outskirts of the city, young and old alike can enjoy its fairytale-themed rides and attractions.
Amidst its lovingly landscaped grounds, visitors can find small rollercoasters and carousels, teacups and trains to try out. Lining its leafy paths are colorful characters such as Mother Goose, the Three Little Pigs and many more besides.
Aside from delving into classic children's stories and nursery rhymes, families can stop for a picnic or grab a bite to eat from its cafeterias. During the year, exciting seasonal events are also held at the park which has been delighting young ones since 1955.
15. Harrah's Atlantic City Casino
Located right next to Brigantine Bridge at the northern end of the island is the humongous Harrah's Atlantic City Casino. One of the largest in town, it encompasses a wide range of restaurants and shops, a concert venue and a conference center.
The first to be built in the marina district, the resort's huge hotel tower and casino were opened in 1980. Since then, a state-of-the-art spa and top-class bistros have been added, plus a pretty pool surrounded by palm trees and plants too.
While the resort is perfect for relaxing and unwinding, its colossal casino has a staggering 5,500 slot machines and 140 table games to try with a poker room also on offer. Its broadway shows, concerts and boxing matches all also make it a top destination.
14. Ripley's Believe It or Not!
Long one of the boardwalk's most popular attractions, Ripley's Believe It or Not! is full of amazing oddities and unique objects. Instantly recognizable from the gigantic globe crashed in the side of its building, its weird and wonderful exhibits are loads of fun to peruse.
Home to an incredible collection of 400 or so bizarre items, Atlantic City's odditorium was founded in 1996. Its galleries feature everything from rare animal skeletons and shrunken human heads to an intricate miniature church sculpture and huge metal Hulk model.
On top of all its artifacts, artworks and stuffed animals, you can also see the world's smallest motor car and a roulette made out of jelly beans. After exploring its intriguing exhibits, visitors can attempt to navigate their way out of its Vault Lazer Maze Challenge.
13. Lucy the Margate Elephant
Set just twenty minutes south of the city's boardwalk is one of its most iconic landmarks: the lovely Lucy the Margate Elephant. Remarkably enough, the six-storey sculpture has stood in the same spot since 1881 with a gift shop and museum now lying alongside it.
Looking out over the waterfront, the enormous elephant towers above the rest of Josephine Harron Park. A very whimsical wood and tin construction, it stands 65 feet in total with a colorful covered balcony perched atop the large, grey elephant's back.
Originally erected to entice homebuyers to the area, the nation's oldest surviving roadside attraction now makes for some great photos. As well as climbing up on Lucy's back, you can take tours of her interior and learn more about the National Historic Landmark's quirky past.
12. Golden Nugget Atlantic City
Another of the marina district's grand casinos is the Golden Nugget Atlantic City. Aside from a spa, salon and shops, the gold rush-themed resort has a myriad of exciting events and live entertainment for guests to enjoy.
Originally unveiled in 1985 as Trump's Castle, the casino was later renovated and reopened by new owners in 2011. In addition to betting on live sports and playing some of its 1,500 slot machines, there are also blackjack, craps and roulette, alongside other table games.
While many come for its casino, others delight in its trendy restaurants and lavish rooms and suites. The Golden Nugget's concerts, comedy nights and clubs also appeal, with others instead preferring to spend their time down by its picturesque marina.
11. Trip to Cape May
Situated right at the southern tip of the Garden State's Cape May Peninsula is the sunny seaside city of the same name. One of the country's oldest vacation resort destinations, its beautiful beaches are lined by charming old Victorian buildings and cozy bed-and-breakfasts.
Settled by whalers and fishermen during colonial times, the tranquil town was later almost entirely rebuilt following the devastating fire of 1878. Impressively enough, all of it is now recognised as a National Historic District due to its wealth of well-preserved houses. These often feature fine wrap-around porches, gorgeous gables and brightly-colored exteriors.
Besides lounging on the beach and strolling about its atmospheric center, you can also enjoy some of its wonderful watersports. As Cape May is known for its rich waters, many people also arrange deep-sea fishing trips or dolphin and whale watching tours.
10. Boardwalk Hall
Aside from its countless casinos, the best place to enjoy a show in Atlantic City is undoubtedly the hallowed Boardwalk Hall. At the massive multi-purpose arena, you can enjoy everything from epic concerts and dance shows to beauty pageants, organ recitals and sporting events.
Built between 1926 and 1929, the ginormous hall occupies a prime spot along the boardwalk with its hulking great barrel vault ceiling now surrounded by skyscrapers. While it is renowned for its cavernous concert hall and elegant exterior, the building also contains the world's largest musical instrument – an incomprehensibly huge pipe organ.
At the famous venue, you can catch scintillating shows by big acts such as Michael Buble, Bon Jovi and Beyonce or fiercely contested boxing matches and basketball games.
9. Bally's Atlantic City Casino
Famed for its address of 'Park Place and the Boardwalk' – two locations on the US Monopoly board – is the large and luxurious Bally's. At its Wild West-themed casino, you can play fun slot machines and table games amidst sparkling faux gold mines and waterfalls.
Aside from its 1,000 or so electronic and video reels and table games, there is also blackjack, poker and roulette to play. Afterwards, you can refuel at its numerous bars and restaurants with a revolving lounge actually looking out over the casino floor.
The resort also has plenty of other amenities and entertainment options for guests to enjoy. Besides the spa's saunas, swimming pools and hot tubs, shops and cafes are dotted about its three hotel towers with live DJ sets regularly taking place.
8. Atlantic City Aquarium
Home to hundreds of fabulous fish, sharks, stingrays and sea turtles is the outstanding Atlantic City Aquarium. A firm favorite with families, its gigantic tanks and coral-filled aquarium can be found along the Absecon Inlet in the historic Gardner's Basin.
First opened to the public in 1999, it now boasts more than a hundred different marine species from all around the world. While some sections look at animals and ecosystems from New Jersey's coast, others transport you as far away as the Tropics and Pacific Ocean.
Amphibians and reptiles also feature, as does a terrific touch tank where you can stroke starfish, rays and even some sharks. Daily animal shows also introduce you to some of their remarkable residents while scenic cruises up and down the coast depart from just outside the aquarium.
7. Tanger Outlets
If you're after some serious shopping, then the massive Tanger Outlets is definitely the place to go. At its sprawling complex next to the Atlantic City train station and convention center, you'll find an almost endless array of outlets to explore.
In total, the enormous open-air mall now encompasses more than a hundred brand name stores and designer shops. These include not just Claire's and Lacoste but Old Navy, Ralph Lauren and Adidas alongside countless others.
As the shopping mall is spread across nine blocks, you'll certainly want to sit and grab a bite to eat or drink at some point. As well as staples, such as McDonalds and Starbucks, there are cosy Italian cafes, sizzling steakhouses and healthy vegan joints to choose from.
6. Caesars Atlantic City Casino
Long one of the boardwalk's flashiest and fanciest casinos, Caesars offers all its guests an unrivaled entertainment experience. With brilliant restaurants and bars to try alongside a spa, salon and pool, you can really relax and unwind in comfort before heading to see a show or play some games.
Instantly recognizable from its tall tower and signature sign, the ancient Roman and Greek themed resort was established in 1979. Impressively enough, it has over 2,000 slot machines and all kinds of top-class table games to play, making it one of the largest floors in Atlantic City. Visitors can also place bets on sporting events while concerts, comedy nights and shows are often held in its Circus Maximus theatre.
On top of exploring its opulent interior, you can enjoy some of its delicious dining options, splash about in the pool or hit up the shops at the adjoining Playground Pier.
5. Absecon Lighthouse
Another of the city's handful of interesting historic sights is the Absecon Lighthouse which lies just inland from the inlet of the same name. Since 1857, it has watched over the nearby waters and coast with sweeping views of the city now being available from its summit.
One of the tallest lighthouses of its type in the States, its black and white tower rises 171 feet above its grassy surroundings. While its original First-Order Fresnel lens still shines out brightly each eve, it was actually deactivated in 1933.
Now a National Historic Landmark, it has a lovely little museum and exact replica of a lighthouse keeper's house to explore. The highlight though is gazing out over the ocean and Atlantic City from atop of its lofty cone.
4. Borgata Casino
With the most rooms and slot machines in not just the city but the state, the elegant Borgata Casino is not to be missed if you're after an amazing time. Also located in the marina district, its waterfront complex contains countless restaurants and bars with electrifying entertainment and nightlife taking place all the time.
The city's top-grossing casino, the Borgata positively hums with life as people play on its 4,000 plus slot machines and innumerable table games. On top of baccarat and craps, blackjack and roulette, it puts on daily poker tournaments with betting on live races and sporting events also available.
While staying in its luxurious suites, guests can make use of its superb spa and swimming pools. In addition, the resort has a whole host of exquisite restaurants, trendy lounge bars and a sophisticated nightclub to wile the night away.
3. Steel Pier
Home to thrilling rides and rollercoasters, Steel Pier has been one of the city's most popular attractions for well over a century. Jutting out into the Atlantic, the amusement park's arcades, food stalls and fun games lie just off the boardwalk.
Since 1898, it has wowed young and old alike with its colorful and cheery carnival games, double-decker carousel and Ferris wheel. Over the years, more extreme rides such as its scary Slingshot and Freedom Flyer were added next to the calmer teacups, dodgems and swing carousel.
Aside from enjoying its rides and rollercoasters, you can play cool games at its arcade or snack on tasty treats from its food vendors. From the prominent pier and its Ferris Wheel, visitors can bask in phenomenal views over both the city and ocean.
2. Atlantic City Boardwalk
The heart and soul of life in town is of course the Atlantic City Boardwalk that runs alongside its long beach. A vibrant place, it is lined by loads of glitzy casinos with innumerable attractions, amusement parks and shopping malls also dotted here and there.
Actually the oldest boardwalk in the entire US, it remarkably dates to 1870 with the whole walkway now stretching more than four miles in length. Other than all its large and luxurious casinos, main sights include Boardwalk Hall, Ripley's and the various piers that just out into the ocean.
When visiting Atlantic City, strolling along its lively yet laidback boardwalk is simply a must for its infectious atmosphere and glut of fun things to see and do. With high-end resorts, restaurants and shops all on offer, its umpteen attractions are the highlight of many people's visit to town.
1. Atlantic City Beach
If you haven't come to gamble in the coastal resort city's casinos, then its broad and beautiful beach is probably where you'll spend a lot of your time. One of the most renowned stretches of sand along the Eastern Seaboard, it has all kinds of lovely outdoor activities and watersports to enjoy.
Bordered by the busy boardwalk on one side and the Atlantic Ocean on the other, its soft sands seem to stretch endlessly away into the distance. Aside from lounging lazily on the beach and taking in its gorgeous views, in summer you can swim and splash about in the sea or go kayaking, surfing and parasailing.
Once you've had your fill, you can head off and explore all the enticing sights, sounds and smells of Atlantic City's legendary waterfront.
Map of Things to Do in Atlantic City