Mostly made up of endless arid regions and desolate deserts, Nevada lies nestled away in the southwest of the States, between California and Utah. While its parched plains seemingly stretch forever, many magnificent mountain ranges cross the state, with the lovely Lake Tahoe and Lake Mead found respectively in the west and southeast.
The best place to experience the scenic sights and incredible wilderness is in the numerous national and state parks in Nevada. Besides dazzling desert scenery, there are fabulous formations, gorgeous gorges, and mighty mounts to enjoy, with prehistoric petroglyphs and historic sights dotted here and there. With lots of exquisite hiking, camping and even stargazing on offer in its unforgiving climes, there is much more to Nevada than just Las Vegas and casinos.
Map of Nevada's national and state parks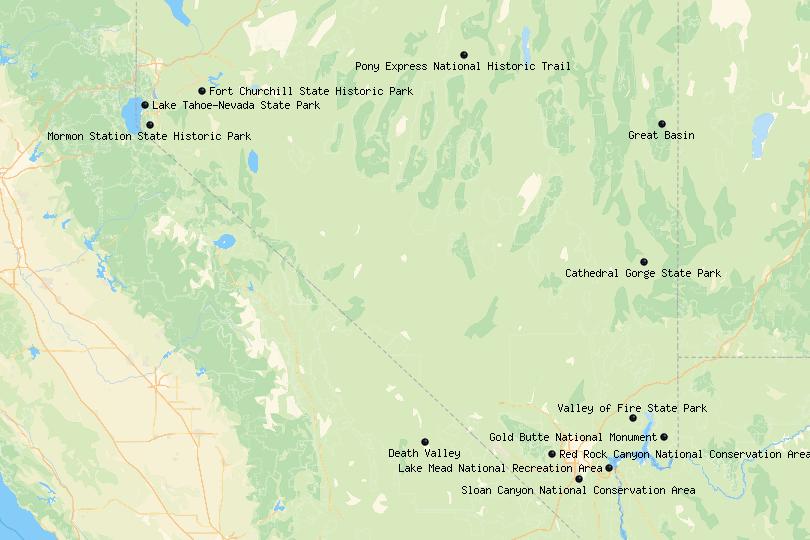 © OpenStreetMap © MapTiler © Touropia
12. Sloan Canyon National Conservation Area
Set just to the south of Las Vegas is the sublime Sloan Canyon National Conservation Area, which lies in the sprawling Mojave Desert. Besides boasting spectacular scenery, the park also protects and preserves an array of phenomenal petroglyphs and rock art panels.
Hidden away among its rugged terrain, which is volcanic in origin, are some of the most stunning and significant cultural resources in the state. Dotted here and there, you can find over 300 gorgeous rock art panels, including almost 1,700 designs depicting everything from animals and people to shapes and hunting scenes.
As such, wandering along the conservation area's trails really is a treat as you come across ancient art etched in the canyonside. In addition, the ridges and ravines of the meandering McCullough Range and the sensational Sloan Canyon are just as delightful to explore.
11. Mormon Station State Historic Park
Travel Nevada / Flickr
Located in the quiet and quaint town of Genoa, Mormon Station State Historic Park can be found in the far west of the state, not far from Lake Tahoe and California. It was here that Nevada's first permanent non-native settlement was founded all the way back in 1851.
While the original trading post sadly burnt down in 1910, the reconstructed replica now offers a fascinating look into the area's pioneering past. It was at Mormon Station that weary travelers and traders would stop off for supplies before struggling over the Sierra Nevada Mountains.
Now set amidst lovingly landscaped lawns, the historic park and its wonderful wooden cabins and stockade host a variety of excellent artifacts and exhibits on the pioneers who passed through Nevada.
10. Pony Express National Historic Trail
Stretching all the way from Missouri to California is the astounding Pony Express National Historic Trail, which has lots of interesting sites to check out. In Nevada alone, you can find everything from museums and monuments to stations, springs, and scenic trails strung out across the state.
It was along the Pony Express' remarkable route and relay system that young men on horseback used to deliver mail from 1860-61. Even more impressive is the fact that it only took ten days to traverse the 2,900 kilometers and eight states along which the mail passed from east to west.
Some of the national historic trail's standout sights in Nevada include the marvellous Mormon Station and relaxing Walley's Hot Springs in Genoa. In the east of the state, you'll find the enticing Egan Canyon and scenic Schell Creek Station, both of which are well worth checking out.
9. Fort Churchill State Historic Park
Centered around the arresting ruins of Fort Churchill, this lovely state historic park protects an important part of Nevada and the American West's fascinating past. Set just to the south of Silver Springs, it lies on the banks of the Carson River and has some great hiking and camping for visitors to enjoy.
Built in 1861 to protect both pioneers and the Pony Express, Fort Churchill was only used for a decade before it was abandoned and fell into disrepair. In that time, however, the troops based there played a key role in protecting travelers and traders on the way to California, fighting numerous battles with Native Americans.
Nowadays, visitors can learn all about its history while exploring its serene yet secluded setting. Besides camping overnight, there is some excellent bird watching and canoeing on offer, while a number of other state parks can be found nearby.
8. Lake Tahoe-Nevada State Park
Home to spectacular scenery, landscapes, and nature, Lake Tahoe-Nevada State Park is one of the most popular and picturesque state parks in Nevada. Set on the shores of North America's largest alpine lake, it has lots of beautiful beaches on offer, as well as countless outdoor activities.
In summer, the scenic Sandy Harbor is packed with people, who come to enjoy its white-sand beaches and crystal clear waters, lined by fantastic rock formations. Here, visitors can go kayaking, swimming and scuba diving, with a picnic area and campsite found nearby.
The craggy Cave Rock is another of the state park's highlights, while epic views over the lake can be had from the hiking trails and mountain bike paths that wind through the Carson Range.
7. Gold Butte National Monument
Set in the southeast corner of the state, Gold Butte National Monument lies not far from Las Vegas and the Lake Mead National Recreation Area. Besides encompassing a vast swathe of the Mojave Desert, it also boasts some interesting historical and cultural sites.
Tucked away among its remote and rugged landscapes are some sublime sandstone canyons, with ruddy red rock formations on show. Its terrific terrain lends itself perfectly to all kinds of outdoor activities, with hiking, horseback riding and camping particularly popular.
In addition to its outstanding beauty, the national monument has the ghost town of Gold Butte for visitors to check out, as well as some historic ranching and mining sites. Among its desolate confines are some arresting old rock art sites dotted about its sun-scorched scenery.
6. Cathedral Gorge State Park
Located within a long, narrow canyon in the southeast of Nevada, Cathedral Gorge State Park lies alongside U.S. Route 93, not far from Caliente and Panaca. While it is well out-of-the-way, the park is well worth visiting for its dramatic landscapes and astounding array of kaleidoscopic colors.
Formed over the course of millions of years, the captivating canyons of the park feature lots of colourful caves, columns and cathedral-like spires. Magical to explore, its myriad of amazing landscapes are a photographer's dream due to the sensational shapes, shades, and scenery on show.
Lots of excellent hiking can also be had, with sweeping views over the gorgeous gorge from atop of Miller Point Overlook. Due to its secluded setting, many people camp in the state park to make the most of their visit to Cathedral Gorge.
5. Death Valley National Park
Straddling the California-Nevada state line is the desolate Death Valley National Park, home to lots of barren but breathtaking badlands, mountains and canyons. While most of it lies in the Golden State, many people visit from Las Vegas, driving through scenic, sun-scorched terrain as they go.
Not only the largest national park outside of Alaska but the hottest, driest and lowest too, Death Valley is a land of extremes. Lying between the Great Basin and Mojave deserts, it boasts everything from lofty peaks and volcanic craters to idyllic oases, cavernous canyons, and spectacular singing sand dunes.
As such, exploring its parched and punishing confines is a treat, with incredible landscapes wherever you look. Besides hiking and camping within the park, Death Valley is a great place to go stargazing; it has some of the darkest night skies in the States.
4. Great Basin National Park
Only established in 1986, Great Basin National Park can be found in east-central Nevada, not far from the border with Utah. Named after the dry and mountainous region in which it lies, the park is usually accessed via the tiny town of Baker that is located right next to it.
Dominated and defined by the mighty mountain ranges that run through it, the park is presided over by the 3,982 meter high Wheeler Peak. While lots of fabulous forests and valleys dot Great Basin, other standout sights include the large and lovely Lexington Arch and the sparkling Stella Lake.
Below ground is just as stunning: there are the shimmering and shining stalactites and stalagmites of the Lehman Caves to explore. With lots of memorable hiking, rock climbing and camping to be enjoyed, the wonderful wilderness of Great Basin National Park is not to be missed.
3. Lake Mead National Recreation Area
One of the largest human-made lakes in the world, Lake Mead has long been a popular, picturesque place to visit. Set in the southeast of Nevada, it straddles the state line with Arizona and is surrounded by delightful desert terrain.
Formed in 1935 after the iconic Hoover Dam was built, it lies at the heart of a marvelous national recreation area, with the lovely Lake Mohave included within its confines. Due to its extensive stretch of scenic shoreline and its refreshing waters, many people head here to go fishing, swimming and boating.
While the brilliant blue waters of the two reservoirs are the main attraction, the surrounding valleys, canyons and mountains make for some great hiking and camping. The first national recreation area founded in the States, it lies just under an hour's drive from Las Vegas.
2. Red Rock Canyon National Conservation Area
As it lies just under 30 kilometers to the west of Las Vegas Strip and is very easy to get to, Red Rock Canyon National Conservation Area attracts millions of visitors every year. While its ruddy rock formations make for a spectacular sight, the park also has plenty of great hiking and rock climbing on offer.
Formed some 65 million years ago by tectonic forces, its captivating and colorful canyon rises steeply, with its radiant red walls standing out delightfully against the surroundings. One of the best ways to explore the canyon's dramatic landscapes is to drive along the 20-kilometre scenic loop that meanders past its most magnificent sights.
On the way, you can stop off to go hiking or rock climbing, with horseback riding and camping permitted in certain areas. In addition, there are some phenomenal views of the beautiful Red Rock Canyon National Conservation Area stretching away before you.
1. Valley of Fire State Park
Renowned around the world for the arresting and awe-inspiring rock formations after which it is named, Valley of Fire State Park is one of Nevada's top tourist attractions. Set just 80 kilometers to the northeast of Las Vegas, it lies not far from Lake Mead and the border with Arizona.
At its heart lies an astounding array of Aztec sandstone formations which so strikingly appear to be on fire when lit up by the sun's rays. While its rugged red rocks are undoubtedly the state park's standout sight, lots of prehistoric petroglyphs, petrified trees and prominent peaks can also be found dotted about.
Its almost otherworldy-looking landscapes make Nevada's oldest state park a delight to explore with hiking, camping and stargazing all being popular. A National Natural Landmark, Valley of Fire State Park certainly won't disappoint with its epic outdoor activities and stunning sandstone scenery.