There are many reasons to come to Berlin. History buffs can enjoy the gothic architecture, the many important locations from WWII, and the infamous wall. For art lovers, museums, cathedrals and opera are all fabulous choices. For those looking to branch out into day trips, lots of wonderful opportunities are available. Here is a look at some of the best day trips from Berlin that are easy to get to and are definitely worth the time:
stachelbeer / Flickr
Berlin favorite destination on hot summer weekends can be found on the lakeshores of Wannsee in the westernmost part of the city. This beach region is the location of many a wealthy Berlin resident's summer cabin or sailing yacht. Attractions include sailing clubs, the Leibermann Villa museum, the shore promenade, the home of many royal trysts, peacock island, and the infamous Villa Marlier, now also a museum, which was the home of many a notorious decision by the third Reich. Of course, most people come here for one main reason, to relax and sun themselves on beautiful white sand beaches along the sparkling waters of Lake Wannsee. On a warm sunny day, little more is needed.
6. Sachsenhausen Concentration Camp
[SEE MAP]
AiresAlmeida / Flickr
The "Saxon House" served as one of the primary concentration camps in the Third Reich. Because of its proximity to Berlin, it was the location where officers would be trained before being sent further afield. It was not only the location of Jewish and other inmates, but also the place where resistance fighters were executed. Several camp facilities have been reconstructed, and a trip here provides a very real idea of what the prisoners had to endure as living conditions during their internment. In 2012, the camp was opened as a museum and memorial with tours, and facilities were renovated, like the guard tower, to give an even more realistic idea of the camp conditions.
See
trip reviews & prices
.
M. Bertulat / Flickr
This region is a protected biosphere, similar to a national park in the United States, and has been this way since the 1990's. One defining feature of the area is a large patchwork of irrigation channels that have turned into a network of canals. Like Venice, much of the travel within this region is by boat. However, a large portion of this area is uninhabited, and serves as a protected home to many species of plants and animals. It is a beautiful, unique landscape about one hour south of Berlin and well worth a day trip or a weekend trip to relax from the buzzing city life. Besides its beautiful nature, the Spreewald is home to the Sorbs, a Slavic tribe who settle here centuries ago. Many old, traditional farmhouses along the waterways offer beautiful sights.
An hour and half's train ride from Berlin will visitors to the heart of dynamic Leipzig. This city of a million has been an important trade city since medieval times, and was a major hub of the Holy Roman Empire. It has continued to be an important center of world culture, home to Goethe, Johann Sebastian Bach, and Mendelsson. Major sights include St Thomas' Cathedral, where Bach once worked, the zoological and botanical gardens, the famous Battle of the Nations Memorial and the beautiful St Nicholas Church.
See also: Top Leipzig Attractions
3. Tropical Islands Resort
[SEE MAP]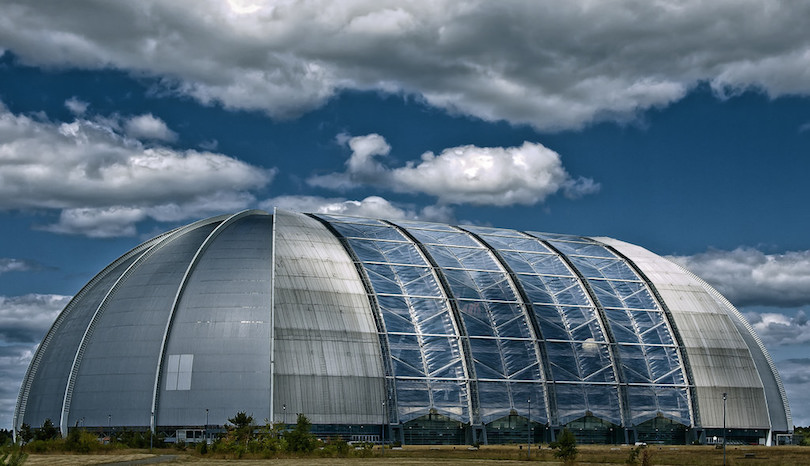 bagalute / Flickr
Europa's largest indoor pool was created inside the dome of an old airplane hangar. Named Aerium, the structure was originally built as a zeppelin hangar but the airship it was intended to house was never built. In 2003, it was sold to a Malaysian corporation who used this large structure to create a tropical rainforest beneath, complete with village, rainforest, lagoon and a tropical swimming pool. The resort is meant to appeal to adult and kids, with exhibits on natural rainforest life, kids games, and a sauna and spa for adults. It's easily accessible on the train from Alexanderplatz, a shuttle bus runs from the station.
Before it was severely damaged from World War II bombings, Dresden was known as the "Florence on the Elbe" because of its lavish collection of stunning art and architecture. After many years, the city has restored much of its former glory. A visit to Dresden offers several interesting landmarks such as the beautiful plaza of Bruehl's Terrace and the magnificent palace complex known as the Zwinger. The Old Town also contains a number of historic sites like the stunning Frauenkirche cathedral. The city is about a 2 hours drive away from Berlin.
See
trip reviews & prices
.
Mbzt / Wikipedia
Less than an hour by train, Potsdam is just outside the border of the capital and is probably the most popular day trip from Berlin. Until 1918, Potsdam was the royal residence of the Kaiser and the Prussian kings. A large network of interconnected lakes, landmarks and palaces are the main attraction in this city. Most notably is the Sanssouci Palace (french for "without a care" or "no worries"). This palace once served as the summer home of the King of Prussia, Frederick the Great. The original portion is a one-story rococo style palace with just ten rooms that is perched just above a vineyard to represent man's harmony with nature. The enlarging renovations, adjoining park, formal gardens and larger "New Palace" were added in the 19th century to bring it to its grand state today. All buildings and grounds are available by tour.
See
trip reviews & prices
.