Southwest Africa is home to Namibia, a former German colony that only gained independence in 1990. Namibia is known for its diamond industry and its San culture, and it is also home to an amazing number of natural attractions. Fish River Canyon Park is a scenic dream, and the majestic Epupa Falls are not to be missed.
If your idea of a dream vacation includes plenty of outdoor adventure and nature photography, then Namibia is the ideal spot to explore. As you put together your travel plans, have a look at this list of the best places to visit in Namibia.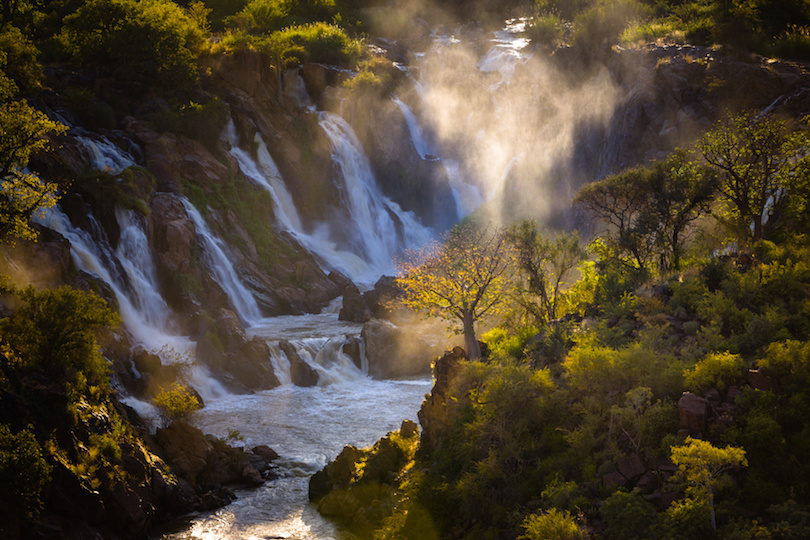 On the border between Namibia and Angola, in the region known as Kaokoland, you'll find Epupa Falls. These waterfalls are created by the Kunene River, and they are spread out over a mile. Surrounding the falls are colored rock formations, palm trees and fig trees.
Although Epupa Falls is remote and only accessible by 4×4 vehicles, it remains a popular attraction in Namibia. Most travelers who visit Epupa Falls opt to stay overnight in one of the surrounding lodges. If you want to add some adrenaline to your day, you can also try out some whitewater rafting along the river.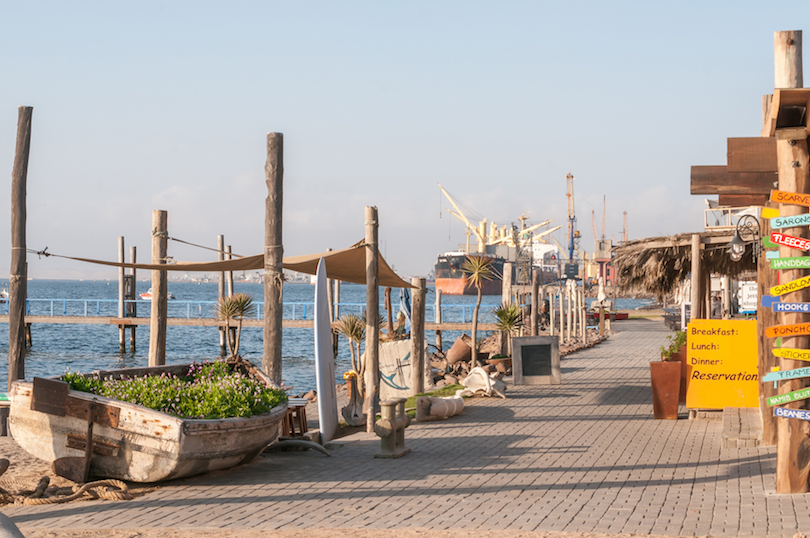 Walvis Bay is a major port on the Namibian Coast. It is also a hugely popular destination for travelers and locals in search of desert sports. At the lagoon, you can try kitesurfing thanks to strong winds on the water.
Head inland and you can try out dune boarding, a hotter take on snowboarding that makes the most of the sandy desert landscape. Back on the coast, you can go fishing or set off on a dolphin or seal-watching cruise. There are lots of opportunities for birdwatching, particularly at the wetlands where flamingos congregate.
8. Skeleton Coast National Park
[SEE MAP]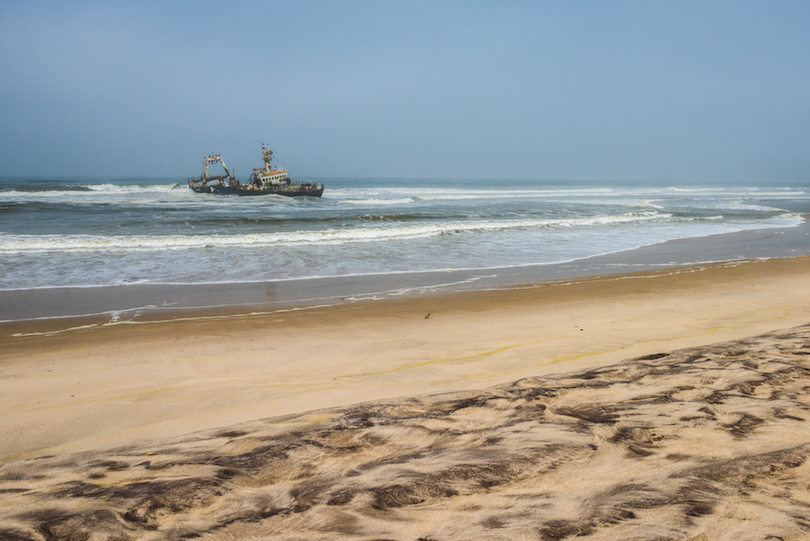 The Skeleton Coast got its name from how dangerous it was to sail a ship along the coast in centuries past. To this day, the desolate coastline is still known as the world's biggest ship graveyard. The Skeleton Coast National Park is mostly uninhabited, with a few sparse villages dotting the landscape.
Most visitors come specifically to see the Cape Cross Seal Reserve. The reserve is historically significant because it was the 15th century landing spot of the first European to visit the Namibian Coast. More importantly for most visitors, it is now a breeding colony for more than 200,000 cape fur seals.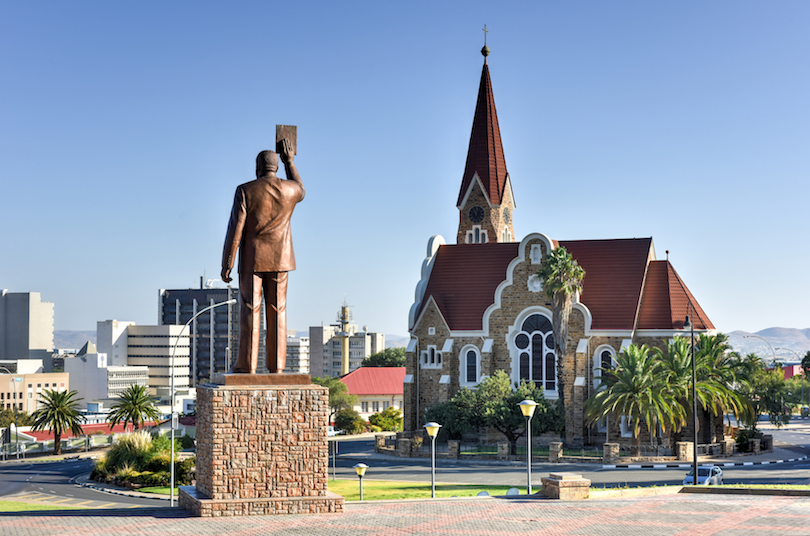 The most common place to visit in Namibia is the capital and largest city of Windhoek. If you're setting on a lengthy safari, there is a good chance that it will start in Windhoek. However, there are several reasons to stick around and enjoy some time in the city.
If you're interested in Namibian history, be sure to check out the Parliament of Namibia as well as the old Lutheran church called the Christuskirche. If you're hoping to pick up some souvenirs, Windhoek is a great place to go shopping. Along with some of the smaller local markets, there are bigger shops located in the Maerua Mall.
6. Waterberg Plateau Park
[SEE MAP]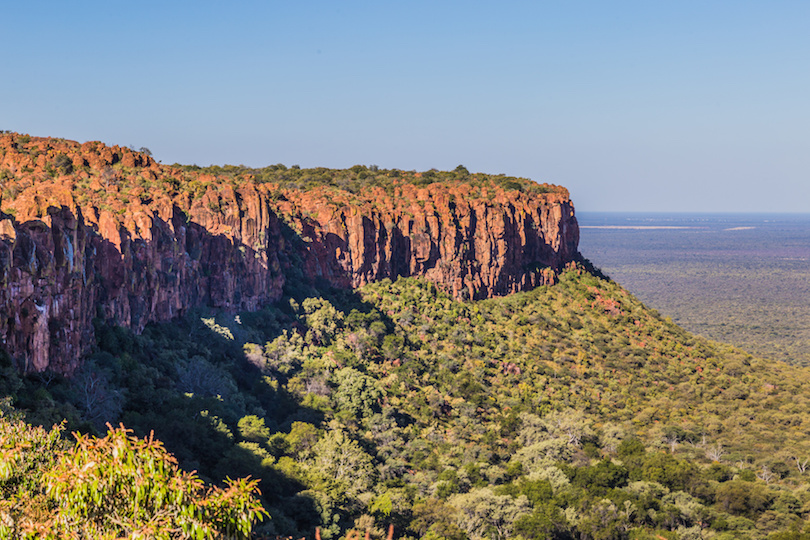 Located in Northern Namibia, the Waterberg Plateau Park is a large sandstone plateau of red rock that serves as a sanctuary for endangered animals. Most visitors come for a guided tour that allow you to spot buffalo, rhinoceroses and antelope.
The park is also home to more than 200 species of birds, and it is a breeding ground for Cape vultures. A few adventurous travelers each week can set off on extensive hikes through the Waterberg Plateau Park.
This is only allowed between April and November, and all hikers need to have the appropriate permits and guides. There lodges and campsites just outside of the park providing amenities and accommodation to travelers.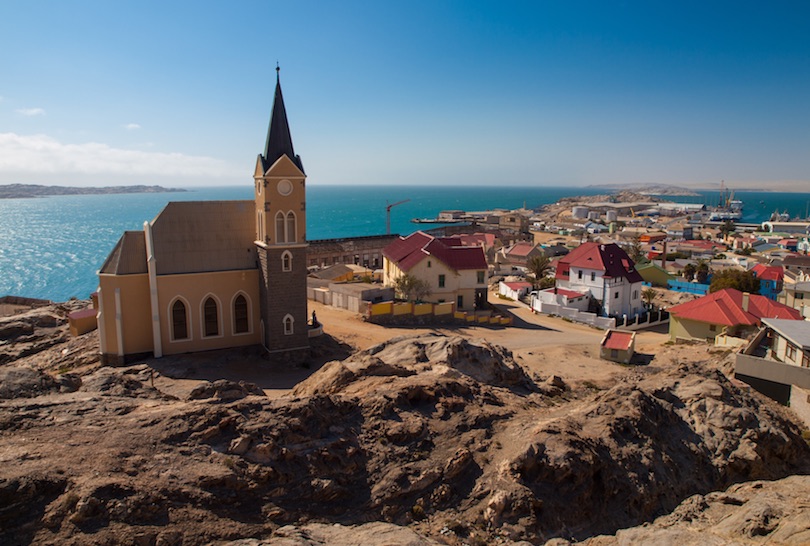 As a former German colony, Namibia has a lot of German influences on its culture, language and cuisine. One of the most obvious places to notice this influence is in the coastal town of Luderitz. With Art Nouveau architecture and countless German street names, it is easy to feel like you're in Bavaria rather than Namibia.
On a visit to Luderitz, you can spot the Deutsche Afrika bank building, old Lutheran churches and the popular Troost House. Don't miss a chance to see the nearby ghost town of Kolmanskop, which was once a hub for diamond mining. Sand dunes have now overtaken the town, making it both eerie and beautiful.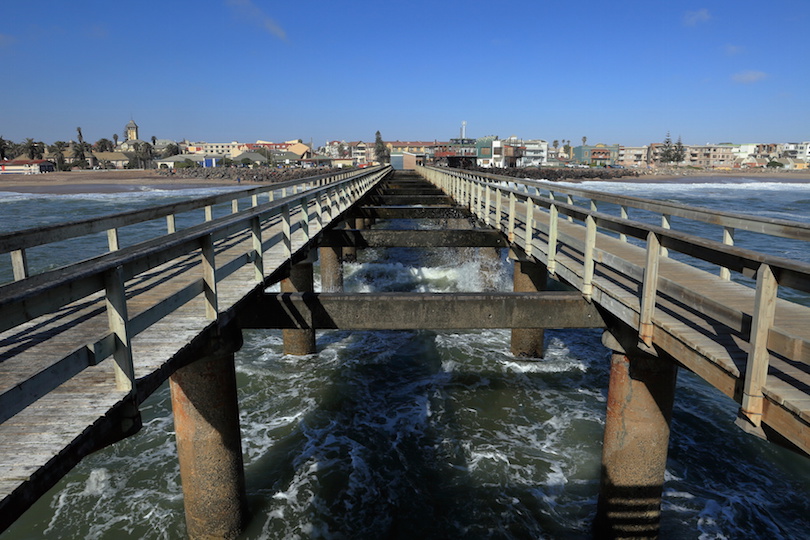 If you want to see where local Namibians go on vacation, check out the coastal destination of Swakopmund. Originally a German colonial city, Swakopmund boasts a lot of colorful and historic architecture.
It is known as the adventure capital of Namibia, and it is easy to see why. if you visit Swakopmund, you'll have the chance to go quad biking in the desert, set off on camel safaris, try sandboarding on nearby dunes or just relax on the beach. There are also dozens of great international restaurants and several fantastic bars serving up locally brewed beer.
3. Fish River Canyon Park
[SEE MAP]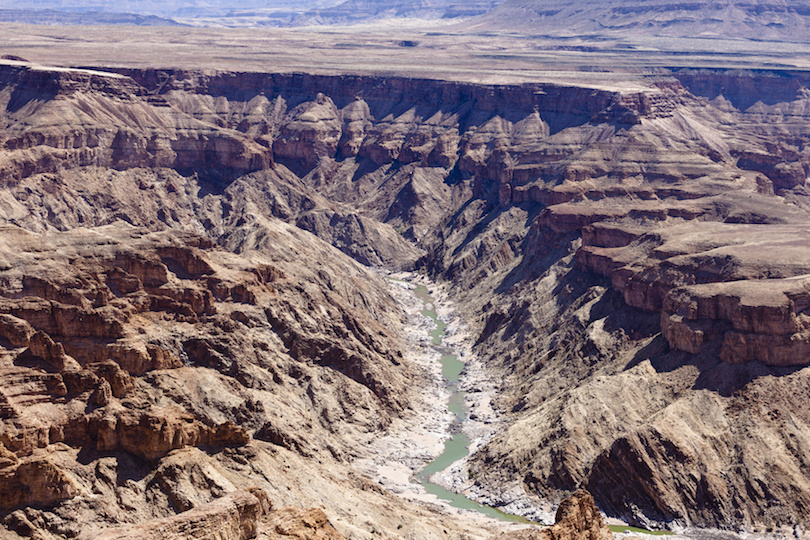 At Fish River Canyon Park, you'll be able to see one of the largest canyons in the world. Known in Afrikaans as the Visrivier Afgronde, the canyon is formed by the Fish River, one of the longest in Africa. There are several fantastic ways to view and experience Fish River Canyon Park in person.
If you're up for a hike, the Fish River Canyon Trail is very popular. Keep in mind that the full length of the trail is more than 80 km (50 miles). You can also take a scenic flight over the top of the canyon or even go for a swim right in the Fish River.
2. Namib-Naukluft National Park
[SEE MAP]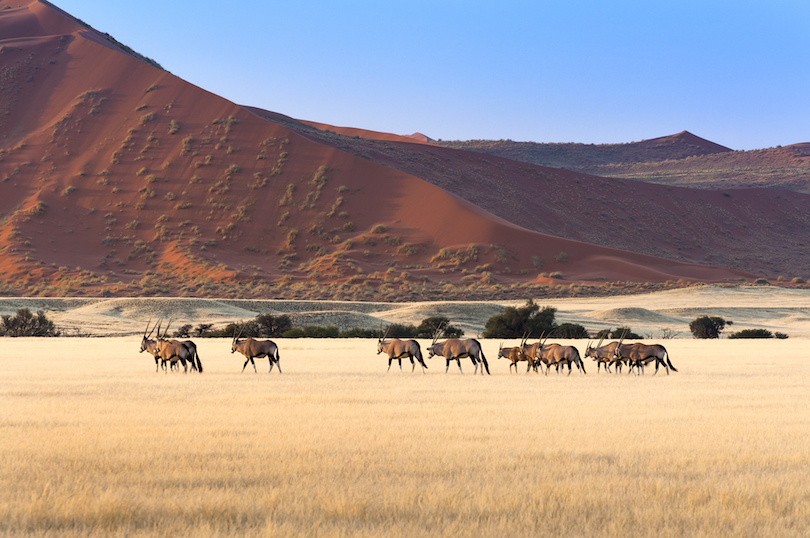 As the name suggests, the Namib-Naukluft National Park contains both the Namib Desert and the Naukluft Mountain Range. It's also the largest game park in Africa and a beautiful setting. Much of the park is made up of red sand dunes, a shifting landscape that you have to see to believe. You'll be able to see lunar-esque landscapes and spot some of the more remarkable high dunes in person.
The most famous area of the park is Sossusvlei, Namibia's most popular strip of sand, where gargantuan dunes tower more than 300 meters (1000 feet) above the ground. You should also check out the Kuiseb Canyon, through which the Kuiseb River runs when it is not just a sandy riverbed.
1. Etosha National Park
[SEE MAP]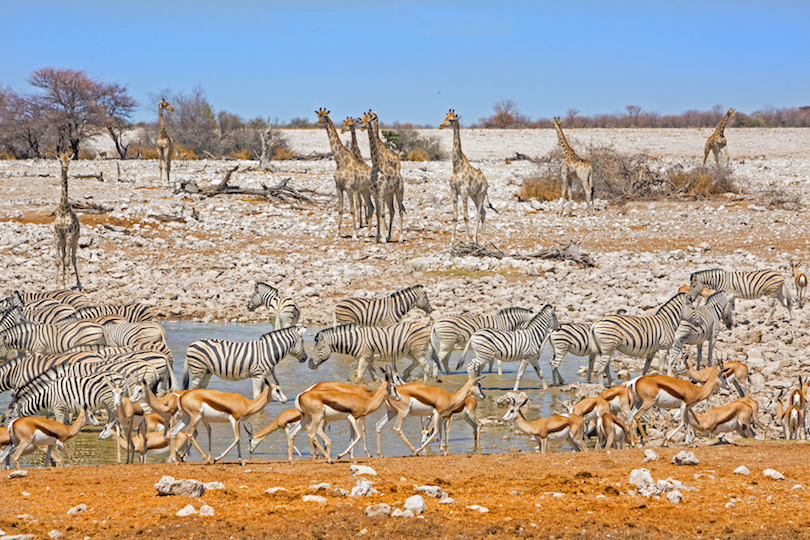 The second largest of Namibia's game reserves after Namib-Naukluft, Etosha National Park surrounds the vast Etosha salt pan. The pan itself is usually dry and only fills with water briefly in the summer, but is enough to stimulate the growth of a blue-green algae which lures thousands of flamingos.
Most of the wildlife, including herds of zebra, wildebeest and antelope, can be seen around the waterholes that border the pan. Etosha is served by five well established rest camps and offers a great self-drive safari experience.