Surrounded by Guatemala, El Salvador, Nicaragua, the Caribbean Sea and the Pacific Ocean is the country of Honduras. The mainland of Honduras has a lot to offer, and cities like Tegucigalpa and San Pedro Sula are cultural hotspots. The nation is also home to great beaches and breathtaking destinations like Cusuco National Park.
While you could fill weeks of vacation up by exploring Honduras, make time to explore the islands as well. Take a look at some of the best islands in Honduras that are an integral part of this beautiful Central American country.
5. Isla El Tigre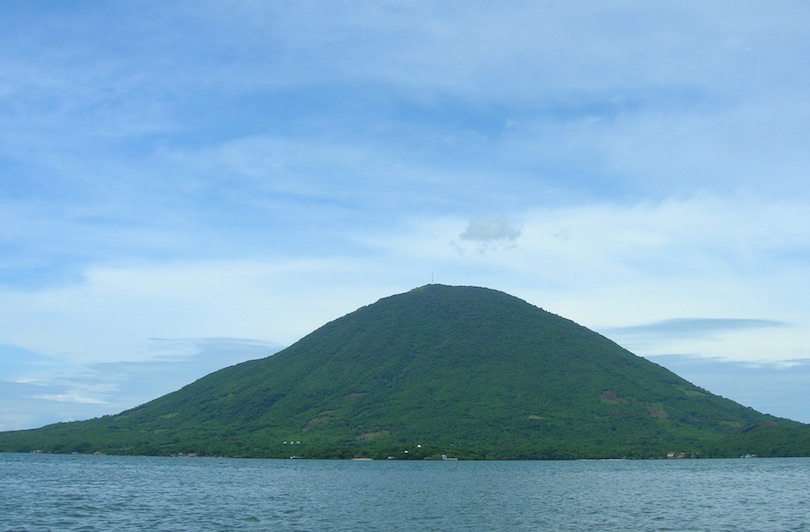 Micah MacAllen / Flickr
South of Honduras, in the waters of the Gulf of Fonseca, is the island known as Isla El Tigre. This volcanic island forms a conical peak that pokes out of the water in a dramatic fashion.
In addition to epic beaches, Isla El Tigre is home to a single town called Ampala. In Ampala, once a significant port, you can see historic wooden homes and the recently restored church of Parque Central.
If you're up for a serious hike, start at Playa Grande and head up, following the paths that lead to the summit of the volcano. Most travelers opt for a guided tour for this hike, since the path can get overgrown quickly.
4. Cayos Cochinos
Cayos Cochinos, or the Cochino Cayes, is made up of two islands and an additional 13 cayes located north of Honduras. Also known as Hog Islands, these remote destinations are often accessed by a motorized canoe.
Don't come here if you're looking for spa treatments or shopping malls, because the biggest attraction here is nature itself. As part of a larger marine preserve, Cayos Cochinos are primarily visited by those interested in outdoor adventure, sightseeing and natural beauty.
The coral reefs are spectacular thanks to a ban on anchoring and commercial fishing, so diving and snorkeling are popular pastimes. These islands in Honduras are also one of the few places in the world where you can spot pink boa constructors in the wild.
3. Guanaja
One of the Bay Islands located north of Honduras is Guanaja. Many people are surprised to find that the island is largely covered in pine forests, and very little of the land is developed. In fact, roughly 90 percent of Guanaja is protected in some capacity, either as a national forest reserve or a marine park.
If you're planning a visit, this is great news, because you'll be able to see the beautiful terrain without distraction. There are no big cities on the island, and the largest settlement is simply known as Guanaja Town, or Bonacca. Most visitors come for the spectacular diving, which is created thanks to developed coral reefs and shipwrecks that create even more underwater interest.
2. Utila
The very smallest of the Bay Islands is Útila. In years past, Útila earned a reputation for being the ultimate spot to learn how to scuba dive cheaply. While the island is no longer a well-kept secret, it is still a world-class diving destination.
There are many diving schools on Útila, and the biggest underwater attractions include incredible biodiversity in the coral reefs and the abundance of young whale sharks just off the coast. In Útila Town, you can visit a handful of shops and restaurants, and you can also walk to the two major beaches on the island.
1. Roatan
Roatan is the biggest of the Bay Islands, and it also happens to be the most developed. It is a popular stop for cruise ships, and it is located next to the second largest coral reef on the planet.
From virtually any place along the coast, you can pop on a mask and admire an incredible underwater ecosystem. If it is gorgeous, white-sand beaches that you're after, head to West Bay and Tabyana Beach, known for its breathtaking sunsets.
Roatan is also a wonderful place to get to know the local Garifuna culture, and guided tours can allow you to visit Garifuna villages and speak with local residents. Diving, snorkeling, hiking and kayaking are all popular pastimes on Roatan.
Map of Islands in Honduras
© OpenStreetMap © MapTiler © Touropia