Bucharest is the capital and largest city in Romania. It is also a destination that has not yet made it on most travelers' radars, which is both a shame and a blessing. It's a shame because Bucharest, which was once known as the "Little Paris of the East," is home to some gorgeous architecture, many interesting sights, charming hotels and a city where travelers will definitely get more bang for their bucks or euros.
It's a blessing because travelers who do visit Romania don't have to deal with crowds and rising prices that have affected many other formerly off-the-radar destinations, such as Croatia. The following are just a few of the can't-miss attractions in Bucharest.
10. Grigore Antipa Natural History Museum
[SEE MAP]
Established in 1834, the Grigore Antipa Natural History Museum offers travelers with a thirst for knowledge and those with children an interesting way to spend a couple of hours while in Bucharest. This museum, which was named after Romanian's best known biologist, boasts more than 2,000 exhibits, including ones that showcase dinosaur fossils, minerals as well as the plants and animals that are native to Romania. It is also home to the largest butterfly collection in Europe. The museum also has a number of hands-on and interactive displays, and it was recently renovated to make it more accessible for visitors who have visual, hearing or physical impairments.
9. Victoriei Street
[SEE MAP]
This is Bucharest's best-known thoroughfare. So it's not surprising that many of the city's attractions are located here, including the Cantacuzino Palace, which houses the George Enescu Museum, the National Museum of Art of Romania, Odeon Theatre, Revolution Square and the Kretzulescu Church. There are also many hotels, restaurants and shopping options on this avenue. Victoriei Street runs between Piata Victoriei in the north and Piata Natiunilor Unite and the Dambovita River. This street was originally called Podul Mogosoaiei, but its name was changed to Calea Victoriei (Victory Avenue) on October 12, 1878 after Romania won its independence from the Ottoman Empire.
8. Cismigiu Gardens
[SEE MAP]
These gardens provide a peaceful escape from the hustle and bustle of the city. First laid out in 1845, these are the oldest public gardens in Bucharest. Cismigiu Gardens boasts a lake, where you can go rowing in the summer and skating in the winter, a children's playground, the ruins of an old fortress and more than 30,000 trees and plants. One of its best features is a Roman Garden that includes busts of many famous Romanian writers. This is a wonderful place to enjoy a picnic. But there are also cafes, bars and refreshment kiosks in the park for those not into picnicking.
Built in 1806, Manuc's Inn was the oldest operating hotel in Bucharest before it was recently shut down for restoration. However, the hotel's restaurant — which was also renovated — is open for business. Over the years, Manuc's Inn has been the site of a number of important events. For example, the peace treaty that ended the Russo-Turkish war in 1812 was held in this building. Manuc's Inn is an impressive, three-level structure and a beautiful cultural landmark. Before it was shut down for is restoration, this historic inn was often used as a background for Romanian television folklore shows. After its restoration, it is hoped that Manuc's Inn will be returned to its full beauty and glory.
The Spring Palace is the former residence of the deposed Romanian president Nicolae Ceausescu and his wife Elena, who were ousted from power during the Romanian Revolution. They were then executed on Christmas Day 1989. The mansion had been closed for many years after the executions, but it was opened to the public in 2016 as a museum. Visitors can now check out the 80-room mansion, its swimming pool and the luxurious lifestyle that this Communist leader and his wife enjoyed. The tour through the Spring Palace also gives visitors a peak at Romania's history during the Communist regime.
5. Romanian Athenaeum
[SEE MAP]
Opened in 1888, this stunning, neoclassical domed building is one of Romania's best-known landmark and home to the George Enescu Philharmonic Orchestra. It is also one of the sites used during the biennial George Enescu Music Festival, which is the largest international cultural event held in Romania. The Romanian Athenaeum seats approximately 800 guests, and the interior circular wall is decorated with a fresco that depicts important moments in the history of Romania. If possible, travelers should try to obtain tickets for a performance here, but if that's not possible, they should still make an effort to visit the building and its lovely gardens.
Located on the shores of Lake Herastrau, this open-air museum is home to several hundred historic houses, farms and other structures that have been moved from their orginal locations around Romania and rebuilt on this site. The Dimitrie Gusti National Village Museum was opened in 1936, and most of its structures date back to the mid 19th century. There are a few, however, that are even older. For example, some structures from Berbesti, a region located in the heart of Romania, date back to 1775. The Village Museum is a must-see for anyone who will not have a chance to venture out of Bucharest to see the Romanian countryside.
3. Stavropoleos Church
[SEE MAP]
Located in the Old City, Stavropoleos Church is a small, pretty church that was built in 1724. It is known for its unique Brancovan architectural style and also for its beautiful, carved doors. Stavropoleous Church also contains some interesting artifacts, including Lord Nicolae Mavrocordat's throne. The church was originally part of an inn and also had a monastery, but both were demolished by the late 19th century. Stavropoleos Church is also one of the few churches located in the Old Town that survived the Great Fire of Bucharest, which occurred in 1847, which decimated a large portion of the city.
This park, which is the largest in Bucharest, is located around Herastrau Lake and is also home to the Village Museum. First opened in 1936, Herastrau Park offers visitors a lovely escape from the city. Among its many features are walking trails, a Japanese garden and an open-air theater that hosts performances. Visitors can also enjoy boat rides on the lake or rent bikes to cycle around the park. There are also numerous restaurants located around Herastrau Park. Although this park is very popular with local residents, it is large enough that it never really feels crowded.
1. Palace of Parliament
[SEE MAP]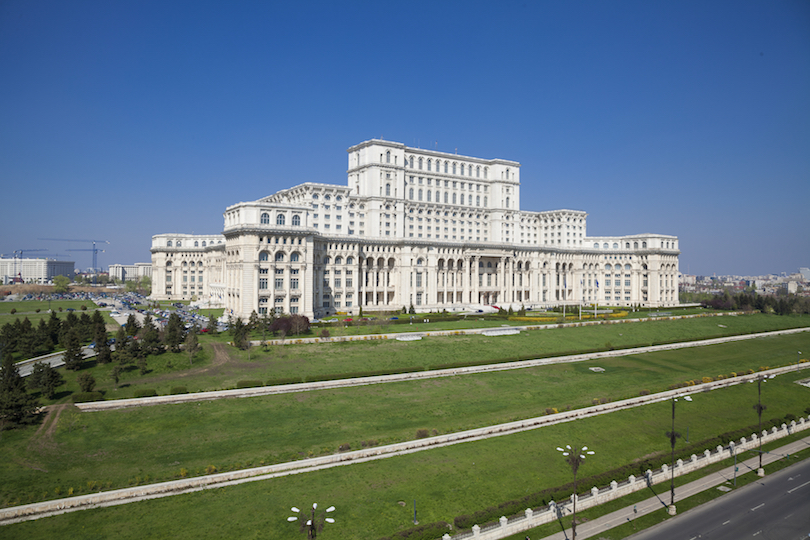 After the Pentagon, the Palace of Parliament is the world's second-largest administrative building. Construction on this massive and lavish building, which was the brainchild of Nicolae Ceausescu, began in 1984. However, it has still not been completed to this day. The neoclassical building, which has more than 3,000 rooms, is — in a lot of ways — a reminder to the Romanian people of the excesses of the communist period, especially since it was built during a time when most of its citizens were desperately poor. This is one of the most popular tourist attractions in Bucharest, so it's recommended that visitors purchase their tickets in advance.