This little city in Louisiana offers visitors the perfect balance between extreme outdoor adventures, easy escapes into nature and high-quality city entertainment. The city was named after Charles Sallier, who was one of the first people to build a home and settle in the area.
The city is well known for its gaming options but there are plenty of other things to do in Lake Charles. The Acadianan city is near lots of freshwater lakes and rivers that feed into the Atlantic Ocean along the Gulf Coast. The most popular lake is Lake Charles, which has its own sandy beach!
The area's history is riddled in pirating and was visited by prominent pirates like Jean Lafitte. Keep a look out for hidden treasures, you never know what you might find!
In this post, we'll cover:
12. Imperial Calcasieu Museum
Forest Runner / Flickr
This little museum in the city is a great place to pass some time admiring beautiful artwork. They also run educational events that you can ask about and join in on during your visit.
The Imperial Calcasieu Museum has lots of permanent and temporary exhibitions of artists from near and far. Each piece is unique, and every exhibition showcases a range of different artistic styles and a diversity of visual arts.
The museum is on West Sallier Street, just a short walk from Lake Charles. You can combine your visit with a scenic walk along the lakeside. The museum is open just three days a week, so make sure you check their opening times.
11. Historic City Hall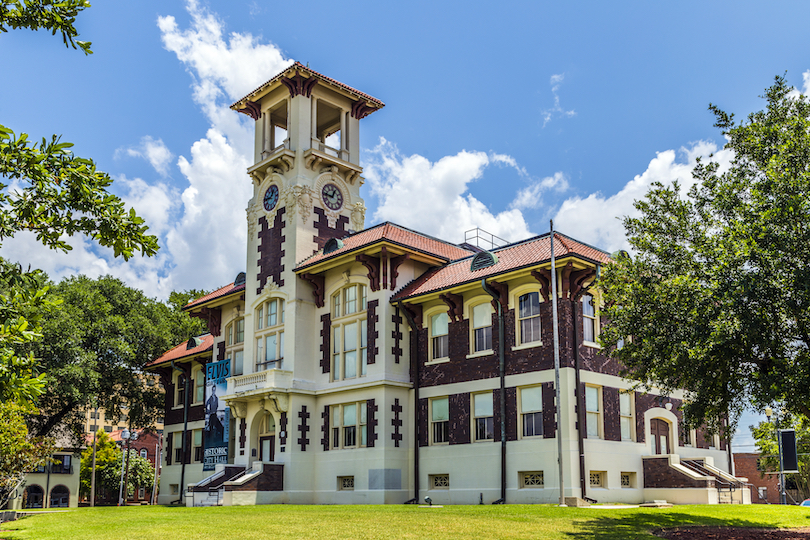 This old building was built in 1911 and replaced the previous city hall that was tragically destroyed by a fire in 1910. The building was constructed in a Spanish Baroque style and has a fascinating and well conserved exterior with a pretty clock tower in the middle.
It was the town hall for many years but reopened as an art gallery and cultural center in 2004. There are three floors worth of art exhibitions that you can explore in the Historic City Hall. There is photography, ceramic art, paintings, and many more visual arts pieces on display.
The art center has had some unique traveling exhibitions, such as an exhibition of artifacts rescued from the Titanic! Once you've seen the gallery, head out to the cute courtyard and soak up the property's exterior.
10. Lake Charles Festivals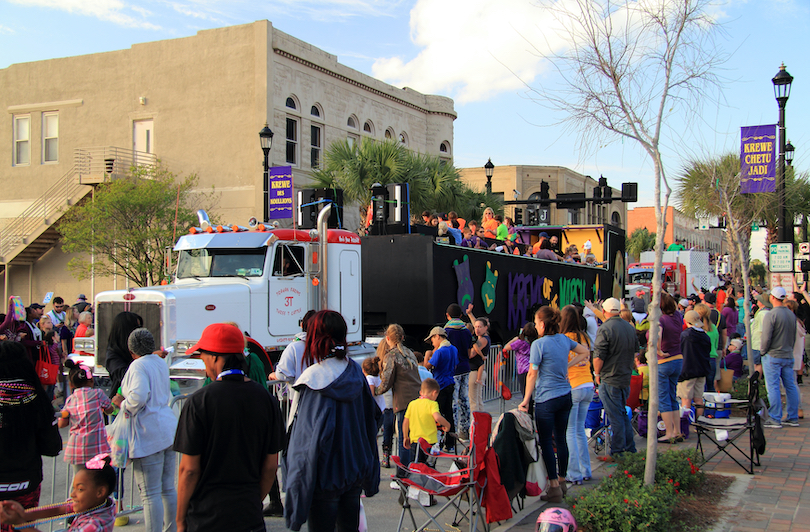 Lake Charles hosts a huge variety of local festivals that celebrate the culture and history of Louisiana and the local area. In fact, there's so many that Lake Charles has been proclaimed Louisiana's Festival Capital.
With more than 75 events to choose from each year, you'd struggle to miss out! The city has it all, from the splendor of Mardi Gras, rodeo shows and fur and wildlife festivals to car rallies and crazy sports competitions. There's a festival for every interest in Lake Charles.
One of the most popular is the town's pirate Festival. Come along and jump on board a pirate boat and sail around Lake Charles or join the crowds back on land and enjoy the live music, fair rides and much more!
9. Millennium Park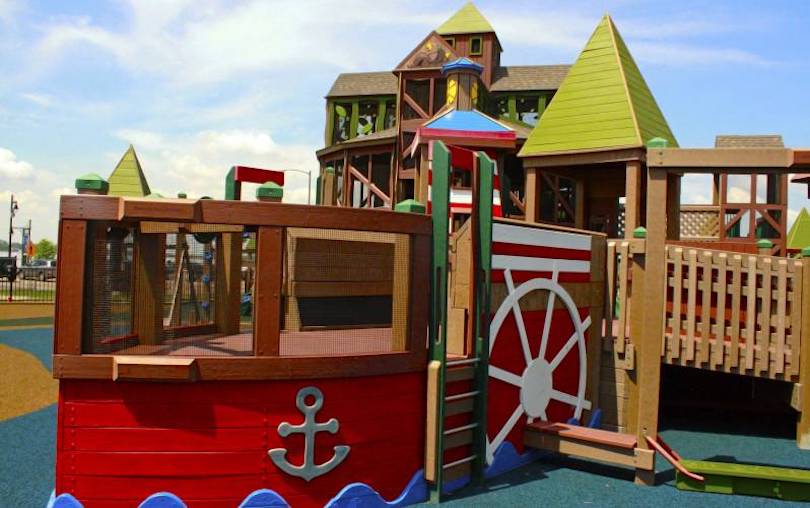 Visit Lake Charles
This park is very close to Lake Charles, a great spot to visit before or after a walk along the lakeside with the family. Millennium Park is the ideal place to go on a warm, sunny day.
The kids can muck about in the playground whilst you sit and relax on a nearby bench, you might like to bring a book along with you! The playground is pirate themed and has lots of fun spots to play on, like the monkey bars and pirate tree houses.
They can try out the climbing wall and fool around on the swings. A few hours will pass quickly in this fun little park, and if you bring some snacks, you might be able to stretch it out for longer! This park is fun for kids of all ages.
8. Lake Charles Visitor Center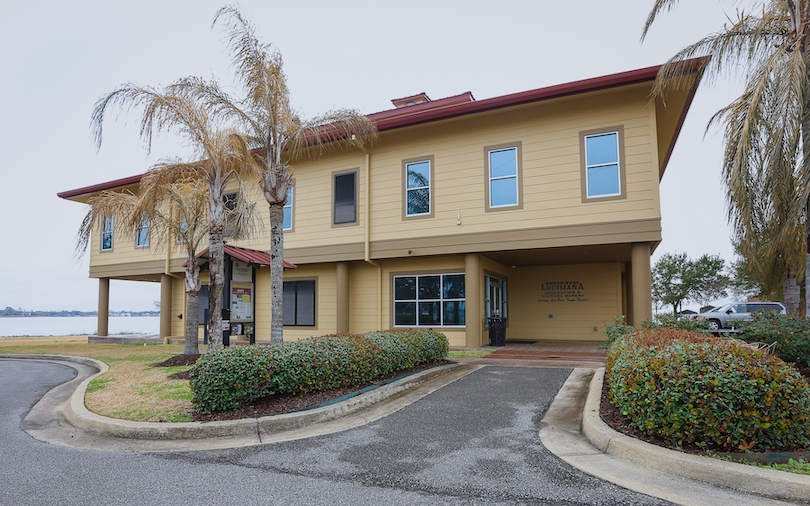 If you want some guidance about what to do during your time in Lake Charles before starting your holiday adventures, this is the place to go! The friendly locals that work here can help you with any questions and have lots of helpful maps and brochures you can take away with you.
The Visitor Center is by the lakeside and has fantastic views of Lake Charles. In accordance with the city's fame, the center is alligator and pirate-themed. There's lots of alligator skulls and sculptures around the center.
There's a small picnic area, toilets, and a little gift shop if you need somewhere to stop on a long drive or walk. Come in and find out how to make the most of your holiday in Lake Charles!
7. Prien Lake Park
Jared Young / Flickr
The park stretches along the edge of Lake Prien, another popular city lake that is further down towards the Gulf than Lake Charles. This lakeside park is best at sunset, when you can watch the sunset over the lake and admire the breath-taking colors that reflect off the clouds and glistening water.
There are lots of picnic areas, a great place to stop for an outdoor lunch among the trees. The park is ideal for a short stroll. Conveniently, there is a small playground the kids can muck about in when they get bored of walking.
There are three pretty pavilions scattered around the park and an amphitheater. Prien Lake Park is the perfect place to go if you're looking for an easy day in the great outdoors!
6. Sam Houston Jones State Park
This public park was named after the 46th governor of Louisiana. The land has been kept relatively wild and is still full of lots of native wildlife. It'd be hard to miss the abundant fauna, especially birds, during your visit.
The park is mostly forest and has longleaf pines in its midst. This pine species used to be widespread in the US but it's now rare to come across, another reason to explore the park! The landscape is a hotspot for birds. Amazingly, there can be up to 200 species within the park at once.
It is a great spot for boating, biking, canoeing, fishing, and hiking! With so many activities on offer in one place, you'll struggle to get bored. There are a variety of accommodation options on offer, suited to any budget.
5. Crying Eagle Brewing Company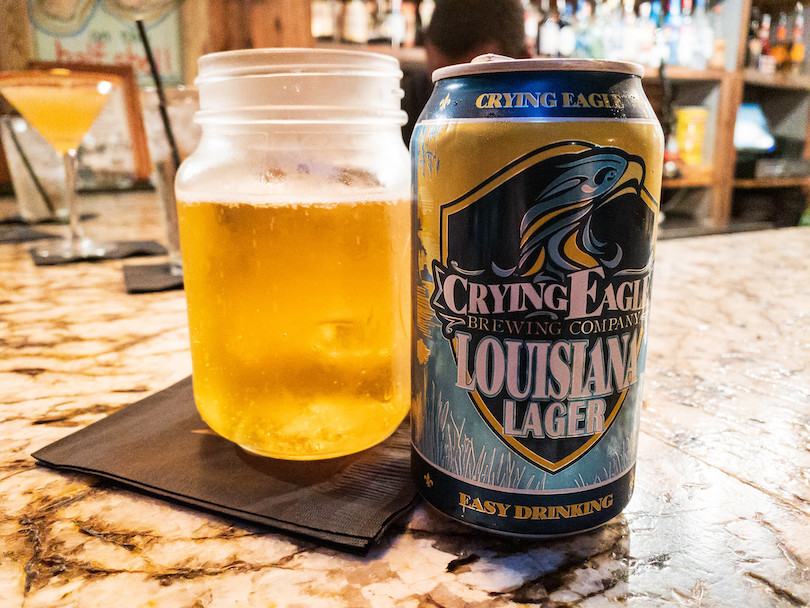 Jonathan Cutrer / Flickr
The company was named the crying eagle in honor of a legendary Indian chief, Calcasieu, who had a very particular battle cry and whose name translates to 'eagle'. Calcasieu is also the name of a nearby river.
The brewing company has lots of different craft beers on sale, there's a favorite for all tastes. The locally crafted beers have a unique flavor and special connection to Louisiana. The locals that run the place are enthusiastic and friendly brewers, if you have any questions about how they make their beer you can pop in for a chat!
Get cozy in the brewery's modern taproom and laidback beer garden, the best places to meet locals and other travelers and socialize over a tasty and refreshing beer.
4. L'Auberge Casino Resort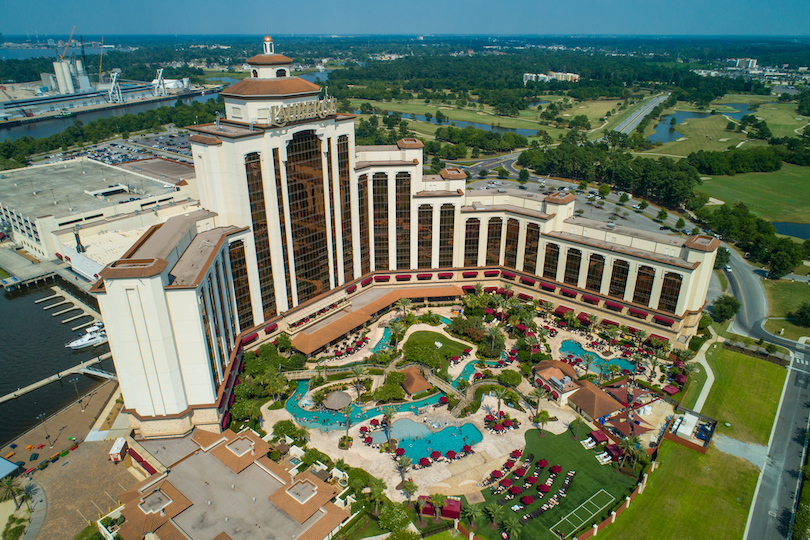 This tall, modern glass building is one of the biggest in Lake Charles and definitely stands out among the modest-sized buildings and homes in Lake Charles. The destination doubles up as a hotel and casino, a place of fun, relaxation, and rest!
Why not pop in and try your hand at poker or blackjack during your visit? Who knows, you might just get lucky! You can spend anywhere from a dollar to a fortune at a card table or casino slot machine, fingers crossed you win it all back!
The hotel is designed to help you relax and disconnect whilst you're away. They have a golf course, boutique shops and a spa at L'Auberge. The resort is a great holiday destination for groups of friends and couples.
3. Creole Nature Trail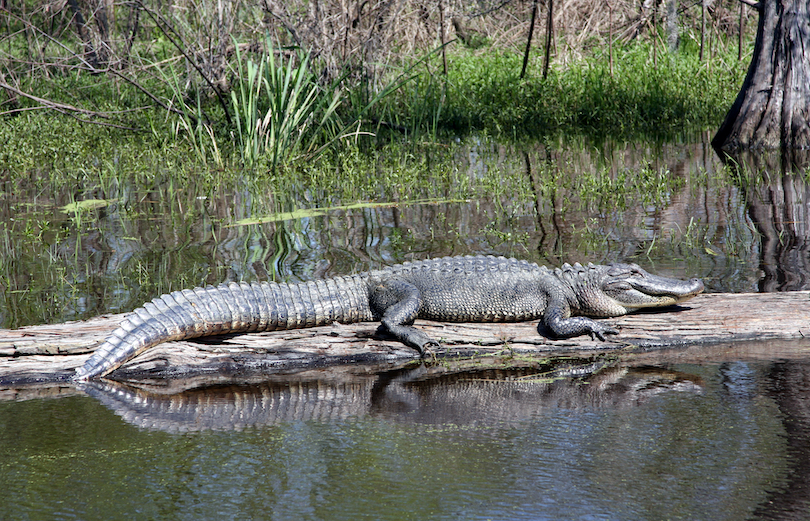 The Creole Nature Trail takes you deep into the wilderness. This 180-mile long trail is visited throughout the year by tourists and locals alike, because of the spectacular landscapes it passes through and the unique native fauna you can see along the way.
The trail is a great place for bird watching, over 400 species have been spotted on the trail. After, you can stop off at one of the sandy gulf beaches or walk the 1.5-mile Wetland Walkway that takes you deep into the marshland, home to alligators, birds, and other native creatures.
The best way to do the trail is by car, although you can do bits by boat or biking. If you're up for it, you could even do a stretch on foot!
2. Charpentier Historic District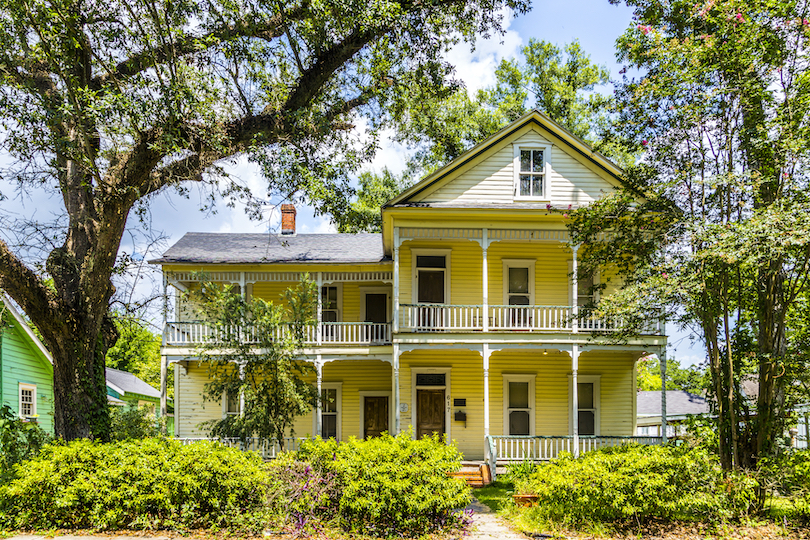 This area of downtown Lake Charles is full of homes built between the late 1800s to the beginning of the 1900s in a range of architectural styles. On your visit, you'll get to explore Lake Charles' history through its homes and most iconic buildings.
Most of the landmarks have a Victorian design and were built with wood. The district was named "Charpentier" after the French word for carpenter, to honor the brilliant carpenters that designed and built some of the finest homes in Lake Charles.
You can walk or drive around the neighborhood. Make sure to visit the Charpentier during your stay, it's an easy and peaceful way to soak up the history and architectural riches of Lake Charles.
1. Golden Nugget Casino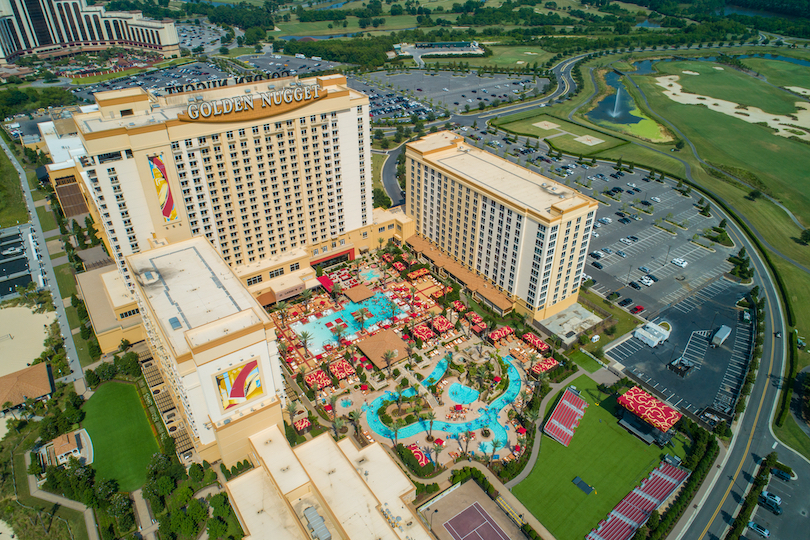 This grand building is another of Lake Charles' hotel casinos. The property is huge and has lots of facilities and entertainment options. A great destination for groups of friends or couples looking to have some fun!
The pressure is high in the hotel's casino, after all you could be just a dice roll away from your fortune! Why not try your luck at Lake Charles? After a game of poker or a go on a slot machine, you can head to your luxurious room to get some rest.
Wake up and head outside for a relaxing day by the intricate swimming pools or on the hotel's private lakeside beach. The hotel has a bustling nightlife, a golf course, spa, restaurants, and shops! With so much on offer, you'll find it hard to leave the hotel!
Map of Things to Do in Lake Charles