The second-largest state in the country, Styria is blessed with an astounding array of different landscapes, each more beautiful than the last. Tucked away among its many valleys, mountains, and lakes are some incredible old castles and medieval towns for you to explore.
While its stunning scenery is certainly staggeringly beautiful, Styria's cities and towns boast a plethora of incredible historic and cultural sights, with lots of impressive architecture also on offer. With unique sights such as the Skywalk Dachstein and the open pit mine of Erzberg scattered around the state, Styria certainly has lots of different sides to it. While traveling around, you'll certainly learn a lot about the region's rich traditions, history, and culture.
10. Schloss Eggenberg
[SEE MAP]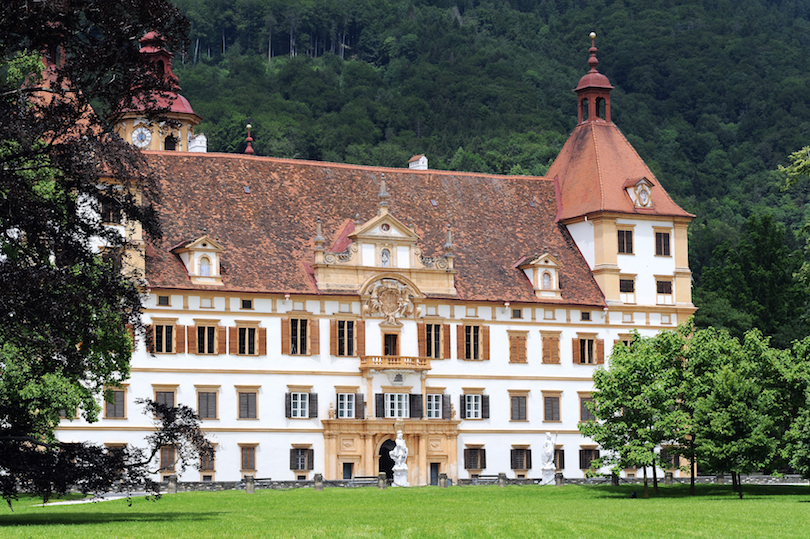 © Pavle Marjanovic / Dreamstime
Located on the outskirts of Graz, the elegant and refined Schloss Eggenberg was built all the way back in 1460, with its beautiful Baroque features that we see today only added in 1625. The palace and its gorgeous gardens are lovely to wander around, and its elaborate and finely decorated staterooms are decked with gorgeous frescoes and ornamentation. Alte Galerie has loads of brilliant paintings and sculptures on show.
The sheer opulence displayed is astonishing, and it's considered to be one of the most important impressive cultural treasures in the whole of Austria. While its stunning interior is undoubtedly the highlight, it's well worth taking a peaceful stroll around the landscaped gardens to see the peacocks that roam freely among its fountains, flowers, and trees.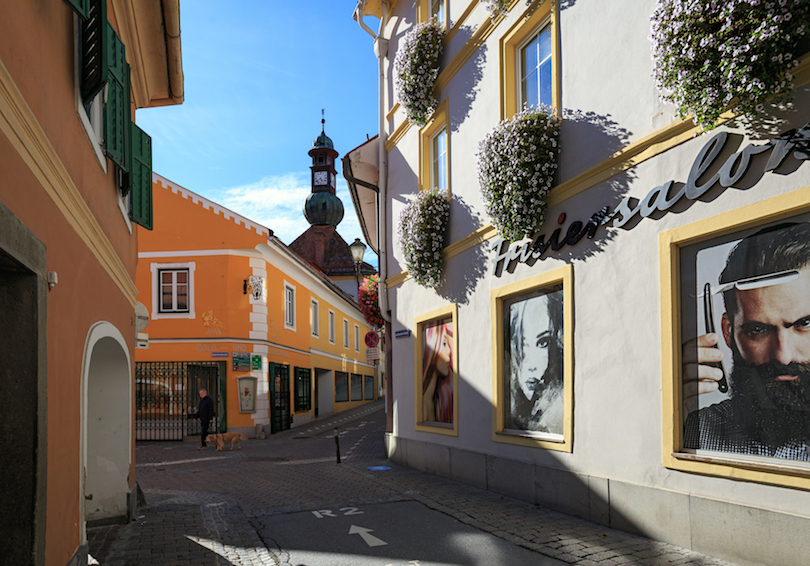 © Balakate / Dreamstime
Lying on the banks of the Mur River, the small town of Mur is set in an idyllic valley between the Gurktal Alps and the Lower Tauern mountain range, with lots of forests and fields all around it. As such, it's a great place to go hiking or cycling. In the summer months, the nearby Stolzalpe and Metnitzer mountains are particularly delightful to explore; glorious alpine meadows, sparkling streams, and crystal-clear lakes can be found hidden away amongst their peaks.
The town itself is a tranquil and peaceful place to spend some time, with some excellent restaurants and bars to sample some delicious local fare at. Every August, Murau bursts into life when its annual Samson parade takes place.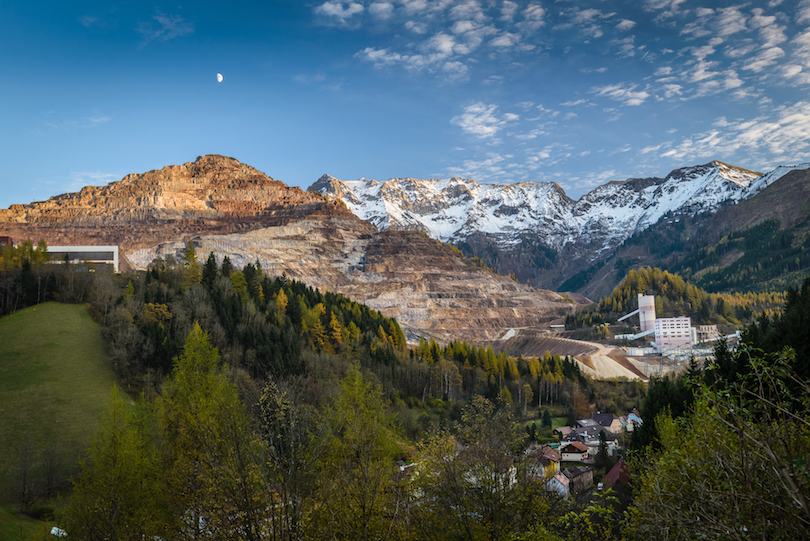 © Ewa Mazur / Dreamstime
The largest open pit mine in Central Europe, Erzberg is captivating to see; from afar, you can see a snaking mass of roads that have been cut into and cover almost every inch of the mountainside. It appears as if humans have hewn away and hauled off almost a mountaintop of rock. When seen among the pristine mountains that surround the site, the scar on the scenery stands out even more.
Taking a tour of the mine is a fantastic way to see how Erzberg works in practice. Venturing deep into the old iron mine buried in the side of the mountain is an amazing experience; you'll pass old shafts, tunnels, and wagons and feel the cool breeze that used to give the miners some respite from the hot and exhausting work.
7. Skywalk Dachstein
[SEE MAP]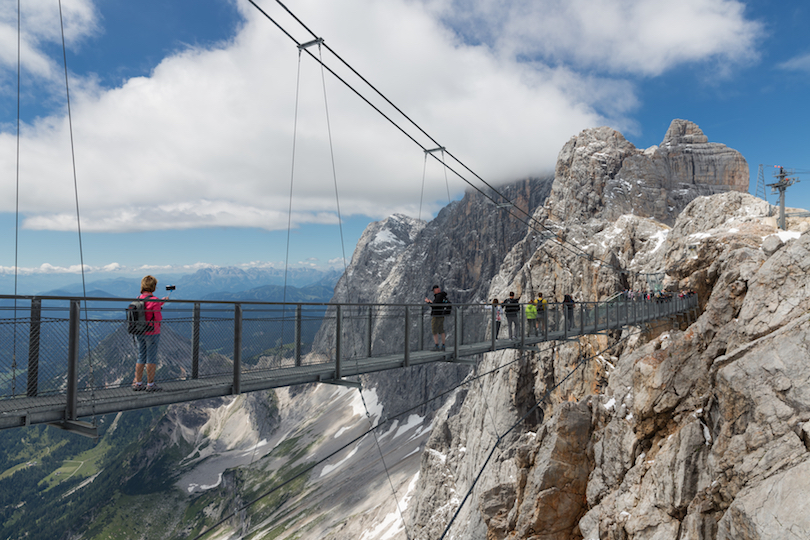 © T.w. Van Urk / Dreamstime
If you're looking for an exhilarating, adrenaline-filled activity for when you're in Austria, then look no further than Skywalk Dachstein. Protruding out over a death-defying drop to the mountainside below, Dachstein's 'stairway to nothingness' has some of the most beautiful views imaginable. In no time at all, you'll have forgotten about all the space that separates you from the safe ground.
Walking along the suspension bridge that lies between two mountain peaks is another heart-stopping experience, but the consolation is again the majestic mountains and views surrounding you. Towering to a height of 2,995 meters, Dachstein is the tallest peak in the state, and its beautiful glacier offers up fantastic year-round skiing and hiking opportunities.
To reach the top, visitors need to take a scenic cable car ride, which is just as memorable as venturing out along the skywalk.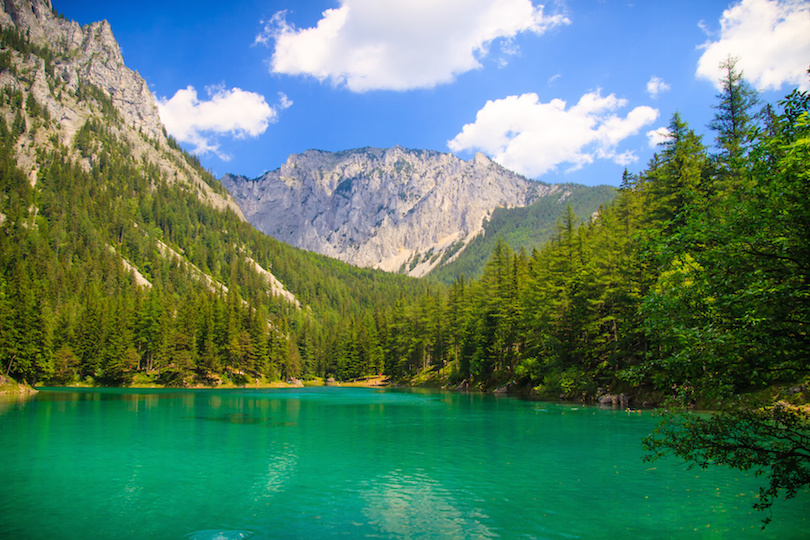 Surrounded by the forest-coated slopes of the Hochschwab Mountains, the glittering, emerald-green waters of the Gruner See certainly paint a pretty picture, as the majestic peaks are reflected in the lake. Named after the distinctive color of its waters, the Gruner See fluctuates in size and depth depending on what time of year it is, as it depends on snowmelt for its water.
The lake used to be very popular with divers, who would come here and find submerged benches, trees, and trails that were engulfed by the rising waters. Nowadays, however, most people come to hike along the wonderful trails and paths that can be found in the area, and any visitor is sure to come away with screeds of photos of the beautiful scenery.
5. Riegersburg Castle
[SEE MAP]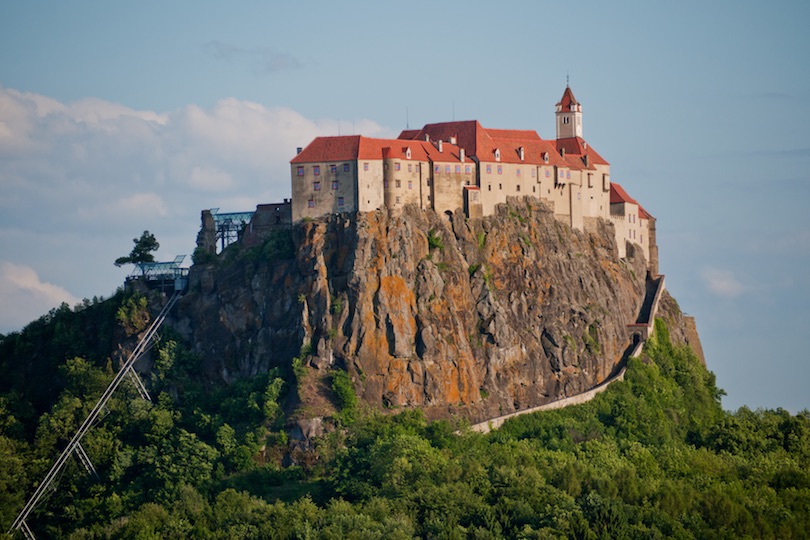 © Neogon / Dreamstime
Dramatically perched atop a dormant volcano overlooking the town of the same name, Riegersburg Castle is epic and definitely worth a visit if you have the chance. Owned by the Princely Family of Liechtenstein, the centuries-old castle has lots of interesting exhibits and artifacts on display. They will take you through its long and illustrious history, with some beautiful staterooms also on display.
In addition to this, a number of the rooms look at witchcraft and sorcery, as one of the former Baroness' handmaidens was convicted and killed for her reputed meddlings in the dark arts. Rebuilt numerous times over the years, the medieval castle is protected by a number of walls, gates, and fortifications, and the castle's setting on top of a steep cliff face makes it seem almost impenetrable.
© Nikolai Korzhov / Dreamstime
Lying at the foot of the Dachstein Mountains, the ski resort town of Schladming is a great place to visit at any time of the year. In summer, its stunning scenery makes for some fantastic hiking and mountain climbing, while in winter, its snowy pistes are delightful to ski or snowboard down.
With a very peaceful, laidback feel to it, the popular resort town is the perfect place to unwind and immerse yourself in nature, with mountain biking and whitewater rafting also on offer. Scattered around Schladming are some great shops, restaurants, and spas, while the Heimatmuseum is well worth a visit if you want to learn about the town's mining past.
The main attraction, however, is the plethora of great ski slopes that are found dotted among the towering mountains lying nearby.
© Balakate / Dreamstime
Founded all the way back in 1074, Admont Abbey has long attracted people looking to immerse themselves in quiet contemplation. Its scenic setting on the borders of the Gesause National Park with mountains all around it certainly is idyllic and peaceful.
While the original monastery was almost entirely destroyed in a fire, the current neo-Gothic building dates to just the late-19th century. The abbey's majestic library hall is undoubtedly the highlight, and every surface of what is the largest monastery library in the world is a work of art.
Showcasing some beautiful stuccoes, columns, and furniture, with incredible frescoes covering the ceiling and bookshelves lining the walls, the library really is a masterpiece of late European Baroque design. Book lovers will find it hard to tear themselves away from its wealth of age-old volumes and manuscripts.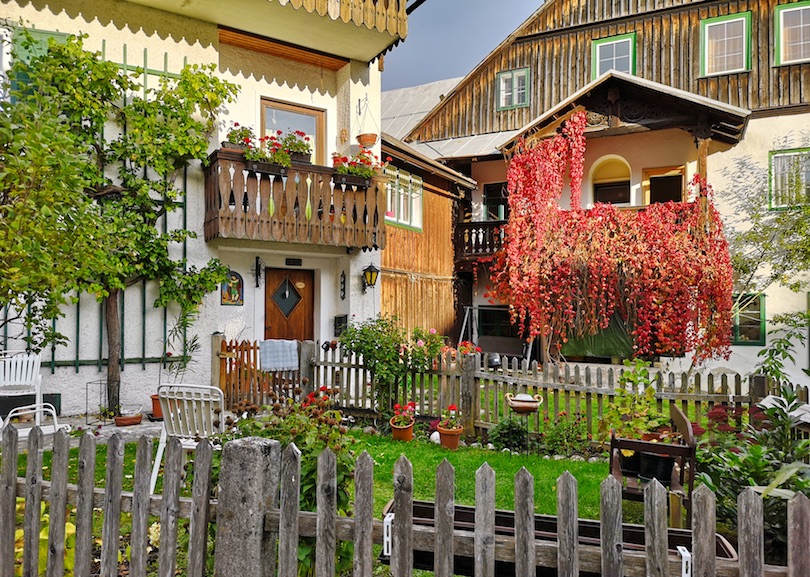 © Balakate / Dreamstime
Nestled among rolling hills and valleys with dramatic mountains rearing up in the distance, Bad Aussee is awash with incredible natural sights – and that's without even having mentioned the two glittering alpine lakes that lie just a short distance away from the town. Other than its fantastic museum, which teaches you about local traditions and customs, the town doesn't have all that much for you to see in terms of sightseeing. You're better off exploring the many mountains, lakes, and valleys that lie nearby.
There is a wealth of great outdoor activities for you to try out, and hiking or cycling through the mountains is a popular pastime with both locals and tourists. In addition to this, Bad Aussee also makes a great base from which to visit the glimmering Hallstatter See or go skiing in the Loser or Tauplitz Ski Regions.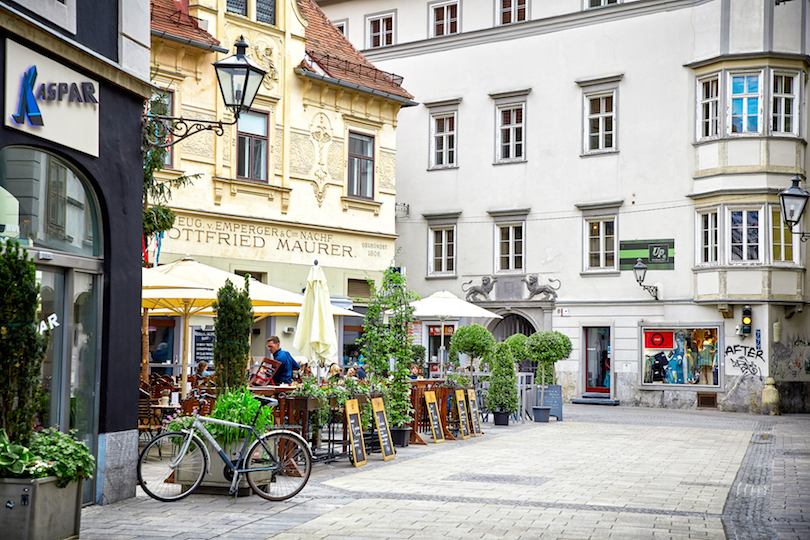 A lovely, laidback place to visit, Graz, the capital of Styria, lies alongside the Mur River, surrounded by fields and forests. Unlike many of the other towns in the state, mountains can only be spotted far off in the distance; its main geographical feature is the distinctive tree-clad Schlossberg Hill that lies at its heart.
Austria's second-largest city has loads of interesting and impressive historical and cultural landmarks for you to check out, with its wonderful Rathaus, Opera House, and Clock Tower just some of the main sights.
In addition to all the great architecture on show, Graz has lots of brilliant bars, restaurants, and shops to discover, and there is a youthful and vibrant vibe, thanks in part to its large student population.
With a thriving arts and culture scene for you to delve into, Graz is a fascinating city to explore, with something for everyone to enjoy, whether you're interested in art, history, culture, or cuisine.
Map of Styria, Austria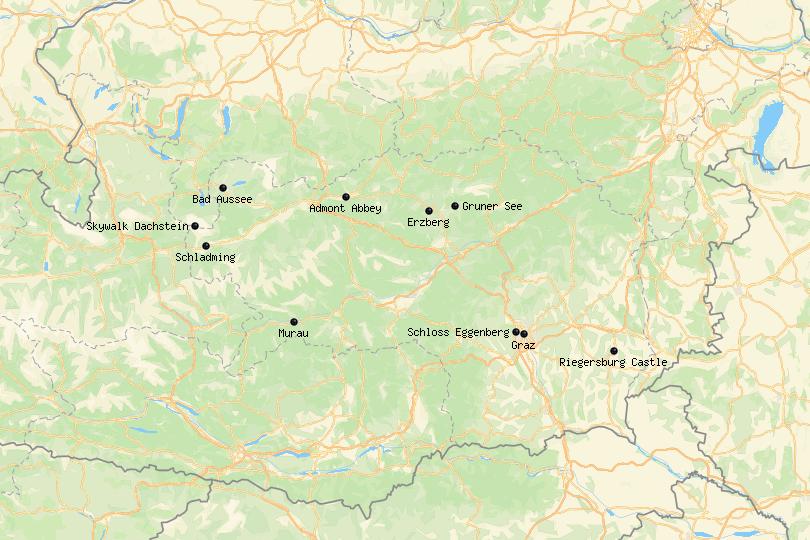 © OpenStreetMap © MapTiler © Touropia