Everyone should go to France at least once in their lives. Once you get there, deciding what to see and do could be an enjoyable challenge. France is noted for its food (and wines), fashion and fun. The country offers incredible beauty, from the ocean to the mountains, not to mention the rolling hills covered with vineyards.
If that's not enough, there are great art museums, World War I and II battle fields now serenely at peace, and famous chateaux. This sample itinerary for 2 weeks in France makes a great introduction to this amazing country.
2 Weeks in France Itinerary
© OpenStreetMap © MapTiler © Touropia
Day 1: Arrive in Paris, sleep in Paris
Day 2: Explore Paris, sleep in Paris
Day 3: Versailles day trip, sleep in Paris
Day 4: To Mont St-Michel, sleep in Mont St-Michel
Day 5: To Bayeux, sleep in Bayeux
Day 6: Explore D-Day beaches, sleep in Bayeux
Day 7: To Amboise, sleep in Amboise
Day 8: Loire Châteaux trip, sleep in Amboise
Day 9: To Bordeaux, sleep in Bordeaux
Day 10: To Carcassonne, sleep in Carcassonne
Day 11: To Avignon, sleep in Avignon
Day 12: Provence day trip including Pont du Gard, sleep in Avignon
Day 13: To Nice via Cannes, sleep in Nice
Day 14: Explore Nice (and maybe Antibes), sleep in Nice
Day 15: Fly home
Paris (3 nights)
Paris, aka the City of Light, is an excellent place to begin your immersion in French culture. The top attractions in Paris you'll want to see are the iconic Eiffel Tower; the Louvre, home to some of the world's greatest art, and the Cathedral of Notre Dame. Follow this with soaking up atmosphere in Montmartre, and strolling along the Seine River and the Champs-Elysees, the world's most famous boulevard.
Rest your tired feet over some wine or café at an outdoor café while planning more sightseeing, such as a visit to the Arc de Triomphe, one of Paris' most famous monuments.
Versailles (day trip from Paris)
Escape the hubbub of Paris with a day trip to the Palace of Versailles. Once a small village, Versailles today is a suburb where wealthy Parisians live. Prior to the French Revolution in 1789, it was the political power base of French royalty.
The palace as we know it today, started out as a hunting lodge for King Louis XIII. The palace fell into disrepair after the revolution, but has since been restored to its former grandeur. Now you'll see rich furnishings in the former royal apartments, the Hall of Mirrors that is probably the palace's most famous room, and lush gardens that beg to be strolled in.
Mont St-Michel (1 night)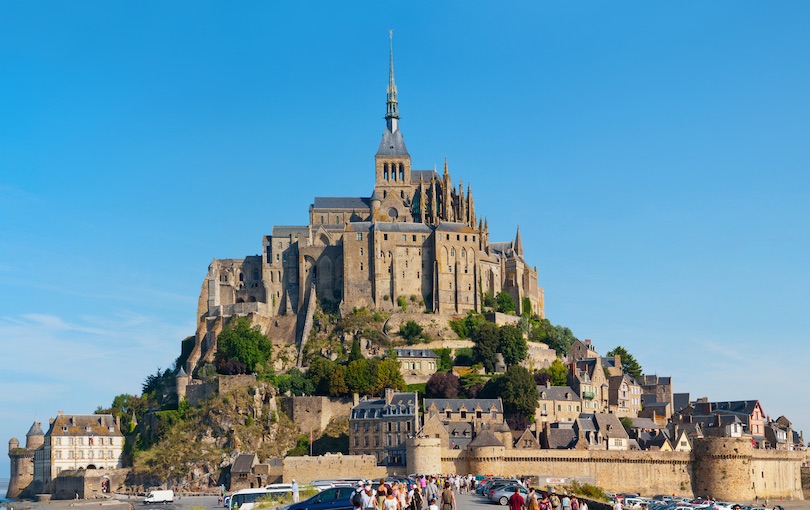 The castle/abbey/monastery on Mont St-Michel is one of France most famous landmarks. It is an island about a quarter-mile from land on the coast of Normandy and served as a defensive site as far back as the sixth century.
It's reachable by foot when the tide is low, but anyone out there when the high tide starts rolling in could very well be swept out to sea. You don't have to worry about this, however, as it is reachable today by a raised causeway. The Gothic abbey, built around the 11th century, is dedicated to the archangel St. Michael. Over the centuries, a small village was established on the island.
Bayeux (2 nights)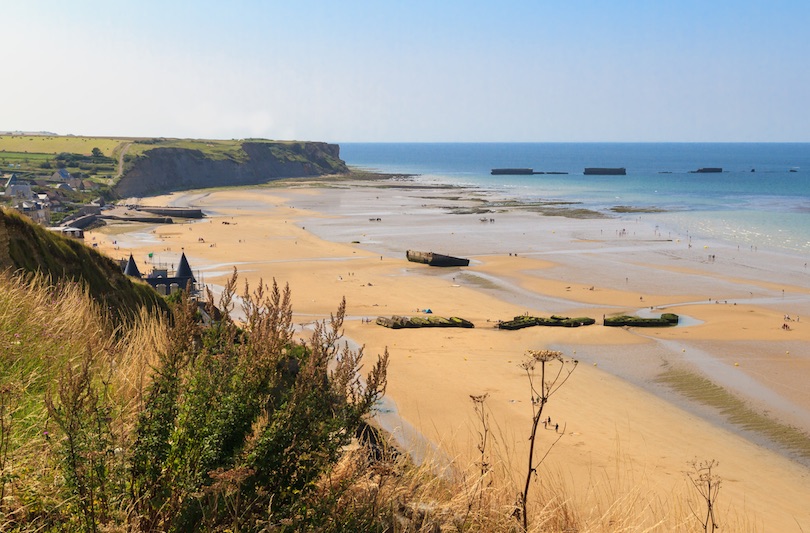 Bayeux is famous for at least two things: the Bayeux Tapestry and the D-Day beaches of World War II. The incredible Bayeux Tapestry, possibly made in England, commemorates the Norman conquest of Britain in 1066. Today, it hangs in the Bayeux Cathedral. Bayeux is a starting point for a tour of the beaches where Allied forces landed in Normandy to begin pushing back the Nazis on land.
On June 6, 1944, more than 160,000 soldiers landed on a 80-km (50-mile) stretch of Normandy coastline. Fighting was bloody, with some 9,000 soldiers dying on the beaches now known as Utah, Omaha, Juno, Gold and Sword.
Amboise (2 nights)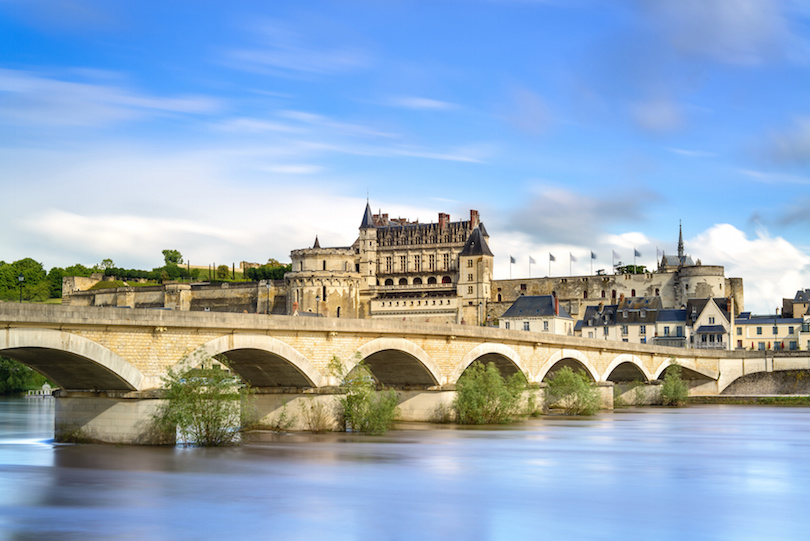 Amboise was once home to the French royals, but today is a small market town, with the market's location marked by a fountain that depicts a teddy bear atop a turtle. Located in central France on the Loire River, it is the town where Leonardo da Vinci died in the manor house of Clos Luce.
Chateau d'Amboise, the home of King Francois I, who invited da Vinci here, dominates the town. Amboise is about the last place you'd expect to find a Chinese pagoda, but the Pagode de Chanteloup, built in 1775, towers over the area at more than 44 meters (144 feet) high.
Loire Châteaux (trip from Amboise)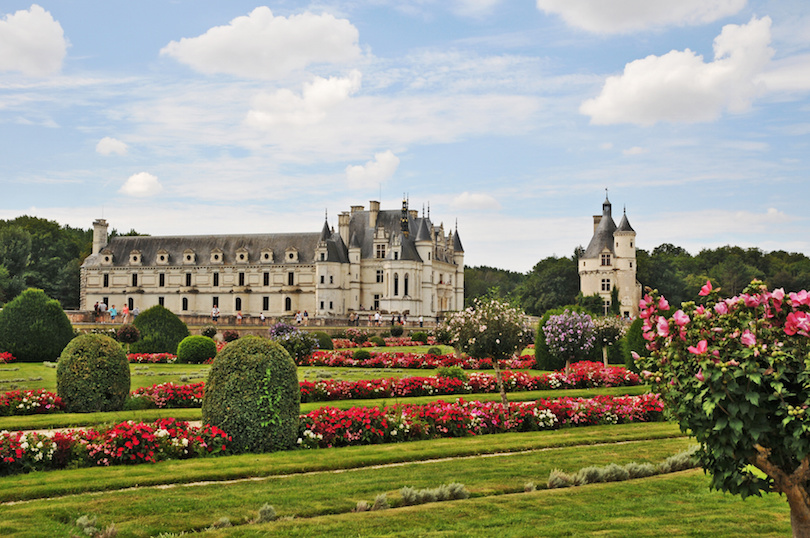 Your tour of the Loire Renaissance chateaux starts in Amboise, one of several Loire Valley towns. Be prepared for some awesome sights of castles and chateaux along the Loire River. Even after King Francois I moved the French capital from Amboise back to Paris, other French royalty and nobility preferred to stay here.
Their homes are picturesque, considering that some were destroyed during the French Revolution, and World Wars I and II. Chateaux, which resemble fortresses and castles more than private homes, you'll want to see include chateaux de Blois, de Samur, de Chaumont, de Cheverny and de Chambord.
Bordeaux (1 night)
By now, the wine lover in you is ready for some relaxation. You'll find this in the charming city of Bordeaux, famous for red wines. The hills around the city are dotted with vineyards. The French have been making wine here since the 8th century, and also host the world's premier wine fair, Vinexpo.
Be sure to tour some of the wineries, but don't forget to tour the city itself, which has more historical buildings than any place in France after Paris. Top sights include the Esplanade de s Quinconces, Europe's largest square; the churches of St. Pierre and the Holy Cross, and the Bourse, with its statue of Louis XV.
Carcassonne (1 night)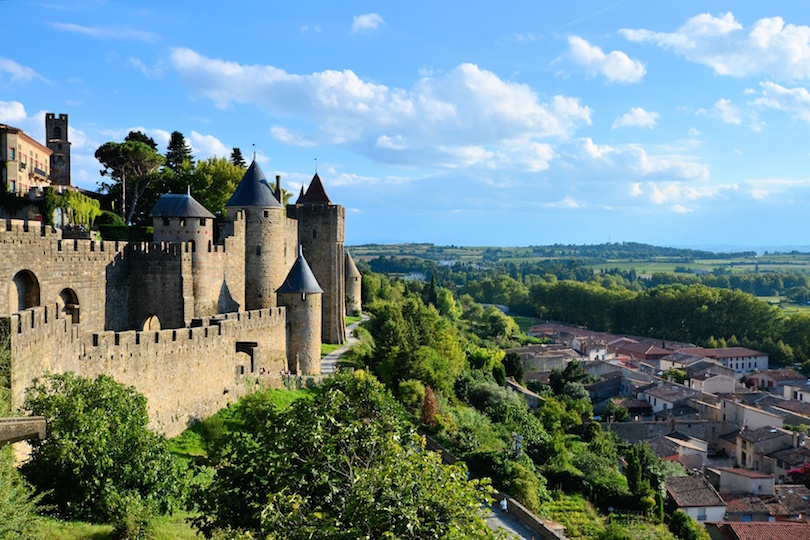 Carcassonne is such an appealing place, a board game, in which tiles are placed to form a French landscape, was named after it. In reality, Carcassonne is a fortified medieval city in southwestern France that is known for its city walls. Carcassonne has been a fortress since Roman times.
To get a better feel for this outstanding fortification, you'll want to wander through the streets inside the wall, taking in the castle and cathedral. Today, a modern city surrounds the restored old town. This picturesque city also is known for its wines and boat cruises on the Canal du Midi.
Avignon (2 nights)
No time to visit the Vatican in Rome? Not to worry; you can still see how popes lived at the Palais des Papas in Avignon. Seven popes ruled from the southeastern French city during the Middle Ages. Many churches and chapels can be found as you wander through the Old Town. Avignon is a fortified town on the Rhone River, with its ramparts still standing after 800 years.
Old buildings built right up to the water make for a very scenic landscape. Avignon is another French city famous not only for its wines but also for its performing arts festival that draws upwards of 100,000 people here every July.
Provence & Pont du Gard (day trip from Avignon)
In recent years, British author Peter Mayle detailed the many charms of the Provence in his books. Believe his delightful descriptions! The Provence region encompasses about 90 villages moving inland from the French Riviera. You'll probably have a have a hard time finding those famous lavender fields but there are plenty of other things to see and do on a day trip from Avignon.
One attraction that is a Provence must-see is the Pont du Gard. It's an aqueduct built by the ancient Romans. Spanning the Gardon River, this massive structure is part of a 50-km (30-mile) watering system. Near the village of Vers-Pont du Gard, it is the highest of all the old Roman aqueducts.
Cannes (stopover)
The French Riviera town of Cannes makes a good stopover between Avignon and Nice. Once a fishing village on the Mediterranean Sea, Cannes is now a playground for the rich and famous. Celebrities flock here every May for the Cannes Film Festival, the world's most famous.
While you may see celebrities at other times, Cannes offers other things to see. You might want to stroll the Promenade de la Croisette on the waterfront, walk through the Old Town, take in a history museum or simply gaze at the villas in the Quartier des Anglais, the city's oldest residential area.
Nice (2 nights)
Nice is the perfect place to end your two-week tour of France. It has a colorful Old Town with a small market. You'll definitely want to make time for a walk along the Promenade des Anglais with its views of Mediterranean Sea. The Cathedrale Sante-Reparte is a top attraction as is the Marc Chagall museum.
You can people watch at the Place Massena, the city's main square that leads to nice shopping areas for last-minute souvenirs. If you can find a few free hours, it's only a short bus ride to Eze Village, a medieval village with a cactus garden on top, or to the glitz and glamour of Monaco.
See also: Best Neighborhoods & Hotels in Nice