Home to a wealth of interesting historical tourist attractions, magnificent museums, and gorgeous gardens, with a number of beautiful beaches also lying nearby, Wilmington is a great place to visit. Set in the southeast of the state, the pretty port city can be found on the banks of the Cape Fear River, just inland from the Atlantic Ocean.
A lovely laidback place, it has a huge Historic District to explore, full of cobbled streets and stately homes, while its Riverwalk is lined with bustling bars and cafes. A charming and cultured city, there are plenty of things to do in Wilmington, and many famous films and TV shows have been shot here over the years.
12. Cameron Art Museum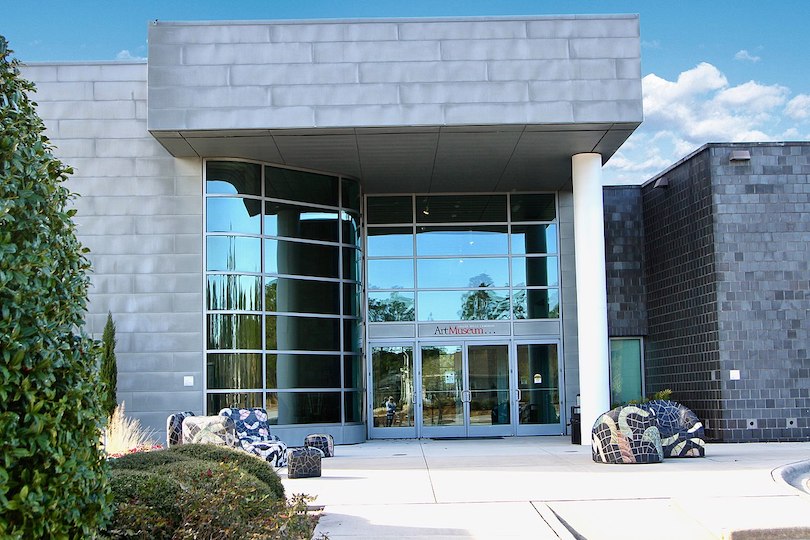 Starjelly3201 / Wikipedia
Set just to the south of the city center is the excellent Cameron Art Museum, which hosts a variety of interesting exhibitions and art collections. As well as boasting an astounding array of artworks for visitors to peruse, it also runs several community outreach programs, classes and workshops.
Originally founded in 1962 in downtown Wilmington, the museum eventually outgrew its space and moved to its current site, which also has an arts education center and room for outdoor exhibits. In addition to its numerous galleries and exhibition spaces, the campus has several lovely nature trails for you to explore, which take you past some superb sculptures.
The main attraction, however, is its art collection that includes everything from photo displays and contemporary clay models by locals to fine paintings, drawings, and designs by international artists.
11. New Hanover County Arboretum
© Dreamstime
A very peaceful and picturesque place, the New Hanover County Arboretum can be found in the east of Wilmington, not far from the Atlantic Ocean. Sprawling over a huge area, it lies right next to the beautiful Bradley Creek and its magnificent marina of the same name.
Since opening in 1989, the attractive arboretum has continued to grow; there now being 33 gorgeous gardens for you to stroll around. While some scenic sections are home to fantastic flowerbeds and pretty plants, others are aquatic or boggy, with Japanese and children's gardens also on offer.
Believed to contain over 4,000 types of native and naturalized plants, the New Hanover County Arboretum is a treat to explore, with educational activities and therapeutic workshops also being run for the local community.
10. Kure Beach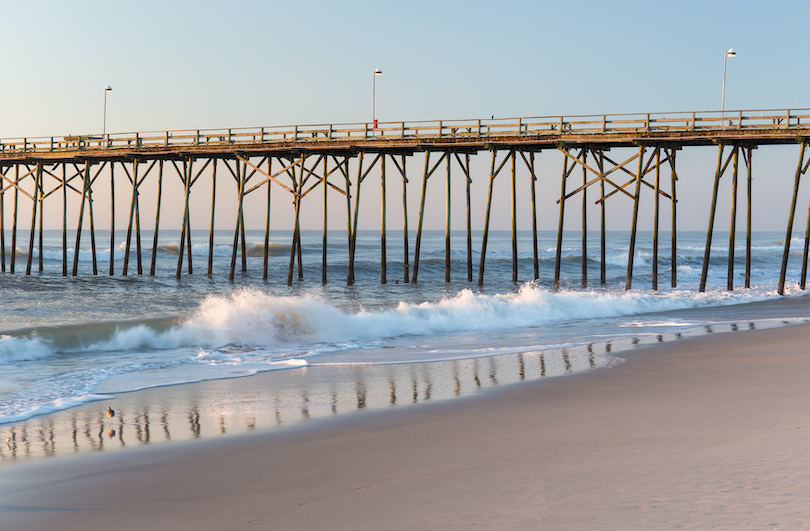 © Dreamstime
Situated just a 20-minute drive south of Wilmington is the quaint community of Kure Beach. Very popular to visit in the summer months due to its wonderful white sand beach and laidback way of life, it lies on Pleasure Island – a barrier island off the coast of North Carolina.
While its sun-kissed sands and wealth of watersports are the main reasons most people visit, the charming coastal resort town also has some fun and family-friendly attractions for you to check out. The fabulous Fort Fisher State Historic Site is well worth stopping by, as is the North Carolina Aquarium, which has sharks, stingrays, sea turtles and more on show.
Besides sunbathing and strolling along its serene sands, visitors can go fishing, take a scenic boat trip or enjoy fine views over the ocean from the Kure Beach Fishing Pier.
9. Cape Fear Museum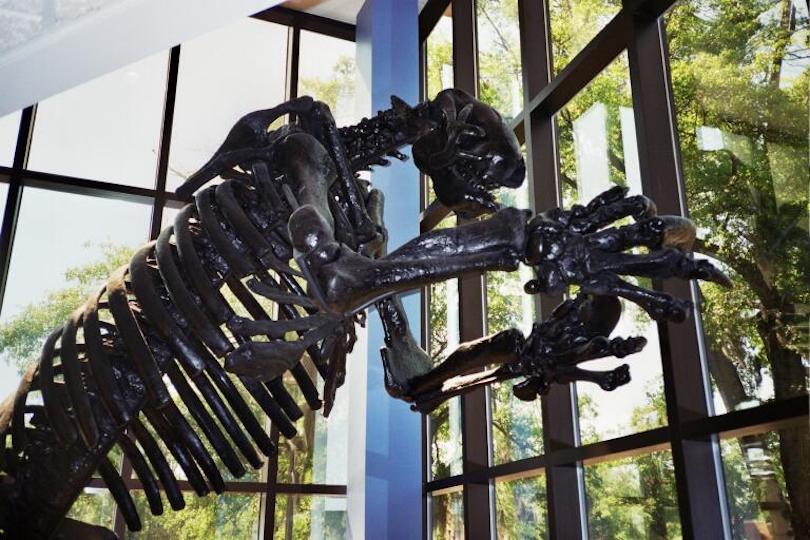 Giant Sloth / Flickr
Lying right in the heart of downtown Wilmington is the captivating Cape Fear Museum of History and Science, the oldest history museum in the state. Originally opened in 1898 to protect Confederate artifacts and memories from the Civil War, it has since re-focused on the region's science, history and culture.
Now home to over 56,000 items, the marvelous museum has an array of interesting, educational and interactive exhibits and displays for visitors to peruse. These look at everything from the Civil War and Cape Fear ecosystems to basketball superstar Michael Jordan, who used to live in Wilmington.
With artworks on show alongside American Civil War artifacts and natural science sections set next to segments on segregation in the city in the 19th century, the museum's countless collections are well worth checking out if you have the chance.
8. Carolina Beach State Park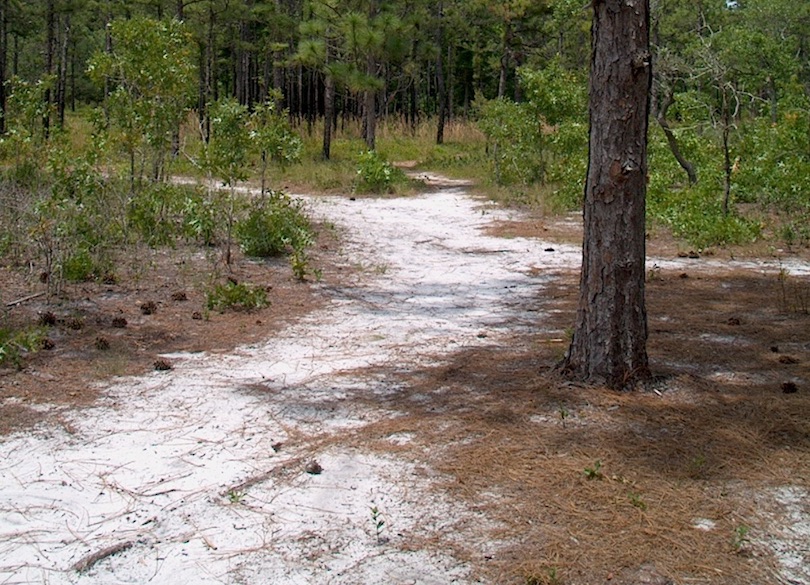 Pytheas / Wikipedia
Home to stunning landscapes, scenery, and nature is the gorgeous Carolina Beach State Park, which lies next to the small seaside town of the same name. Located 20 minutes to the south of Wilmington, it is sure to delight nature lovers and outdoor enthusiasts alike.
Set on the scenic shores of the charming Cape Fear River, it boasts a beautiful beach, with lush woods found alongside several types of coastal ecosystems; these include ponds, bogs, and swamps, with some terrific trails weaving amidst its incredible wilderness.
While its serene sands make the state park a great place to go camping, hiking and kayaking, it also has some impressive natural sights. Venus flytraps can be spotted alongside several other kinds of carnivorous plants.
7. Poplar Grove Plantation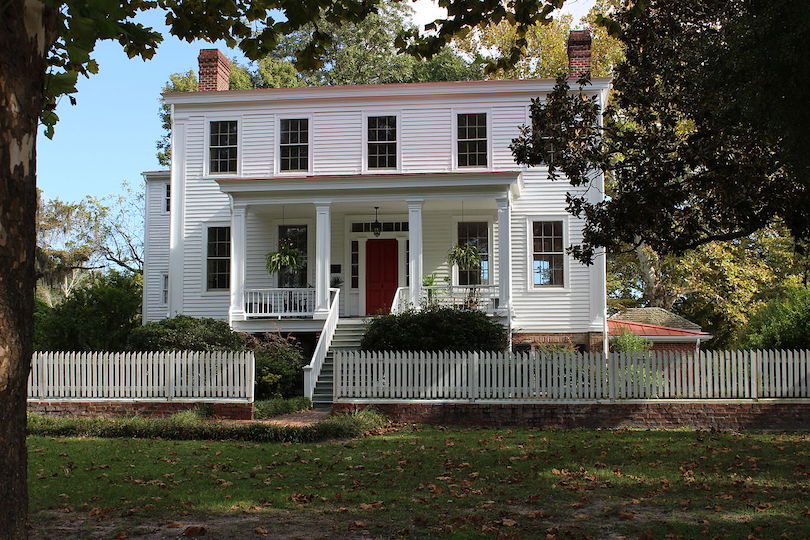 BSLRed / Wikipedia
The oldest peanut plantation in the whole of the States, Poplar Grove has some fascinating historic sites and tours that shed light on the area's history, heritage and culture. It lies just 20 minutes northeast of the city in the Gullah Geechee Cultural Heritage Corridor.
Opened in 1980 as a public museum, it is dedicated to preserving the past and educating visitors on the enslaved peoples who produced peanuts and sweet potatoes on the plantation. At the heart of the homestead is a historic manor house for visitors to explore. This houses artifacts and displays on the history of Poplar Grove, which was first founded as a plantation in the 18th century.
In addition to learning about its painful past, visitors to the site can experience 19th-century farm life at its stables and stop by the heritage art studios and workshops on-site.
6. Bellamy Mansion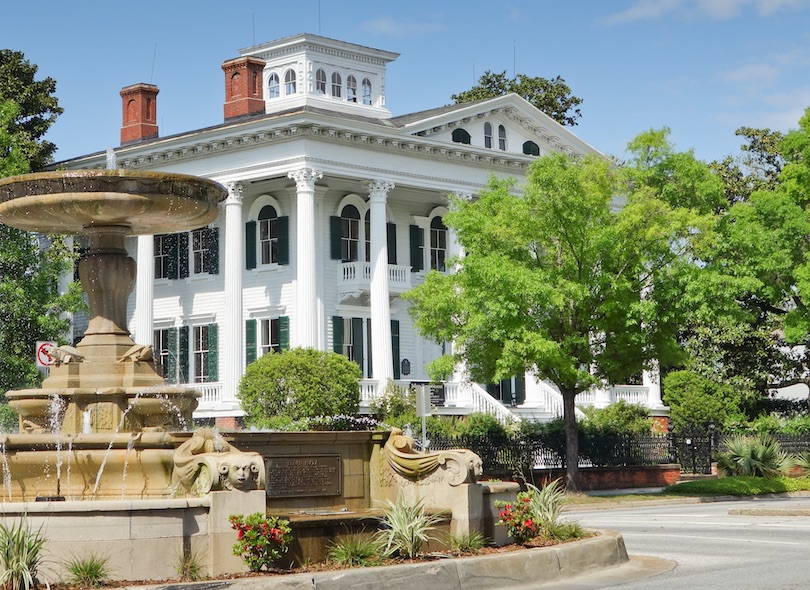 © Dreamstime
Once the home of one of the largest slaveholding families in the state, Bellamy Mansion now acts as a marvelous museum, offering up invaluable insight into the area's past. Located in the center of downtown Wilmington, it has some interesting guided tours for visitors to take, highlighting the family and the enslaved workers who toiled on their property and plantation.
Built between 1859 and 1861, the blindingly white Bellamy Mansion exhibits some astounding antebellum architecture, with a variety of Neoclassical styles on display. Besides a fetching wraparound porch, it also has a colossal colonnade, while its 22 rooms are decked with period pieces and glittering golden gas chandeliers.
In contrast, the restored slave quarters are decidedly more spartan, although their attractive brick walls helped highlight the high social status of the Bellamy family. On tours around the property, visitors will learn all about the buildings, the Bellamys, and enslaved people who lived and worked for them.
5. Wrightsville Beach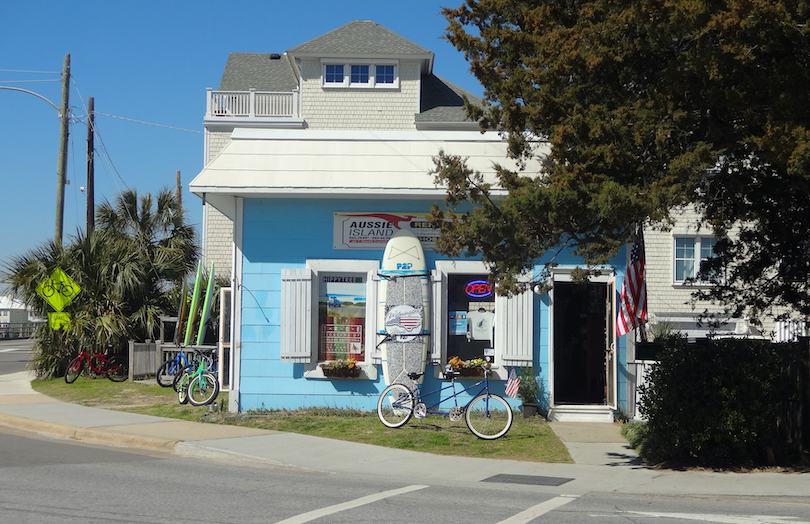 © Dreamstime
One of the most popular and picturesque places to visit in Wilmington, wind-swept Wrightsville Beach lies just ten minutes' drive from the city center. Home to two prominent piers, its soft sands are ideal for sunbathing, and some superb swimming and surfing can be had offshore.
While the beautiful beach is the perfect place to relax and unwind, its strip of sand is also lined by shops and restaurants, with an amusing arcade found along its public pier. From here, you can bask in breathtaking views over the Atlantic Ocean, enjoy a spot of fishing, or arrange to go on a boat tour along the North Carolina coastline.
Due to its serene scenery, warm waters, and proximity to Wilmington, the beach can get quite crowded in the sunny summer months. If it appears familiar to you, it may be because it was the filming location for the popular American teen drama series, Dawson's Creek.
4. Airlie Gardens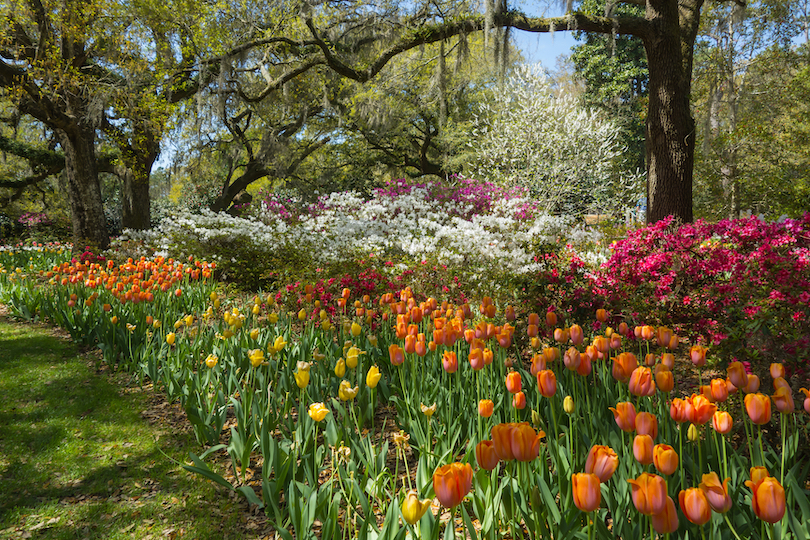 © Dreamstime
Not far from Wrightsville Beach and the New Hanover County Arboretum is the attractive Airlie Gardens. Covering a huge area, it features lots of fabulous fauna, flora, and footpaths, with one towering tree – the Airlie Oak –dating all the way back to 1545.
Originally the private garden of the Pembroke Jones family, it was purchased by the county and opened to the public in 1999. Lovingly landscaped, it has freshwater lakes for visitors to stroll past, with thousands of arresting azaleas, colorful camellias, and gently waving palms lining its pretty paths.
Showcasing a quintessentially Southern garden design, it also has a delightful butterfly house, as well as several historic buildings. One of the most magical times of year is during winter when its flowers, plants and trees are lit up by thousands of flickering fairy lights.
3. Historic District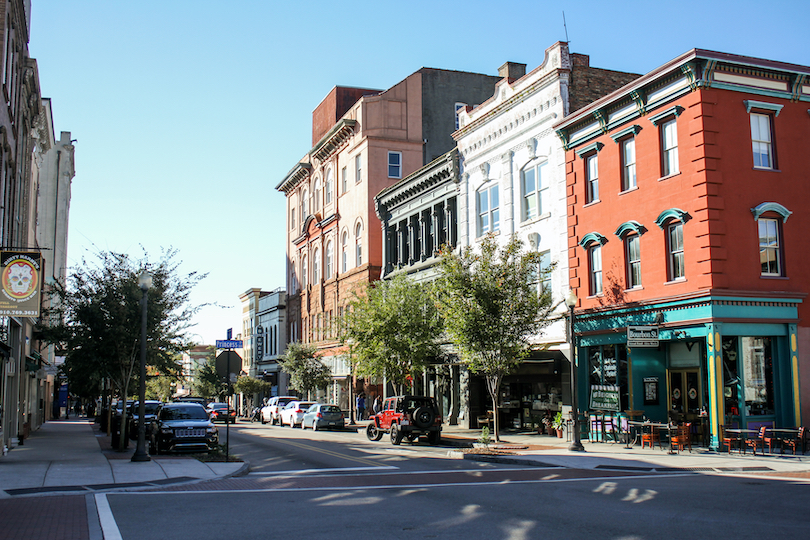 © Dreamstime
Boasting beautiful old buildings and astounding architecture, Wilmington's Historic District is a treat to explore. Encompassing everything from mansions and museums to historic homes and charming churches, it lies on the banks of the Cape Fear River in the heart of the city center.
One of the largest historic districts in the whole of the States, it sprawls over a vast area, with quaint houses, sublime statues, and tall old trees lining its cobbled streets. One of the best ways to see all its standout sights is by taking a horsedrawn carriage ride around town, stopping at places such as Bellamy Mansion and the stately Courthouse and City Hall as you go.
While most people come to experience its Southern charm and check out its centuries-old historic homes and massive mansions, a host of shops and restaurants can also be found in the area.
2. Wilmington's Riverwalk
© Dreamstime
Meandering along the scenic shores of the Cape Fear River is the beautiful Wilmington's Riverwalk. Finally completed in 2017 after decades of work, it's now one of the most pleasant and picturesque places to visit in the city and is very popular with locals and tourists alike.
Bordered by brilliant bars and restaurants, the boardwalk stretches almost three kilometers, with fantastic views wherever you go. In addition to its numerous terraces and outdoor eating areas, it takes you past some gorgeous parks, with the Port City Marina also lying along the route.
With a lovely, lively yet laidback ambience in the evenings, no visit to Wilmington can ever be complete without ambling along the Riverwalk. From here, you can take a water taxi to one of the city's main sights, the Battleship North Carolina.
1. Battleship North Carolina
© Dreamstime
Docked just across the river from the Historic District and Wilmington's Riverwalk is the hulking great Battleship North Carolina. The fastest and first battleship of its kind built in the 1940s, the majestic mega-ship is fascinating to explore due to its staggering size and scale.
Decommissioned in 1947 after having spent years patrolling the Pacific and fighting naval battles in World War II, it has since become one of Wilmington's top attractions. As well as taking a tour of its endless decks, guns, and rooms, visitors can learn all about the battleship's history and the operations it took part in through informative exhibits and displays.
Once considered to be 'the world's greatest sea weapon', the Battleship North Carolina now makes for a magnificent museum and memorial. Well worth checking out if you have the chance, it is sure to interest young and old alike with all the scintillating stories about its crew and combat missions.
Map of Things to Do in Wilmington, NC