One of the original Thirteen Colonies and allegedly the first state to gain independence from Britain in 1775, North Carolina has an impressive political history. It later became the 12th state of the Union.
North Carolina is visited each year by tourists who flock in to enjoy outdoor adventures, like rafting, climbing, and hiking, on offer. It is also known for its diverse range of landscapes, that range from rocky mountains to sandy beaches on coastal islands.
But the things to do in North Carolina are not just about the outdoor. The state is also now known for making some of the most mouth-watering BBQ pulled pork, and is the birthplace of renowned folk, blues, and jazz musicians like Nina Simone and Thelonious Monk.
26. Grandfather Mountain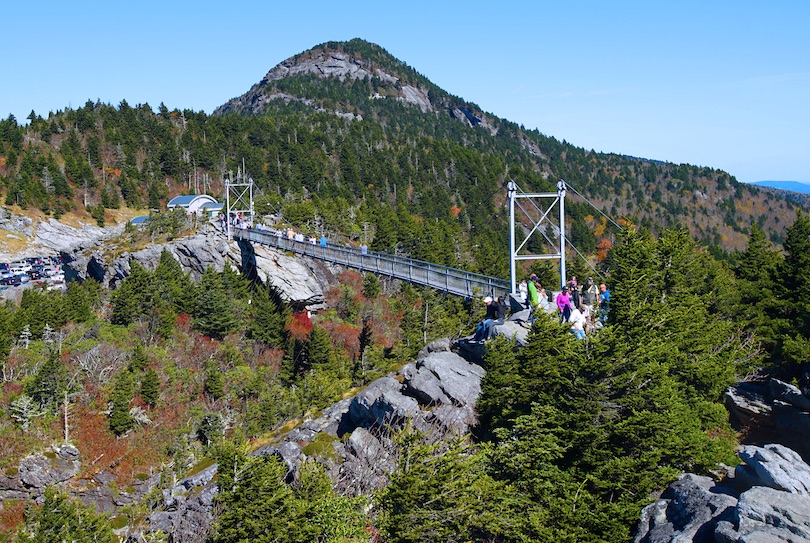 North Carolina's Grandfather Mountain is a popular place to go hiking and wildlife watching. There are a few attractions you can visit at the mountain too, like the Nature Museum that is about halfway up the trail to the top of Grandfather Mountain.
Don't forget to walk over America's highest suspension footbridge, the Mile High Swinging Bridge, whilst you're there. It was built in 1952 and it's 228 feet long. The views of the forests and mountains in the distance are spectacular!
If you want to go on a slightly tricky hike, consider the Macrae's Peak trail. Keep a lookout for cougars, bears, bald eagles, river otters and elk during your time at Grandfather Mountain, they're likely lurking not far from you. The mountain is just 15 minutes drive away from the town of Linville.
25. Airborne and Special Operations Museum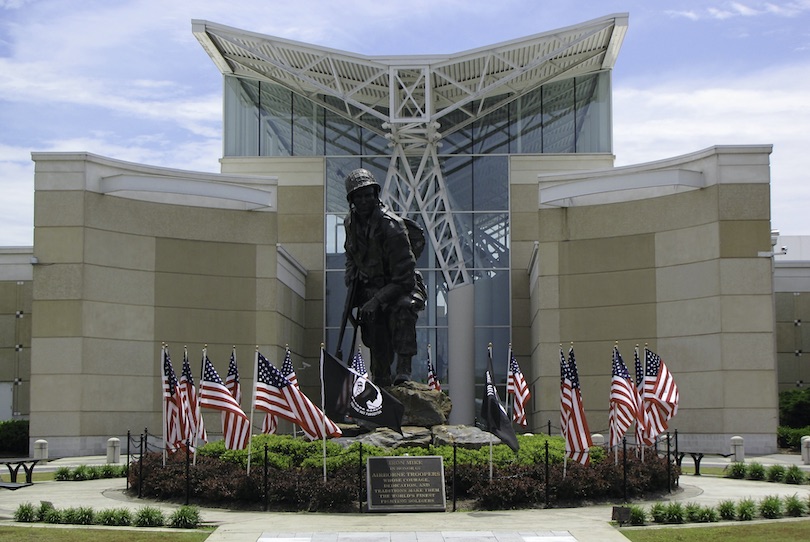 The Airborne and Special Operations Museum in Fayetteville showcases artifacts used by the US Army Airborne and Special Operations Forces. Their exhibits look at the history of this department of the US Army from the 1940s up till now.
Come along and learn about older battles like D-Day and the Vietnam war, as well as current issues like the war on terrorism and hate crime. Read the magnificent stories of the brave paratroopers who jump from the sky straight into battle.
The museum aims to celebrate soldiers, going as far back as Lieutenant Bill Ryder who in 1940 jumped out of a plane in a test run of the first U.S. airborne unit. The uniforms, weapons, and army vehicles will take you into the battlefield.
24. Mingo Falls
Mingo Falls translates to Big Bear Falls in the Cherokee language. This stunning waterfall is located just outside the Great Smoky Mountains National Park, some five miles away from the entrance, along Big Cove Road. It's very near to the town of Cherokee.
The waterfall is 120 feet tall and surrounded by lush vegetation. To get to it you'll have to walk up the Pigeon Creek Trail. The trail is only 0.4 miles long but it's known to be a bit tricky because of the 161 steps you'll have to climb.
You'll start the trail at Mingo Falls Campground, and it'll be worth the climb once you reach the top! There's a viewing bridge at the bottom of the waterfall that has the best views of Mingo Falls.
23. International Civil Rights Center & Museum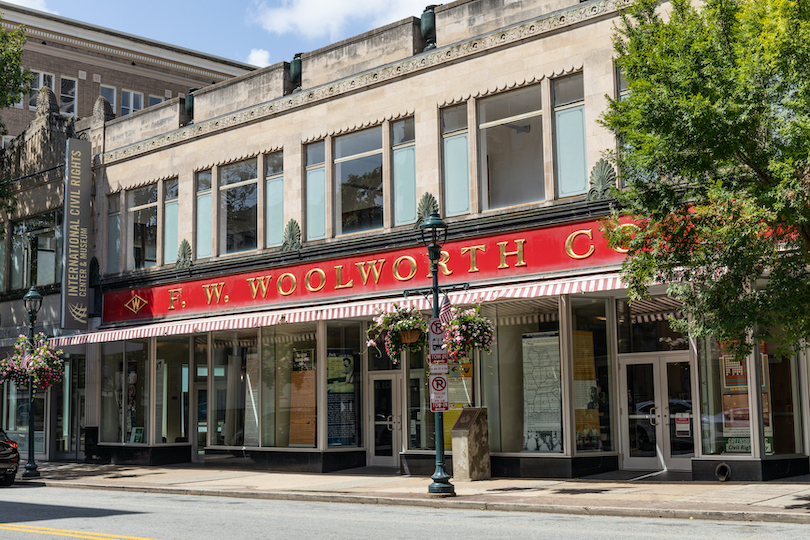 Greensboro made it onto the map of the Civil Rights movement in 1960 when four black students studying at the N.C. Agricultural & Technical College protested the whites-only lunch counter in Greensboro.
On February the first they sat at the lunch counter and refused to leave, despite being denied service. Their brave, and non-violent, act against racial segregation (that was still legal at the time) started a six-month long-protest in Greensboro. It ended with the desegregation of the Woolworth lunch counter!
Come and see a section of the F. W. Woolworth's Lunch Counter at the museum and learn about the civil rights movement. During your visit, you can read the stories of heroic human rights activists and explore their struggles fighting for equality through artifacts and interactive exhibits.
22. Sarah P. Duke Gardens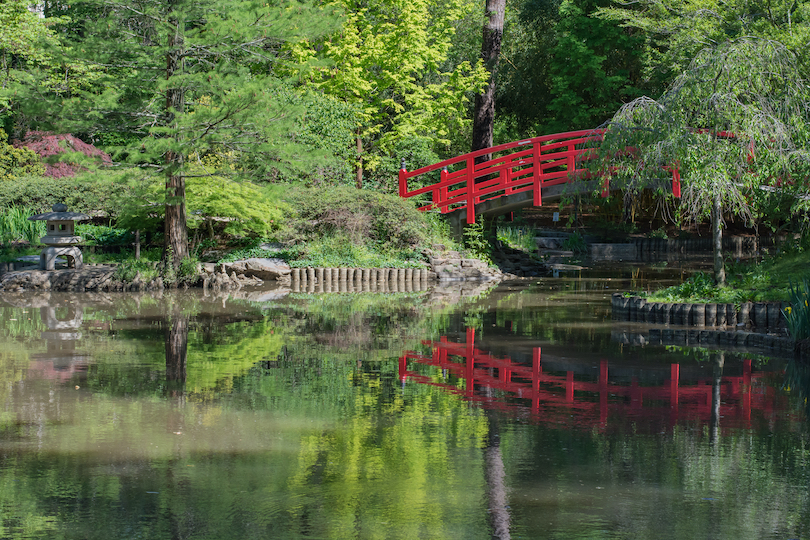 The Sarah P. Duke Gardens began when a local citizen, Dr. Hanes, came up with the idea of turning an abandoned patch of land into a public garden. He wanted to fill the garden with his favorite flower, irises.
Soon after, he was given the funding to bring his idea to life by Sara P. Duke. This was all back in the 1930s; the gardens are still a wonder today. Come on a sunny day and stroll through the beautiful gardens that are filled with irises, daffodils, and thousands of other botanical gems.
Forget your worries as you walk through magnificent tree tunnels, whose colors change in each season. Enjoy the garden's unique features and cute landmarks like the quaint wooden bridge built over the slow-moving river below.
21. Billy Graham Library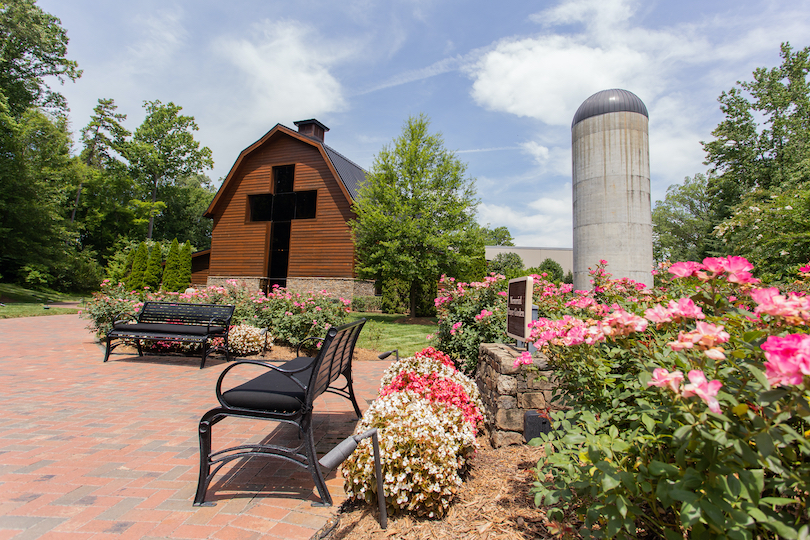 This famous ministry was named after the prominent evangelical Christian figure, Billy Graham. It's just 15 minutes drive from Charlotte, along Blue Ridge Road.
The library invites its visitors to discover the life of Billy Graham and spreads the message of God. The building itself is designed to look like a dairy farm, to honor Billy Graham's upbringing in rural North Carolina.
It's clear this is a place of religion from the minute you arrive and step through the huge cross-shaped door into the Gospel. There are countless interactive exhibits and artifacts that commemorate the life and work of Billy Graham in the library.
20. U.S. National Whitewater Center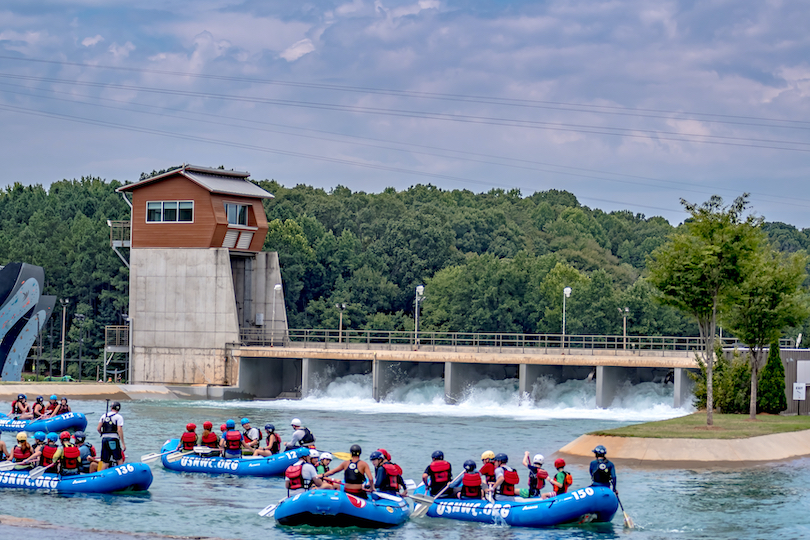 The Whitewater Center is essentially an extreme sports amusement park. There's something for everyone here, so it's a great day trip for a family. Conveniently, the center is just 20 minutes drive away from downtown Charlotte.
You can go whitewater rafting or try out kayaking during your visit. Once you've done that, test your skills out bouldering above a swimming pool – try not to get soaked!
There are a number of zipline routes that'll keep smaller kids happy for hours. What could go wrong at a place like this?
19. Pisgah National Forest
The Pisgah National Forest is known for its lush vegetation, dense woodland, and gushing waterfalls. It is home to the highest mountain peaks east of the Mississippi and located close to Asheville. The nearest access point from the city is less than a 10 minute drive away!
It has also made a name for itself in the forestry world, as it was home to the first forestry school and the first two designated wilderness areas in the Eastern United States.
You can explore the forest by car, foot or wheels. If you want to take a drive, make your way along the Blue Ridge Parkway scenic route. Otherwise, you can go mountain biking in Bent Creek Experimental Forest or take on one of the many hiking trails (they're in every corner of the forest!).
18. North Carolina Museum of Art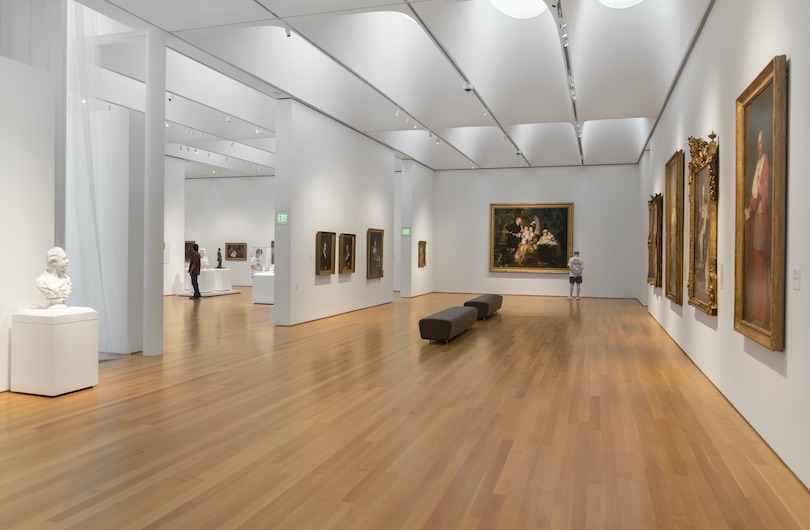 If you're in Raleigh during your trip to North Carolina then don't miss out on a trip to the North Carolina Museum of Art. The museum began collecting art in 1947 when it was awarded $1 million worth of funding, which was directly invested into purchasing unique pieces to exhibit.
The museum now has a permanent collection that explores 5,000 years of history through art. On your visit you'll see sculptures, paintings, period furniture, and much more. There are iconic pieces like Volaire by the french artist Pierre Jacque exhibited at the museum.
Once you're done inside, head out and walk around the Museum Park, a big garden run by the museum where nature and art come together.
17. Cape Hatteras National Seashore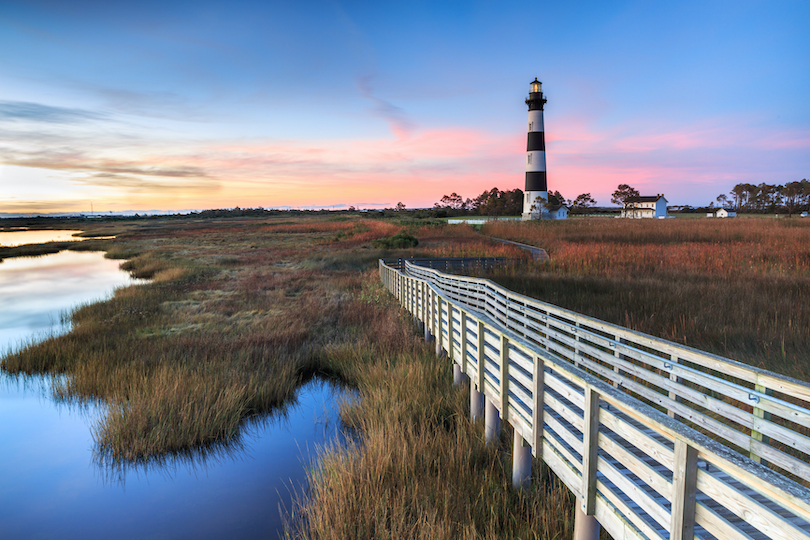 This stretch of the Outer Banks has an impressive list of diverse habitats you can explore; sand dunes, grasslands, shrub thickets, maritime forests, beaches, and salt marshes are all on the list. There are four campgrounds dotted around the island that you can stay at; you'll likely want to visit for longer than just the day.
You can get to the island by car or by boat without too much hassle. Bringing the car might come in handy, plus you can go off-road driving in some parts of the island. Other popular activities are sea kayaking and fishing. Before you leave, climb up to the top of the Cape Hatteras Lighthouse for the best views.
Make sure you keep a lookout for wildlife, there are seals and birds on the island. If you come at the right time of year you can watch the turtles hatch too – a unique experience you won't forget!
16. North Carolina Zoo
The North Carolina Zoo in Asheboro isn't like other zoos. If you tend to avoid zoos for ethical reasons, then this might be an exception. The zoo is the largest natural habitat zoo in the world. The animals have plenty of space to stretch their legs and run about. They also support and run countless conservation programs.
Zoos are especially wonderful for a family day out, the kids will be in awe at the 1,800 animals they can get up close to. You'll need a whole afternoon to explore it properly. They have impressive species like African lions and enormous elephants.
But not all their animals are from halfway across the world, they also have native wildlife like American alligators and bulky bison, as well as species you've likely never heard of like the Arctic fox and blue-tongued Skink.
15. Old Salem
This pretty district in Winston-Salem dates back to 1766 when it was first occupied by a community of Moravian settlers. The buildings are old and charming, like the neighborhood.
Take a leisurely walk around the district on a sunny afternoon and visit the old churches, houses, and shops that served the community for centuries. Don't miss out on a cold beer at the old Salem Tavern.
Once you've explored the district, head on over to the Old Salem Museum and Gardens and learn about the communities that once lived here and hear their unique stories. The staff dressed in period costumes doing traditional crafts really bring the past to life.
14. Linville Gorge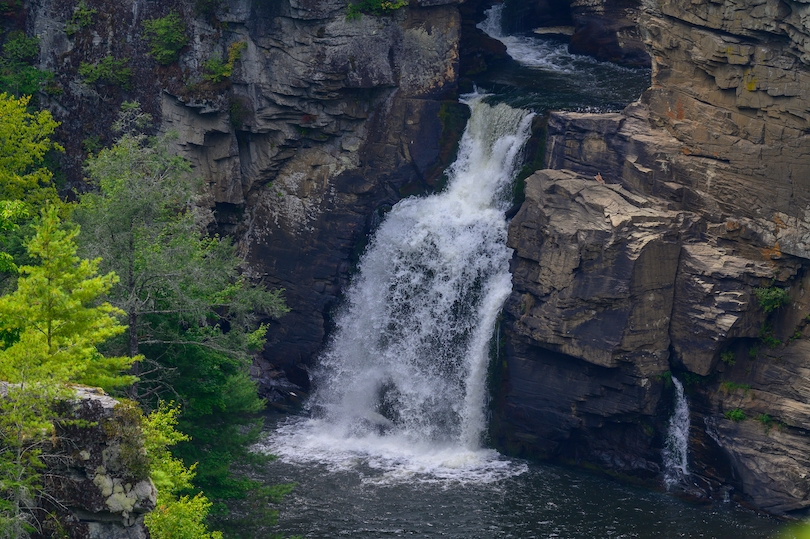 Linville Gorge was formed over centuries by the scouring action of the Linville River that passes through it. It's now one of the most rugged and breathtaking gorges in America! The gorge averages a depth of some 1,400 feet.
It's just under 40 minutes drive away from Linville itself. The surrounding landscape is mountainous and covered in lush forest. The colors in autumn are worth coming for. Year-round there are golden sunsets and perfect camping spots to be enjoyed.
The gorge is a fantastic place to do outdoor rock climbing, and is visited for just that by seasoned climbers like Joey Henson. There are also countless hiking trails. Check out AllTrails, they have mapped 58 hiking trails in Linville Gorge, from short 0.9 mile strolls like the Linville Falls Trail to 29 mile multi-day hikes.
13. Carowinds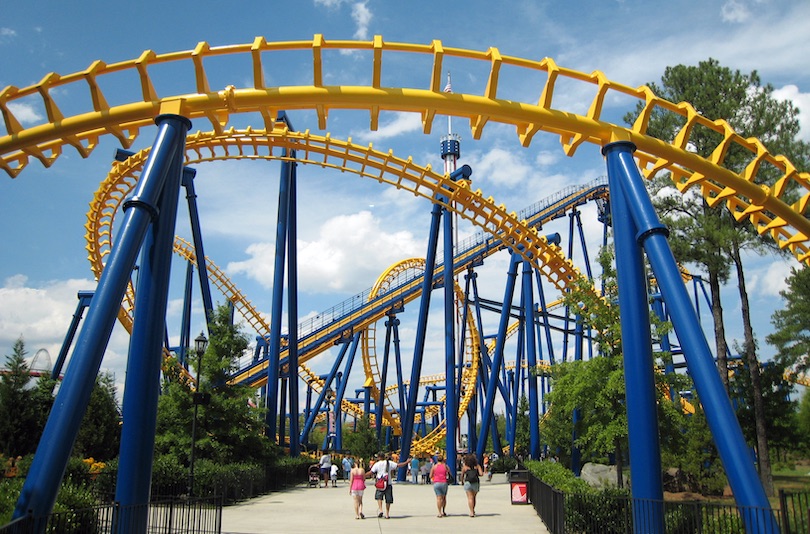 This fun and wild amusement park in Charlotte has more than 60 rides to choose from. There is also a waterpark and live entertainment like seasonal shows and lots of animators in costumes – so whatever the time of year of your visit you'll have lots to look forward to.
Listen to the kids squeal in delight as they get thrown up into the air and spun in all directions on board some of the scariest roller coasters, then enjoy a cold beer in the sun before heading to the next ride! There's something for all ages.
Carowinds also has a campground and hotel in case you want to stay over, and it's just 20 minutes drive away from Charlotte.
12. NASCAR Hall of Fame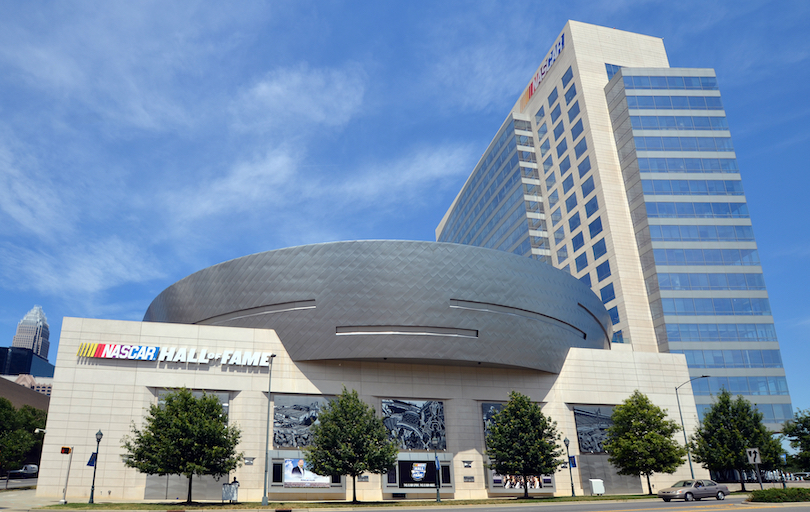 Are you a NASCAR fan? Do you just love sports and racing in general? Then you're going to have a blast at the NASCAR Hall of Fame. They have exhibits showcasing some of NASCAR's greatest legends like Bill France, also known as Big Bill, who founded and managed NASCAR.
They also have a room with some of the most iconic race cars to enter the competition, and their exhibits are always changing so they'll be something new to see each time. If you want to get to know the place inside out, go on their two hour guided tour.
The hall is in Charlotte's city center, so you can tie your visit in nicely with other activities. The perfect place to spend an hour or two on a cloudy afternoon.
11. Great Smoky Mountains National Park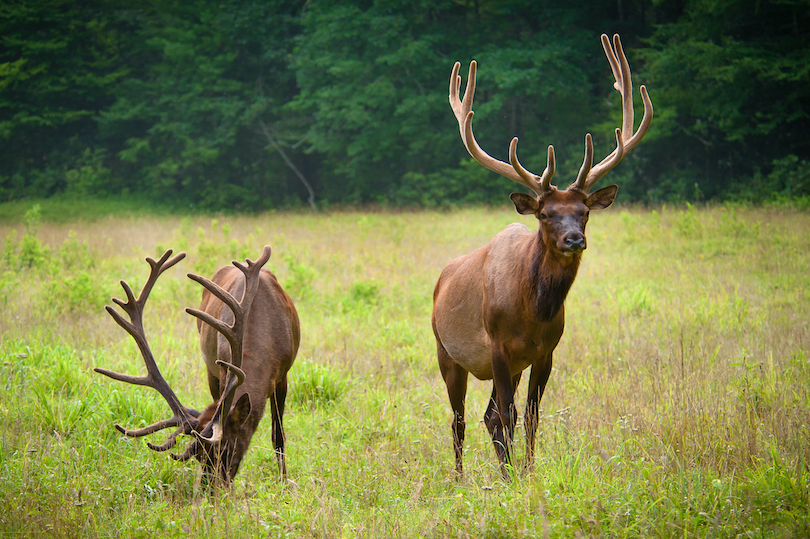 The Smoky Mountains National Park has it all – fishing, hiking, swimming, and incredible wildlife. The park is one of the most visited parks in the US, known for its outstanding beauty and unbeatable nature. It is home to a variety of native species, such as salamanders, coyotes, deer, black bears, bobcats, and elk.
There are countless walking trails in the Great Smoky Mountains, but if you're short on time then go on the short 1-mile hike to the highest point in the park, Clingmans Dome. The views from the observation tower are incredible, and you can see the Blue Ridge Mountains in the distance.
If you've got more time on your hands you might want to visit some of the charming mountain towns around the national park, like Gatlinburg and Pigeon Forge.
10. North Carolina Aquariums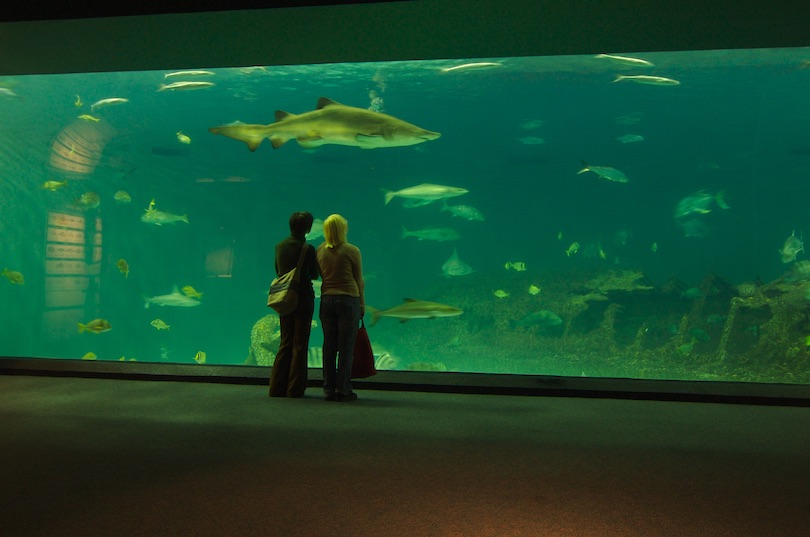 Justin Leonard / Flickr
Three equally impressive North Carolina Aquariums in three different locations (Kure Beach, Roanoke Island and Pine Knoll Shores), they're the perfect place to come on a rainy or cold day when you can't spend your time outdoors.
The aquariums are popular amongst tourists and locals alike. You can get up close to different aquatic species from freshwater and saltwater habitats. The bright and colorful exotic fish, laid-back turtles, and enthusiastic marine mammals will keep everyone happy for hours.
And if you aren't too scared, you can visit the sharks! Their huge teeth and long tails will keep you on your toes. It's recommended that you book online in advance, entries often sell out, especially in peak season.
9. Jockey's Ridge State Park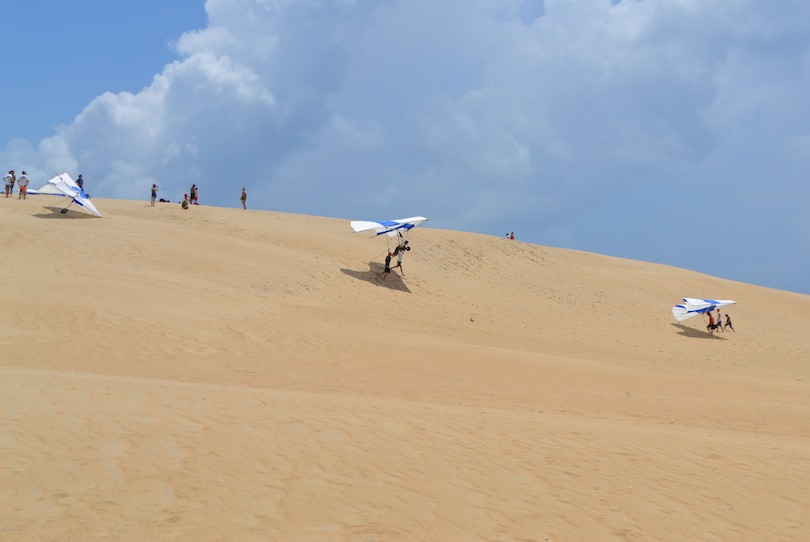 The park is home to the tallest living sand dune along the Atlantic coast. Apart from the sand and the sea, you'll enjoy the 360 foot boardwalk and the spectacular views of the ocean and Roanoke Sound in the distance.
It can get quite windy, so bring your kite. If you're coming as a couple, one of the best times to visit is at sunset, the colors and setting are quite romantic.
You can also try hang gliding at the dunes, a unique opportunity for families and friends looking for an adrenaline rush on their holiday. The park is a place of sun, sand, sea, and adventure – why wouldn't you want to visit?
8. Wrightsville Beach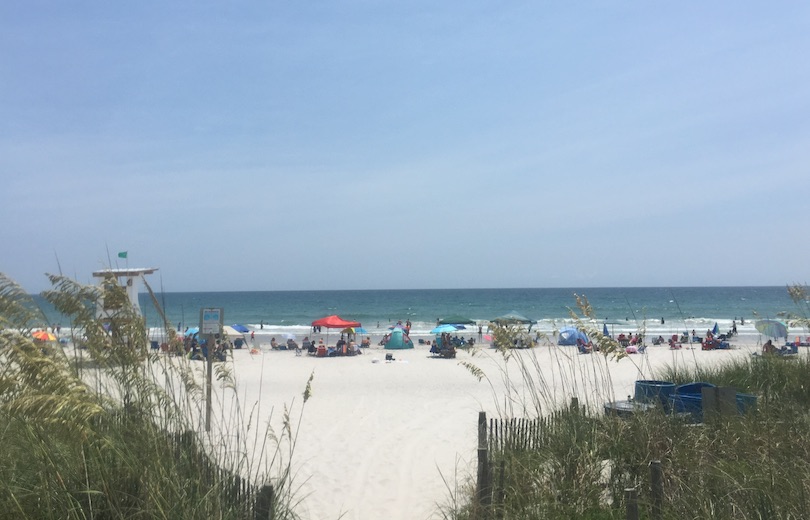 Wrightsville Beach is a cute and charming beach town in southern North Carolina. It's definitely on the smaller side, though it gets a lot of tourism so it's quite lively for its size. It's just half an hour's drive away from Wilminton, the closest city, so you could visit just for the day.
The main reason people come is the beach, the soft white sand and rolling waves are irresistible. Frankly, the best thing to get up to at Wrightsville is nothing – just bring a book and spend the day sunbathing.
If you want to do something though, you could go for a coffee at Cafe del Mar, walk the Loop (a short but picturesque trail), or head to Mayfair Town Center and do some shopping.
7. Chimney Rock State Park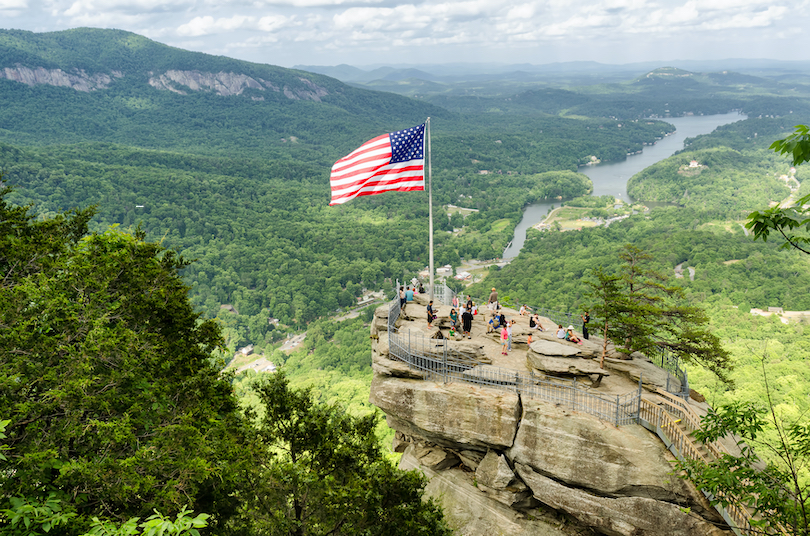 To get to this famous 500-million-year-old monolith (rock) you'll need to climb up 500 stairs. Luckily the car park is right by the stairs, and just a three mile drive away from Chimney Rock (the nearest village) so everything else is easy.
Once you're up on the rock you can enjoy the spectacular views of Lake Lure and Hickory Nut Gorge in the distance. Then soak up your surroundings with a walk in the wooded landscape, there are easy hiking trails like the Hickory Nut Falls Trail that goes to the 404-ft. Hickory Nut Falls waterfall.
This is quite the adventure for nature and geography enthusiasts visiting North Carolina, and the park is just 25 miles from Asheville.
6. Biltmore Estate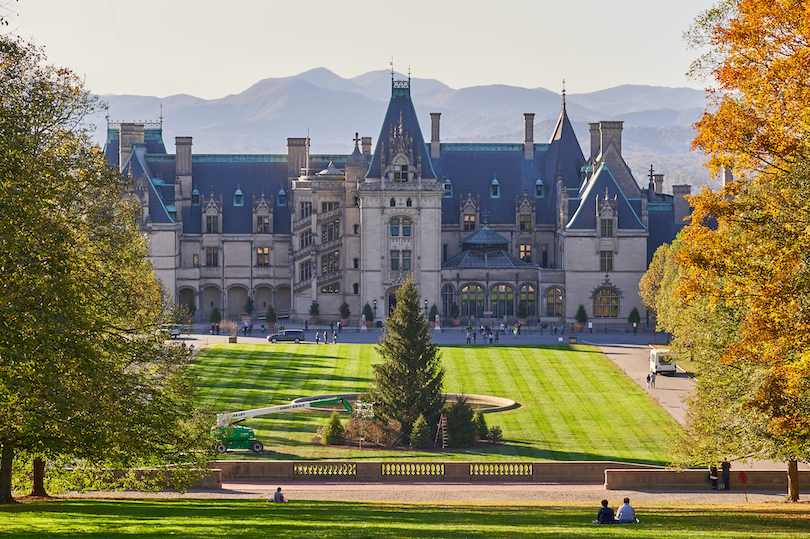 Set in the Blue Ridge Mountains of Asheville, this stunning manor on a large estate looks like something out of a fairytale. The perfectly kept gardens and front lawn look surreal too. It was once the home of George and Edith Vanderbilt and is now open to the public.
The inside of the property is no less impressive than the exterior; decorated with vintage furniture and antiques, you'll feel as though you've stepped into the past.
You'll want a whole afternoon to explore this 35-bedroom property that is best described as elegant, grand, and luxurious.
5. Wright Brothers National Memorial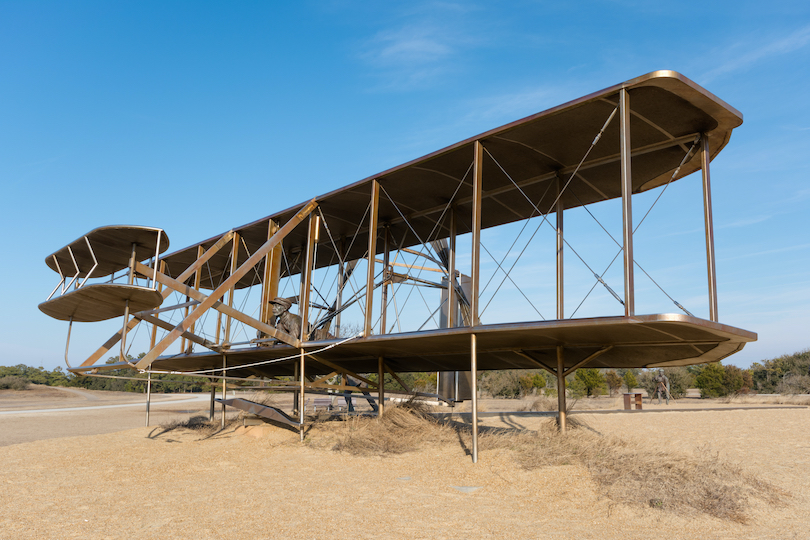 Did you know that the first ever (successful) flight happened right here in North Carolina? The two brothers, Orville and Wilbur, designed and tested the plane themselves – luckily their engineering was reliable enough to see them land safely!
The Wright Brothers National Memorial monument was built to commemorate the ingeniousness and bravery of the two brothers who took to the air on December 17th, 1903.
You can't miss the monument, it towers over the Kill Devil Hills town below. It's 60 foot tall and made of solid granite.
4. North Carolina Museum of Natural Sciences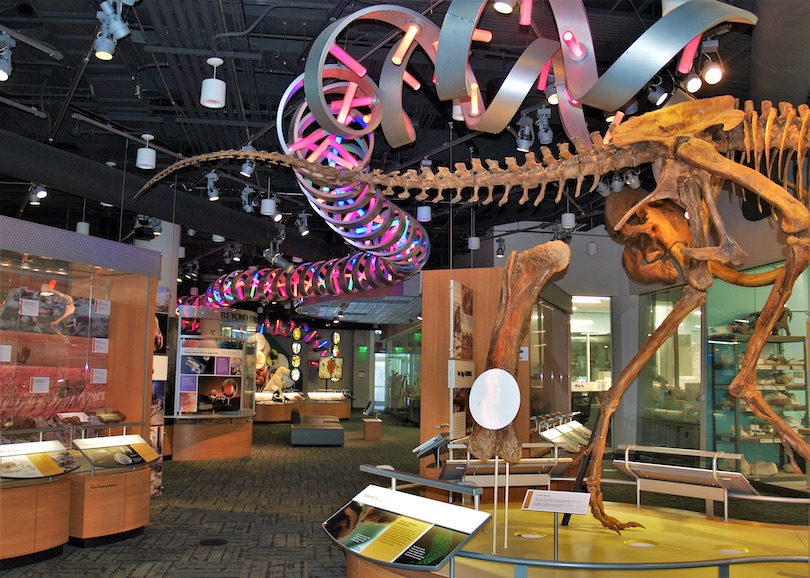 The Museum of Natural Sciences is in the center of Raleigh city in North Carolina. It's the perfect place to take the kids on a rainy day or explore alone on a free afternoon.
The museum is full of fascinating exhibits that aim to explore life on Earth from the age of the Dinosaurs till now. The enormous dinosaur skeletons and countless freaky amphibians on display are sure to shock even the most curious minds.
Once you've finished exploring you can pick up some gifts to take home from their quaint gift shop, it's mostly animal themed of course.
3. USS North Carolina Battleship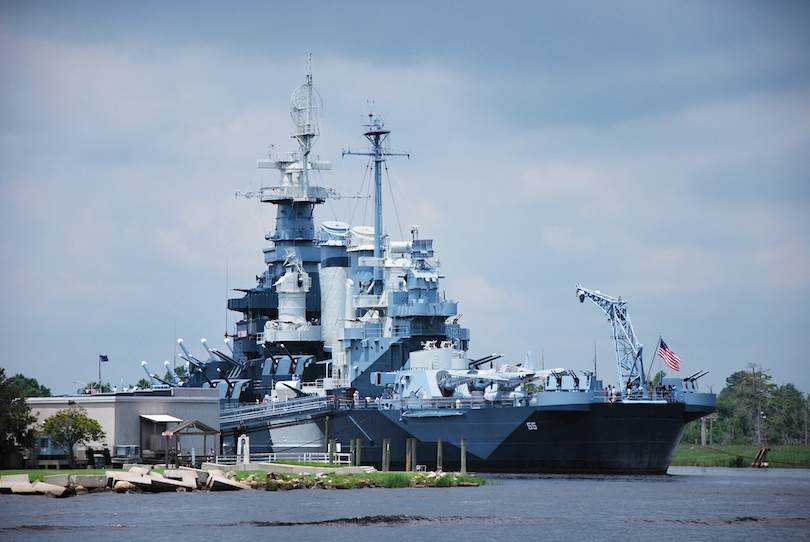 This authentic World War II battleship was restored to its original grandeur after going to battle in World War II, then opened up to everyone in 1961. It's found right across the river from downtown Wilmington.
There are exhibits across nine levels onboard that tell the stories and struggles of the crew who sailed across the Atlantic on the USS North Carolina Battleship to fight for peace during World War II.
If you love history and ships, this is the place to come. You can play at being captain and spend some time remembering the 11,000 North Carolinians who lost their lives during the Second World War.
2. Outer Banks Beaches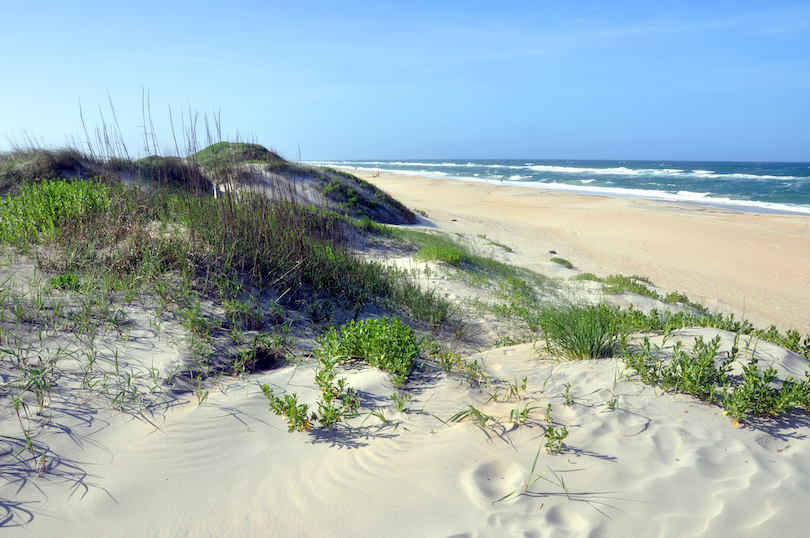 The Outer Banks Beaches are a collection of beaches scattered around a narrow chain of barrier islands in North Carolina.You can drive onto the islands and then explore a number of the beaches. Whether you're looking to build sandcastles in a busy beach town or you're wanting to go for a solitary walk in a secluded spot – you'll find the beach for you.
Popular beachside villages you can visit include the Tri-Villages (Rodanthe, Waves, and Salvo), which are all very close together. But if you're coming with a furry friend then consider Duck, it's pet friendly.
If you've brought your surfboard and you want to catch some Atlantic waves then head to Kitty Hawk or Kill Devil Hills. Another adventure spot is Frisco beach that has campgrounds and 4×4 driving.
1. Blue Ridge Parkway
Blue Ridge Parkway is a scenic drive through the Appalachian Mountains in North Carolina and Virginia. Along the way you'll pass by the New River, Mount Mitchell, Whitewater Falls, and Linville Gorge – it's safe to say you won't struggle to find fantastic views.
It's definitely not a quick drive, it'd take some 10-12 hours if you drove non-stop. To make the most of the route it's best to plan for 3-5 days on the road so you can stop and explore.
The route runs for 469.1 miles, from Shenandoah National Park's Skyline Drive to the Great Smoky Mountains National Park. It's known for its scenery and exceptional biodiversity – keep a lookout for wildlife!
Map of Things to Do in North Carolina