Located along the southwest of Sri Lanka's scenic coastline, the historic city of Galle is one of the country's most popular tourist destinations, and it is easy to see why. Packed full of fascinating historical sights and cultural landmarks that date to Portuguese, Dutch, and British rule, the city is a fantastic place to explore, with lots of different cultural influences and historic tourist attractions.
Much of life in the city revolves around the old Dutch Fort, which is set in a spectacular spot at the entrance to the city's harbor. Here, you'll not only find incredible mosques, churches, and colonial-era buildings, but lovely little cafes and restaurants, and there is always a lively atmosphere about the place.
Other things to do in Galle include exploring nature with a number of beautiful beaches and nature reserves nearby. Offering the perfect mix of history, culture, and nature, Galle is undoubtedly the highlight of any trip to Sri Lanka's Southern Province.
In this post, we'll cover:
15. Clock Tower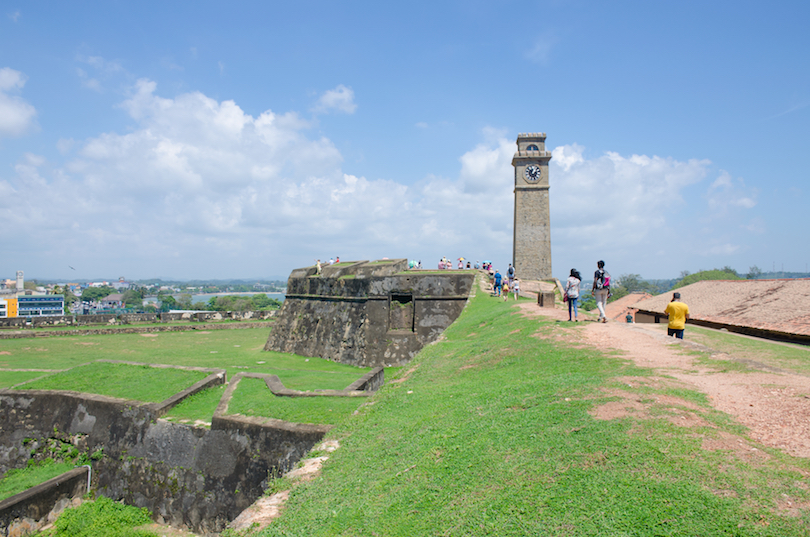 Lying just inside the sturdy stone walls of Galle Fort, the Clock Tower is one of the city's most recognizable landmarks and most photographed monuments. Built in 1883, it was erected in memory of Peter Daniel Anthonisz – a popular and well-known doctor.
Nowadays, you can still read a plaque that commemorates the doctor's life and 'his skill and benevolence in relieving human suffering.' Towering to a height of 25 meters, the Clock Tower makes for a fine sight with the harbor lying just behind it and the fort all around it.
14. National Maritime Museum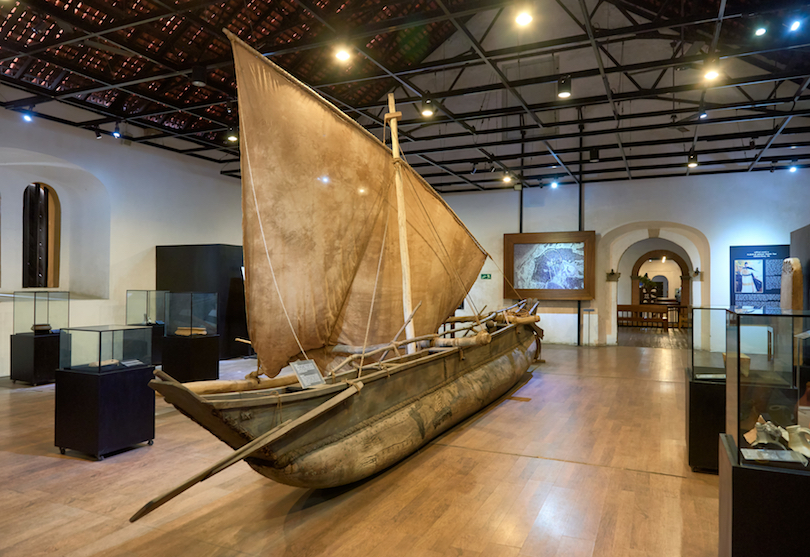 Opened to the public in 1992, the National Maritime Museum is a great place to head to if you want to learn more about Sri Lanka and Galle's seafaring past and rich maritime heritage. Located in a delightful old warehouse that was built by the Dutch in 1671, the museum has lots of fascinating maps, models, and marine artifacts for you to peruse.
Besides looking at maritime trade, local fishing techniques, and marine archaeological sites in the area, there is also an impressive skeleton of a whale on show, as well as large dioramas of Sri Lanka's marine fauna and flora.
13. All Saints Anglican Church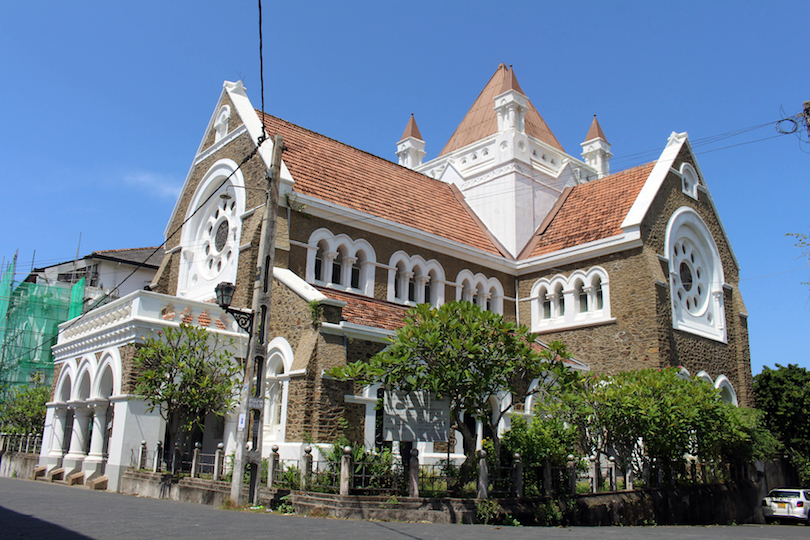 Another of the many sights to be found within Galle Fort is All Saints Anglican Church. Built in a gorgeous Gothic Revival style, the church was opened in 1871, and its fine features paint a very pretty picture. Its white arches, columns, and central tower stand out delightfully against the dull kabuk rock and mortar of its walls, with its inside painted in the same dazzlingly bright white.
Here you'll find some very solid pews and fantastic stained-glass windows. The cool temperature and peaceful ambiance make it the perfect place for some quiet introspection away from the heat and noise of the city.
12. Old Gate
Embedded within the walls of the city's fortifications, the Old Gate has welcomed people into the Galle Fort for centuries. Although it may not look all that impressive, the entrance, its architecture, and emblems perfectly encapsulate Galle's diverse history and heritage.
While the British Coat of Arms can be seen flanked by two proud lions above the outside of the gate, inside bears an inscription from 1669 of the Verenigde Oostindische Compagnie or Dutch East India Company.
Long a prominent seaport, these two marvelous carvings are just small reminders of the various peoples and powers who sought to control the city and the trade of spices over the centuries.
11. Fort Lighthouse
Located right at the tip of the promontory upon which Galle Fort lies, its lovely lighthouse has long watched over the surrounding waters and welcomed sailors safely into the harbor. While the current lighthouse dates to 1939, earlier versions have stood in the same spot since at least 1848.
The sleek and slender lighthouse is painted in a brilliantly bright white and sparkles in the intense Sri Lankan sun. With palm trees waving around it and the shimmering waters of the harbor behind it, the Fort Lighthouse is one of the most photographed landmarks in the city.
10. Meeran Mosque
Only built in 1904, Meeran Mosque exhibits a fabulous mix of architectural styles that again showcases the amazing diversity of cultures that have lived in and ruled over Galle throughout the years.
While its Baroque facade looks more like that of a cathedral, some incredible Islamic detailing and decorations remind us that we are indeed looking at a mosque. Add in various British Victorian features, Dutch-influenced designs, and patterned Italian floor tiles, and you start to get a snapshot of not only the history and architecture of the mosque but that of Galle as well.
The elegant whitewashed building certainly stands out against its surroundings. It is this unusual and unique combination that makes Meeran Mosque so worth visiting.
9. Dalawella Beach
While all the previous sights we have looked at are found in Galle Fort, Dalawella Beach lies just a short bus journey away on the outskirts of the city. Bordering the warm and inviting waters of the Indian Ocean, the beach is as idyllic as they come, as gently waving palm trees line its gorgeous golden sands.
Much less crowded than the more popular Unawatuna Beach, Dalawella is ideal if you're looking to kick back and unwind in a stunning setting. Many people come here to take a picture on its now Instagram-famous beach swing.
If you want to spend longer lounging on Dalawella Beach, there are a number of great cafes, restaurants, and hotels on offer. It is well worth staying for the sunset, which is absolutely spectacular.
8. Dutch Hospital
Now home to lots of trendy boutiques and fine dining establishments, the Dutch Hospital, as the name indicates, is where the sick and wounded used to come in colonial times to hopefully recover and recuperate.
Located just a stone's throw away from the harbor, the two-story hospital showcases some fantastic colonnaded verandas, wooden staircases, and dazzling white walls. Carefully restored and refurbished in recent years, it now looks just as good as it would have done in its heyday back in the 17th century.
7. Unawatuna Beach
One of the best and most popular beaches in the whole of Sri Lanka, Unawatuna is the perfect place to head if you want to lounge in the sun amid some stupendous scenery. While its palm tree-lined golden sands certainly make for a beautiful sight, what with the waves of the ocean gently lapping at its shores, Unawatuna is particularly renowned for the wealth of watersports that it has to offer up.
As there are a number of great coral reefs and shipwrecks lying offshore, Unawatuna attracts lots of scuba divers and snorkelers. At certain times of the year, you may even see turtles coming to nest on the beach. In addition to this, it also has loads of laidback little restaurants, bars, and hotels for you to choose from. This is a fantastic place to stay if you want to combine a beach holiday with the history and culture on offer in Galle.
6. Dutch Reformed Church
Built in 1755, the Dutch Reformed Church – or Groote Kerk, as it is also known – is one of the most impressive and prominent colonial-era buildings in the city. Although its exterior is quite austere in appearance, with only a couple of flourishes and decorations above its entrance, the Doric style church boasts a fabulous interior; this is what makes it so worth visiting.
Besides its colorful stained-glass windows that delightfully illuminate the nave, there is a wonderful organ and pulpit for you to check. Remarkably, the floor is made out of gravestones. Perched on the highest point in Galle Fort, the Dutch Reformed Church lies just a short walk away from several other interesting churches, mosques, and temples.
5. Sinharaja Forest Reserve
Boasting the largest lowland rainforest in the country, Sinharaja Forest Reserve is a joy to explore, with lots of pretty and picturesque nature. Meandering their way through the dense undergrowth are lots of scenic trails and paths for you to wander along. These take you past sparkling waterfalls and alongside gushing rivers.
With an expert guide on hand, you'll be able to spot incredible wildlife, such as elephants, leopards, and purple-faced langurs, while brightly colored flocks of birds fly overhead. The only park which you can explore solely on foot, Sinharaja Forest Reserve is definitely worth visiting if you have the time and lies just a couple of hours' drive away from Galle.
4. Sea Turtle Farm
Located on the outskirts of Galle in Mahamodara, the Sea Turtle Farm has long helped protect the lovely marine creatures, preserve their natural habitat, and promote their well-being. Since it opened, the family-run center has hatched, cared for, and released thousands of sea turtles back into the wild and educated countless locals and tourists about their feeding and nesting habits.
At the Sea Turtle Farm, you can learn all about their conservation projects and even volunteer yourself if you want to spend more time up close and personal with these amazing creatures.
3. Flag Rock
Jutting out into the ocean, Flag Rock lies at the southernmost tip of Galle Fort and once used to be an imposing Portuguese bastion. Nowadays, its crumbling walls and prominent clifftop location make it a popular place to watch the sunset. The views are breathtakingly beautiful as the sun dips into the ocean.
As numerous street vendors roll up around this time, it is also a great place to grab a bite to eat and enjoy the laidback yet lively atmosphere. In addition to this, it is also worth heading here earlier in the day; you can often see local cliff divers hurling themselves into the waters below.
2. Old Town
Packed into quite a small area within the fort's sturdy walls, the Old Town of Galle is an intoxicating place to explore, with a wealth of incredible things for you to see and do. Its narrow and bustling streets take you past a wealth of different architectural styles, with colonial-era Portuguese, Dutch, and British monuments and buildings found alongside traditional South Asian designs and decorations.
While sights such as the Dutch Reformed Church, Clock Tower, and Fort Lighthouse count among its most popular attractions, simply walking around and taking in the vibrant feel about the place is a must. With lots of atmospheric cafes, fantastic restaurants, and trendy bars for you to try out, the Old Town really is at the heart of everything going on in the city.
1. Fort's Walls
Built in 1588 by the Portuguese and later reinforced and strengthened by the Dutch, Galle Fort and its majestic walls were erected to protect them and their trading interests from not only other colonial powers but also the local population.
Surrounded on three sides by water, the fort is set in a very advantageous and attractive spot, and its walls are in remarkably good condition considering their age. Punctuated here and there with gates and bastions, with a now dry moat separating the fort and the peninsula from the mainland, the fortifications are fascinating to walk around.
Besides the many impressive and important historical landmarks on show, you can also enjoy awe-inspiring views out over the ocean and harbor from its ramparts. The largest remaining fortress in South Asia built by European colonizers, Galle Fort is certainly not to be missed out on when in town.
Best Time to Visit Galle
While lots of people visit all year round, December through April is by far the best and most popular time. Besides being the driest period, temperatures of 29 to 31°C (84 to 88°F) are perfect for sightseeing or sunbathing at its nearby beaches.
As everyone pours in for the holidays, its atmospheric old town can get quite crowded with prices rising as a result. Other than celebrating Christmas and New Year's Eve here, you can attend the Galle Literary Festival or take part in its Independence Day festivities. While April is slightly quieter, huge crowds still come to celebrate the Sinhala and Tamil New Year.
After this, May and June are very quiet as the monsoon season kicks in, making sightseeing and beach activities a lot less enjoyable. As September through November is also incredibly rainy, most people stay away then too. The exception is October as the important Vap Full Moon Poya Day falls then.
In between are July and August; two of the most popular months to visit. Slightly drier, they see loads of holidaymakers head here with the prices and crowds again increasing. Averages of 29°C (84°F) are again great for exploring the old town or lounging on its beaches.