From its rich Celtic culture to the breathtaking beauty of its varied landscapes, Ireland is a travel destination that lives up to its nearly mythic reputation. The Emerald Isle really is that green, the sights are truly spectacular and the people are genuinely friendly. Despite its small size, bustling cities and sprawling suburbs, Ireland still boasts stretches of roads and trails where visitors can feel as if they have the island all to themselves.
Those seeking a more sociable travel experience have only to walk into a neighborhood pub to feel right at home. Whether spending the night in an ancient castle, cycling along a coastal headland or viewing Celtic artifacts at a world-class museum, Ireland casts a spell of enchantment on every visitor.
Politically, Ireland is divided between the Republic of Ireland and Northern Ireland, a part of the UK. Our selection of the best places to visit in Ireland covers the entire island.
Barnacles Hostels / Flickr
West Ireland's largest city, Galway is best known for its art galleries and shops, most of which are located along the winding lanes and cobblestone streets of the city's charming medieval quarter. With several live music venues and a thriving pub scene, Galway is considered a major center for traditional Irish music as well.
The harbor city is also known as one of the few places left in Ireland where the Irish language is still spoken on the streets. Full of fun, history and culture, Galway is an ideal destination for any visitor seeking a true Irish travel experience.
terryballard / Flickr
Located off the west coast of Ireland at the mouth of Galway Bay, the Aran Islands of Inishmore, Inishmaan and Inisheer have attracted visitors for centuries. Isolated from the mainland, inhabitants on the islands have maintained a more traditional lifestyle than in other parts of Ireland, offering visitors a glimpse into the country's rich past.
With no more than 100 vehicles allowed on Inishmore, the largest of the three islands, horse-drawn buggies carry visitors by stone farm cottages to enjoy spectacular views from limestone cliff tops. Inishmore has a 2,000-year-old stone fortress perched atop a 90-meter (300-foot) cliff that's well worth exploring too.
8. Dingle Peninsula
[SEE MAP]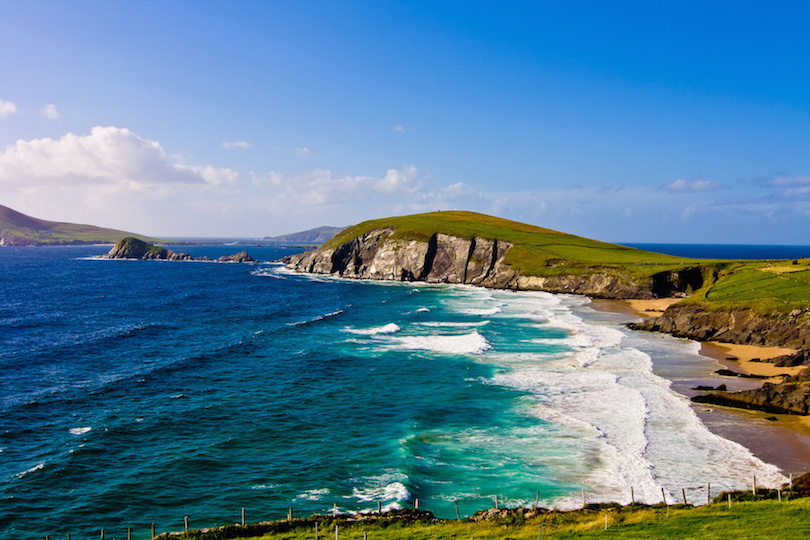 The Dingle Peninsula encompasses the westernmost tip of Ireland, offering visitors the appeal of a far-away destination with the convenience of a nearby town. The landscape is dotted with remnants of Bronze Age settlements, prehistoric stone markers and more than 500 monastic stone huts.
The monks who dwelt in the so-called beehive huts, or clocháns, helped keep learning alive during the Dark Ages. Surfing and windsurfing are popular activities on the peninsula's beaches. With fine restaurants, good accommodations and a lively pub scene, Dingle Town offers fun and relaxation at the end of the day.
Roberto Taddeo / Flickr
Just a few km to the south of Dublin lies Glendalough, a monastery founded in the 6th century by St. Kevin, a hermit monk who figures prominently in traditional Irish legends. Once a chief pilgrimage destination in Ireland, Glendalough continues to attract visitors from around the world.
Situated near two lakes in a glen surrounded by forests, visitors are drawn by the area's scenic beauty as well as its rich history. The largest structure in the monastery is an unfinished 9th-century cathedral, but it's the Round Tower that many visitors find the most striking. Equipped with a pull-up ladder, the 30-meter (110-foot) tower served as a last-resort refuge during Viking raids.
The capital of the Republic of Ireland, Dublin is surprisingly large for a country with a total population of around five million people. Most of the city's inhabitants live in outlying suburbs, however, and Dublin's main travel destinations are located in the center of the city.
A city with a thousand-year-old past, Dublin is both an historical city and a bustling modern-day port. The city treasures its past while never forgetting to live in the present.
Other cities in Europe may be known for art or music; Dublin is renowned for its literature. Dublin is the home to literary giants like Oscar Wilde, James Joyce and George Bernard Shaw, so it's no surprise that one of the city's greatest attractions is a 1200-year-old book. Housed at Trinity College, the alma mater of writers like Bram Stoker and Samuel Becket, the Book of Kells is a rare, ornamented copy of the four gospels of the New Testament.
Historical attractions include Dublin Castle, a Norman fortress built in 1204, and St. Patrick's Cathedral, completed in 1260 and still the nation's largest cathedral. For its collection of prehistoric gold, Celtic art and Viking artifacts, the National Museum of Ireland is worth a visit as well.
Easy-going locals are a sociable lot known for their wit, charm and passion for good food and drink. The latter may explain why the Guinness Storehouse, home of Ireland's celebrated brew, is the most visited attraction in Ireland. Equally popular are the city's pub crawls, of which the literary pub crawls are perennial favorites. Actors lead visitors from pub to pub past literary landmarks and regale participants with excerpts from Dublin's most famous authors.
Whether exploring the James Joyce Museum or swapping stories with locals over a pint of Guinness, a visit to Dublin is a unique and memorable experience. Visitors come away with a stirring narrative that they'll love to share with others for years to come.
5. Giant's Causeway
[SEE MAP]
Situated at the base of steep cliffs on the northeast coast of Ireland, the Giant's Causeway is a natural rock formation that does indeed look as if it were fashioned by giants. The honeycomb formation of more than 37,000 hexagon-shaped basalt columns appears too geometrically perfect to have been shaped by nature.
It took 60 million years of tectonic plate movement, lava flows and erosion to fashion the stepping-stone columns into their present shape. Cliff-top trails offer great views of the rocks, and a flight of steps leads down to sea level. A nearby visitor center also offers walking tours and trips by van to the site.
4. Killarney National Park
[SEE MAP]
mozzercork / Flickr
Located in southwest Ireland in County Kerry, the Killarney National Park was established in 1932 when the Muckross Estate was donated to the country. The Victorian Muckross House now serves as the park's visitor center, and the estate's extensive gardens are popular attractions in the park.
For many visitors, however, the park's three lakes are the biggest draw. Populated by swans and otters and surrounded by forests inhabited by Ireland's only native herd of red deer, boat trips on the lake offer encounters with wildlife as well as scenic views. A broad network of surfaced paths invites exploration by foot, bicycle or horse-drawn carriage.
turingd82 / Flickr
Remnants from Ireland's ancient past are found all over Ireland, but the Brú na Bóinne mounds in Boyne Valley are not to be missed. Three of the 5,000-year-old burial mounds have been fully excavated and are open to visitors: Newgrange, Knowth and Dowth.
With its carved granite boulders and white quartz façade, Newgrange is the most striking. A central passage leads to vaulted chambers where cremated remains and grave goods from at least five people were found. The mound of Knowth is best known for its 250 decorated stones, some of which appear to be local maps. There is no public access inside Dowth, but visitors can climb the mound to enjoy the view.
The most popular scenic drive in Ireland, the Ring of Kerry is a more than 160 km (100 mile) long highway that runs along the coastline of the isle's picturesque Iveragh Peninsula. Most visitors start and end their tour in the busy town of Killarney; savvy travelers choose the less-crowded pretty village of Kenmare as a base.
Sights along the Ring include Ireland's tallest mountain Carrantuohill, several pristine lakes, a medieval monastery and the prehistoric Staigue Fort, which features thick stone walls constructed without mortar. Several seafront towns and resorts along the route boast sandy beaches, making them charming side destinations when the weather is warm.
ac78 / Flickr
No visit to Ireland is complete without spending some time enjoying the view from on a high cliff overlooking the Atlantic, and the Cliffs of Moher take this experience to breathtaking new heights. Rising nearly 210 meters (700 feet) from the shoreline, the stretch of cliffs attracts almost one million visitors each year making it one of the most popular places to visit in Ireland.
Understandably, access to the cliffs is restricted in windy weather. Boat tours offered at the pier in Doolin give visitors the opportunity to enjoy the cliffs from a different perspective.
Map of Ireland
© OpenStreetMap © MapTiler © Touropia