While Hungary is famous for its goulash and paprika (which, by the way, originated in the New World), it's known for much more than that, including world-class fine wines and its pear liqueur, an orange-colored sweet dessert treat, sometimes known as palinka.
Visitors to Hungary quickly learn it is a land of many cultures, having been ruled over by the Romans, Ottomans, Mongols, Magyars, Czechs and the Soviets. Remains of Roman fortifications can be found as can utterly spectacular buildings dating back to the Middle Ages. Hungary also is the land of the beautiful blue Danube River; no trip here would be complete without a boat ride on it. An overview of the best places to visit in Hungary:
With its roots in Celtic and Roman eras, Gyor also has been ruled by the Mongols, Magyars, Czechs, and Ottomans, though city fathers burned the town to keep the Turks from taking it. Gyor, located between Budapest and Vienna, is a good town to just wander around in. At almost every turn you'll come across statues and marvelous old buildings. The old town at Kaptalan Hill can be found at the confluence of the Danube, Raba and Rebca rivers. A must-see is the church of St. Ignatius of Loyola, an ornate Benedictine cathedral, which visitors have described as "food for the soul."
9.
Hortobagy National Park
Hortobagy National Park was established as Hungary's first national park in 1973. It is the country's largest protected area and Europe's largest semi-natural grassland, with the alkaline steppe dating back 10,000 years. Animals, including wild horses, lived on the steppe during the Ice Age. Horses, as well as cattle, oxen and water buffalo, still graze on the land. It's a good place to go bird watching, since 342 species live in the park. A key attraction is the Nine-Arch Bridge that was built in the mid-19th century for people needing to cross the heavily flooded grasslands. Another top site is the Kareag Windmill, also built in the 19th century.
Debrecen, which served as Hungary's capital various times over the century, is an important cultural center. Heavily destroyed during World War II, Debrecen is considered the intellectual center of the country, starting with the founding of Calvinist College in 1538. Now known as the University of Debrecen, the college is famous for its architecture. The city has a thriving music scene and is home to the Bela Bartok International Choir competition. Top attractions include the Reformed Great Church, the largest Protestant church in Hungary; the Deri Museum with its collection of ancient Egyptian artifacts, and the annual Flower Carnival.
If soaking in hot springs water relaxes you, head to Heviz, home to one of the largest thermal lakes in the world. Water temperature varies from 24 to 37 degrees (71 to 100 °F), making for a pleasant swim. The water flows from its source fast enough to change every 3-1/2 days, keeping the water clean. Located near Lake Balaton, Heviz is famous for its spas with many flourishing resorts. After a swim in these medicinal waters, you might want to hike in the nearby forest, or take in a food festival or outdoor concert. With a Mediterranean-like climate, Heviz is a popular year 'round destination.
6.
Aggtelek National Park
If you're a spelunker, put Aggtelek National Park on your bucket list for Hungary. Located in northern Hungary about a three-hour drive from Budapest, the park is home to the largest stalactic cave, in Europe. Guided tours, geared to physical capabilities, are available. A special cave experience is listening to concerts inside Baradla. The park is a protected area, with some parts off-limits to tourists, while visitors must remain on marked hiking trails in others. Aggtelek National Park is a good place to see flora and fauna, and visit quaint villages within its boundaries.
Pecs is a multicultural city where different ethnic groups co-exist peacefully together, where refugees are enfolded into the bosom of the city, making it one of UNESCO's Cities of Peace. Home to the first university in Hungary, founded in 1367, Pecs has been ruled over by Romans, Christians, and Ottomans. A mild climate, magnificent museums, medieval buildings and fine wines make Pecs a popular travel destination. Historic religious buildings are a big draw, including Pecs Cathedral, Szchenyi Ter, Pecs Synagogue and Mosque of Pasha Gazzi Kassim.
Established in Roman times, Sopron has been both an Austrian and Hungarian city over the centuries. A 1921 vote decided it should be part of Hungary, earning Sopron the nickname of "Most Loyal Town." The Gate of Allegiance honors this. It is located on the main square next to the city landmark Firewatch Tower. The city was devastated by World War II, though many of its medieval buildings escaped damage. Sopron today is one of Hungary's major wine producing regions, one of the few famous for both its red and white wines. Great hiking is available in the nearby Alps.
Eger, northern Hungary's second largest city, is known for several things. Founded by Hungary's first Christian king, Saint Stephen, in the 10th century, the city is famous for its magnificent baroque buildings. The king founded an Episcopal cathedral, with Eger remaining an important religious center today. The cathedral was built on Castle Hill, with the city growing around it. The castle and basilica remain the city's top sights, followed by the Valley of the Women, a series of wine cellars and restaurants built into surrounding hills. Check out the Torok Kori Minaret, the northernmost Turkish minaret in Europe; the 150-step climb to the top is steep, but the views are worth it.
When relaxing at a resort becomes more appealing to you than walking another cobblestone street to see another medieval building, head to Lake Balaton. Europe's largest freshwater lake is also Hungary's most popular summer resort. It's so big it's sometimes referred to as the "Hungarian Sea," a delightful misnomer since the country is landlocked. Grass covers many of the beaches, though some resorts have created artificial sandy beaches. Siofok is the lake's party capital, while ferries at Fonyod take passengers to Badacsony, a major wine-growing region. The north shore offers more wineries, the historical bathing town of Balatonfured, and the baroque Festetics Castle.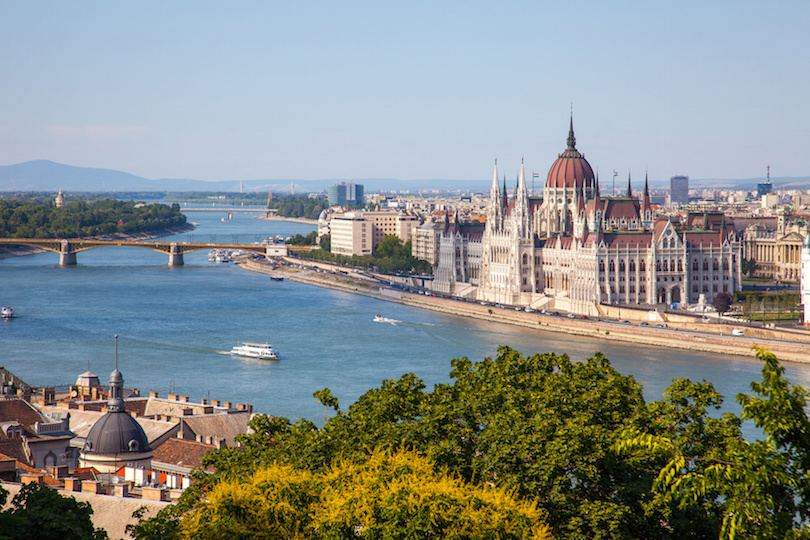 Budapest, Hungary's capital and largest city, is considered one of Europe's most beautiful cities. One of the best places to visit in Hungary, Budapest is home to the world's largest thermal water cave system as well as the world's second largest synagogue and third largest Parliament building, the city's top attraction. You'll find spectacular views of the Danube and the city from Fishermen's Bastion, originally part of the city wall. A poignant memorial to Jews killed in World War II can be found at Shoes of the Danube, where Jews removed their shoes before being shot and washed away by the river.
Loading ...