It's easy for visitors to leave their hearts in San Francisco; it's a very beautiful city. It's equally easy for visitors to leave their hearts just outside of San Francisco. A myriad of activities awaits visitors who venture on one of the top day trips from San Francisco: stunning ocean views, rolling hills peppered with vineyards, quaint towns, mountains and more. Most are easily reachable within a couple of hours drive from the city by the bay.
dailylifeofmojo / Flickr
Half Moon Bay, just 30 miles (50 km) south of San Francisco on the Pacific Coast Highway, makes a great getaway for visitors ready for some peace and quiet. It has forests on one side and the Pacific Ocean on the other. Its historic downtown is a good place to stroll, with beaches and parks accessible to bikers and horseback riders as well.
Excellent golfing at two courses is another outdoor option. The city hosts a pumpkin festival in October that draws hundreds of thousands of people. Visit a roadside stand to buy locally grown produce such as fruit, beans or artichokes.
Berkeley Lab / Flickr
Berkeley is famous for many things: It is the home of the University of California – Berkeley, the oldest state university in California, and for being a very politically liberal city. The area was settled by Spaniards in the 18th century, though it got its name from George Berkeley, an Irish Anglican bishop.
Berkeley also is famous for its involvement in the hippie movement of the 1960s, with the hippies migrating there from nearby San Francisco. The top of Lawrence Hall of Science on the UC campus is the best place to view San Francisco Bay.
7. Monterey Peninsula
[SEE MAP]
micadew / Flickr
Stunning views of the Pacific Ocean await travelers to the Monterey Peninsula, which includes the towns of Monterey, Carmel and Pacific Grove. Monterey, just 115 miles south of San Francisco, was the setting for John Steinbeck's Cannery Row.
Carmel is famous for having Clint Eastwood as its mayor and for its golf courses, though with 20 world-class golf courses on the peninsula, it does not have a monopoly on them. Other popular activities include sailing, biking, whale watching on Monterey Bay, enjoying fresh seafood in fine dining restaurants, and touring art galleries and museums.
6. Sonoma Wine Country
[SEE MAP]
torbakhopper / Flickr
Not as well-known or touristy as the neighboring Napa Valley, Sonoma County is a wine lover's dream nevertheless with more than 400 wineries nestled in the hills and valleys going inland from Pacific Coast Highway No. 1 just north of San Francisco. Its coastal region is beautiful and rugged, and the agricultural pastureland is some of the most quintessentially beautiful to be found in California.
Sonoma Hwy/Hwy 12 is lined with wineries, and runs from Sonoma to Santa Rosa, then to western Sonoma County. Some of the wineries offer chances to meet their winemakers while others offer classes on cooking and pairing foods with wine.
5. Yosemite National Park
[SEE MAP]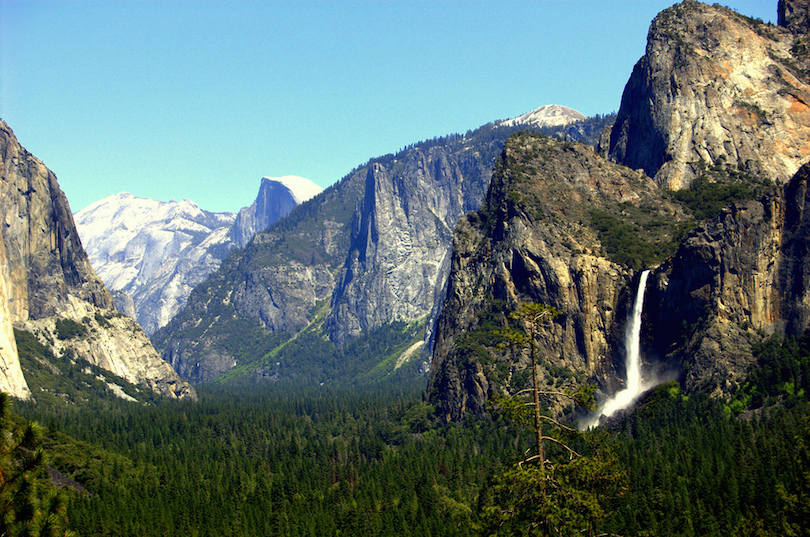 Dawn / Flickr
A visa to one of America' most loved national parks, Yosemite, is doable on a day trip from San Francisco, but travelers may want to get an early start as it takes about 3-1/2 hours to make the one-way 165-mile (265 km) trip.
Yosemite National Park, which turns 125 years old this year, is most famous for its waterfalls, including the Nevada Fall that drops nearly 600 feet, and the stunning rock face of El Capitan, a favorite with rock climbers. Yosemite is a good place to see giant sequoias, but visitors will have to hike two to three miles to see them.
Josta Photo / Flickr
Santa Cruz is the original surf city; it was here that surfing first took place on the U.S. mainland. But ridin' the waves isn't the only riding visitors can do in this central coast city. There's riding the rides at Santa Cruz Beach Boardwalk, the oldest seaside amusement park on the west coast.
Besides surfing, visitors can scuba dive, paddle board, kayak or watch whales. Those less athletically inclined can shop the boutiques and galleries along tree-lined streets in the downtown area, all less than a 90-minute drive south of San Francisco.
alihamdany / Flickr
Visitors can drive to Napa Valley in under 90 minutes or if they want to sample the grape without worrying about driving afterward can take an organized tour. The Napa Valley, which includes Yountville, St. Helena and Calistoga, has hundreds of wineries that draw visitors from around the world.
Hills covered with vineyards provide a scenic backdrop to the wine-tasting experience. Chardonnay and Cabernet Sauvignon are the main wine draws, but dozens of other varietals are produced to enhance the experience.
Sarah&Boston / Flickr
Sausalito is another city on the bay where visitors frequently leave their hearts. The historic old town area is filled with charming boutiques, art galleries, coffee houses and an historic wharf. After dark is a good time to visit the wharf where one can look across the bay to the sparkling lights that are San Francisco.
Travelers can take cooking or ceramics classes, and visit the Marine Mammal Center. Getting to Sausalito from San Francisco is fun; visitors can take a water taxi or ferry from San Francisco or ride a bike across the world-famous Golden Gate Bridge.
Muir Woods are named after naturalist John Muir, founder of environmental organization the Sierra Club. Shrouded in fog rolling off the Pacific Ocean, It is one of the few remaining places where the coastal redwoods can be seen in their full glory. Many of these redwoods are over 200 feet (60 meters) tall and over 600 years old.
Because the woods have become so popular with visitors on summer weekends, the Park Service recommends visitors to tour them by shuttle bus since parking is limited. Muir Woods is located just 12 miles (19 km) north of San Francisco on the Pacific Coast Highway. The park has both paved and unpaved walking and biking trails.