Set in a spellbinding spot amidst the Andes, sophisticated Santiago is both Chile's capital and its largest city. Most people's first point of entry to the long, narrow South American country, it has a lot of tourist attractions with ski resorts, wineries and even the glittering Pacific nearby.
Since being founded by the Spanish in 1541, Santiago de Chile (as it is sometimes known) has slowly grown into one of the largest metropolises in the Americas. While some districts are home to old colonial and neoclassical buildings, other happening neighborhoods, like Barrio Bellavista and Lastarria, have a lively bohemian vibe and are coated in cool street art.
Punctuating the huge city are several stand-alone hills such as San Cristobal and Santa Lucia; both of which boast epic views over the capital's skyline and surrounding snow-topped mountains.
See also: Best Places to Stay in Santiago de Chile
While the Andes and artsy Valparaiso lie enticingly near, it is well worth exploring the best things to do in Santiago de Chile for at least a couple of days before heading off to explore far-flung destinations.
In this post, we'll cover:
Map of Things to Do in Santiago de Chile
© OpenStreetMap © MapTiler © Touropia
18. Bahá'í Temple
Lying on the eastern outskirts of the capital amidst the Andes foothills is one of its most unique and interesting buildings: the beautiful Bahá'í Temple. Thanks to its serene and secluded setting, its holy House of Worship is the perfect place for quiet reflection while taking in the astounding views and architecture.
Open to those of all faiths, beliefs and backgrounds, it was erected in 2016; the last of eight temples commissioned by the Bahá'í community on each continent. Designed by award-winning Canadian architect Siamak Hariri, its lovely light-filled interior is surrounded by nine translucent marble and cast glass 'sails' that arch their way gracefully around the outside.
Aside from sitting, reflecting and taking in the temple's stunning shapes and swirls, visitors can also amble around the site's gorgeous gardens and reflective pools. From here, you can gaze out over the majestic mountains and twinkling lights of the city far below.
17. Fantasilandia
Loads of fun for all the family, Fantasilandia's exciting rides and rollercoasters have been delighting young and old alike for well over forty years. The largest amusement park in Santiago, its sprawling grounds are located in the city center, in the northwest corner of O'Higgins Park.
Since first opening to the public in 1978, the family-friendly theme park has grown with more than forty exhilarating attractions now offered. These include firm favourites like the thrilling Raptor and Boomerang rollercoasters and much calmer carousels, swings and circus trains for kids.
Various carnival games and wild and wet water rides are also scattered about as are plenty of stands and stalls where you can buy snacks and souvenirs.
16. Araucano Park
Yet another pretty and peaceful place to spend time is the expansive Araucano Park in the Las Condes part of town. Overlooked by gleaming high-rises, it contains countless playgrounds and playing fields with top-class concerts and cultural events often taking place here.
Set alongside the large and luxurious Parque Arauco Mall, the picturesque park was founded in the sixties as part of an urban renewal project. Amidst its lush green lawns and sweet-smelling rose gardens, you can now find everything from arresting public artworks to extreme sports areas. Little hiking trails and paths also lead you to well-maintained basketball, tennis and volleyball courts.
On top of all the festivals and community events it hosts during the year, there is also the exciting KidZania entertainment center for younger ones to enjoy. Bordering the park are numerous cafes and restaurants should you want a snack or drink before continuing with your sightseeing.
15. Go Skiing at El Colorado
If you're looking to get out of the city and shoot down soft, powdery slopes, then El Colorado amidst the Andes mountains is one of the best things to do in Santiago de Chile. Situated around an hour and a half's drive northeast of Santiago, the ski resort has over a hundred runs for all ages and abilities to enjoy.
Perched atop the prominent hill of the same name, its scenic ski center was established in the forties with generations enjoying its spectacular views and slopes since then. At times, its pistes take you up to an altitude of 3,333 meters with the popular resort boasting a total drop of 900 meters.
After skiing and snowboarding to your heart's content, you can stay overnight in its comfy lodges or condos and try some of its superb restaurants that offer spellbinding views over the Andes.
14. Barrio Lastarria
For even more great dining and drinking, make sure to head to the bohemian Barrio Lastarria at the bottom of Cerro Santa Lucia. A lively yet laidback area, its art-filled streets are lined by unique boutiques, bookshops and bars with cool restaurants and cultural centers also dotted here and there.
Now one of the most popular spots to explore in the city, the historic district and its narrow, winding streets date to the early nineteenth century. Most of life in the trendy neighborhood revolves around Plaza Mulato Gil de Castro with the 1852 Iglesia de la Veracruz counted among its main tourist attractions.
Other than enjoying the ambience and snapping pics of the amazing graffiti and architecture, you can try out some of its hip bars and restaurants. There are also some outstanding museums and performing arts venues to stop by while an excellent little arts and crafts market is held on Sundays.
13. Parque Bicentenario
Just a bit further north of the barrio is the phenomenal Parque Bicentenario which lies alongside the Mapocho River in the affluent and fashionable district of Vitacura. Inaugurated in 2007, it has loads of pristine paths and green spaces to stroll while drinking in divine views of the city's skyline and the snow-topped mountains in the distance.
Unveiled in time for Chile's bicentennial, its lovingly landscaped grounds contain a large man-made lagoon and long boardwalks down by the river. Besides wandering about and keeping an eye out for swans, flamingos and other waterfowl, you can lounge on its lawns or bike along its tranquil trails.
In addition to a handful of little kiosks, the famous Mestizo restaurant at its northern end also serves delicious Chilean snacks, dishes and drinks. Fabulous film festivals and cultural events are also regularly held in the expansive park.
12. Visit a Winery
As the country is renowned for its wonderful whites, reds and roses, you simply can't visit Santiago without stopping by at least one or two of its world-famous wineries. In the fertile plains to the west of the capital, you can take terrific tours and tastings at countless estates and vineyards with striking scenery and nature guaranteed.
Thanks to favorable conditions such as its arid climate and warm, sunny weather, grapes have been grown all around Chile since at least the sixteenth century. From downtown, you can reach the vast Maipo and Casablanca valleys, two of its main wine-growing regions, in less than an hour's drive.
Here you'll learn more about the rich history, culture and heritage of cultivating vines in the country before sampling some superb Sauvignons, Chardonnays and Pinot noirs yourself. Among the oldest and most highly-rated wineries are those of Cousino Macul and Concha y Toro; both of which have been operating since the 1800s.
11. Plaza de Armas
The heart and soul of life in town, Plaza de Armas is lined by many of its most important buildings with impressive monuments also dotting the shady square. Popular with both locals and tourists alike, it hums with energy at any time of day as street performers, free walking tour groups and interested onlookers all congregate here.
Remarkably enough, the palm tree-studded plaza has remained the epicenter of Santiago ever since it was founded in 1541. While the magnificent Santiago Metropolitan Cathedral dominates one side, stately buildings such as the Central Post Office and Royal Courthouse also look out over the plaza. Amongst its many landmarks are the fantastic Freedom of Latin America sculpture and indigenous peoples monument.
Aside from taking in its lively atmosphere and snapping some photos of its exquisite architecture, visitors can watch people play heated games of chess or stop by the National History Museum.
10. La Moneda
La Moneda, also known "Coin Palace" because it used to be a mint, is where the president of Chile has his offices. Several other key government officials also have offices in the neoclassical structure that takes up a whole block in downtown Santiago.
The building's days as a mint ended in 1828 and it became the Chilean seat of government in 1845. It was bombed during the coup that put Pinochet in power in 1973 but has since been restored.
A changing of the guard ceremony takes place every two days, with the days depending on the month.
9. Museum of Memory and Human Rights
Walala Pancho / Flickr
Chile's record of human rights hasn't always been stellar, hence the Museum of Memory and Human Rights. Only open for a few years, the museum is a memorial to Chileans who had their rights violated during the Pinochet regime (1973 – 1990).
In perhaps an ironic twist, Chile's then-President Michelle Bachelet, a victim of Pinochet's torture, laid the museum's first stone in 2008. The museum houses torture devices used by Pinochet forces, prisoner letters to family members and survivors' statements.
At the entrance you'll find the last poem of Victor Jara inscribed at the entrance. The poet was an early victim of Pinochet's regime.
8. Sky Costanera
The Sky Costanera towers over Santiago and is so high it can be seen from just about anywhere in the city. At 64 stories high, it is the largest skyscraper in Latin America and the highest occupied floor in the Southern Hemisphere.
It's 300 meters (984 feet) high and has six basements. Officially known as Costanera Center Torre 2, it's part of the center's complex that includes the largest shopping mall in South America. About a quarter-million people a day come here. You'll find an observation deck on the upper floors that provides 360-degree views of Santiago.
7. Museo Chileno de Arte Precolombino
Hugo zea / Flickr
One of the top attractions in Santiago, the Museo Chileno de Arte Precolombino is packed with incredible artefacts and artworks from all around Central and South America. One of the city's most important cultural institutes, its extensive collection occupies an elegant old palace, just off Plaza de Armas.
Established in 1981, its 3,000 or so masks, carvings, sculptures and ceramic pieces represent almost a hundred different groups from every corner of Latin America. Delightfully presented, they cover roughly 10,000 years of art history with marvelous Mayan bas-reliefs on display next to intricately-knotted Incan quipu and painted cloths from the pre-Columbian Chavin culture.
Accompanied by informative texts, its musty old mummies and elaborate little copper figures make for amazing viewing with many regarding it as one of the best museums on the continent.
6. Cerro Santa Lucia
Just a short stroll to the southeast of the square is another of the capital's must-see sights: the scenic Cerro Santa Lucia. From atop the lovely little hill and its leafy park, you'll enjoy sweeping views over the city and snowy mountains far off on the horizon.
Actually all that now remains of an ancient volcano, the 629-meter-high hill is thought to have been formed around fifteen million years ago. Initially used by missionaries as a place of worship, it later housed two forts and was where Pedro de Valdivia declared the founding of Santiago in 1541.
Nowadays, ornate stone stairways lined by fine fountains and terraces snake their way up the side of the steep hill to the breathtaking viewpoint at the top. As well as a statue of the famous conquistador and first royal governor of Chile, there is also an attractive old hermitage to check out alongside the refined Neptune Fountain.
5. Mercado Central
CucombreLibre / Flickr
While the Mercado Central sells other food, the seafood is the main reason you go there. Here, you'll find a variety of seafood fresh from Chile's long coastline: fish, oysters, mussels, scallops, clams and a whole lot more.
If you'd rather eat seafood than shop for it, the market has plenty of restaurants. Mercado Central is Santiago landmark that's been in business since 1872.
It's housed in a sprawling building accented by wrought iron – even the roof is made from wrought iron. Mercado Central can be found close to Plaza de Armas in central Santiago.
4. La Chascona
Arturo Rinaldi Villegas / Wikipedia
Noted Chilean poet and Nobel literature prize winner Pablo Neruda had three houses, of which La Chascona is one – the others are in Valparaiso and Isla Negra.
Neruda had a quirky personality that is reflected in this house. Even the name, La Chascona, comes from his mistress's messy curly red hair.
The ship-shaped house is a magnet for tourists who come to see the kitchen, which resembles a ship's cabin, and the living room, which takes after a lighthouse. (Neruda loved the sea.) There's also a fairy tale garden in the back.
3. Barrio Bellavista
Barrio Bellavista is where it's all happenin', baby. This Santiago neighborhood is the city's bohemian quarter, a place where artists and intellectuals live, work and play.
It's most famous resident was, and still is, Pablo Neruda whose house, La Chascona, is one of the top attractions in Santiago. It's the hippest place in town, with restaurants, funky boutiques and avant-garde galleries.
You can dance the night away after dark in one of its many discos. Colorful old houses abound on the barrio's tree-lined streets. Weekend evenings feature a crafts market, with art made from the semi-precious lapis lazuli a popular buy.
2. Santiago Metropolitan Cathedral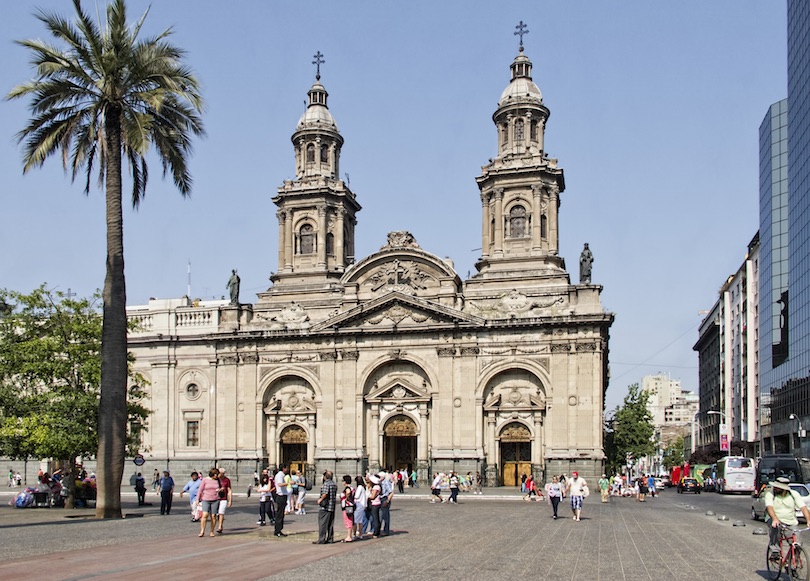 Dan Lundberg / Flickr
Where earlier cathedrals in Santiago have been destroyed by earthquakes, the Santiago Metropolitan Cathedral has stood on the Plaza de Armas for more than 260 years.
Construction first began in 1748 and the cathedral has dominated the square ever since. The stone neoclassical cathedral is considered one of the best examples of religious architecture in South America.
One of the towers holds the remains of Chile's first cardinal. The cathedral's wooden inside doors were carved around 1765. Inside you'll find a richly decorated altar and the Museum of Sacred Art. The massive, decorated naves add to the aura of inspiration.
1. Cerro San Cristobal
For the best views imaginable of Santiago, make sure to head to the very top of Cerro San Cristobal on the north side of the city. While it is rightfully renowned for its phenomenal panoramas, the huge hill is also home to the Chilean National Zoo, a Japanese friendship garden and much, much more.
Towering above the hugely popular Barrio Bellavista far below, the lofty landmark rises 880 meters in height with both scenic funiculars and cable cars whisking you up to its summit. Besides basking in awe-inspiring vistas of the Andes, you can take photos of its striking Statue of the Virgin Mary and visit its adjoining little sanctuary.
The iconic mount also encompasses the massive Metropolitan Park which has loads of lovely nature trails to hike and mountain bike. With flower-filled botanical gardens on offer alongside exciting animal exhibits, it is no wonder the Cerro is one of the capital's main spots to head amongst locals and tourists alike.