Travelers looking for a beach vacation may want to consider the Turkish Riviera. There, guests are surrounded by luxury, not to mention a wide variety of water activities from waterslides to windsurfing to just lounging on the beach. Or they can relax with a spa treatment or traditional Turkish bath. In addition these resorts offer many international cuisines along with fitness centers to work off those calories. Most of the best beach resorts in Turkey can be found between Antalya and Alanya, with a few near Bodrum and Oludeniz.
10. Kempinski Hotel Barbaros Bay
[SEE MAP]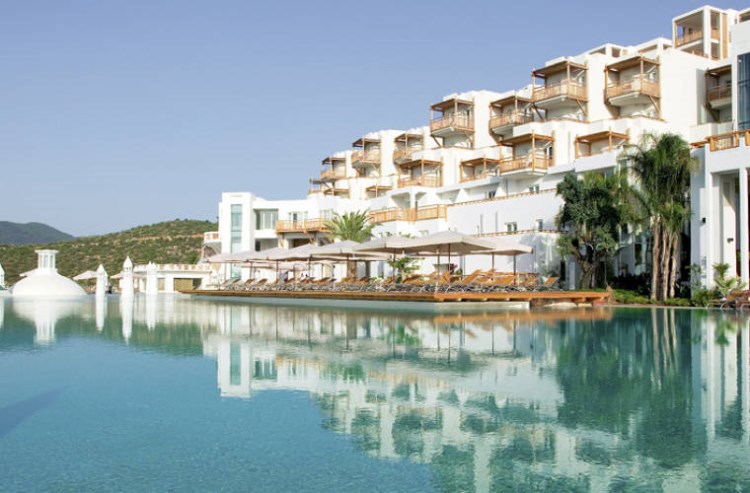 The Kempinski Hotel Barbaros Bay near Bodrum is a luxurious relaxing resort with a private beach on the Aegean Sea. It offers activities not found at other Turkish Riviera resorts, such as a sailing school and diving classes. Guests also can take a catamaran ride, go windsurfing, or hike or bike in the surrounding hills. The Kempinski offers a kids club for when kids and parents want a much-needed break from each other. The hotel also pampers pets with their own beds and special treats.
9. Gypsophila Holiday Village
[SEE MAP]
Situated between Alanya and Side, the Gypsophila Holiday Village is an older property that has 404 rooms. It offers limited activities, but does have a swimming pool, fitness center and internet access. It has only one restaurant but it does one of the most extensive foot buffets on the Turkish Riviera. Rooms have balconies overlooking the pool or gardens.
8. Hilton Dalaman Resort
[SEE MAP]
Hilton Dalaman Resort And Spa is an award-winning resort just a 10-minute walk from downtown Sarigerme. The resort has its own private beach with cabanas for guests' use a well as 10 indoor and outdoor swimming pools. A variety of water activities are offered, as well as a spa and business center. Guests should be prepared to make hard choices when it comes to eating as the Hilton Dalaman Resort And Spa boasts 23 restaurants and bars.
7. Royal Wings Hotel
[SEE MAP]
The Royal Wings Hotel, located 18 km (11 miles) from downtown Antalya, will keep guests so busy they won't have time to go to town. Guests with children will love this hotel as it has nine waterslides. Located just a few minutes' walk from the beach, the Royal Wings Hotel offers organized activities during the day and live shows at night. It is set on 18 acres of carefully landscaped grounds.
6. Club Belcekiz Beach Hotel
[SEE MAP]
The Club Belcekiz Beach Hotel in Oludeniz is like a rainbow at night, with colored lights to be found everywhere from the dance floor to pool side throughout the resort. The resort boasts a peaceful garden setting, with guest rooms that have pool, mountain or garden views. The Club Belcekiz Beach Hotel has four restaurants, including one that serves buffet-style, as well as five bars and a nightclub with DJ nights. Free parking is available on-site.
Besides offering pools overlooking the waterfront, the D-Hotel Maris is a great place to go scuba diving and snorkeling. Landlubbers will enjoy being close to hiking and biking trails, or they may choose to go horseback riding in the hills surrounding the D-Hotel. The Marmaris Dolphinarium-Aquapark and Aqua Dream Water Park are also nearby. Air-conditioned guest rooms are simply but tastefully decorated and offer safes large enough to hold laptops. The resort also has four restaurants and a full-service spa. Free WiFi access is located throughout the resort.
4. Calista Luxury Resort
[SEE MAP]
The Calista Luxury Resort may be located an hour from the Antalya airport, but its amenities more than make up for the drive. An all-inclusive beach resort, the property offers five tennis courts that are lit for night-playing, soccer fields and a huge spa that offers a variety of relaxing treatments. Golfers will appreciate the 10 courses located within a four-mile radius. Dining here could be a challenge, however, as the resort has 10 restaurants serving a variety of international cuisines.
3. Royal Dragon Hotel
[SEE MAP]
A Chinese-themed resort is about the last thing people might expect to see in Turkey, but that's just what the Royal Dragon Hotel is. With a dragon gracing the entrance roof, this luxury resort combines traditional Chinese architecture with modern amenities such as water slides, a bowling alley and decked out fitness room. All rooms have private balconies for guests who prefer to do their lounging inside instead of poolside.
The Barut Lara Resort Spa & Suites is showcased in an awesome setting: ocean views and carefully tended green gardens. But this beachfront property, located 10 km (6 miles) from Antalya airport, offers much more. Guests can lounge by the beach, swim in indoor and outdoor pools, visit the spa or have a Turkish bath. With a well equipped fitness room for more active guests as well as a playroom for children this is one of the best beach resorts in Turkey.
1. Delphin Diva Premiere
[SEE MAP]
Located just nine miles from downtown Antalya, the Delphin Diva Premiere offers plenty of activities to keep people at this luxury beachfront resort. Guests can frolic on the private beach or swim in a pool with its own waterslide. There's also a tennis court and bowling alley for more active guests, who can dine in one of several international cuisine restaurants in between. All rooms have private balconies. Free parking is available for guests who arrive in their own cars.