Located in the alpine scenery of central Switzerland, Lucerne makes a good place to explore the country. Travelers would do well, however, to spend some time in this pretty city before hopping a train to some place else.
Whether visitors want to cruise on a gorgeous blue lake, see colorfully painted medieval homes, listen to some great classical music or just gaze at snow-capped mountains, Lucerne is the place to indulge the senses. Lucerne has been praised by many tourists, including Queen Victoria and Mark Twain. Today Lucerne's attractions provides plenty of opportunities for tourists to add their own praise.
Steeped in history, its atmospheric Old Town is very well-preserved with it being most known for its two charming covered bridges. Countless churches and medieval guild halls can also be seen alongside its quaint squares and the romantic river Reuss that meanders its way through town.
In addition to these things to do in Lucerne itself, you can easily explore both glittering Lake Lucerne and the gorgeous mountains nearby. The city also has a thriving cultural life to delve into with its fun-filled carnival and the Lucerne Festival being just two of its main highlights.
Where to Stay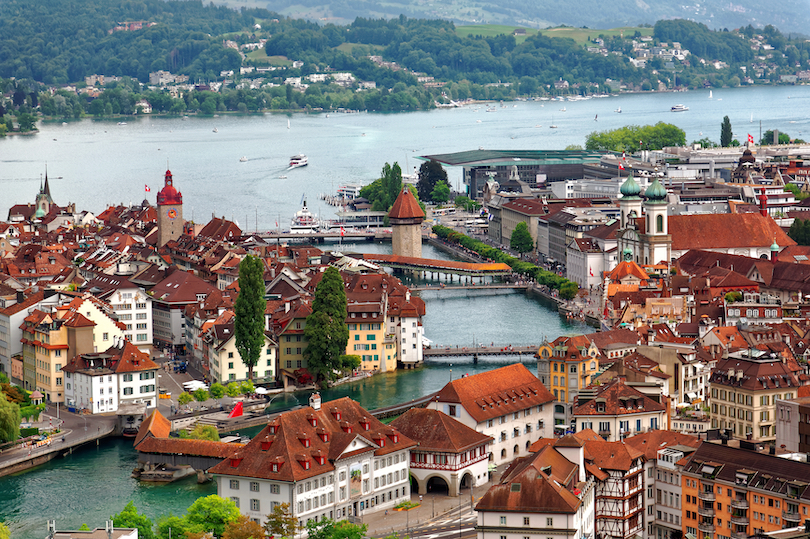 As almost all the main tourist attractions in Lucerne are within walking distance, you're better off staying in or around the Old Town. With trains and boat trips departing nearby, you can find yourself out on the lake or up amidst the mountains in no time at all.
As soon as you see its fantastic location and fancy interior, you're going to fall in love with the four-star Hotel des Balances. What's more, many of its stylish rooms provide incredible views of Chapel Bridge, the Jesuit Church and Mount Pilatus. To top it off, it has an outstanding restaurant, bar and terrace for guests to make use of.
Right by the train station and Rosengart Collection is another great option for people visiting the city. A bit more budget-friendly, Hotel Central Luzern offers clean, modern rooms that guarantee a quiet, comfortable night's sleep. Besides its central location, guests regularly rave above its delicious buffet breakfast and friendly, welcoming staff members.
See also: Best Places to Stay in Lucerne
How to Get There
Situated right in the center of Switzerland, Lucerne is well-connected to the rest of the country. Thanks to its main train station, you can travel to both Bern and Zurich in just an hour with Basel lying around an hour and a half away.
These cities' airports are also the main point of entry for international visitors looking to visit Lucerne. Zurich International Airport in particular is where most people land as planes fly here from 170 destinations worldwide each day.
Some buses also connect to these cities and others with Switzerland's roads being great to drive along should you want to come by car or rent one while you're in town. The main way to see the nearby mountains, lakes and nature sites though is by train.
Once you arrive, you'll find that most main sights can easily be reached on foot from its central train station.
Map of Things to Do in Lucerne, Switzerland
© OpenStreetMap © MapTiler © Touropia
21. Lakeside Promenade
Very popular with locals and tourists alike, the lovely Lakeside Promenade takes you right along the city's glittering waterfront. Aside from all the spectacular views, there are plenty of attractive old buildings and pretty parks to see too.
Starting just across Seebrucke Bridge from the main train station, it stretches several kilometers in length alongside Lake Lucerne. Lined by trees and benches, the paved walkway also passes in front of the Grand Hotel National and glitzy Casino Lucerne.
Other than strolling along or sipping a coffee at one of the cafe terraces, you can take a refreshing dip at the Seebad. In summer, public concerts also take place at the old pavilion that borders the promenade. Whatever time of year, the panoramas out over the reflective lake and sparkling snow-capped mountains are absolutely captivating.
20. Rosengart Collection
Back over the bridge next to the train station is the highly-rated Rosengart Collection. One of the city's main museums, its galleries mostly focus on works by Pablo Picasso and the Swiss-born artist Paul Klee.
Located in a stately neoclassical building, the small but superb art museum was only unveiled to the public in 2002. Its 300 or so important paintings and drawings all hail from the private collection of Lucerne art dealer, Angela Rosengart. Both photos and exhibits also help you to get to know the featured artists better.
Not having read much about it beforehand, we were very impressed by all the unique and interesting masterpieces on display. While the basement is dedicated to arresting artworks by Klee, Picasso's genius and manner of working is explored on the ground floor. In addition, other exquisite pieces by everyone from Kandinsky and Cézanne to Monet, Miró and Matisse also feature.
19. Rathaus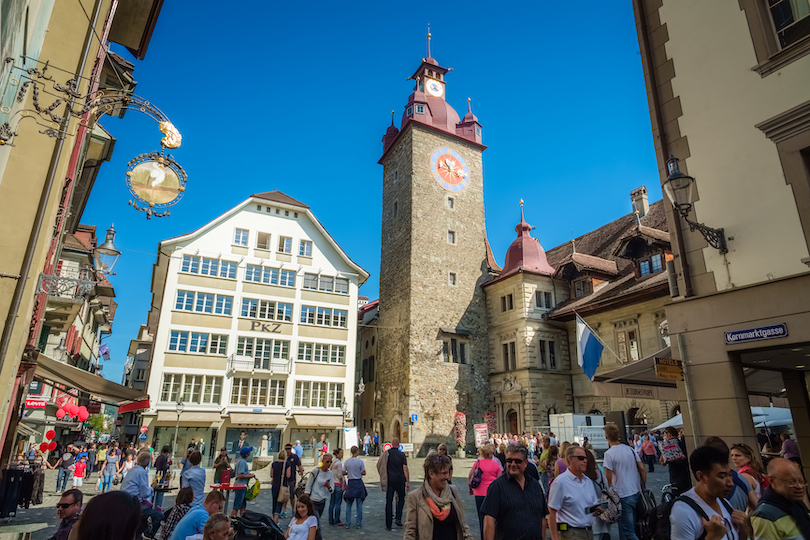 Long one of the city's most important buildings, the Rathaus has acted as Lucerne's seat of government for centuries. Set along the quaint Kornmarkt square, its soaring tower and sturdy stone walls are also visible from Chapel Bridge.
Erected in the early 1600s, it showcases some outstanding Italian Renaissance-style architecture. While elegant arcades surround the ground floor, a traditional Swiss-style hipped roof tops the town hall. Intricately carved columns and the city's coat of arms also surround the entrance while the colourful clock tower looms overhead.
Overall, the town hall certainly makes for some fabulous photos, whether seen from the square or the waterfront on its other side. One of the Old Town's most distinctive landmarks, it can hardly be missed when wandering around.
18. Franciscan Church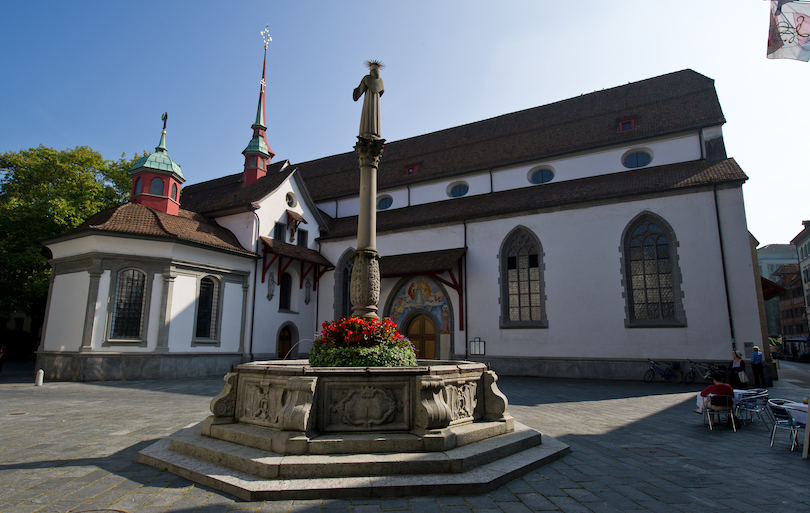 Leiju / Wikipedia
Another incredible old building to stop by is the art-filled Franciscan Church along the picturesque square of the same name. Although its exterior may look quite simple, its atmospheric interior contains all kinds of artistic treasures.
Lying on the left bank of the river Reuss, not far from the Jesuit Church, it was built in 1280 as part of a Franciscan Monastery. Within its whitewashed walls, you can find a huge organ and high altar alongside fading frescoes and fine stained-glass windows.
Highlights for us though included its remarkably detailed wood pulpit and all the little angels painted on its colourful ceiling. We also saw the rather eerie-looking remains of an armor-clad skeleton in a glass case that we won't be forgetting anytime soon.
17. Bourbaki Panorama
Sure to be of interest to history lovers is the Bourbaki Panorama on the north side of the river. A relatively quick stop, its circular building houses just one gigantic painting for you to examine.
Now on display for over 140 years, the vast panorama depicts the end of the 1870-71 Franco-Prussian War. Its snowy scenes show the defeated French army struggling to escape to Switzerland. In the foreground of the immense, 115 meter-long artwork are various figures and props that make the whole ensemble appear three-dimensional.
Created by Swiss artist Édouard Castres, it perfectly highlights the horrors of war and its aftermath. Thankfully, some small exhibitions, videos and recordings provide more information on the battle and the thousands of soldiers, horses and lines of refugees before you. Despite the sombre subject, the panorama has an alluring beauty to it.
16. KKL Luzern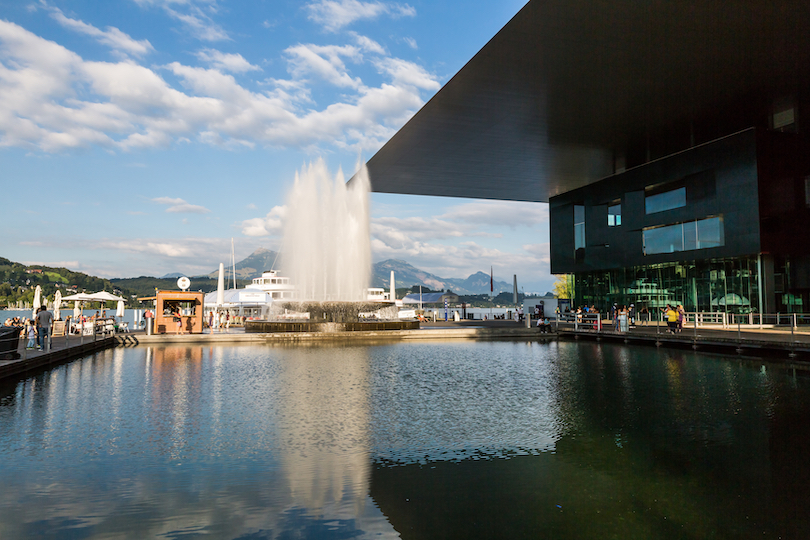 If after all the days spent sightseeing you want to watch a top-class concert or show, then KKL Luzern is the place to head. A marvelous piece of modern architecture, the multi-venue complex lies right where the river Reuss flows into the resplendent lake.
Designed by famous French architect Jean Nouvel, the state-of-the-art cultural center was inaugurated in 1998. Under its ginormous flat roof is not just the sublime Lucerne Art Museum and a sleek convention center but several restaurants too.
The main reason people visit though is for its colossal concert hall that boasts some of the best acoustics around. Absolutely beautiful, the elegant auditorium puts on a packed schedule of classical concerts and orchestra performances. It also hosts the renowned Lucerne Festival; one of the best classical music festivals around.
15. Jesuit Church
Also overlooking the Reuss is the gorgeous Jesuit Church found just downstream of the Chapel Bridge. While its two onion domes and imposing facade already make for quite the sight, the ostentatious interior is the real showstopper.
Consecrated in 1677, it was the first large Baroque church to be built in Switzerland, north of the Alps. Its construction came almost a hundred years after the Jesuits were first invited to the city in an attempt to counter growing Protestant influence.
Once inside, it's hard not to be impressed by all its ornate stucco work, elaborate high altar and intricately-crafted organ. The church's gleaming white interior also displays a stunning painted ceiling and other fine religious artworks. We were lucky enough to arrive just when one of the regular organ recitals was beginning so had ample time to admire everything while listening to the heavenly music.
14. Richard Wagner Museum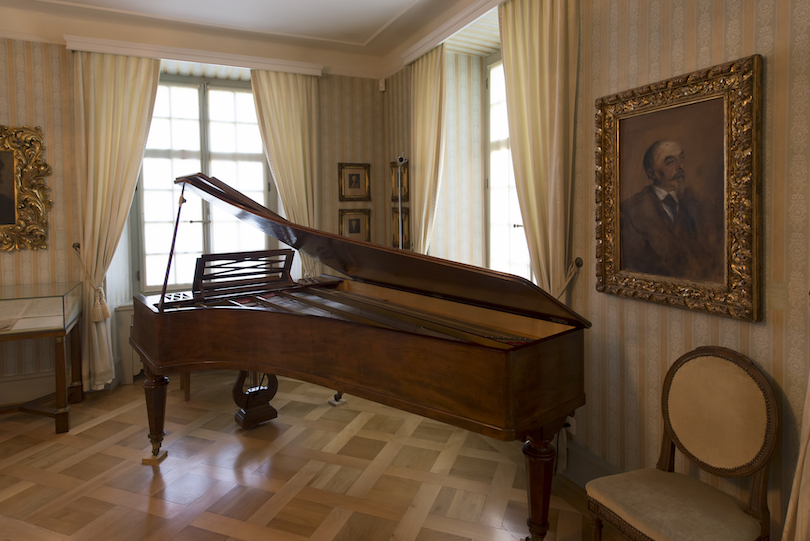 Richard Wagner was a famous 19th century German composer, known for his operas, particularly the four-part The Rings of Nibelungun.
Perhaps even more famous is his Bridal Chorus from the opera Lohengrin that is played as the bride walks down the aisle. Wagner lived on Lake Lucerne for six years where he composed other important operas.
You can learn about his life and music through memorabilia at the Richard Wagner Museum that is located on his country estate, Tribechen. The museum is closed December to April and on Mondays.
13. Glacier Garden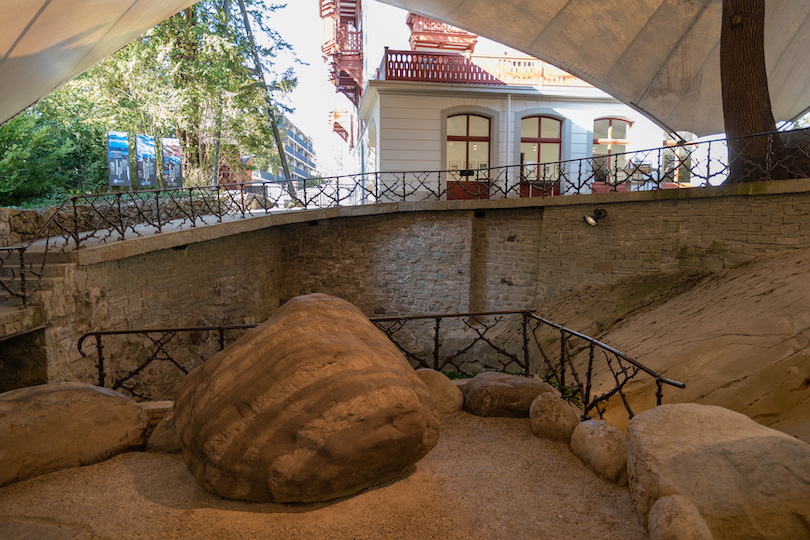 Located on the northern outskirts of the Old Town is the fascinating Glacier Garden. Asides from all its amazing formations left behind during the last Ice Age, the site has a museum and hall of mirrors to enjoy, among other attractions.
Uncovered in 1872, its strange-shaped potholes and ancient fossils were formed around 20,000 years ago by retreating glaciers. As you examine the dramatic-looking rock formations and explore underground passages, convincing animations bring the area back to life. Its excellent museum also explains glacial movements, the region's geology and how climate change impacts everything.
After seeing the chalet's historic rooms and huge relief map of Switzerland, get lost in its endless Alhambra mirror maze. Confusing but fun, its ninety reflective mirrors were installed back in 1896. Once you finally emerge, you can enjoy epic panoramas out over the lake and Lucerne from atop the site's lofty observation tower.
12. Spreuer Bridge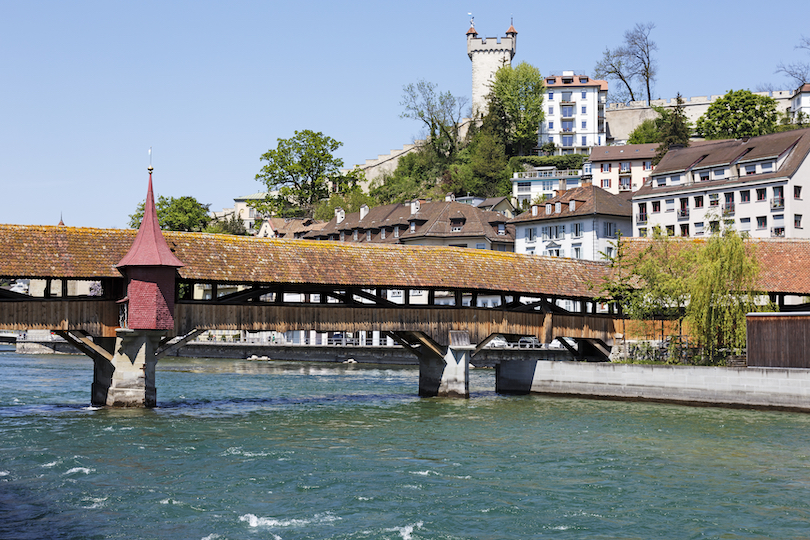 Although it is somewhat overshadowed by the Kapellbrucke, Spreuer Bridge is every bit as beautiful as its nearby neighbor. Lying just a few minutes further downstream, its wooden walkways also exhibit some exquisite architecture and arresting paintings.
Very similar in design, the covered pedestrian bridge was built in 1406 and is named after the chaff or 'spreu' the nearby mills dumped in the river. Most interesting though are the 45 rather macabre paintings produced by Kaspar Meglinger and his students.
Dating to between 1616 and 1637, the triangular panels beneath the bridge's rafters depict the Dance of Death. Known as Totentanz in German, the medieval scenes and eerie dancing skeletons are all utterly captivating to observe. They served as a daily reminder to residents that eventually Death comes for us all.
Besides making for some fantastic photos, the historic bridge also offers divine views over the river and Old Town. As it lies just five minutes from Chapel Bridge, you can easily visit both structures at the same time.
11. Fasnacht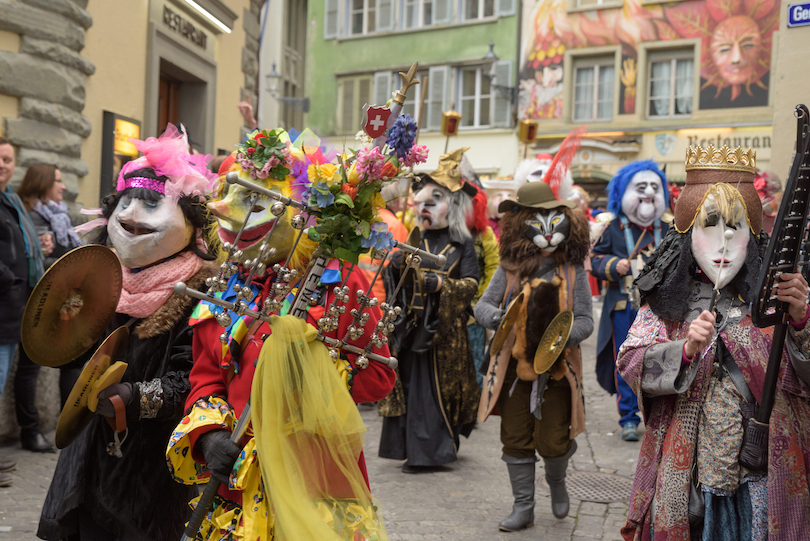 Lots of fun to experience, Lucerne's colourful, chaotic carnival is definitely one of the best times of year to visit. Known locally as Fasnacht, it sees masked parades, music groups and merry mobs of costumed revelers take over the entire Old Town.
Since at least the fifteenth-century, the Swiss version of carnival has been held in the run-up to Lent. Starting early at 5AM on Dirty Thursday, thousands of costumed guild members and musicians celebrate like crazy as they dance and sing the winter away. The loud and lively festivities only end the evening before Ash Wednesday when the month-long fasting period begins.
During these fun-filled days, huge parades featuring elaborate masks and boisterous big bands mass around the center. Full of dancing, happiness and unruly good times, Fasnacht is undoubtedly the highlight of Lucerne's cultural calendar.
10. Trip to Engelberg and Mount Titlis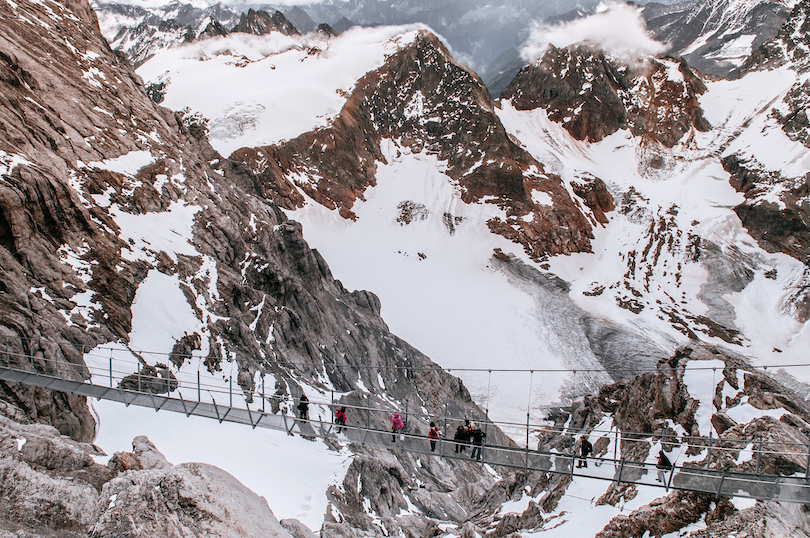 If you want to see even more of the Alps and enjoy some outdoor activities, then the idyllic resort village of Engelberg is the perfect place to go. Situated just forty minutes away, it has exciting hiking, biking and skiing to try, up and down Mount Titlis.
Nestled away in a picturesque alpine valley, the popular summer and winter holiday destination lies just south of Lucerne in Central Switzerland. Other than checking out its twelfth-century Engelberg Abbey, most come to immerse themselves in nature and explore its spectacular scenery.
Towering above everything is the massive Mount Titlis which reaches 3,238 meters in height. From below, cable cars and chair lifts whisk visitors up to its resort where you can ski, snowboard and snow tube along its trails. In summer, some delightful hiking, rock climbing and mountain biking can also be had out on its sweeping slopes.
Thanks to its peaceful setting and panoramic views, Engelberg and Mount Titlis really are a treat to visit any time of year.
9. Hofkirche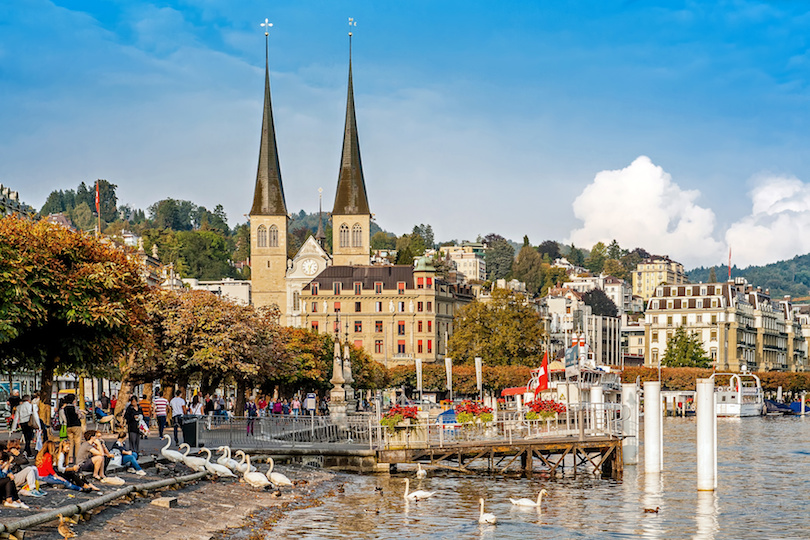 Perched atop a smallish hill overlooking the Old Town is the handsome and historic Hofkirche. Also known as the Church of St. Leodegar, its two soaring twin spires and ornate facade make for some great photos.
Set on the same site as an eighth-century Benedictine monastery, it was later rebuilt in 1639 after an earlier edition burnt down. Now exhibiting a striking mix of medieval, Gothic and Renaissance architectural styles, the church's tall bell towers are visible for many kilometers around.
Although its interior is somewhat plain in comparison, an exquisitely carved pulpit and choir stalls are scattered about. Just as eye-catching is the Hofkirche's glittering gold and black high altar and its hulking great organ. Outside too, there are pretty arcades to amble around where many of the city's most prominent families have tombs.
8. Musegg Wall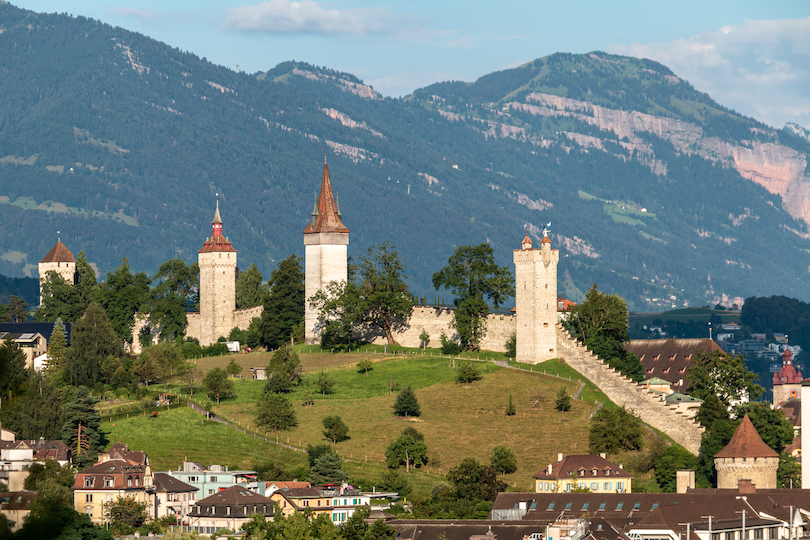 Musegg Wall gives travelers a chance to walk on history while, at the same time, enjoying panoramic views of Lucerne.
The wall, an important part of Lucerne's fortifications, was built in the 13th century and is largely intact today. Musegg Wall has nine towers, though only a few are accessible these days.
Perhaps the most famous open tower is Zyt; it contains the oldest clock in Lucerne. This 1536 clock isn't just any clock, however. It rings on the hour one minute before all the other city clocks can ring. Views from the accessible towers are pretty fantastic, too.
7. Swiss Museum of Transport
Maik Meid / Flickr
With exhibits covering land and space travel, the Swiss Museum of Transport is Switzerland's most popular museum.
Built in 1959, the museum is home to train locomotives, motor vehicles, ships and aircraft. It also houses the large EURECA satellite, launched by Europe and the United States in the 1990s. But the Swiss Museum of Transport is more than transport. It also has a planetarium and an extensive collection of works by Lucerne sculptor and painter Hans Emi.
Located on Lake Lucerne, the museum contains an aerial photography of Switzerland. Chocoholics will enjoy learning more about their favorite sweet in the museum's Chocolate Adventure.
6. Lion of Lucerne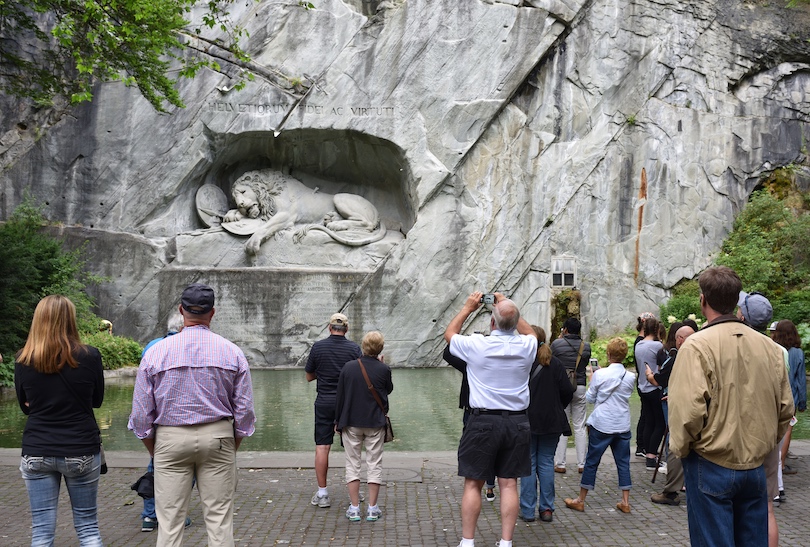 The Lion of Lucerne is a sad, touching tribute to Swiss soldiers who tried to protect the royal family during the French Revolution. The memorial features a dying lion carved into sandstone at a pond at the east end of Lucerne.
American author Mark Twain called the statue "the most mournful and moving piece of stone in the world." It memorializes the more than 800 Swiss guards who died protecting King Louis XVI and his family at Tuileries Palace or who later died in a French prison. Only about 100 soldiers managed to escape the massacre.
5. Boat Ride on Lake Lucerne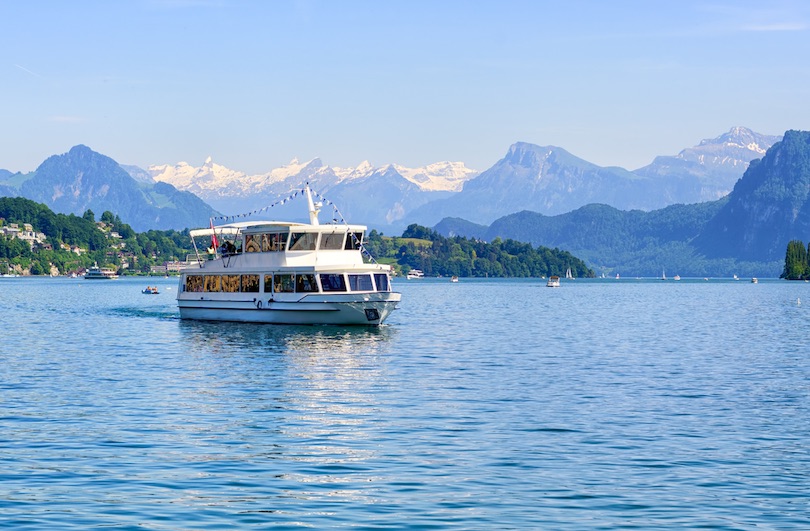 A wonderful way to see more of Lucerne and its lovely, scenic surroundings is to take a relaxing boat ride out on the lake. From the center, countless companies run trips, either on romantic old paddle-wheel steamers or sleek yachts and speedboats.
Stretching 38 kilometers in total, Switzerland's fourth-largest lake has numerous arms with magnificent mountains hemming it in on all sides. Once aboard your boat, you'll cruise about its sparkling surface, watching all its towns and forests slowly pass by.
While some excursions last an hour, others take half a day with lunch, drinks and walking tours sometimes included. Out on the lake, you can sit back, relax and enjoy the gentle breeze while drinking in its breathtaking views. After having run around town for days, we found a boat ride made for a very pleasant change of pace.
4. Mount Rigi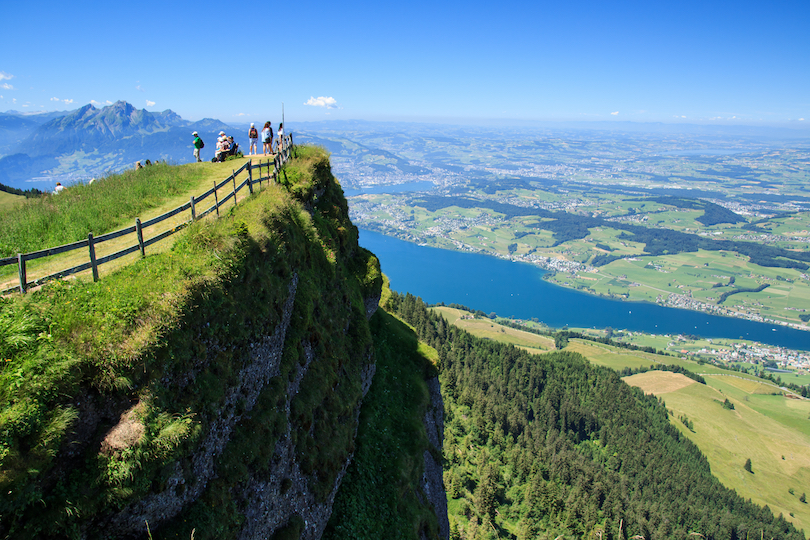 Lake Lucerne is surrounded by mountains, but few are more spectacular than Mount Rigi. The "queen of the mountains." Is known as a massif because it was formed when the earth's crust moved.
Visitors give it high marks for its stunning beauty, but warn to only visit it on a clear day. Mount Rigi is unique because it sits on three lakes: Lucerne, Zug and Lauerz. A cogwheel train is a popular way to reach the top of this 1,797.5-meter (5,897-foot) high peak, but visitors can also get there via a gondola and cable car. Mount Rigi offers hiking in the summer and snow sports in the winter.
3. Mount Pilatus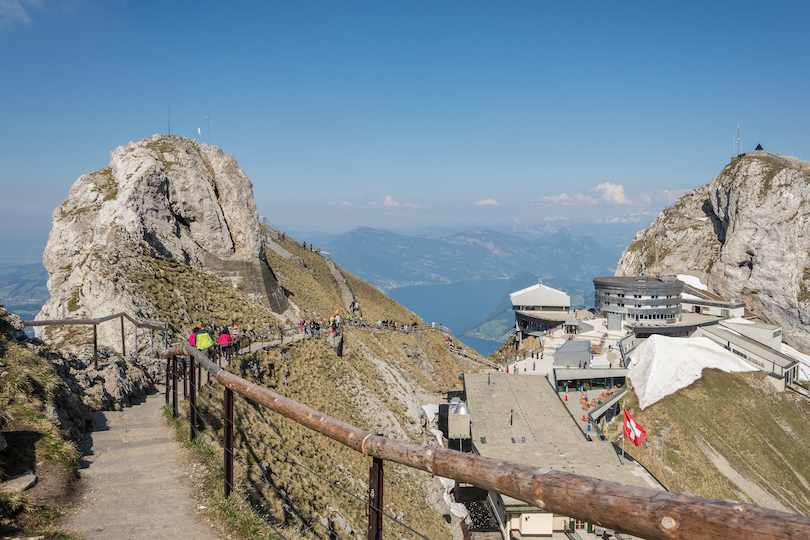 Another mountain massif, Mount Pilatus is actually made up of several peaks that overlook Lucerne. The highest peak is Tomlinson at 2,128 meter (6,982 feet) in elevation. Mount Pilatus is considered an icon of the city.
Getting to Mount Pilatus is an adventure in itself: Travelers ride on the world's steepest cogwheel railway that operates between May and November. Or they can opt for gondolas or aerial cableways any time throughout the year. Summer visitors can take the "Golden Round Trip" that involves a boat ride across Lake Lucerne and then the ride up the mountain.
2. Old Town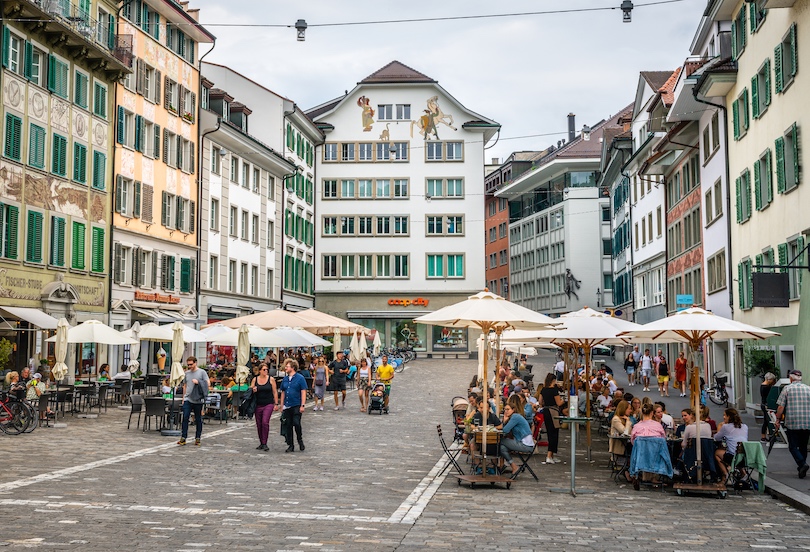 Compared to other European towns, Lucerne's Old Town (Aldstadt) is tiny, but that just makes it easier to walk around. It's located of the right bank of the River Reuss that is crossed by the most famous tourist attraction in Lucerne; the 14th century Chapel Bridge.
Surrounded by the city wall, Old Town is very well preserved with squares with fountains and cobblestone streets. As you stroll through Old Town, considered one of the prettiest in Switzerland, you'll find murals painted on numerous buildings.
Travelers also will come across medieval burghers' brightly painted, wood-timbered houses. The Italian Renaissance Town Hall was built in 1602.
1. Chapel Bridge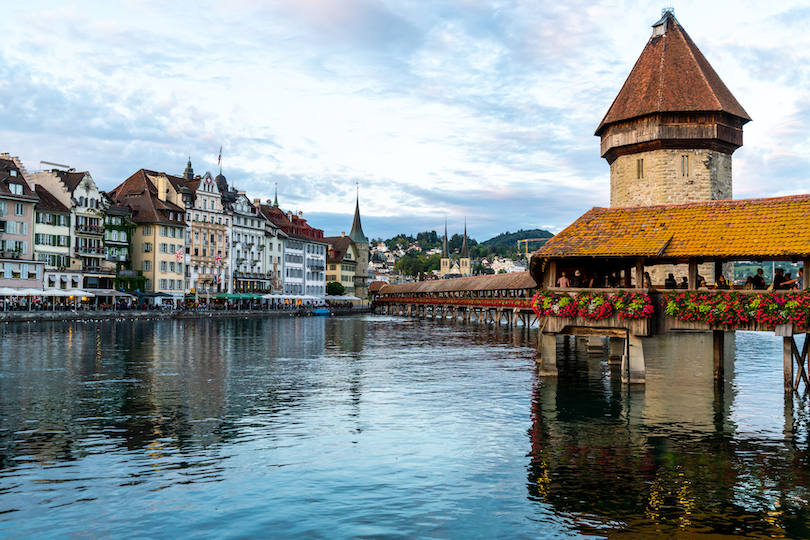 Lucerne's standout symbol and sight, the enchanting Chapel Bridge makes for some stupendous photos and viewing. Lying right in the heart of the Old Town, its covered walkway and tower count among the most photographed scenes in all of Switzerland.
Spanning the river Reuss, the world's oldest surviving truss bridge remarkably dates to the fourteenth-century. Running diagonally atop the fast-flowing water, it was built to help secure the city from attack. Over the years, its 34 meter-high tower has been used as a prison, torture chamber, treasury and archive.
Underneath its old rafters, you can again see brightly-painted scenes from throughout Lucerne's history. Once numbering 158 in total, only thirty of the seventeenth-century artworks now sadly remain. These however are super interesting to look at and make walking over the bridge even more special.
Although we'd already seen hundreds of pictures of it online, we were still touched by actually seeing the iconic landmark up close. With the mountains, river and Old Town surrounding it and colourful flowers coating its sides, it looked even better than we'd hoped. An absolute must-visit, Chapel Bridge or Kapellbrucke was definitely the most memorable thing we saw in Lucerne.