Simply put, Turkey is a country of many marvels. From its incredible landscapes to geological wonders, ancient sites and bustling cities that are teeming in vibrant culture, colorful bazaars, tantalizing cuisine and friendly people, Turkey is a unique place that has beckoned to the senses from the earliest of civilizations.
Linking western Asia to southeastern Europe across the Turkish Straits, Turkey is a large country that is home to some of the world's most beautiful and bizarre landscapes that range from spectacular Mediterranean beaches to majestic snowy mountains, verdant hills and steppe formations.
The nation's capital is Ankara, a modern city of skyscrapers and distinguished cultural venues such as the Museum of Anatolian Civilizations. Turkey's largest city, Istanbul, is widely known for its Grand Bazaar, vibrant nightlife and historic treasures like the Hagia Sophia and the Blue Mosque.
The stunning Turkish Riviera boasts the Mediterranean seaside resort cities of Marmaris and Antalya, while in the Central Anatolia Region, Konya is noted for its striking Seljuk architecture and the Whirling Dervishes. Other popular destinations include the ancient city of Ephesus, Cappadocia dotted with its fairy chimneys, and the natural cascading rock terraces at Pamukkale.
Map of Turkey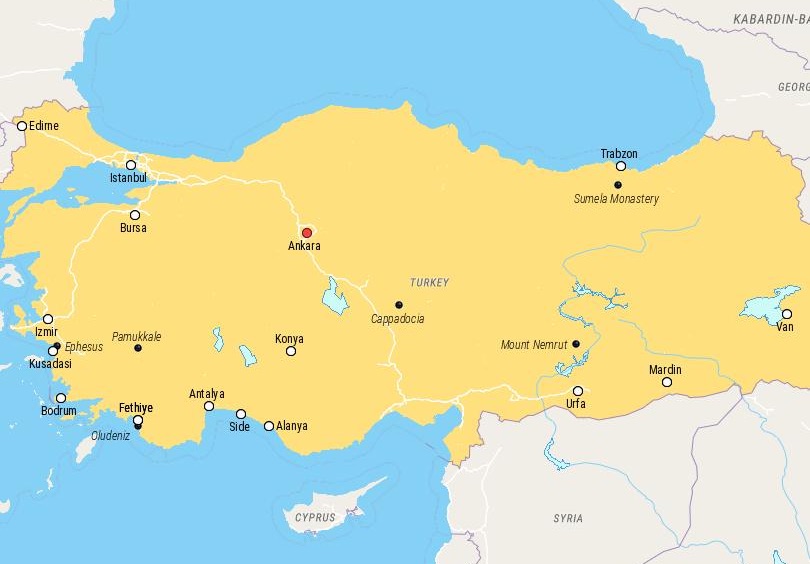 © OpenStreetMap © MapTiler © Touropia
Turkey Articles