Located in the endless and expansive Great Plains of the South Central United States, Oklahoma is a fantastic state to visit that is all too often overlooked by tourists. Home to picturesque prairies, lush forests, roaring rivers, and low-lying mountain ranges, it is a delight to explore, with famous Historic Route 66 passing right through its heartland.
While it is sparsely populated, large and lively cities such as Tulsa and Oklahoma City can be found dotted among its fertile fields and farmland.
Map of Places to Visit in Oklahoma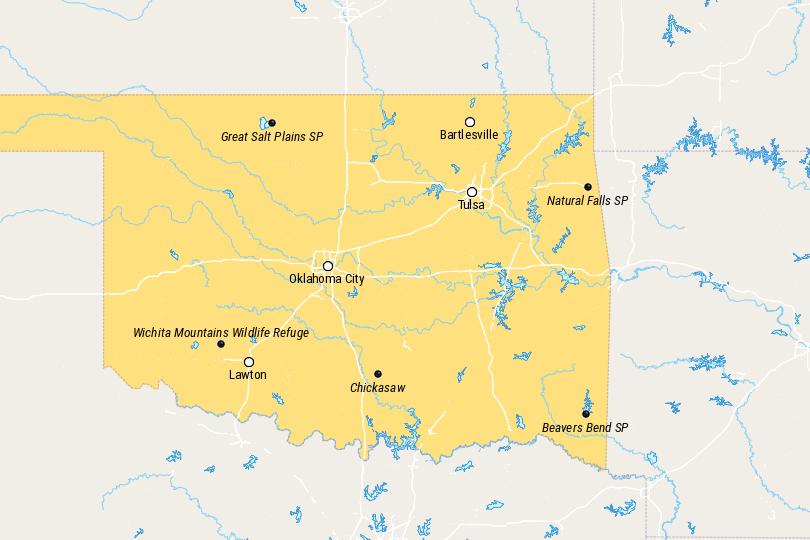 © OpenStreetMap © MapTiler © Touropia
As well as boasting a rich Native American past, the former frontier state has a captivating cowboy culture for tourists to delve into, with riveting Wild West attractions. Among the best places to visit in Oklahoma are beautiful nature parks and wilderness areas where plenty of magnificent outdoor activities can be enjoyed.
10. Great Salt Plains State Park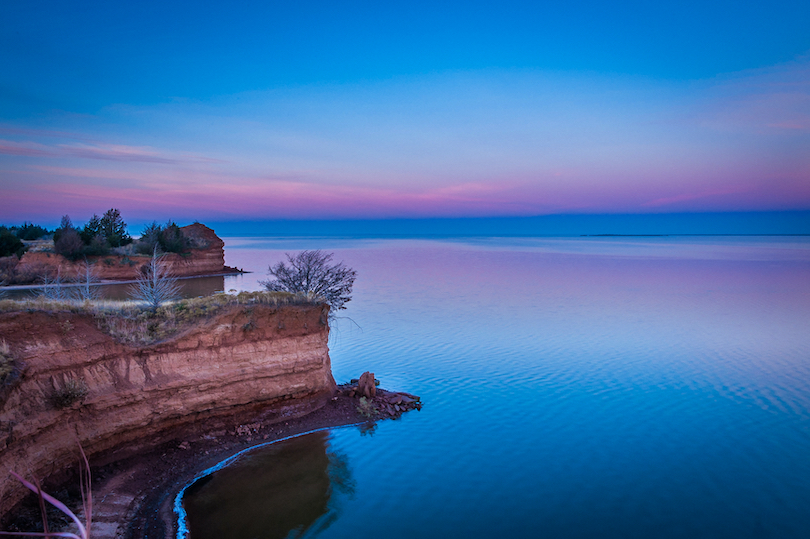 © Lamarsellers / Dreamstime
Set on the shores of the scenic, shallow, and salty lake of the same name, Great Salt Plains State Park lies in the north of Oklahoma. Home to delightfully desolate landscapes that seemingly stretch forever, it is named after the pretty plains of sparkling salt – all that remains of a once vast prehistoric ocean.
While the ceaseless salt scenery is spectacular, the state park also has a wealth of great outdoor activities for visitors to enjoy. Besides mountain biking and hiking, there is fabulous swimming and boating to be had out on the lake, as well as some excellent fishing and bird watching.
Remarkably, Great Salt Plains State Park is the only place on Earth where you can dig up your own selenite crystals. From April to October, thousands of people descend on the state park to search for the hourglass-shaped crystals, bask in the beautiful views, and enjoy the recreational activities on offer.
9. Natural Falls State Park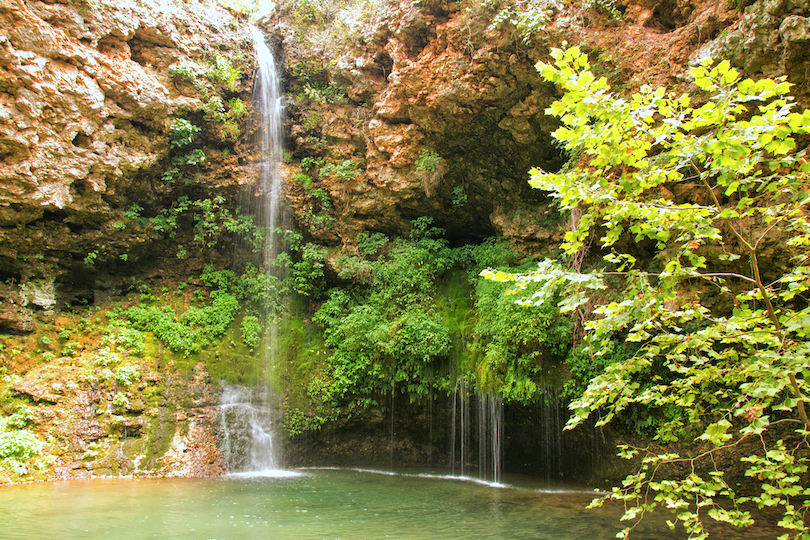 © Ridetheremuda / Dreamstime
Nestled away amid the stunning scenery of the Ozark Highlands, Natural Falls State Park can be found in the northeast of the state, not far from the border with Arkansas. While it encompasses lovely forest, fauna, and flora, it is most known for the wonderful waterfall lying at its heart.
Towering to 75 feet (23 meters), the delightful Dripping Springs Falls tumbles down a rugged cliff face before merging with a serene pool below. Hidden away in a narrow valley in the forest, it is best viewed from one of two observation platforms, where fantastic photos can be had of the phenomenal falls.
While the waterfall is certainly the state park's standout sight, it is also a great place to have a picnic or barbecue, with some visitors glamping overnight in one of the five cosy yurts. In addition, there is a basketball and volleyball court on offer, as well as a scenic hiking trail through the woods.
8. Chickasaw National Recreation Area
© Ridetheremuda / Dreamstime
Set on the outskirts of the small city of Sulphur in south-central Oklahoma, Chickasaw National Recreation Area has a wealth of outstanding outdoor activities for visitors to enjoy. Cradled in the foothills of the Arbuckle Mountains, it boasts everything from springs and streams to forests, lakes and waterfalls.
As over a quarter of the park is made up of beautiful waterways, its babbling brooks and rushing rivers lend themselves perfectly to fishing, swimming, and boating. The largest body of water is the lovely Lake of the Arbuckles, which has picturesque picnic sites and campgrounds for visitors to make use of.
While the recreation area is dominated and defined by water, its lush woods are just as delightful to hike around, with a diverse range of fauna and flora to discover. At the Travertine Nature Center, visitors can learn all about Chickasaw National Recreation Area's nature and ecosystems through exhibits and live classes.
7. Lawton
© W.scott Mcgill / Dreamstime
The fifth-largest city in the state, Lawton lies amid the endless plains and prairies of the southwest of Oklahoma, with only the Wichita Mountains to the north breaking the monotony. Home to a handful of fascinating museums, it is the perfect place to visit if you want to learn more about the history and culture of the Great Plains.
At the Museum of the Great Plains, there are informative and interactive exhibitions on the settlement of the area, as well as archaeological findings, artifacts, and a replica of a trading post. In addition, the Comanche National Museum and Cultural Center highlights the tribe's rich heritage and history, while the Fort Sill Museum has lots of period buildings for visitors to peruse.
Besides its fabulous public museums, visitors to Lawton can enjoy its plethora of parks and outdoor recreation areas. While swimming and boating are popular pastimes, no visit can be complete without spending time amid the exquisite nature of the wild Wichita Mountains.
6. Bartlesville
David Marshall / Wikipedia
Straddling the banks of the Caney River, Bartlesville lies some 45 miles (70 kilometers) to the north of Tulsa, not far from the border with Kansas. Since oil was discovered in 1905, much of life in the city has been dominated by the Phillips Petroleum Company, which still has large offices in town and employs many people.
Over the years, the wealthy corporation has funded the building of a number of excellent museums and attractive edifices around town. Of these, the museum and wildlife preserve of Woolaroc is undoubtedly the most impressive: it hosts an extensive collection of artworks and animals, including bison, elk, and zebra.
In addition, Bartlesville is noted for being the home of the only skyscraper designed by Frank Lloyd Wright. Reaching 220 feet (67 meters), Price Tower stands out from its surroundings and regularly hosts exhibitions. Besides art, architecture and animals, the city also holds some significant cultural events and festivals over the year, with its classic car show proving very popular.
5. Beavers Bend State Park
© Qiwoman01 / Dreamstime
One of the most popular and picturesque parks in the whole of Oklahoma, Beavers Bend State Park can be found in the scenic southeast of the state. Named after a sharp bend in the idyllic Mountain Fork River, it was established in 1937 and contains the beautiful Broken Bow Lake.
Tucked away amid rolling hills and low-lying mountains, the park boasts stunning scenery and landscapes, with verdant forests hugging its lakeshores and riverbanks. The rugged and rustic terrain is a treat to explore, with loads of hiking trails and mountain bike paths winding through the woods.
Its rushing river and lovely lake also lend themselves perfectly to all kinds of fun outdoor activities, with fishing, swimming, and canoeing being particularly popular. Many people choose to camp overnight in the park or stay at one of its cosy cabins, where archery, minigolf, and tennis can be enjoyed at its nature center.
4. Wichita Mountains Wildlife Refuge
© David Mcgowen / Dreamstime
Covering a vast swathe of southwest Oklahoma, the wonderfully wild Wichita Mountains Wildlife Refuge lies just to the north of Lawton. Founded in 1901, it preserves diverse landscapes and countless species of fauna and flora.
Very mountainous, it is home to everything from steep ravines and sweeping valleys to flower-filled meadows and forests. Dotted about its confines are 13 artificial lakes, as well as plenty of scenic hiking trails and rock climbing routes. Due to the outstanding beauty on show, it is a splendid place to go camping and fishing, with some excellent bird and wildlife watching on offer.
While much of the park is open to the public, more than half of it is an untouched wildlife refuge. On guided tours, visitors can spot elks, armadillos, otters, and the breathtaking bison, which now number more than 650 in total.
3. Route 66
© Peek / Dreamstime
One of the most renowned and revered roads in the US, Route 66 meanders from Chicago, Illinois all the way to Santa Monica in California. Passing through eight states, the 'Mother Road' covers 3,940 kilometers, with Oklahoma boasting one of its longest stretches.
Road tripping along the Historic Route 66 has long been popular with visitors to the state, with large and lively cities such as Tulsa and Oklahoma City to stop off at along the way. Besides, it passes through some quintessential American landscapes, with rolling cornfields and farms lying alongside rural and remote countryside towns and villages.
Oklahoma also has several magnificent museums and monuments dedicated to the famous route for you to visit. In Elk City, for instance, there is the National Route 66 Museum, which looks at the people who lived, worked, and traveled along the road. In contrast, Clinton's Oklahoma Route 66 Museum focuses on iconic images and ideas related to the almost mythical Mother Road.
2. Tulsa
© Ffooter / Dreamstime
The self-billed 'Oil Capital of the World', Tulsa is the second-largest city in the state and lies in the northeast of Oklahoma, in between the Great Plains and the foothills of the Ozarks. While it is home to the headquarters of many large energy companies and big businesses, it also boasts some superb architecture and interesting attractions.
Set on the banks of the Arkansas River, its sparkling skyscraper-dotted city center is not only home to glistening corporate offices, but also an astounding array of elegant art deco buildings. It also has a thriving arts and culture scene for visitors to delve into, with marvelous ballet, opera, and theater venues found alongside its two world-class art museums.
Thanks in part to all of the wealthy corporations in town, Tulsa also has lots of fine dining and shopping on offer, as well as vibrant nightlife and live music scenes. In addition, it has numerous sights related to the Historic Route 66 and lots of lovely parks and green spaces for visitors to enjoy.
1. Oklahoma City
© Justin Brotton / Dreamstime
Set almost right in the center of the state, Oklahoma City is not only its capital and most populous settlement, but its economic and cultural heart, too. Straddling the banks of the Oklahoma River, OKC (as it is often referred to) is one of the Great Plain's major metropolitan areas, and as such, has lots for visitors to see and do.
While many sights – such as the splendid Museum of Art and the touching Oklahoma City National Memorial – lie in downtown, it is well worth exploring further afield. The Paseo, a former artists' colony, is home to lots of exquisite art galleries, Art Deco buildings and boutiques, and 'Little Saigon' is awash with excellent Asian restaurants and shops.
In addition to its innumerable historical, cultural and architectural sights, OKC also sports the family-friendly Frontier City where exhilarating rides and attractions take you back to the old Wild West. Riverside parks and walks also abound in the city with the stunning seven-story Myriad Botanical Gardens being just one of the center's many standout attractions.