Famed for its beautiful beaches and dramatic rocky coastline, Maine has long been a popular summer playground. Fittingly nicknamed 'Vacationland', it has a wealth of charming seaside towns and villages for visitors to stay at in summer, and boasts spectacular scenery and nature.
The northeasternmost state in the US, it lies alongside the Atlantic Ocean, and its long, indented coastline is home to all kinds of amazing cliffs, coves and islands. The best beaches in Maine offer excellent outdoor activities and sweeping views over the ocean.
With a rich maritime history to delve into and fantastic fall foliage in autumn, New England's Maine is a treat to visit at any time of year.
12. Crescent Beach, Cape Elizabeth
Wally Gobetz / Flickr
Protected as part of a state park, gorgeous Crescent Beach lies just outside the small town of Cape Elizabeth. Very popular with both locals and tourists alike, it is certainly one of the prettiest spots in Maine.
Stretching 1.6 miles in length, its golden sands gently curve their way along the bay. Lining the flat beach are some delightful dunes and rocky outcrops with lush woodlands to be found inland. Dotted about the lovely park are picnic areas and a snack bar with bathrooms, changing rooms and showers also on hand.
Aside from sunbathing and swimming, visitors can hike the state park as well as fish and kayak in the sea. Due to its proximity to Portland and its iconic lighthouse, a lot of people flock here during sunny summer weekends.
11. Higgins Beach, Scarborough
Not far away is another stunning beach to visit in neighboring Scarborough. As its waters are rougher and are exposed to the Atlantic, Higgins Beach instead attracts lots of surfers. Families do also come though for its white sands and the historic wreck that lines its shores.
Bordered by bedrocks at one end with the Spurwink River to the other, its flat, wide sands are ideal for lazy lounging. Very quiet and clean, it offers spellbinding views over the ocean and surrounding coastline.
Besides surfing and swimming, you can stroll along the beach or explore the atmospheric old shipwreck. As it lies right next to a residential neighborhood, parking can be a problem when visiting the beach.
10. Long Sands Beach, York
Another picture-perfect spot to stop by is the appropriately named Long Sands Beach in the tranquil village of York. Stretching two miles in total, its scenic sands are lined by countless cozy cottages and craggy coastal bluffs.
While strolling along its endless expanse, you'll come across some rocky parts as gentle waves lap at its shores the whole way along. Although it is quite cold, plenty of people are happy to take a quick dip or paddle in the water.
In addition to basking in its beauty, visitors can enjoy fine views of the famous Nubble Lighthouse and its wind-swept cape off in the distance. With a huge number of shops and restaurants also lying nearby, Long Sands Beach definitely makes for a great day out.
9. Kennebunk Beach
A firm favorite with families, Kennebunk Beach is loads of fun to explore as it is dotted with large granite rocks and tidal pools. Also known as Mother's Beach, it is located just a short drive south of the town of the same name.
Very sandy for the most part, the beach is bounded by a small seawall and oceanside avenue that offers up some fantastic views over the whole area. Here too you can find some charming inns and holiday rental houses to stay at.
As its waters are calm and protected, swimming is very popular in summer as is sunbathing on its welcoming sands. With two other pristine beaches and a playground lying alongside it, Kennebunk Beach is an excellent choice if you have young ones with you.
8. Scarborough Beach State Park
Just down the coast from Higgins Beach you can find the divine scenery and sands of Scarborough Beach State Park. Set alongside the Atlantic right next to the Prouts Neck peninsula, it is quieter and calmer than many beaches in the area.
While wandering along its long stretch of sand is a treat, strong and cold currents make swimming a challenge. Surfers, however, enjoy its rips and swells while sunbathers benefit from the deck chairs and umbrellas available for rent.
After having explored the park's rolling dunes and massive saltwater pond, you can always stop for a bite to eat at its snack stand. Bathrooms and showers are also on hand but lifeguards are only on duty in the summer months.
7. Old Orchard Beach
In contrast, Old Orchard Beach, its popular pier and amusement park are often packed due to their proximity to Portland. Despite its teeming crowds, the lively resort town is well worth visiting for its umpteen attractions, establishments and, of course, its enticing beach.
Lying along the shores of Saco Bay, its wide-open sands stretch impressively more than seven miles in length. While the part closest to the wonderful old wooden pier is often heaving with people, the further you head from the center, the more peaceful and picturesque it gets.
On top of sunbathing and swimming, Old Orchard Beach has a myriad of amazing watersports and even a water park for visitors to enjoy. Add in its numerous rides, arcade games and ice cream stalls and it is no wonder so many locals and out-of-towners head here in summer.
6. Wells Beach
Yet another scenic and serene stretch of sand to hit up in southern Maine is Wells Beach, which lies in between Crescent Beach and Drake's Island. Mostly lined by seaside cottages and some hotels, it offers great sunbathing, swimming and surfing.
Very clean for the most part, the beach's already considerable size can increase dramatically at both high and low tide. Bordering it are some crab-filled tidal pools and marshes to explore, while keen anglers instead head to its jutting-out jetty.
In addition, a couple of arcades and eateries can be found along Atlantic Avenue, which is separated from the beach by dunes and grass. Holidaymakers can also rent kayaks and boats, take sightseeing cruises or play a round of golf at the nearby courses.
5. Goose Rocks Beach, Kennebunkport
Located on the northeastern outskirts of Kennebunkport, lovely Goose Rocks Beach lies nestled in between Timber Point and Cape Porpoise. While its brilliantly bright white sands already make for a striking sight, numerous islands and rocky outcrops can be spied in the distance.
Its warm, soft sands curve gently alongside Goosefare Bay and are a pleasure to stroll along or sink your toes in. Reaching over three miles in length, the beach's protected waters are ideal for paddling and swimming while taking in sublime panoramas of the Atlantic and its islands.
A brilliant way to end the day is to grab a cocktail at the beach bar and watch the sunset over the sea. Sometimes seals can even be spotted frolicking about in the surf.
4. Reid State Park
If you want a choice of outstanding outdoor activities, then Reid State Park is definitely the place to go. Here you can explore rocky tidepools, salty marshes and a large tidal lagoon with its beaches and dunes equally idyllic.
Established in 1946, the park sprawls across a huge part of Georgetown Island. While its long and indented Atlantic coastline has superb swimming spots, warmer and calmer waters can be found at its tidal inlet.
Due to its vast swathes of untouched wilderness, hiking and birdwatching are particularly popular pastimes, as well as fishing and picnicking. Plenty of well-maintained facilities such as a children's play area, changing rooms and a concession stand are available.
3. Ogunquit Beach
Widely considered to be one of the best beaches in Maine, Ogunquit Beach lies just outside the little town of the same name. Perched upon a narrow, protruding peninsula in between the bay, river and ocean, it really is a wonderful spot to spend some time.
The beach's beauty has been acknowledged as its name actually means 'beautiful place by the sea' in the indigenous Abenaki language. Aside from simply taking in all its stupendous scenery, you can also swim, surf or explore the sandbar's rock pools at low tide.
Although many come for its sand and scenery, Ogunquit itself is also well worth wandering around. This is because the quaint town is packed with romantic restaurants and enticing little art galleries.
2. Popham Beach State Park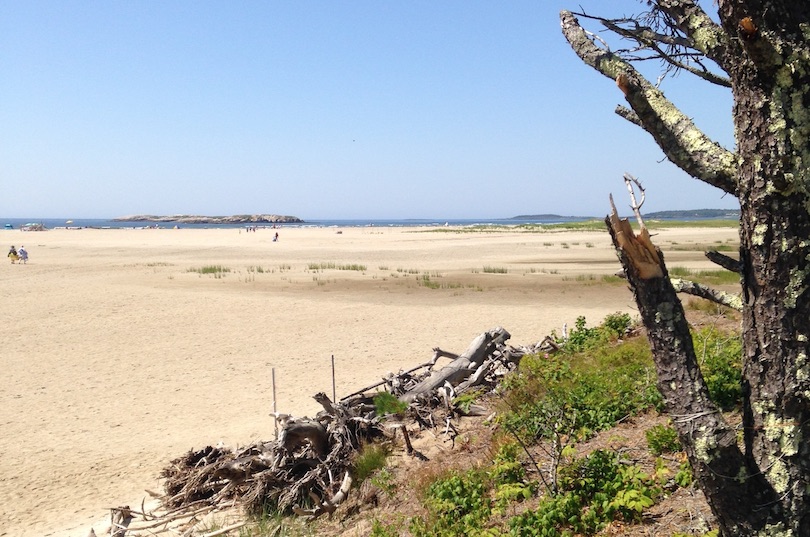 If on your trip to Maine you are looking to avoid crowds of people then the untouched and unspoiled Popham Beach State Park is the place to go. As well as some amazing sand and surf, it offers all kinds of fun outdoor activities.
Lying on a peninsula between the Morse River, Atkins Bay and Atlantic, its sweeping sands stretch over three miles in total. Besides exploring its ever-changing landscapes, visitors can swim and surf or kayak along the shore.
Although the beach almost disappears at high tide, you can even walk out to the nearby Fox Island when the ocean retreats again. With countless cottages to rent on the peninsula, the scenic state park certainly warrants a longer visit.
1. Sand Beach, Acadia National Park
As it is home to a myriad of awe-inspiring landscapes, scenery and nature, Acadia National Park has long been one of Maine's most popular destinations. It boasts a dramatic coastline and breathtaking rocky headlands, and one of the top spots is the gorgeous Sand Beach.
Tucked away in the peaceful Newport Cove, its sheltered sands look a treat as rugged rocks and verdant woods rise up about the beach. After having snapped some pics from either its overlook or oceanside trail, relax and unwind by sunbathing or swimming in the quiet cove.
Before heading back to nearby Bar Harbor, make sure to leave some time for exploring what is New England's only national park. Just a stone's throw from the beach you can find the Thunder Hole and Otter Overlook, which are two of Acadia's most spectacular natural sights.
Map of the Best Beaches in Maine