Fiji is an archipelago of more than 332 islands in the South Pacific Ocean. It lies about two-thirds of the way from Hawaii to New Zealand. Fiji's beaches are so breathtakingly beautiful and pristine that they have become a popular destination for many honeymoons and romantic getaways. What's more, many travelers head to these gorgeous beaches to be pampered in luxury outdoor spas surrounded by tropical settings. Some of Fiji's most loved beaches are found on the spectacular Coral Coast as well as among the Mamanuca Group, which features volcanic islands. Those wishing to escape to a tropical beach will be spoiled for choice among the variety of all-inclusive beach resorts in Fiji that offer fantastic amenities, lavish accommodations and adventurous activities all for one rate.
10. Warwick Fiji Resort & Spa
[SEE MAP]
Located on the magnificent Coral Coast, a stretch of coastline on the island of Viti Levu, this luxurious Korolevu resort offers the perfect getaway with its private beach and posh pampering services. Guests can enjoy access to amenities that include 3 outdoor swimming pools, 5 excellent restaurants and a full-service spa. Rooms tvs with satellite channels, refrigerators, air conditioning and furnished balconies or patios that open to views of the ocean. With nearby attractions like Kula Eco Park and Namatakula Beach, guests can choose to venture out for eco-tours and adventurous excursions or simply stay at the resort and enjoy a variety of leisure activities such as swimming, snorkeling, windsurfing, tennis, volleyball and miniature golf.
9. Fiji Hideaway Resort & Spa
[SEE MAP]
Those seeking to be spoiled should look no further than the secluded Fiji Hideaway resort that is within easy reach of the Sigatoka Sand Dunes. Not only can guests here enjoy a variety of luxurious treatments in a spa with beautiful garden views, but they can also receive massages in their rooms or right on a private beach. Other amenities include a swimming pool with poolside bar, two restaurants and a coffee shop. Guests will find rooms with rainfall shower heads, air conditioning, refrigerators and furnished balconies. A wide array of beach activities are available here such as swimming, snorkeling, scuba diving, surfing and kayaking in addition to nearby adventures like boat cruises and hiking trails.
Tucked away on Fiji's hidden jewel of Savusavu, the Koro Sun all-inclusive Resort offers two restaurants, two outdoor pools, a waterslide, fitness facility and a full-service spa that is positioned in a tropical rainforest setting. Rooms feature air conditioning, minibars, turndown service and the choice of balcony or patio. A number of fun outdoor activities are available on site such as water skiing, sailing, fishing, tennis and volleyball in addition to horse riding and birdwatching excursions.
7. Vomo Island Resort
[SEE MAP]
Set amidst one of Fiji's most beautiful islands facing a sandy white beach and turquoise waters, the Vomo Island Resort presents guests with their choice of elegant villas featuring garden, hillside or beachfront views. Amenities include a world-class restaurant, a day spa and a children's club. Guests can enjoy all the comforts of home and more in the beautifully decorated villas. Recreation here includes golf, tennis, snorkeling, champagne picnics and eco-tours to the nearby turtle and marine reserve.
6. Vatulele Island Resort
[SEE MAP]
Popular for honeymoons and romantic getaways, the Vatulele Island Resort by Six Senses is favored for its complex of private villas all designed as traditional bures. Couples here can enjoy intimacy in an individual villa set on their own private section of beach. Villas feature air conditioning, room service, wine coolers and hammocks. Amenities include access to a restaurant, swimming pool, wine cellar and massage services. Guests can enjoy numerous water-based activities here in addition to romantic picnics arranged by the resort.
5. Matangi Private Island Resort
[SEE MAP]
This Matangi Island all-inclusive resort offers the ultimate paradise experience with its exotic accommodation choices that include tree houses and beachfront bures. Tree houses are surrounded by tropical scenery while bures face the sandy white beach and crystal clear blue waters of the ocean. Accommodations includes jetted Jacuzzi tubs, outdoor lava rock showers, hammocks, beach towels and the option for daily fresh-baked cookies. Guests can enjoy direct access to the beach and activities such as swimming, snorkeling, scuba diving and fishing.
4. Likuliku Lagoon Resort
[SEE MAP]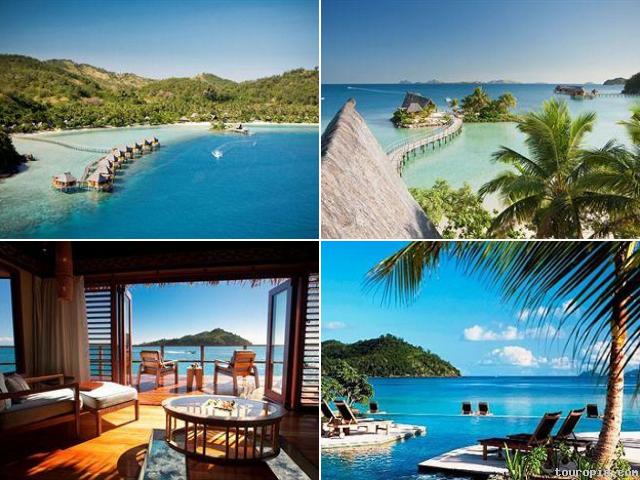 Located in beautiful Malolo, a volcanic island in the Mamanuca Group, this couples-only resort offers the unique accommodation of bures built right over the water. Resembling a traditional Fijian village with its wooden and thatched roof structures, this exotic resort features a restaurant, outdoor swimming pool, beach bar and video library. Bures include air conditioning, ceiling fans, refrigerators and balconies. In addition to water-based recreation, guests can enjoy adventures such as helicopter tours, skydiving, cave exploring and visits to nearby historic sites and the Fiji Museum.
3. The Wakaya Club & Spa
[SEE MAP]
Surrounded by turquoise lagoons, coral reef and majestic cliffs, this private island resort offers some of the best snorkeling and scuba diving opportunities in Fiji. This peaceful retreat features ten luxury, free-standing bures just steps from the ocean. Room amenities include rear gardens and outdoor decks, oversized bathtubs, wet bar, elegant decorations, room service and high-speed Internet. Guests also have access to a fitness center, restaurant, swimming pool and a full-service spa. Recreation includes water activities, tennis, golf, croquet, beach picnics and nature walks.
2. Nukubati Island Resort
[SEE MAP]
The Nukubati Island resort presents a tropical hideaway where guests can bask in luxurious relaxation and exciting recreation like surfing, snorkeling and whale-watching. The all-inclusive resort features a restaurant, spa treatments, beauty services and shopping while rooms all offer premium comforts, high-speed Internet, double sinks and balconies that open to sea views. Additional recreation includes windsurfing, sailing, volleyball, hiking and eco-tours.
1. Namale Fiji Islands Resort
[SEE MAP]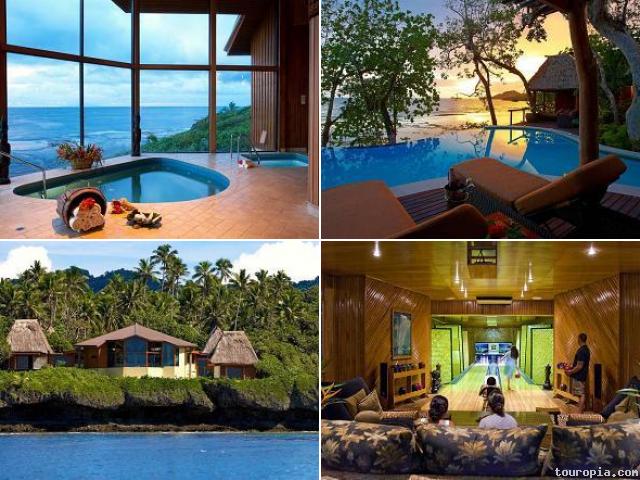 Situated nearby the Copra Shed Marina in beautiful Savusavu, this adults-only resort offers individually furnished and decorated villas that all feature rainfall shower heads, designer toiletries, optional in-room massages and balconies that open to either garden or ocean views. With a top restaurant, two outdoor swimming pools, golf course, sports center and a full-service spa set amid lush gardens this is one of the best Fiji all-inclusive resorts. A wide range of leisure activities are available at the Namale Fiji Islands Resort from swimming to snorkeling, banana boat rides, kayaking, birdwatching, horse riding and even bowling.